Finally, the U.S. Steps Closer to Racial Healing With a National Truth and Reconciliation Commission
South Africa used truth and reconciliation to address its racist history. Now these organizers think it's time for the United States to do the same.
Why you can trust us
---
Around the year 1619, slavery landed on the North American shore. Slave ships sailed across the Atlantic Ocean. Then, west along the James River. Finally, to a village on the modern-day site of Richmond, Virginia. Once there, slave traders led Africans through obscure forest trails—but only at night, so as not to disturb the day to day lives of white folk. Eventually sold at auction at the village, these Africans became slaves, continuing the racist history that began with the genocide of Native people.
In 1737, the village was renamed Richmond. It was at this place, which marked the beginning of America's legacy of violence against African Americans, that revolutionaries met this winter to discuss how to finally heal these wounds.
Until recently, Davis says, most white Americans didn't realize how big a problem racism was.
For other countries with racist histories, like South Africa and Canada, healing has involved national Truth and Reconciliation Commissions, public hearings that openly acknowledge what happened and begin the process of resolution. The United States has had only two so far. One took place in Greensboro, North Carolina, from 2004 to 2006, and addressed a hate-driven massacre that left five people dead. Another has been meeting in Maine since 2012 to address the disproportionate number of Native Wabanaki children in foster care, forcibly removed from their homes and stripped of their cultural heritage.
But nothing of the kind has taken place at the national level. This year, that began to change.
Twenty-three leaders convened in Richmond, Virginia, Feb. 26-28, to plan a national commission on racial violence against black people. The Kellogg Foundation has announced a similar effort that encourages racial healing for all groups. The two efforts are collaborating, and a representative from Kellogg joined the Richmond gathering.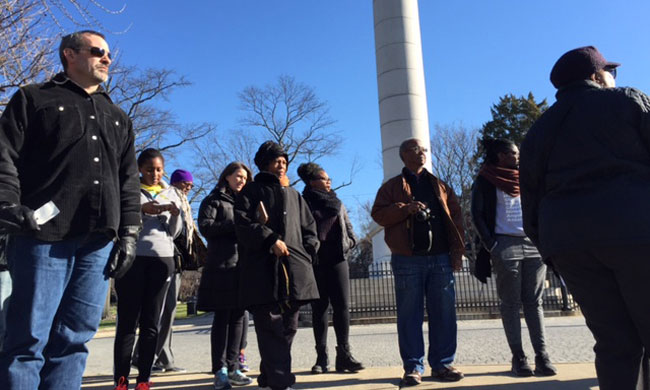 Group members looking out at the James River where slave ships sailed through to reach Richmond Virginia. Photo by Jodie Geddes
Fania Davis, a hero in the movement for restorative justice, has been at the forefront of this effort. Until recently, Davis says, most white Americans didn't realize how big a problem racism was. In 2010, only 27 percent of white people said racism was a "big problem," according to a report by the Pew Research Center. Five years later, since the rise of Black Lives Matter, that figure has increased to 44 percent.
"We're at a moment when the nation is ready," Davis says.
Some of the group's members say they'd like to have the commission rolling in time for the presidential election, but dates are still being determined.
The meeting's participants divided into three working groups. One is drafting the commission's vision and goals. Another is focused on infrastructure: Will this be a network? A nonprofit? A consortium? When and how will the organizers reconvene? The last group is responsible for mapping out racial healing initiatives across the country, with the goal of creating a shareable database.
Many of these people have been working on such initiatives for more than a decade. There's David Ragland, who co-directed the Truth Telling Project in Ferguson, Missouri. This initiative created a space where victims of police violence and their families could share stories after the death of Michael Brown, who was killed by police and whose death incited civil unrest in the weeks following.
Nelson and Joyce Johnson traveled to Richmond from Greensboro, whose Truth and Reconciliation Commission examined the Nov. 3, 1979, Greensboro Massacre, which left five Communist Workers Party members dead and 10 injured at the hands of the Ku Klux Klan. Unlike the national commissions that took place in Canada and South Africa, the Greensboro Commission went forward without official legislative or government support.
For Jodie Geddes, a 24-year-old black woman studying restorative justice at Eastern Mennonite University in Virginia, finding herself among all these allies was encouraging. "As young people, we are living the struggle and living the movement at the same time," she says. "That history is growing, and we are growing with it."
The meeting brought together white and black, old and young. Geddes says that the rituals and ceremonies used to open and close conversations added still another form of diversity.
The leaders of these ceremonies asked participants to call in ancestors. Geddes, a Caribbean American, called in Queen Nanny, a Jamaican national hero who helped slaves escape into the island's Blue Mountains, where she founded a town for freed people.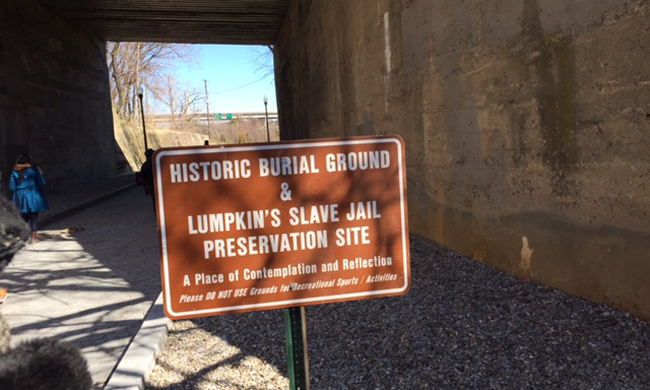 This sign marks the African Burial Ground which the group visited and was Richmond's first municipal cemetery open to the burials of black people. Photo by Jodie Geddes
Later, the organizers took a walk on the Richmond Slave Trail, the same path their ancestors were trafficked through so many years ago. They walked with their hands on the shoulders of the person in front of them to symbolize the chains worn by slaves.
But it also represented their resilience and sense of community, says Carl Stauffer, who was the restorative justice facilitator for the South African commission. "We all own this history," he says. "We can't erase it. We can't get rid of it. We can't pretend it wasn't there."
If these organizers succeed, then Americans really won't be able to pretend this history never happened. These leaders won't let them. The three working groups continue with their assigned duties, the first being to meet again by April 10.
The group recognizes this won't be an easy undertaking, but they also know it's a necessary one.
They sang. They cried. Now, it's time to heal.
Editor's note: This story originally claimed that 17th-century slavers traveled to Richmond, Virginia, but the settlement did not have that name until 1737. The story also neglected to mention Maine's Truth and Reconciliation Commission. The errors have been corrected.
---