Fear: What Police Reform Doesn't Address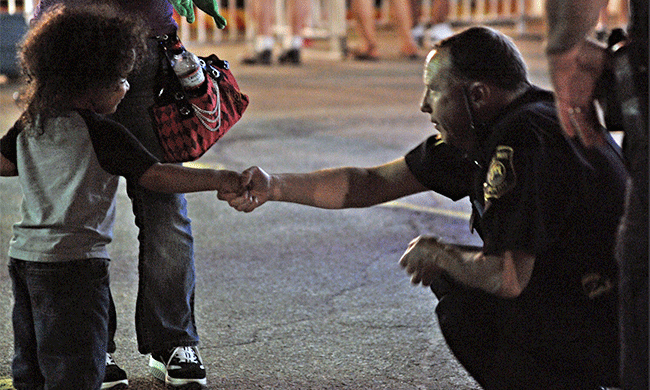 "Getting shot by the police shouldn't be something I worry about everyday but sadly it is, and that's scary."
Los Angeles-based comedian Mateen Stewart updated his Facebook status at 3:25 a.m. July 6 with the above post. Stewart, 35, was referring to the escalating number of deaths of Black men by police.
He'd just learned of the fatal shooting of 37-year-old Alton Sterling, who was shot multiple times by Baton Rouge police officers on the night of July 5.
"Alton Sterling was shot to death while he was on the ground and two police officers were on top of him," read a statement released the next day by the American Civil Liberties Union of Louisiana. "As we await a full accounting of the shooting, questions abound: Why did the officer shoot—multiple times—when Mr. Sterling was already being subdued? How did Mr. Sterling end up with gunshots in his chest and his back? What happened to cause both officers' body cameras to fall off during the same incident?
Later in the day after Stewart's Facebook post, in the suburbs of St. Paul, Minnesota, Philando Castile, 34, was shot by a police officer after being pulled over for an alleged broken taillight. The video his girlfriend took of him dying has been seen by millions.
A Black person is 2.3 times as likely to be shot and killed by police than a White person, according to The Guardian's data base "The Counted." As of July 10 of this year 138 Black people have been killed by police. Those statistics are solid reasons for Stewart to be fearful.
We don't know if Alton Sterling feared for his life when Baton Rouge police officers first approached him. We don't know if Philando Castile did. Or Tamir Rice. John Crawford. Eric Garner. Michael Brown. Walter Scott. Freddie Gray. And countless others whose names we do not know. Did they?
A Black person is 2.3 times as likely to be shot and killed by police than a White person.
"It is a fear, especially nowadays," Stewart said. In the 10 years he's lived in Los Angeles, Stewart says he's been pulled over 10 times. Although most times, the cops were "cool," that did not quell the fear.
"One day, my friend and I were coming from a gig, it was late, the middle of nowhere, and I get pulled over. My friend has dreadlocks, and a goatee. We had to go through the protocol: Make sure hands are on the wheel, don't move … I'm bracing myself for the worst."
He blames his fear not only on the recent police shootings but the history of racism and policing in this country.
"When I was 16, I had guns drawn on me by the police," said Stewart, who was born and raised in Detroit. "I was picking up (my cousin) from school, and we caught a flat. I had to walk to the store to use the phone to call AAA." When he returned, the police pulled up shortly after. He got out of his car because he thought they were there to help.
He said he stepped out and found guns pointed at him. "They roughed us up a little and searched my car. When I asked them why they had treated us that way, one officer said somebody told them I had a gun. Then they left."
Fear, "it's habitual now. I don't think it'll ever go away."
Mental health professionals acknowledge fear like Stewart's is part of a cultural problem that needs to be resolved in order to deal with the anger and violence that keeps erupting.
There has been little focus on fear as it relates to the relationship between law enforcement and civilians.
"These fears are a reality, yes," said Douglas Barnett, Wayne State University Professor and Director of Psychology Clinic in Detroit. "Add onto that not just the current moment in history, but decades of terrible racism, discrimination, and terrorism against African Americans and other feared and maligned people, and you have a lot of reason to have genuine fear, phobias, PTSD, and other anxiety related problems."
There has been little focus on fear as it relates to the relationship between law enforcement and civilians. Much research and media coverage have focused on racism and discrimination, socio-economic conditions, policing tactics and other factors. But civil rights attorney Constance Rice, who gained national attention in the '90s for taking on the Los Angles Police Department for excessive force in Black communities and is the founder of the Washington-based Advancement Project, a multi-racial civil rights organization, has said she doesn't believe it's an officer's "overt" or "conscious" racism that brings on police violence toward African Americans, particularly Black males.
It's fear.
Forty-two officers have died by gun violence in the line of duty so far this year. That number includes the recent deaths of five police officers who were killed during what began as a peaceful protest to the deaths of Sterling and Castile in Dallas, Texas.
"Cops can get into a state of mind where they're scared to death," Rice told NPR in a 2014 interview following the deaths of Eric Garner and Michael Brown. "When they're in that really, really frightened place they panic and they act out on that panic."
Rice's perspective is reflective of a 2005 study that found fear has nothing to do with race directly but rather points to our fear of social groups different from our own. In her work in Los Angeles, she interviewed over 900 officers in 18 months, and the overarching theme of their answers related to their fear—of Black men. "When cops are scared, they kill, and they do things that don't make sense to you and me," she said.
Barnett agrees but cautions that just because race-based fear is recognized, it cannot become an excuse for illegal or dangerous conduct on the part of police or citizens.
"Being stopped, questioned, or pursued by police is scary for most citizens regardless of background, and scary for officers," he said. "Very few people are functioning at their best during these moments."
Education, empathy training, community communication—and just plain compassion—between law enforcement and those they serve is the answer, according to both Rice and Barnett.
"You have to be able to step into the frightened tennis shoes of Black kids—Black male kids in particular. You have to be able to step into the combat boots and scared cops, and racist cops, and cruel cops, and good cops. You have to be able to distinguish between all of those human experiences and bring them together," Rice said in her interview.
Doing so not only causes police officers to be less fearful, but it also causes the community to embrace them.
"On a single platform … we're going to solve this by empathizing. We're going to solve it with compassion and we're going to solve it with common sense." Rice told NPR.
Her work with the LAPD led to reforms in the department. She worked with a group of 50 officers and trained them in what she called community partnership policing. Her project laid out "public trust building" that went beyond community policing.
Barnett agrees that the solutions aren't simple and require consistent deliberate attention and action.
"We need to keep having intelligent discussions. We need to make sure it's on the agenda of our government and private sector leaders. We need to spend more money on research and education about law enforcement and citizens," Barnett said.
No one knows this better than the Detroit Police Department.
The number of violent incidents drop drastically when the diversity of the force matches the diversity of its community.
In 2000, Detroit was named one of the deadliest police forces in the country, and it spent 13 years under federal oversight where the Justice Department scrutinized police conduct, including arrests. Two years ago, a judge lifted the consent decree, and since then the department leadership has continued to implement practices that focus on community policing partnerships.
Detroit Police Assistant Chief Steve Dolunt, who has served with DPD for over 30 years, said the department is a more professional one than in 2000. "Too many times agencies don't want to admit mistakes. When we screw up we tell. We admit our deficiencies," he said. "Respect given is respect earned."
Dolunt believes there is only a small minority of officers that are "indifferent," and only a small minority of people committing crimes. There is no 'us vs. them,'" he said. "We have a reasonable rapport (with people in the neighborhoods)."
Detroit is located in what many consider one of the most segregated regions in the country. It's 80 percent Black population is surrounded by mostly White suburbs, with mostly White police departments. But Detroit's police department is about 50 percent Black or other people of color, and that helps with empathy and trust building—and ultimately reducing unreasonable fear. Studies show the number of violent incidents drop drastically when the diversity of the force matches the diversity of its community.
The Detroit Police Department has established a citizen advisory board to share concerns with the police command staff, and Dolunt said they are committed to working together with communities and activist organizations to resolve issues.
Police departments across the country are looking at models for reform. There are those that focus on tactics and technologies, like de-escalation training and body cameras, to make officers and citizens feel safer. Other community-based reforms, like those initiated by the LAPD and DPD, will address the fears of people like Mateen Stewart through community trust-building. That's a longer process. But the effort is ongoing.