In Detroit, Freedom Schools Offer an Alternative to City's Struggling Education System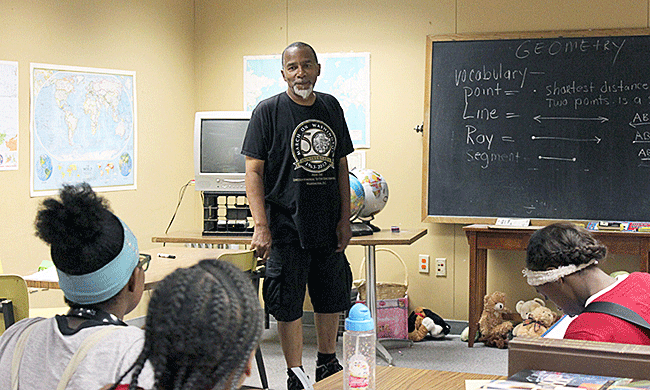 Just a few years ago, Aliya Moore's days during the school year might have resembled that of many American moms actively engaged in their children's education—transporting them to and from school or to after-school programs and activities, helping with homework, going to parent-teacher conferences, and volunteering in the classroom.
That all changed in spring 2013, when Moore's 11-year-old daughter's school, Oakman Orthopedic in Detroit, closed—one of several to fall victim to budget cuts by Detroit Public Schools, which was under state-mandated emergency management. At the time, Oakman was the only school remaining in the district to serve physically challenged students, and although Moore's daughter Chrishawna is not disabled, Oakman was her neighborhood school. Chrishawna and the other 287 Oakman students were sent elsewhere.
Now that her daughter is in high school, Moore still finds herself fighting. Because of budget cuts, after-school programs have been reduced, teachers have been laid off, and the remaining classes are overcrowded. Moore's activism soon evolved from watching out for her own kids to advocating for the rest of the district's children.
At a community meeting earlier this year, Moore called on parents to boycott the schools. This captured the attention of local activist group Detroiters Resisting Emergency Management (D-REM), which turned to a legacy of the 1960s civil rights movement for a solution: Freedom Schools.
Organized by African Americans in the 1960s, the Freedom Schools presented an alternative setting for all ages centered mostly on voter registration and social change, as well as academic components—mainly reading skills—for young people. Since then, civil rights and racial justice organizations, along with grassroots movements, have resurrected the Freedom School model for their work in African American communities still faced with inadequate education, disenfranchisement, and racial discrimination.
Gloria Aneb House, a member of D-REM who worked with the original Freedom Schools in Alabama in 1965, helped the group to launch the Detroit Independent Freedom Schools Movement (DIFSM).
"We had been talking about the problems in the Detroit education system for a long time," House said.
---
At its height in the 1970s, Detroit Public Schools operated nearly 300 schools, and although it remains the largest school district in Michigan, with more than 48,000 students, school closures have left the district with only 97 operating school buildings. Several more schools, however, are slated to close in the coming months amid a controversial law that, enacted July 1, split the beleaguered district, now called the Detroit Public Schools Community District, into two: a "new co." district that will educate children, and an "old co." district that will exist in name only to collect taxes to pay down debt.
Except for three years in the mid-2000s, the Detroit district has operated under state control since 1999. Claiming the district was being mismanaged, then-Gov. John Engler removed the locally elected school board and appointed a "reform board." At that time, however, enrollment was growing, standardized test scores were up, and the district had a $100 million surplus.
In 2004, local activists waged a successful campaign to return the district to local control, and a newly elected board inherited a $200 million deficit, created in just five years of state control.
Unable to get a handle on the growing deficit, the first of a string of emergency managers was appointed in 2009; today, the deficit is more than $1 billion.
School conditions have been ripe in recent years for communities to organize.
School conditions have been ripe in recent years for communities to organize. Moore pointed to not only the loss of local control, but also to the lack of resources in classrooms, overcrowding, school closures, uncertified teachers, inefficient staff, and, of course, the escalating debt, as the impetus for her first form of protest: She called on parents to keep their children home on one of the most important days of the school year—Count Day. On this day, which occurs once during each semester, the state tallies student attendance districtwide to determine per-pupil funding.
Moore's goal was to make a statement. A week before the February Count Day, she passed out fliers to parents and community members that read, "Parents and students have the power! Show the governor that We run the district! We control the MONEY (stakeholders)!" She and others wanted an accounting of the district's spending money—since it didn't appear to be going toward a quality education for Detroit students. A month before, teachers had staged a sick-out to bring attention to poor conditions: caved-in ceilings and peeling paint in the classrooms; inadequate resources and supplies; and irregular room temperatures—no heat when it was cold out, no air when it was hot. Some buildings reported high levels of lead. And now teachers were being asked to continue to the end of the year with no pay.
Parents and other community members supported teachers, Moore said, but because of the lack of information about what was happening in the district, they were slow to act. "Some parents just didn't know how to go about responding to what was happening, but once they got that call, it just takes them getting the information," she said.
On Count Day, the Central United Methodist Church opened its doors to Detroit students whose parents kept them home from school. The youth participated in music, drumming, and physical education, in addition to academic classes. Breakfast and lunch were provided, and there were programs available for parents. And although fewer than 20 students showed up, it proved to be a model for the Freedom Schools movement that was to emerge.
"Our intention is to do as much in outreach around the city and get into as many churches and community centers where they're happy to have us," said House, who is a former member of the Student Non-Violent Coordinating Committee, a historic civil rights organization. She noted that DIFSM teachers volunteered in community centers this summer, while D-REM is working with other institutions to expand the program this fall. It's about the movement, not a fixed institution, House said.
---
According to D-REM, the DIFSM draws on the lessons of Freedom Summer 1964 as a model for how to challenge educational oppression locally. Its purpose is to organize African Americans to achieve social, political, and economic equality.
The essence of the program, House said, is not to replace traditional schools but to supplement what's provided at those institutions, and to compensate for the damage that has been done. As a pilot, approximately 12 Movement teachers volunteered this summer at the Dexter-Elmhurst Community Center on Detroit's west side. They taught 40 students, K-12, on a rotating schedule.
One of the volunteer teachers, Moudu Baqui, is a 17-year veteran who taught science to 9- to 16-year-olds at the Dexter-Elmhurst summer program.
"I wanted to be a part of something that offered an alternative to the current models that we have been forced to deal with."
"I wanted to be a part of something that offered an alternative to the current models that we have been forced to deal with," Baqui said. "I wanted to have a place where I could use my expertise to help … to resurrect the model of Freedom Schools … So that [youth] can understand that right in their community the brothers and sisters that they pass every day have the brainpower to give them the information. And that they're not forgotten."
He said the students are eager to learn about themselves—their African American culture and history.
"They're excited about the cultural aspects," he said. "They'll say, 'Teach that Black stuff.' Because most of their educational experience doesn't speak to them."
The Detroit Freedom Schools Movement is still in its beginning stages. Teachers create their own plans and curricula for now, said Aurora Harris, a DISFM volunteer educator and professor at University of Michigan-Dearborn. The program provides cultural activities, along with the core subjects of math, science, English/language arts, and social studies. During the school year, it will continue as an after-school program at various locations, as D-REM and the educators work to expand their reach. So far, one of the locations where the program will begin in early September is the Charles H. Wright Museum of African American History, one of the world's largest institutions dedicated to African American history and culture.
House and Harris say the idea behind the DIFSM program is self-determination.
"I think as we do this, we will also see parents become more politically active and engaged," said House. "Maybe not immediately, but who knows."
It's important for the youth to know where they come from, and what they stand for.
Seventeen-year-old Johnathan Dalton, a soon-to-be college freshman, spent his summer weekdays volunteering for the program at Dexter-Elmhurst. He witnessed the students' eagerness, and their increasing attendance. "There's got to be something good going on in this program that makes people want to join," he said. "That's why I volunteer, because I love the effect that it's having on what children can learn." It's important for the youth to know where they come from, and what they stand for, so they don't have to turn to the streets, Dalton said.
Moore's daughters will attend the DISFM after-school program in the fall. "This is just the beginning," she said. "I believe it will be helpful for students, especially those having problems, and will give teachers with a true passion to teach [but have been laid off] a chance to get back in the classroom."
And as for the ongoing conditions in Detroit Public Schools, Moore said she's prepared to continue the fight to return local control to the community.