The Scramble for Women's Health-Care Coverage in the Time of Trump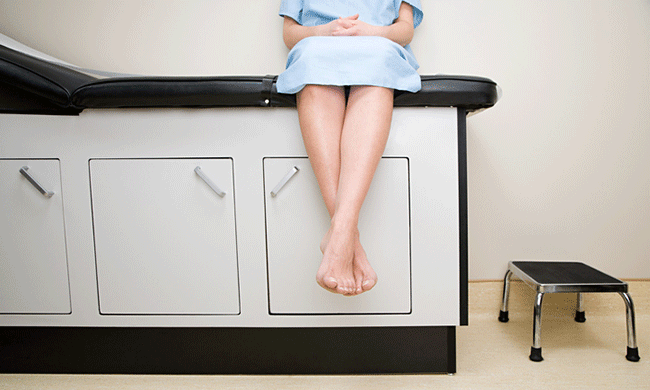 As uncertainty looms for millions of women about the future of birth control access under the new Trump administration and Congress, patients are speaking out, and states are stepping up.
"It represents the greatest threat to our reproductive freedom that we've seen in recent history."
Congress's promise to eliminate the Affordable Care Act would wipe out the mandate that insurance providers fully cover birth control. However, family planning advocates are mobilizing patients to contact their representatives, and a handful of states are working to guarantee birth control coverage regardless of what will happen to the ACA.
Should Congress repeal the Affordable Care Act, contraceptive coverage could disappear for millions of women. The free birth control guaranteed to insurance holders saved women $1.4 billion in 2013 and is partially credited for record-low abortion rates. But now the future of contraceptive access remains murky as lawmakers work to dismantle the law.
"It represents the greatest threat to our reproductive freedom that we've seen in recent history," says James Owens, states communications director for NARAL Pro-Choice America. "It would be foolish for us to not take them at their word that this is their top priority, and it would be naïve of us to assume that they have a plan to replace it."
Physicians and reproductive health advocates are not sure what's to come for birth control. But if Congress succeeds in repealing the ACA without a replacement that provides women with free access, the consequences will be "devastating," says Janel George, director of federal reproductive rights and health for the National Women's Law Center.
"We have to get folks to move beyond the political talking points and really understand what's at stake for real people," she says, noting that 1 in 3 women have struggled to afford birth control. "There are real consequences."
But women aren't taking the possible changes without preparation and a fight.
Women are increasingly demanding intrauterine devices—known as IUDs—which can last five years or more, possibly outlasting a Trump administration. Insurance company Athena reported a 19 percent increase in the number of doctor appointments related to IUDs, while Planned Parenthood claims a 900 percent jump in demand for the devices.
What's more, George says, a recent petition was delivered to Congress with the signatures of 13,000 people opposing the appointment of U.S. Department of Health and Human Services nominee Tom Price, who has said "not one" woman has struggled to access contraceptive care.
The time to obtain contraceptives is now.
So what should women do?
The time to obtain contraceptives is now, says Amy Friedrich-Karnik, senior federal policy advisor for the Center for Reproductive Rights. Anyone covered under the Affordable Care Act should make a doctor appointment and acquire any preventive care they can. If a woman enrolled in an ACA plan is considering adding or changing her birth control, "now is the time to do that," she says.
Some states, such as California, Oregon, Hawai'i, and Maryland, allow women to stock up on 12 months' worth of birth control pills.
Lisa Maldonado, executive director of the Reproductive Health Access Project, recommends that anyone who isn't insured now should enroll for ACA coverage to acquire preventive care services and any contraceptives they hope to use.
But activists say the ACA is not a lost battle: Women must contact their lawmakers to let them know how important preventive care and birth control access are to them and their families. "I think it's important for women to weigh in with the new administration and say, 'Look, this benefit is really important,'" George says.
Anecdotally, they are.
"People are flooding phone lines, showing up at town halls and meetings," Owens says. "They're showing that there will be a real political consequence for any leader who takes away our access for health care."
The National Women's Law Center has been inundated with donations, volunteers, and supportive emails and phone calls from women and men alike who want to fight for women's reproductive rights, according to a recent report by The American Prospect. The same report indicates that people have made hundreds of thousands of contributions to Planned Parenthood since Election Day and that NARAL's membership has increased by 20 percent.
The public appears to be on the side of birth control access. In a 2014 poll by the Kaiser Family Foundation, nearly 60 percent of Americans supported the ACA's requirement that insurance companies cover the full cost of birth control.
"This is a time to really let your voice be heard that this is not why you put these people in office."
"We have not given a mandate to any particular party to curtail reproductive rights and reproductive health," says Diane Horvath-Cosper, reproductive health advocacy fellow with Physicians for Reproductive Health. "This is a time to really let your voice be heard that this is not why you put these people in office."
Meanwhile, states are also working to fill in the coverage gaps that may emerge.
Some states either already have or are working to implement programs to offer free or low-cost IUDs to women, such as Delaware and Virginia. A free IUD program in Colorado is credited with cutting the state's abortion rate by 42 percent and, between 2009 and 2013, with reducing the teen pregnancy rate. However, private donors were compelled to bail out the program after the state's conservative lawmakers tried to scuttle it in 2015. That state's Legislature may revive the program this year.
Contraceptive coverage is on its way to some states, such as Maryland and New York, regardless of whether the ACA survives this Congress. Other states are contemplating similar measures.
In addition to what's covered under the ACA, the Maryland law passed last year also covers vasectomies, the morning-after pill (known as Plan B), and non-generic birth control medications that may bring fewer side effects than their more affordable counterparts. The law will take effect in 2018.
Even so, women in more conservative states may face more battles at the legislative level.
"The reality is that many state legislatures are very conservative, and this is not something they can move forward," Horvath-Cosper says.
These are the same states that are most threatened by the possible elimination of Planned Parenthood or Title X funding for family-planning services in clinics. That's why OBGYNs and women's health activists hope people won't have to rely on their states for birth control coverage.
"It really only makes sense from a preventive health perspective to provide contraceptive coverage to as many people as who want it," Horvath-Cosper says.
The women's march that sparked a global movement on Jan. 21 showed that women are fighting for their rights, she says. But that momentum must continue.
"If people can capitalize on the energy we saw [at the Women's March], then we can make it happen," she says.