Black Communities, not Trump Executive Orders, Will End "Carnage"
President Donald Trump says that the three executive orders he signed last week are designed to reduce crime and "restore safety in America." The orders follow a threat he made on social media in January of federal intervention into the "carnage" that engulfed Chicago. But while Chicago had a record number of shootings last year—with homicides up 57 percent—efforts are underway to restore trust and safety at the community level. And the city is not alone: Other urban areas long believed to be overrun with crime, such as Detroit, are trying to end the violence.
In Chicago, Father Michael Pfleger has spent years advocating for peaceful streets in his neighborhood. The Saint Sabina Church, where he is the lead pastor, borders two communities known for violent crime—Auburn Gresham and Englewood. Both are among the five communities—mostly on the south and west sides of the city—responsible for the jump in violent crime in Chicago.
"In those neighborhoods, you find the same reality: high unemployment; underfunded, underperforming schools; the most [people] coming back from incarceration with nothing but a bus card and $20; the most foreclosures; no economic development; no real opportunities and options; and a proliferation of guns and poverty," says Pfleger. "You weave all those things together, and the reality is you create the perfect storm for the violence."
For many years, Pfleger and the staff and members of Saint Sabina Church have done what they can to stave off violence, from providing social services and job opportunities for young people and those who were formerly incarcerated to hiring former gang members to do outreach in the neighborhoods. They've also started a basketball league with rival gang members; helped bridge the divide between local police officers and Black youth through conversations, basketball, and role playing; and formed a group called Purpose Over Pain for parents who have lost children to gun violence.
And in June, on the last day of school for most students, they started peace walks. Every Friday from June to October, residents walked the streets of their community to engage with their neighbors.
"We find where in our area has the most tension, and that's where we go on that Friday."
"Friday night seems to be the night of most violence in the city. So, we go out in different parts of the community to walk to reach out to people, to talk to people, to try to find out what we can do to bring things down. To let people know, here are support services we have, here are things we can do," says Pfleger. "What we try to do is find where in our area has the most tension, and that's where we go on that Friday."
The goal, he says, is to set a different presence on the street, one of hope and action rather than apathy.
2016 Annual End of the School Year March for Peace from St. Sabina Video on Vimeo.
Saint Sabina also runs an employment resource center. In the summer, they employ about 800 youth. In addition, their Strong Futures program, which began last year, has placed 33 at-risk youth—some with criminal records—in full- and part-time jobs. Eleven work what Pfleger calls full-time/part-time, which means while they're working part-time, they're guaranteed full-time jobs once a slot opens.
Pfleger says they've seen a decrease in violence in their immediate area. "There's no question in my mind that we can deal with this, but it demands putting the resources, the attention, and the funds to make it decrease. You can't Band-Aid something like this," he says, referring to bringing in more police—possibly federal troops. "If you have two lions and you put them in a cage and you don't feed them, one's going to eat the other in a survival of the fittest. And the same thing, if you cage in whole communities, people are going to begin to turn on each other."
In public discourse about rampant violence in inner cities, observers sometimes wonder why communities reject the idea of more police. Wouldn't that make the streets safer? Detroit resident Andrea Clark, founder of Mothers of Murdered Children, says no.
"There's no question in my mind that we can deal with this."
"I absolutely don't see it as a solution," says Clark, whose son Darnell was fatally shot at a downtown nightclub in 2011. "Because it hasn't worked in the past. And when you live in a police state, then the rights of mostly young Black males are violated. We may lose more to this so-called police presence than we do from (folks in the street)."
Clark believes improved community relations between police and residents is key to ending violence in Detroit, where the conditions of poverty and lack of opportunity are very similar to Chicago: high unemployment; under-resourced and underperforming schools; a high number of formerly incarcerated citizens; and little economic development.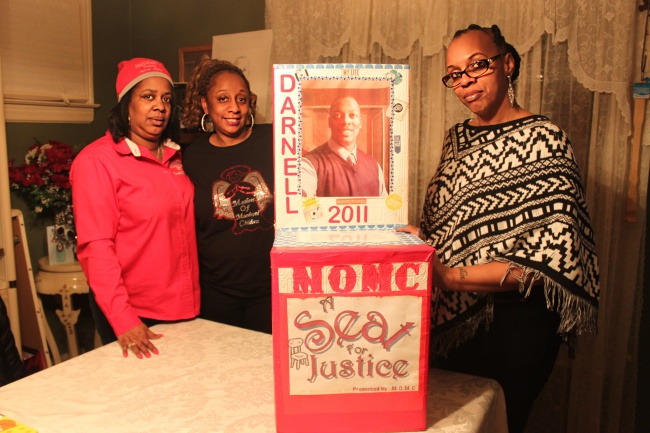 Andrea Clark founder of Detroit organization Mothers of Murdered Children stands with two members: Carol Walters whose son DeAnthony was killed in September and Constance Williams. Andrea's son Darnell's photo is attached to the "Seat of Justice." Photo by Zenobia Jeffries.
Although the Detroit Police Department reported overall crime was down in 2016 from the previous year, there were seven more homicides in 2016 than 2015. The homicide rate in Detroit is 43.5 murders per 100,000 people, compared to St. Louis at 49.9, the highest in the country. Many of these crimes go unsolved: For years, Detroit's police department was without a cold case unit, which handles unsolved cases. Clark and MOMC were instrumental in helping DPD revive the unit, now called the Inactive Case Squad.
In 2015, the Inactive Case Squad opened with 10 cases from the families with MOMC. So far, six have been solved, and five more added. In all, about 300 cases remain on the Inactive Case Squad list.
Clark founded MOMC a few months after her son was killed, aiming to prevent violence through education and proactive intervention with children, young adults, families, and community organizations. "I had to find something to hold on to," she says. "I couldn't see tomorrow; I couldn't see the next hour. I don't even remember my son's funeral. I left here, emotionally and mentally." Since 2011, 93 mothers have joined the organization, although about 15 are active members who participate in fundraising and outreach.
The local efforts of residents and organizations in the Black community are important.
Clark says she's been able to forge ahead because she's helping other mothers go through the process of grieving—through action. Many of the mothers were having problems getting the cases investigated, let alone solved, says Clark. So they appealed to Detroit Police Chief James Craig. Today, she and two others with MOMC partner with the department as liaisons for the Inactive Case Squad.
Lieutenant Charles Clark, (no relation to Andrea), has been with DPD for 23 years and with the homicide unit for 12. He believes the work they're doing with MOMC is unprecedented. "Anything we do where the community is involved and both parties are working toward the same goal, I can't think of anything better than that," says Clark. "Andrea has been phenomenal because she helps as far as the communication gap with her being a surviving parent herself. [She] brings credibility when she's giving information to the families." Not that they don't believe us, he says, but with her same experience it helps.
Constance Williams' son Justin, who was randomly shot at a July 4, 2013, neighborhood block party, is one of those cases. She understands that with the number of unsolved cases, it may take a while before her son's killing is solved. She says she tries to find peace in knowing that other cases are being solved.
"There's solace simply because I know that these people who have killed, they can't kill anymore because they're not on the streets," she says. Williams also believes better relations between the citizens and law enforcement, not more troops or stricter laws, would help to decrease violent crimes in Black communities.
"You've got to equal the playing field in these communities."
Mark Fancher, staff attorney for the Racial Justice Project of the ACLU-Michigan, says the local efforts of residents and organizations in the Black community are important; the community should determine for itself what the problems and solutions are, and to develop a program and agenda for addressing those problems.
"It should pursue that agenda without respect to any counter narrative that's offered by the White House or anybody else about the nature of the problem," Fancher says.
If the Trump administration does anything that is inconsistent with the rule of law, is unconstitutional, or in some way threatens the rights of the Black community, "then certainly those are occasions which the ACLU or [others] will step in," he adds.
In Chicago, Pfleger says, the community could use federal support—but not in the form of stricter law enforcement.
"You have many of these communities where the violence is taking place that looks like third-world countries. They've been abandoned. So, you've got to equal the playing field in these communities. If [Trump] wants to send in federal help … we need human services, we need the Justice Department to come in with resources to avoid locking up [people], we need the housing department, we need the education department."