Can You Celebrate American History Without Celebrating Colonialism?
Sitting in handcuffs, waiting to be taken to county jail, Jennifer Marley, a member of the San Ildefonso Pueblo and a leader of The Red Nation, an indigenous activist group, addressed the small crowd around her.
"We came here to protest the Entrada, something that glorifies the brutal and violent conquest of Native people here in New Mexico," she told the huddled group from behind police tape, following her arrest for criminal trespass last Friday in Santa Fe, New Mexico."The resistance that came with the Pueblo revolt has not died."
What does it mean for a group to celebrate its ethnic identity and heritage?
For the past three years, Native Pueblo activists have protested the annual reenactment of the Entrada, the supposedly "bloodless" conquest of Santa Fe in 1692 by Don Diego de Vargas following the Pueblo Revolt of 1680. While supporters of the event call the reenactment a celebration of a peaceful moment between the Spanish conquistadors and the Puebloan people of northern New Mexico, protesters dismiss this as a false narrative. Instead, they point to the 70 Native warriors who were executed the following year and the thousands more who were killed or enslaved over the course of Spain's colonial occupation.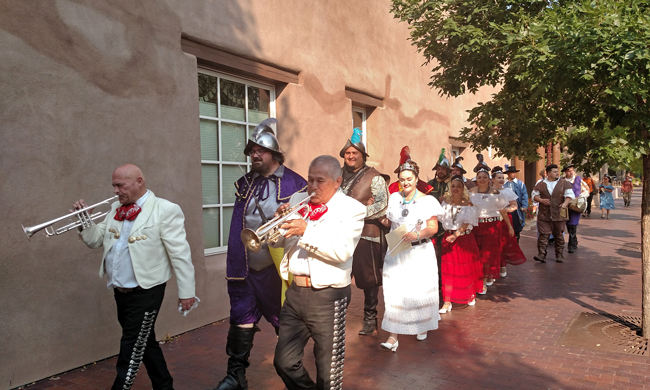 The fiesta court which includes reenactors dressed as conquistadors such as Don Diego de Vargas are led by musicians in an opening ceremony.
Following the violence in Charlottesville, Virginia, last month, this year's protest seemed more urgent. More than a hundred demonstrators, both Native and non-Native, protested this year's Entrada reenactment.
While the protest raised a host of questions surrounding free speech, whether the police used excessive force, and the city's deliberate attempt to undermine the protest, more broadly, it forced a conversation about what it means for a group to celebrate its ethnic identity and heritage and how and when such displays are appropriate.
---
When considering different holidays, festivals, celebrations, or monuments that in some way recognize or involve race or ethnicity, the majority of these either honor origin stories or provide an opportunity for a minority group to gather and support one another—something anthropologist Aimee Villarreal terms "survival strategies."
Of the latter, the most well-known are the Puerto Rican Day parade in New York City and St. Patrick's Day, which is celebrated throughout the country but especially in places with large Irish populations. To a certain degree, Martin Luther King Day fills this niche for African Americans, and although it is not an issue of race or ethnicity, pride parades provide a similar opportunity for the LGBTQ community.
The purpose and benefit of these annual celebrations has been to give these underrepresented communities an opportunity to embrace one another and celebrate their collective heritage that otherwise has been oppressed and denied access to the American mainstream.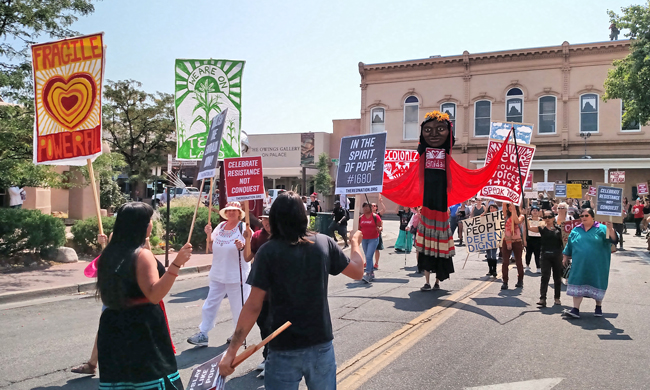 Jennifer Marley leads more than a hundred protesters on a march away from the plaza after police moved demonstrators to a "free speech zone."
These celebrations have evolved as the status of these groups within mainstream culture has improved. When large numbers of Irish people first immigrated to America in the mid-19th century, they were met with hostility and racism, spurring an era of nativism and anti-Catholic sentiment. The first St. Patrick's Day parade occurred nearly a century earlier, but it was not until this era that the celebration grew in both size and scope and became a vehicle for both molding and celebrating Irish American identity. Today, however, as anti-Irish and -Catholic sentiments have diminished, the celebration has become more universal and less tied to Irish American identity, as common slogans like "Everyone's Irish Today" seem to indicate.
Similarly, the tone of many pride parades has shifted over the past decade as acceptance of homosexuality has become commonplace and certain laws, most significantly the allowance of same-sex marriage, have been passed. Even the popular television show Portlandia acknowledged that pride parades have lost their rebellious, anti-establishment tone. When one character defended this evolution, saying, "The point is gay people are normal," another responded, "But I don't think you can build a parade around that."
---
On the other end of the spectrum, ethnic or racial celebrations and monuments that recognize origin stories or specific historical events are most typically celebrated by groups in some position of power as these triumphant moments would not otherwise be relevant.
Similar to the Entrada, Thanksgiving celebrates a peaceful moment between the Pilgrims and Indians. Rather than celebrating a fleeting truce whose legacy is the genocide of Native Americans, for most Americans, Thanksgiving has been appropriated into a celebration focused on family and friends only loosely tied to a meal shared by Pilgrims and Indians. Even the group United American Indians of New England, which has declared Thanksgiving a national day of mourning, follow their annual protest at Plymouth Rock with a potluck dinner.
Meanwhile, Columbus Day started as an opportunity for Italian Americans to celebrate their heritage. President Franklin D. Roosevelt declared it a national holiday in 1937, and although many Italian American communities still view this day as an opportunity to celebrate their cultural identity, this meaning has not translated to a national audience. As a result, it has become antiquated due to the growing stigma attached to Columbus' name, and over the past few years, dozens of cities and states have voted to replace it with Indigenous Peoples' Day.
---
In New Mexico, the reenactment of the Entrada is one event of a weeklong festival called the Santa Fe Fiesta. This festival has been celebrated for more than 300 years, but the Entrada is a relatively new addition, added in the 1920s by Anglo city boosters to help attract tourists. The reenactment was re-appropriated by Santa Fe's Hispanic community in the 1950s, when mainstream Anglo culture penetrated New Mexico for the first time, and since then it has become a staple of the Fiesta.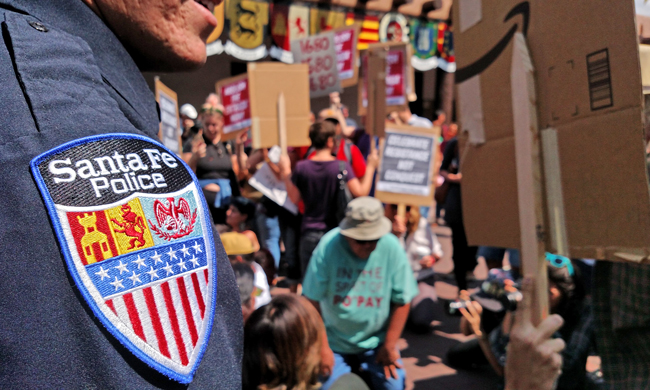 Following the Entrada protesters sit down as police officers try to move them to a "free speech zone."
For Villarreal, a Santa Fe native, her first memories of the Entrada as a kid were the annual assemblies where reenactors, dressed as conquistadors, would come and play music and dance in the public schools. "It was fun," she recalls.
But this is part of the problem. Not only does it take place in public space, but it receives financial support from the city.
To Indigenous peoples, it became a celebration of conquest, little different from Columbus Day or Thanksgiving.
What's more, the Entrada is also a religious celebration that features a recreation of La Conquistadora—the oldest image of the Virgin Mary that de Vargas had with him when he reentered Santa Fe in 1692.
"Call it what is," says Elena Ortiz, a member of the Ohkay Owingeh Pueblo and one of the lead voices of the Entrada protest over the past few years. "It's conquest theater. It's religion, and it doesn't belong in public space."
Ortiz also takes issue with the event's racial revisionism. "It's not Hispanic. It's European Spanish," she stresses. "Any and all of us might have Spanish, North African, crypto-Jewish, Mexican, and Pueblo heritage. So why are we celebrating Spanish conquest?"
This, notes Villareal, must be understood in its historical context. In an article for NMPolitics.net, she argues, "Assimilation was the only option in the 1950s. Being Spanish American allowed my grandparents to be almost white—to be different but in an acceptable way." She adds that claims by Nuevomexicanos, people of Spanish or Hispanic descent in northern New Mexico, "to Spanish origins were only made possible or appealing in the context of Anglo domination and white supremacy in the Southwest."
Viewed from this perspective, the Entrada fits both models of ethnic celebrations described above. For Nuevomexicans, it is a way to demonstrate pride in a heritage that was being oppressed, but to indigenous people, it became a celebration of conquest, little different from Columbus Day or Thanksgiving in their original forms.
So where does that leave Santa Fe?
It is possible for Anglo culture to be celebrated in ways that are not offensive to other minority groups.
In 2016, Santa Fe joined the growing list of cities to replace Columbus Day with Indigenous Peoples' Day. Following the unanimous passage of the resolution, Santa Fe Mayor Javier Gonzales proudly declared, "The DNA of this community is very much rooted in the indigenous culture, and the resolution is meant to reflect that and to build upon it," according to local paper The Santa Fe New Mexican.
But in a similar vein, Gonzales has also said in defense of the Entrada that conversations must "expand the dialogue to include some of the wounds that have been felt in the Hispanic community—of land lost, of language lost."
Villarreal empathizes with this view. She sees the impetus to construct numerous statues of conquistadors around Santa Fe and northern New Mexico as similar to motivation behind statues of Washington and Jefferson.
"They [Nuevomexicanos] want their presence to be venerated," she explains. "In their mind, by venerating colonizers really what they were trying to do is say, 'We were here first.'"
Ortiz understands the plight of New Mexico's Hispanic community, but also wants Nuevomexicanos to display and celebrate their heritage in a way that is not offensive to indigenous people.
"They have music, they have dance, they have cuisine," she says. "Why do they have to celebrate the military aspect?"
This raises the larger question of what it means for an ethnic-majority group to celebrate its culture within the context of a diverse community. Recent celebrations of Anglo culture have been marked by implicit or explicit racism, as rallies supporting statues and monuments to Confederate leaders have demonstrated.
Other cities around the country began examining their roles in perpetuating outdated historic narratives.
However, Santa Fe writer and activist Kristin Barendsen, who protested this year's Entrada, theorizes that it is possible for Anglo culture to be celebrated in ways that are not offensive to other minority groups.
"We can celebrate aspects of our culture that came out of our European heritage, such as bluegrass and indie rock, or pop art and abstract expressionism without celebrating their 'whiteness,'" she says.
---
Following the recent violence in Charlottesville, as other cities around the country began examining their roles in perpetuating outdated historic narratives, Gonzales ordered a review of all monuments and celebrations of historic events or people funded by the city. Ortiz, who would like to see the Entrada moved away from public space and into a private theater, has little hope that the review will lead to any revisions of the city's role in the event. But she was encouraged that, for the first time this year, Native students had the option not to attend the school assembly.
What the future will hold for the Entrada—and how New Mexico and other cities celebrate their complex, racially diverse heritage—no one can say for sure. But as Villarealla notes, "The Fiesta is a created tradition. We can certainly reinvent it in a more inclusive and positive direction, one that celebrates our continuance as people of mixed racial and cultural heritage."