Your Uncle Said What? How to Talk About Social Justice With Your Family During the Holidays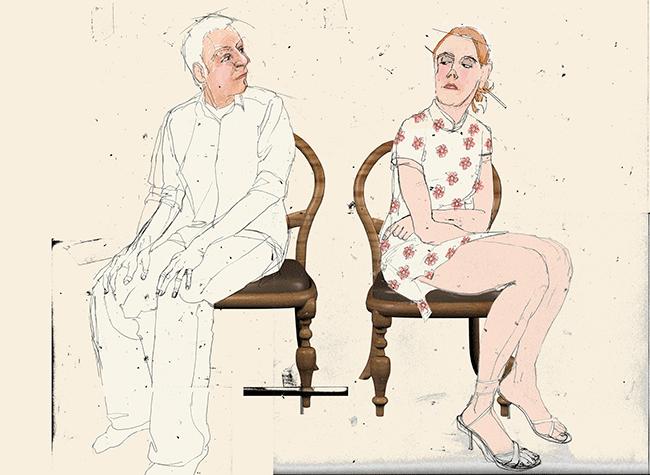 The dread of politically combative conversations during the holidays—or awkward ones at best—is as akin to Thanksgiving and Christmas as turkey and candy canes. For people passionate about social justice, the holidays can mean a choice between throwing things in frustration or stressing out in silence to avoid confrontations with family.
There are constructive ways to navigate difficult conversations.
According to a 2015 Healthline survey, more than 60 percent of respondents said holidays are "somewhat" or "very" stressful, and the survey did not even specifically ask about family-related stress.
Finding connection and engaging face to face is important social change work. Yet all too often, the same folks willing to march down Fifth Avenue or hold a sign on Capitol Hill are not willing to confront a racist uncle or climate-denier cousin. Understandable, but there are constructive ways to navigate difficult conversations. So, before you gather around the table for your annual helping of chitlins, tamales, or pumpkin pie, here's some advice from psychologists and social justice leaders.
Monitor your anxiety
Being nervous during the holiday season is common. So Amber Hewitt, licensed psychologist for adolescent and family issues and adjunct professor at American University, recommends taking time to recognize what you are feeling and why, which can help you adjust your approach and have more productive interactions.
"Be aware of any precipitating feelings or behaviors," Hewitt said. "Do you notice your body temperature increase? Or, are you starting to raise your voice? Do you notice yourself feeling irritable or getting fidgety? These might be signs that it is time to change your communication strategy." For example, if you are angry or anxious, you are more likely to have negative or self-defeating thoughts. These kinds of thoughts block us from being receptive to others.
We need to be kinder to ourselves during these stressful encounters.
And only thinking negatively about the holidays and gatherings with family can make things worse, warns Peter Coleman, Columbia University professor of psychology and education and Morton Deutsch International Center for Cooperation and Conflict Resolution director. People are susceptible to interpret a future event or experience based on previous thoughts or emotions.
For example, we are more likely to see someone else's behavior in a positive light if we are in a positive mood. So, if you are already anticipating your grandfather to make an incendiary comment while passing the mashed potatoes, you are likely to only see his faults and ignore anything positive.
"If we enter ready for battle with our talking points sharpened and our statistics drawn, then battle we will," Coleman said.
No matter what happens, though, we need to be kinder to ourselves during these stressful encounters, adds Mariel Buque, doctoral candidate in counseling psychology at Columbia University. Recognize that you are brave for having these conversations in the first place.
"If you're willing to have the courage to engage in these conversations outside of activist spaces, you've already taken a big step forward," she said.
Plan, plan, plan
You booked your flight. You made sure your shampoo bottle is under 3.4 ounces and your check-in bag under 50 lbs. Maybe you booked a hotel room or talked to your family about not subjecting your partner to your old bedroom and its Hey Arnold! wallpaper.
Either way, you planned ahead. You should plan for the holiday conversations, too.
According to University of Oregon psychology professor Gordon Hall, people can be grouped into three categories—dissenters, passive supporters, and active supporters. Dissenters will disagree with you and are difficult to convince otherwise. There is little common ground between you and a dissenter, beyond hobbies or reminiscing about a shared past. Passive and active supporters have much more in common with you and are therefore more likely to engage in meaningful conversations.
Considering ahead of time which group each member of your family belongs to lets you plan for possible conversations—not only conversations that could go poorly, but also topics that can be discussed without stress.
Think about the best and worst case scenarios for each conversation, then how you will react.
Stacey Long Simmons, National LGBTQ Task Force director of advocacy and action, agrees that you should brush up on likely topics so you can respond thoughtfully and not be caught off guard. Think about what is in the news or what has been brought up before. For example, she said, does your family know what it means to be trans or gender-nonconforming? Will current cases in the Supreme Court, such as those related to religious freedom, be discussed? Think about the best and worst case scenarios for each conversation, then how you will react.
"What will you say in response to an uncomfortable comment?" Long Simmons said. "How will you answer probing questions? What is your 'line in the sand' in terms of what you're willing to tolerate?"
Finally, have a plan to protect your own mental health. Plan to go on a walk to clear your head or have a friend lined up to call or text in case things get heated.
Ask yourself, "What kind of conversation is this?"
There is a difference between debate and dialogue, reminds Azadeh Aalai, assistant professor of Psychology at Queensborough Community College. Dialogue is a shared learning experience, meaning people are open to sharing points of view and listening to others. Debate is the opposite. "In a debate or argument we take on adversarial roles and are combative and defensive," Aalai said. "It is all about being right and proving the other person wrong."
In the moment, ask yourself what type of conversation you are having. In a debate, convincing someone to even consider thinking differently is practically impossible. If you find yourself in a debate, give everyone time and space to cool off if the topic is something worth discussing. Then, return to the conversation with a shared understanding that the topic is about learning, not arguing.
Arguing is emotional, so talk about emotions
Americans' political and social beliefs are closely tied to identity, so challenging someone's stance can feel like a personal attack. We react to such threats emotionally and, in the heat of an argument, those emotions can make us say things we regret.
Rather than trying to suppress these feelings, though, we should talk about them.
Use "I" statements to tell others why you feel the way you do or how the conversation is affecting you, Hewitt suggests.
Admitting to others you are nervous can be helpful.
Coleman agrees. Laying out a series of facts is of little use in an emotional argument, especially with the recent skepticism about "fake news." Instead, be an example for your family on how to discuss the emotional side of sensitive issues without attacking others. Explaining how you formed your beliefs invites others to do the same, he says, which helps you better understand where they are coming from.
Even admitting to others you are nervous can be helpful. This shows you care about the conversation and the topic is important to you. "They're probably nervous, too," Buque said. "Sometimes calling out the emotion can have a more powerful effect than the content itself."
Remember, you're still on holiday
It's unlikely that anyone's political stance or position on global warming will change before dessert. A person's beliefs are formed over years of experience. Give yourself some freedom to enjoy the holiday.
"Sometimes the answer may be to just take deep breaths and try to get through it," Aalai said.
Stay positive and don't give up. Our own opinions have changed throughout our lives, so trust that others' can do the same. "Research has shown that when people believe that others can change, they tend to approach them more cooperatively, see more value in engaging with them and voicing their concerns," Coleman said. "As Nelson Mandela once said, 'It always seems impossible until it's done.'"
Also, have that second piece of dessert, Hewitt said. You deserve it.