Kids Say #MeToo After Each Performance of This Play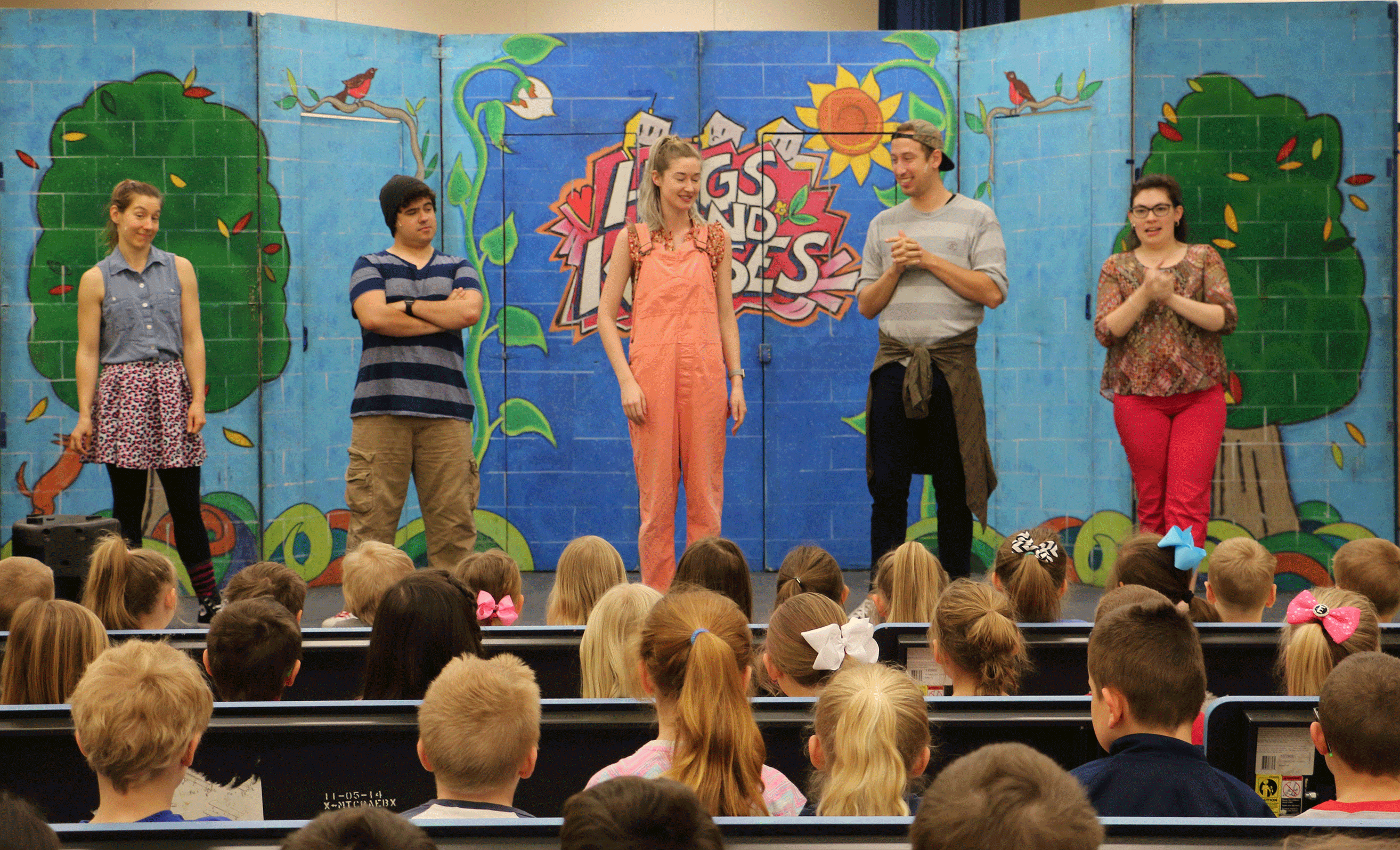 In her recent interview on Dateline, Olympic gold medalist McKayla Maroney disclosed that she was abused "hundreds of times" by Team USA's former doctor Larry Nassar. For years, her cry for help went unheard. Maroney's story isn't uncommon. Thousands of children across America share the anxiety, fear, and confusion that come with experiencing sexual abuse. And like her, many are left without the power to recognize or report it.
A theatre program in Virginia called Hugs and Kisses is now working harder than ever to change this. Filled with messages that inform children about sexual abuse and help them report it, the program has been empowering kids long before the #MeToo movement began.
"Using theatre and music as a teaching tool we found is especially helpful because it helps that learning process," says Johanna Schuchert, executive director at Prevent Child Abuse Virginia, which coordinates the Hugs and Kisses program. "Prevent Child Abuse Virginia provides training on child abuse and neglect and the reporting process before each cast tour. We have a log of questions that children asked over the years, and we've scripted responses to those questions." All the people involved in the process—actors, CPS workers, school staff—are trained to answer questions and offer help to children who wish to disclose their experiences.
The play, also called Hugs and Kisses, was initially performed in the mid-1980s to address the shame and lack of knowledge around child sexual abuse. Since then, the program has been independently evaluated every year to ensure that children are able to understand different types of touch. The outcome of a unique partnership between PCAV, the Virginia Repertory Theatre, and the Virginia Department of Social Services, the play has been performed in every school district in the state, reaching about 1.4 million elementary school students over 34 years and helping them report their experiences. Prevent Child Abuse estimates that over 13,000 students have disclosed their experiences of physical and sexual abuse based on reports made to Virginia Repertory Theatre. It is now seen as the state's most comprehensive child sexual abuse prevention program.
The Rape, Abuse & Incest National Network estimates that between 2009 and 2013 alone, 63,000 children were recorded as victims of sexual abuse by Child Protective Services. Nearly 66 percent of all victims are female between the ages of 12 and 17. One recent study estimates that the economic burden of child sexual abuse in the U.S. is approximately $9.3 billion.
"[Child sexual abuse] has historically been one of the best-kept secrets in our country," says Schuchert, adding that the resistance of talking openly about child sexual abuse is a cultural issue that continues to plague American life. "Our culture has not been comfortable historically talking about sex with children."
That discomfort is well-documented. There has been a steady decline in federal funding for comprehensive sex education since the '90s. This year, the Trump administration amped up efforts to back abstinence-only-until-marriage programs in schools, a move that has been seen as a failed policy by education experts.
"Many parents are very uncomfortable talking to their children about personal body safety."
"Many parents are very uncomfortable talking to their children about personal body safety because it gets all mixed up with the sex conversation," Schuchert says.
The messages in the play fill the gap left behind by ineffective policy and cultural roadblocks. The musical tells the story of a young girl who is being sexually abused, and sensitively educates children about the different forms of touch and how to protect themselves from "secret touch"—a term that helps them identify inappropriate touching. At the end of the play, children are encouraged to ask questions and are introduced to a "special friend" who they can privately approach if they wish to do so—usually CPS workers from the local Department of Social Services or a staff member from the school with the mandated authority to file a report. Children are also told that "secret touch" is never their fault and that they should tell a trusted adult if they have been touched that way.
The process is simple and one that works. Julia Edwards-McDaniel, a former Virginia CPS worker, says that she learned that she was experiencing abuse after she watched the play as a fourth-grader back in 1986. Soon after the play, she disclosed her experiences to a teacher, and was taken to a nurse's office. Later, her mother was informed about the abuse and was taken to report to social services. However, unlike in the '80s, schools today are mandated to report directly to CPS when children disclose.
In 2016, McDaniel's journey came full circle when she was tasked with revising the Hugs and Kisses curriculum and training the cast to help children. There is at least one CPS worker present during each performance, but in his or her absence a school staff member makes a report to CPS.
Last year, one such disclosure by an 8-year-old student even led to the arrest of a 20-year-old family member who lived close to school quarters in Prince William County. Schuchert says that an average of two to three children disclose every time the play is performed.
While disclosing abuse is only the first step, it's a crucial one. For child sexual abuse victims, opening up might also open doors to healing and coping with trauma. A growing body of research warns of the lifelong effects of adverse childhood experiences, known as ACEs.
The team is focused on helping children tell their stories in a way that makes them feel comfortable and safe.
Last October, The Child & Adolescent Health Measurement Initiative at the Johns Hopkins Bloomberg School of Public Health and The Robert Wood Johnson Foundation analyzed the national and state data from the 2016 National Survey of Children's Health. They found that while ACEs are more prevalent among children in low-income families and those with public assistance, this is an issue that cuts across states—46 percent of all U.S. children have at least one ACE. More than 1 in 5 children have two or more.
The survey assessed nine different ACEs—ranging from having a parent with substance abuse issues to being a victim of violence or discrimination. Research shows these contribute to the negative long-term effects on a child's well-being, which later manifest in adulthood. Despite the range of ACEs, Christina Bethell, professor at John Hopkins Bloomberg School of Public Health and director of the CAHMI, says that existing research shows that knowing someone's number of ACEs is more predictive of negative outcomes than looking at their specific experiences one by one.
"As adults, we have a certain amount of agency and freedom to leave negative situations and understand that they are not always personal to us. But for young children experiencing trauma in their homes, there's nowhere for them to go, and this has a lot to do with the trauma that results," she explains.
Bethell adds that using a trauma-informed approach is crucial when helping children to cope with adversity and build resilience, as the symptoms of trauma tend to worsen and pass on from one generation to the next. But undoing years of negative social conditioning and providing families with the skills they need to rewire takes time.
Schuchert and her team at PCAV know this. Although the movement that Hugs and Kisses started over three decades ago continues to grow and reach more children, the topic is still one that makes parents uneasy. They've been working to involve parents and foster families through their programs.
With Hugs and Kisses, the key challenge in expanding the model to other states, Schuchert notes, is to adapt the comprehensive structure of the partnership in Virginia. A successful program has to involve three core partners that are willing to work together—a professional theater company, a PCA chapter, and the Department of Social Services or other state child protection agency. While states like West Virginia and Ohio have expressed an interest in adopting the model, so have other countries, like New Zealand.
For now, the team is focused on helping children tell their stories in a way that makes them feel comfortable and safe.
The story, as Oprah said in her famous Cecil B. DeMille Award speech earlier this year, transcends "any culture, geography, race, religion, politics, or workplace." But an important addition to this list might be age. While programs like Hugs and Kisses offer an example of effective state-wide intervention to tackle child sexual abuse, there's no alternative to believing children when they come forward—and taking steps to break the silence for everyone.