An Unusual Way to Rescue a City From Blight—Bees
For over a decade, Detroit has been at the center of the country's urban farm movement. The gardens and farms established on the city's vacant land are a practical answer to both poverty and blight.
Now, urban bees are moving in. That's obviously a good thing for the city farms, but it's also helping with the blight.
The Detroit Blight Removal Task Force assembled by former President Barack Obama recommended the city remove 40,000 blighted properties within five years. That was four years ago. As the city bulldozed battered homes and buildings, about 24 square miles of vacant land has opened up. Some of it has become unsanctioned dumping grounds, perpetuating a cycle of blight.
"People want to see their areas cleaned up. They want to see all the blight removed," says Timothy Paule, a Detroit resident and beekeeper. "And that costs money."
So, bees.
Last year, Paule and his partner, Nicole Lindsey, bought a 32,000-square-foot lot on the city's east side from the Detroit Land Bank Authority for $350 and turned it into an urban bee farm. And they say more bee farms are coming.
Paule and Lindsey run Detroit Hives, a nonprofit organization they use to transform vacant lots into honeybee farms. Beyond reducing blight, its mission is also to conserve honeybees, whose drastic declines worldwide have been attributed partly to pesticides and herbicides, and to educate the community about the bees' vital contribution as pollinators necessary for food production.
Honeybees pollinate about $15 billion worth of crops each year, according to a 2016 study from the U.S Department of Agriculture. They produce wax, and their venom is known to have healing properties.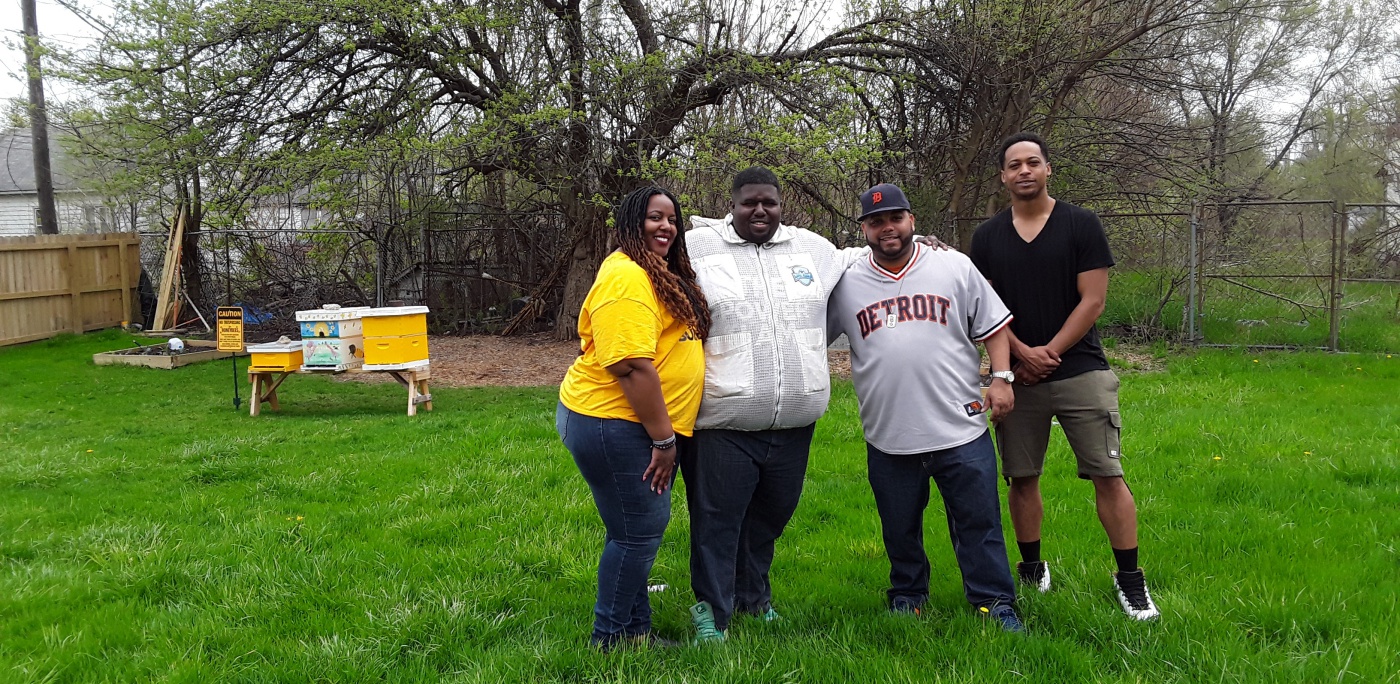 From left: Nicole Lindsey Timothy Paule Alex Gipson and Eric Andrews. Photo by J. Gabriel Ware.
Then there's the honey.
More than a year ago, Paule suffered from cold symptoms that lingered for two months. He tried almost every over-the-counter medication without success, he says. An employee at a local market suggested Paule try some of his local, raw honey produced at a honeybee farm in Michigan.
"I pretty much laughed it off, thinking that it wasn't going to work. But I began using it on a daily basis and noticed that the phlegm in my body began to dry up, and my cough was suppressed. I began to feel a whole lot better," Paule says.
Everyone seems to recognize the bees' role in the city's revitalization.
Impressed, the couple researched the medicinal uses of local, raw honey. It's a natural antiseptic. Its microdoses of local pollens help with allergies. It's a natural energy booster and fat burner. It's used to help regulate blood sugar and control insomnia. Eager to share this information with their community, Paule and Lindsey took beekeeping courses and joined the Southeastern Michigan Beekeepers and Southeastern Beekeepers.
It was Lindsey who concocted the plan to create urban bee farms using vacant lots in Detroit, where side lots sell for as low as $100 to encourage use and revitalization.
When the couple bought their first lot, it was filled with dilapidated furniture, old tires, weeds, and other trash. "Anything you can name," Lindsey says, "it was there."
Cleanup was a cooperative effort. Friends and community partners helped. A local brewery, Black Bottom Brewery, paid for a wooden fence to be built around the farm.
Paule and Lindsey invested in honeybees from local beekeepers. One hive can house up to 60,000 bees, and Detroit Hives currently has three hives. By next month, Paule and Lindsey expect to expand it up to 14.
Though Detroit Hives sell jars of honey from its website, it is mostly relying on partnerships with local businesses. For example, Paule says that Slows Bar BQ sponsored a bee hive at the farm, and a percentage of the honey produced by that hive will be used in the restaurant's honey barbecue sauce.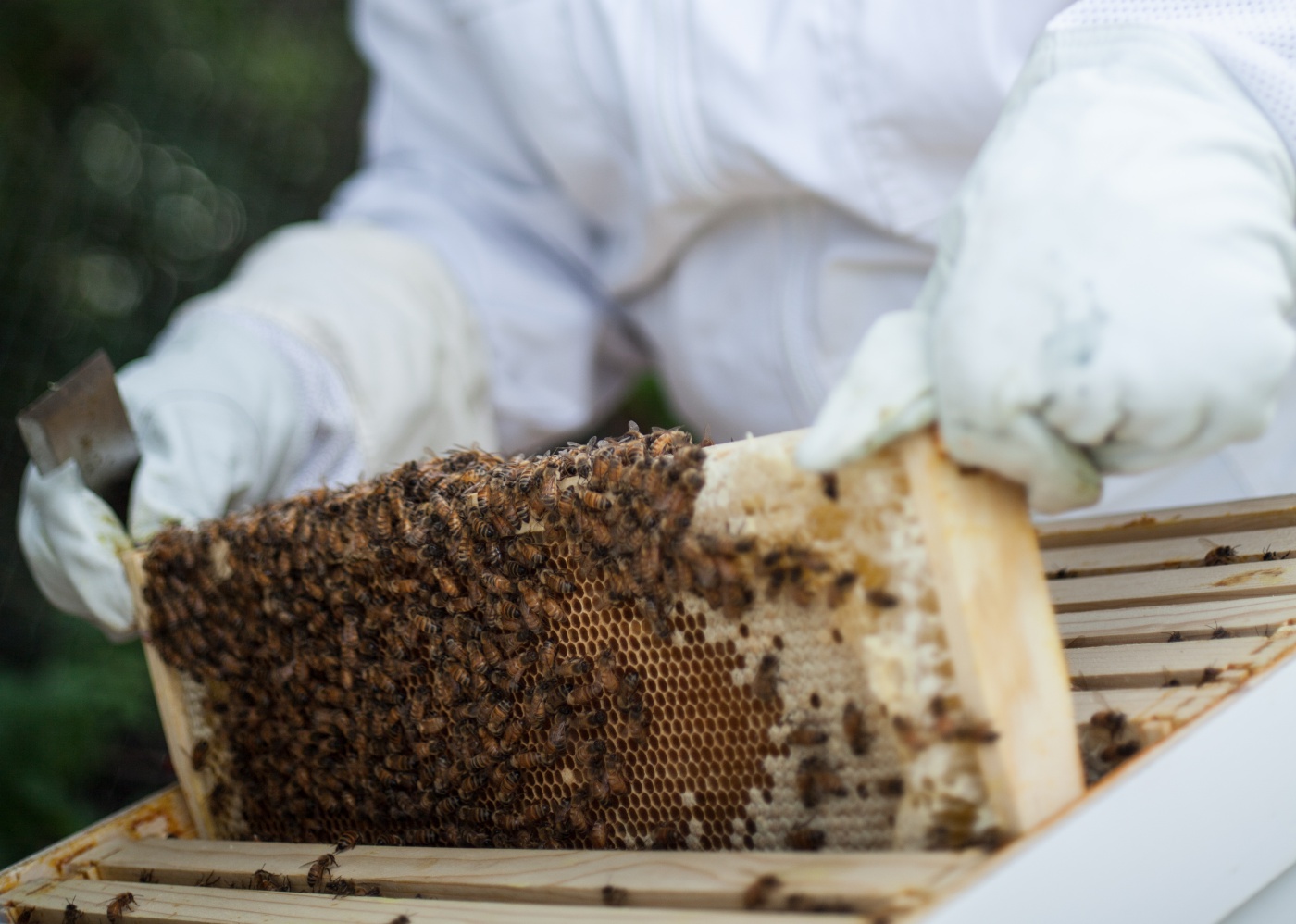 A honeybee colony on Detroit Hives Honeybee farm. Photo courtesy of Detroit Hives.
And Detroit tourists can book $25 hour-long tours to the farm through Airbnb.com, which Paule says is especially important. "People visiting from other places sometimes want to go into the inner city and see what's going on in the community versus what's going on at major businesses or retail stores." The money is invested back into the farm.
Peace Tree Parks, a nonprofit that works to improve Detroit residents' access to fresh organic produce, is another partner. Co-founder Eric Andrews built two flowerbeds on the farm, which give the honeybees local pollen sources.
Everyone seems to recognize the bees' role in the city's revitalization, including Gamps Sports, a startup sports marketing company.
"Not only do we have a lot of vacant lots, but we also have a lot more houses that need to be demolished," CEO Alex Gipson III says. "So it's a good thing when we can take these urban dumping grounds and turn them into something positive."
Gamps Sports will host an online auction next month selling sports memorabilia, with proceeds to be donated to Detroit Hives.
"We brought this to the community, and we get to expose them to science and the environment, whether directly or indirectly," Paule says. "A lot of people don't see bee farms in their community, so when they walk by, they stop and ask questions."