"You Taught Me How to Shout Out Loud": A Love Letter to My Fellow Activists
Together we saved lives and sparked changes in the healthcare and social support systems that were crumbling around us.
Why you can trust us
---

Dear OUT! DC:
Oppression Under Target, you were my first affinity group of radical queers.
You taught me how to love in a web of resistance and, because of this, my affection for you is deep. You held me as kin and taught me the power of making a revolution with those of you who are in your heart. In you, I found a home, best described as a veritable hot house of possibility and passion. Together, we found mirroring for our lives and validation for our bodies. In this holding, we forged a path to a different world. We took to the streets shouting out desires with our fists held high and delighting in the joy that comes when voices are no longer silenced.
We were a disparate network of lesbians, bisexuals, and gay men who formed an affinity group in 1987 until about 1992. Like the growing network of ACT-UP groups, we were connected to across the country, OUT! DC was united in our anger at the outrageous neglect of the United States government and general population in the early days of the AIDS epidemic. We wanted health, wellness, and wholeness. We cried out for an end: to AIDS, to the violence against queers, and to the criminalizing of our bodies. Emboldened by our coalitions of radical organizers, we moved quickly to save lives and to spark changes in the healthcare and social support systems that were crumbling around us.
Together, we acted up while fully aware of our brave ancestors who were civil rights visionaries, peace hippies, radical feminists, women's health activists, butch dykes, and drag queens. We stood there making a scene, forcing a confrontation, speaking out for change, and saving our lives. Justice was our desire and nonviolent civil disobedience was our tool. We laid our bodies down in the streets, we disrupted meetings, we attached ourselves to buildings, we tied up traffic, and painted the parade routes red. We did it to save those living and to honor the dead who left us too soon. We did it because "Action = Life" and without it "Silence = Death."
We called ourselves glorious names as we focused our efforts. OUT! DC, aka, "Oppression Under Target" met weekly in Washington, D.C., public libraries and the Washington Peace Center to organize our actions. We birthed smaller groups like the "Safer Sex Sirens" to provide street outreach safer sex education and materials to lesbians and bisexual women. Gender transgressive activists like the "Church Ladies for Choice" came out in drag to confront the anti-woman bigotry of anti-choice champions in power on Capitol Hill. We united gay and anti-violence organizers to create "GLOV: Gays and Lesbians Opposing Violence" together to respond to police brutality, hate- oriented bashings, and interpersonal violence targeting transgender and queer folks.
Arms linked, we stormed Washington, D.C ., with witty chants and fabulous outfits at our rallies, marches, zaps, and takeovers. We had a community-held bullhorn and slogan-laden T-shirts to sell to fund our jail/bail funds. We loved agit-prop and we made flyers, press releases, and letters with early versions of PageMaker. We made homemade signs/banners with paint, markers, foam core, and pithy slogans. We used an after-hours "free" copy machine to promote our actions and disseminate our demands.
We were tired but wise radicals, sexy fags, subversive bisexuals, queer feminists, loud-mouthed femmes, and baby dykes. We were federal workers and nonprofit junkies. We were monogamous romantics, polemic pluralists, and celibate folks. We were graphic artists, dancers, media strategists, labor organizers, peer counselors, waiters, students, doctors, and lawyers. We blurred gender standards, sexuality norms, and whatever other norm you wanted to find. We talked and processed. We came to consensus, then argued and talked it out some more. By day, we would storm a governmental agency and by night, we would celebrate life together. We ate, danced, drank, and got sober. We kissed, fucked, found peace, traveled miles, and figured it out.
In an era where half the states in the USA still had sodomy laws on the books, a demonstration of queer affection—"read our lips" style—was subversive and shocking. A kiss-in was a defiant act of loving each other and showing the world of our love. We believed that the mere making of our lives visible and without shame might propel forward social justice. We fought: for public displays of homoerotic art, for AIDS services funding, for an end to sex-negative sodomy laws, for the faster release of the experimental drugs which would save our sick, and for our right to choose/self-determine the futures of our bodies. We were up against the growing radical right of the Reagan–Bush eras where old laws were used to terrorize us on the job, blackmail us by outing us to our families, and sabotage our safety in our communities.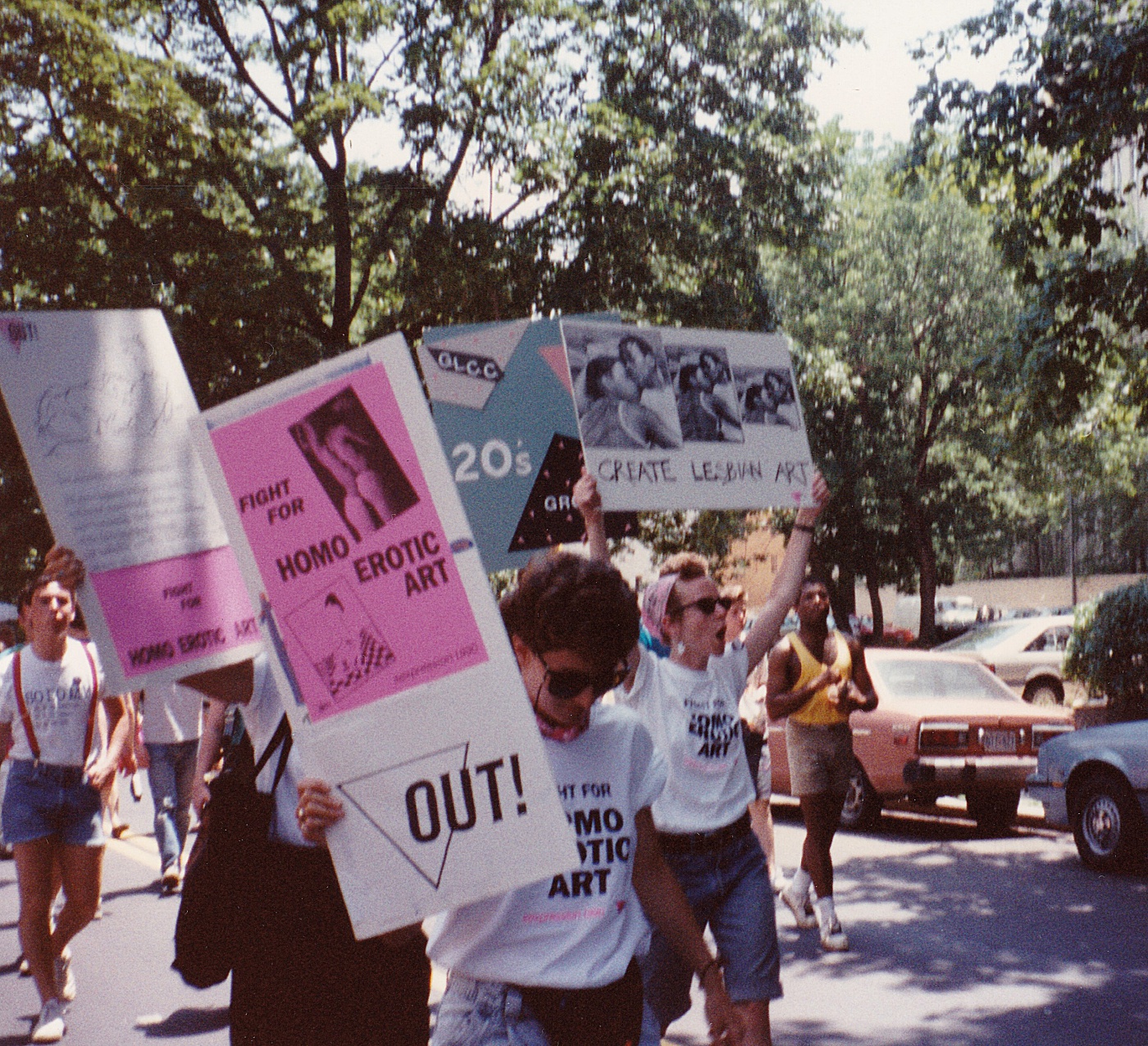 OUT! DC, you were so damn sexy. HIV transmission and AIDS had changed all our sex lives. Suddenly, talking about sex was vital to our survival. The haters were clear in the 1980s, they wanted us dead because of our sexualities and gender transgressions. We fought back. We wanted to give out life-saving safe sex information, even if it meant plastering the local buses with condom education ourselves. It was vital to show that our sexualities were not deadly. Therefore, we embodied our demos with kissing, licking, public affection, education, and lots of condoms. Showing off our passion and affection kept us fired up, and brave and were concrete articulations of our love in action.
I could trust you with my vulnerable places of unlearning, re-configuring and loving differently.
OUT! DC, you taught me how to shout out loud to startle the world. You taught me follow up my yelling with lists upon lists of concrete demands for lasting change. You held me with compassion when I was confused or unaware or caused hurt or unknowingly furthered oppression. Thus, you taught me how to be a strong ally. My activist self was youthful and evolving when I joined OUT! DC at age 23. I needed you to hold me accountable as I fumbled with words and when I spoke too soon or too little or not well. I did the same for you. Talking across gender, class, race, disability, illness was not always easy, but we hung in there. We found ground with each other to strengthen our web and assist with our collective safety when we were vulnerable out in the broader world.
OUT! DC, you lay in the street with me, so I could trust you with my vulnerable places of unlearning, reconfiguring and loving differently. When we were locked to a building, or locked in a building, we took the time to plot, scheme, and dream together. We were predominantly white, middle-class, and educated queer activists in my affinity group. We saw the limits of this web we created. We also believed in the possibility of change and how these changes could lead to lives being saved.
OUT! DC, we may have only had a brief burst of years together. But in each other we found sparks for many of us to commit to lifelong efforts toward social justice. We took risks in the street so we could then take risks with our hearts. We saw ourselves reflected in each other and felt our kinship network grow. Meeting activists from other towns as we traveled felt like coming home once more. Our web of connection grew and we saw the whole response to the AIDS epidemic change. We demanded and dreamed of a world where health care could be a right for all people. We saw growing vibrant communities where we lived freely because we had agency over our own sexy bodies, our own freaky lives, and our own queer loves.
OUT! DC, you taught me that I could continue to live, process and love fiercely in many other affinity groups in the past 25 years since you happened. I have found other affinity groups who helped me and held me. You taught me how to show up, talk through our differences, and still find a way to pull off an event. I think of our mutual learning as I have collaborated in groups fighting for lesbian health, groping for sexual liberation, clamoring for transgender survival, and envisioning an end to the capitalist white-supremacist patriarchy.
OUT! DC, words cannot thank you enough for the passion you ignited in me. To my beloved OUT! affinity group: Robin, Scott, Tracey, Phil, Linda, Sue, Brian, Rea, Michael, Eve, Mark, Mary, Gerry, Tammy, Monte, Liz, Dewey, Jarmila, Joanne, Kristen, Anne, Wendy, Tom, Urvashi, Robert, Cheryl—I bow deeply with gratitude and with my fist up high in the air for you, my comrades.
Excerpted from Niharika Banerjea, Debanuj DasGupta, Rohit K. Dasgupta and Jaime M. Grant (eds), Friendship as Social Justice Activism (London: Seagull Books, 2018.) Published with permission from author and publisher.