News Based on facts, either observed and verified directly by the reporter, or reported and verified from knowledgeable sources.
The Young Uyghurs Mobilizing to Keep Their Culture Alive
Why you can trust us
---
Photo by Emmanuel DUNAND / AFP / Getty Images
Munawwar Abdulla has a knack for creating the things she wants to see in the world. When she was growing up in Adelaide, Australia, Abdulla was envious of characters in the novels she loved, who always seemed to have a school paper and passed the time investigating mysteries. So, when she was a teen, Abdulla assembled a team at the Uyghur-language school she'd attended as a kid to start a bilingual Uyghur-English magazine for the students, complete with kids games, cultural lessons, and the students' writing and art.
As she grew a bit older, Abdulla became fascinated with Uyghur literature and poetry. Both, she says, are rooted vividly in a sense of place: that of Xinjiang, a vast region in northwest China and home to the majority-Muslim Uyghur ethnic group. Distinct from other literature Abdulla read, she found Uyghur works shot through with themes of oppression—China annexed Xinjiang in 1949 and has since treated Uyghurs as second-class citizens—yet still beautiful and relatable. Even far away from Xinjiang, the works were a window for Abdulla into her identity.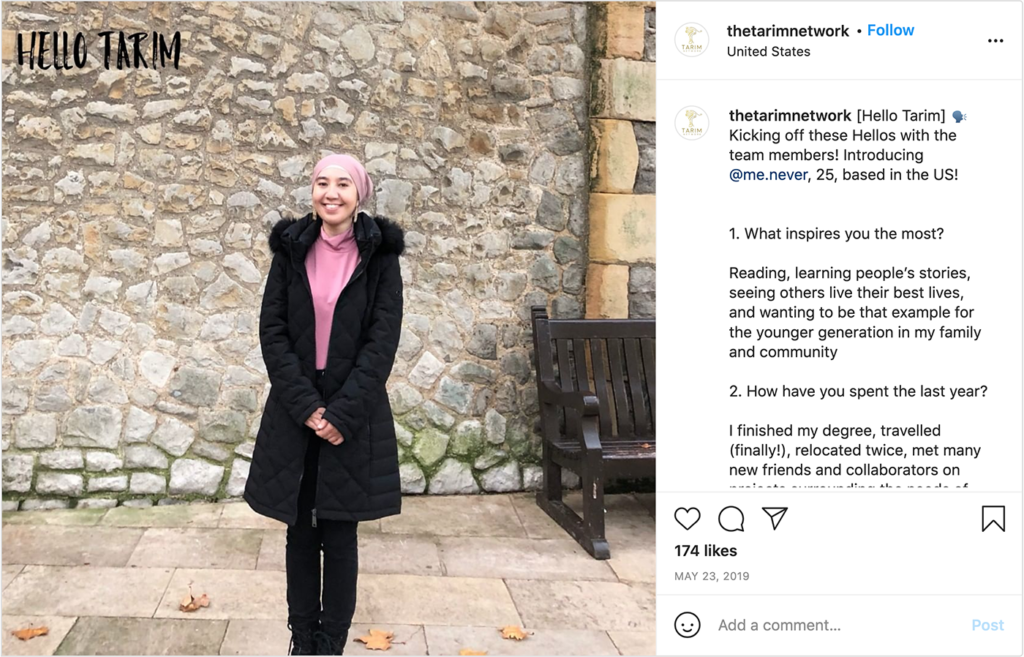 In 2013, when she was 19, Abdulla started a website dedicated to Uyghur heritage. She posted snippets of history, paintings, and poems; images of Uyghur food and fashion and videos of Uyghur dance and musical performances. She kept up with the site in the following years. Then, in 2017, the Chinese Communist Party undertook a brutal campaign of mass internment in Xinjiang; to date, more than 1 million Uyghurs and other ethnic Muslims have been corralled into modern-day concentration camps, and communication with the outside world is all but impossible. Abdulla's work was there for a diaspora that needed suddenly and desperately a means to connect with their culture and each other.
The atrocities in Xinjiang, which the U.S. government terms "genocide," are harrowing. Thousands have been pressed into forced labor, and in February a landmark BBC report conveyed detailed allegations of systemic rape in the camps. China's actions are believed to constitute the largest internment of an ethno-religious minority group since the Holocaust. 
With the rights abuses have come myriad efforts to eradicate Uyghur culture. Authorities have burned books, bulldozed mosques,  and banned so many aspects of traditional Uyghur life, including prayer and various dress and dietary customs. In the Chinese government's own words, uncovered by a 2018 Agence France-Presse investigation, the camps' purpose is to "break [Uyghurs'] lineage, break their roots, break their connections, and break their origins." (Publicly, China claims these measures are necessary to prevent terrorism.)
At this moment when Uyghur culture risks being stamped out in Xinjiang, a growing community of young Uyghurs in the diaspora is mobilizing to preserve and promote that culture abroad.
Creating Community From a Distance 
"There's this mentality that being Uyghur or being from East Turkestan is a really difficult, terrible thing," Abdulla, who today is 26 and works as a lab technician in Boston, told me, using the Uyghur community's preferred name for Xinjiang. "Like, 'Why was I born Uyghur?' So, we want to show that it's actually great to be Uyghur and that we should be proud of it."
In 2019, Abdulla founded the Tarim Network with a young man in London named Zulfukar Ablikim whom she met via social media. It's an online platform connecting young Uyghurs around the globe and spreading awareness of their culture. The network—named for Xinjiang's Tarim River and Tarim Basin, both important landmarks for Uyghurs—has since grown to offer Uyghur language lessons, culture seminars, and career networking opportunities. In October, the group livestreamed a concert featuring musicians in three countries playing classic Uyghur folk songs. Called "Longing for Home," the event explored themes of separation, because of the situation in Xinjiang as well as the COVID-19 pandemic.
The Tarim Network has proved a lifeline, Abdulla says, especially for diaspora members in areas where few Uyghurs live. "Finding [other Uyghurs] online has boosted people's morale and interest in getting to know the community," she explains. "People say, 'Oh, I've never had Uyghur friends before, this is so great.'"
The Tarim Network isn't alone in bringing young Uyghurs together. In Australia, the group People of East Turkestan hosts Uyghur youth discussions and trivia nights. Atlas Media & Design raises money to support young Uyghur refugees in Istanbul. And the Free Uyghur Coalition comprises students from across the U.S. to raise awareness about China's rights abuses. Offline, young people are taking up traditional art forms, incorporating elements of Uyghur fashion into their daily ensembles, and—critically, community members say—getting involved in Uyghur language programs. (In Xinjiang, authorities have forbidden Uyghur-language instruction in schools and curtailed sales of Uyghur-language publications.)
This all marks a decided change for diaspora youth, according to Irade Kashgary, who helps lead a Uyghur language school in Northern Virginia, near Washington, D.C. Kashgary, who is 27 and moved from Xinjiang to Virginia as a young child, says that in the past, most young Uyghurs focused on assimilating with their American peers, often with the encouragement of their parents.
The current crisis, however, has prompted new care among young people for their roots. The Uyghur school in Virginia has seen a marked uptick in attendance, Kashgary says, and dozens of schools like it have popped up around the globe. Further, whereas in the past these would have been run by community elders who spent much of their lives in Xinjiang, today young people who may have only spent a short time there or none at all are contributing.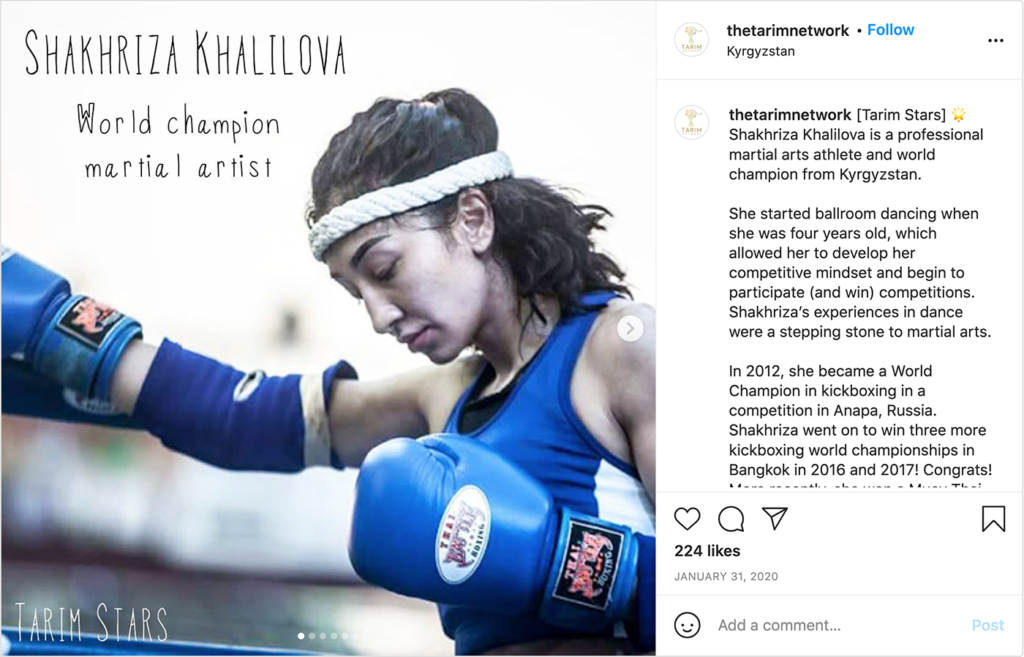 Rushan Abbas, who directs the prominent activist group Campaign for Uyghurs, recalls the joy she felt when her American-born daughter approached her recently asking for a lesson in cooking laghman, a traditional Uyghur noodle dish. "I've been so busy, so at first I tried to make excuses," Abbas says, laughing. "I said, 'Oh, why don't I buy you a dough machine?' But then she said to me, 'Mom, did my grandma use machines to make dough? If you don't teach me, how does this part of our culture continue?'
"That made me so happy and proud," Abbas says.
The attitude is now typical of young Uyghurs, she adds. Virtually everyone in the diaspora has family or friends in Xinjiang who could become targets of Chinese authorities. This makes political activism a complicated personal choice and not for everyone. But just by engaging their heritage, Abbas says, Uyghur youth are practicing a different but nonetheless important style of activism. "It's brave and admirable," she says. "They've recognized a need, and now they're really nourishing our culture."
The Future of Uyghur Culture
Four years into the Xinjiang crisis, the response from world governments has been muted; countries have valued their bottom line, vis-à-vis trade with China, over human rights. The Biden administration's promised pivot to a values-based U.S. foreign policy is perhaps cause for hope, experts say—and in February both Canada and the Netherlands followed America's lead in declaring China's actions "genocide"—but fast change in Xinjiang is unlikely.
In the meantime, an emphasis on culture can at least help educate others about Uyghurs and their plight, says Jewher Ilham, an outspoken young activist in D.C., whose father, the respected economist Ilham Tohti, is serving a life sentence in China.
As a student at Indiana University Bloomington, and spurred by news of China's crackdown, Ilham helped found a Uyghur dance workshop in 2017. As a lifelong dancer, she was surprised and impressed to feel her identity as a Uyghur grow in the process of leading the program. At festivals, audience members approached dancers after performances to ask about Uyghurs; most didn't know there were Muslims living in China in the first place. "I felt really proud teaching and showing to the world who Uyghurs are," Ilham says. She resolved not to stand by as her culture disappeared.
"The more someone wants to suppress your identity, your culture, your religion, the more you want to learn it," Ilhan says. "If China doesn't want to let it happen there, we're going to make it happen here."