News Based on facts, either observed and verified directly by the reporter, or reported and verified from knowledgeable sources.
A New Home For Activists, and a New Way of Building in Communities
Photo from Designing Justice + Designing Spaces
Allied Media Projects hadn't originally planned to develop a space that could serve as a hub for activism and movement-building in Detroit. The nonprofit organization, which hosts the influential Allied Media Conference, a gathering that promotes social justice organizing around the country, simply needed more room.
In 2017, explains Jeanette Lee, co-executive director of Allied Media Projects, "we were outgrowing our space and wanted to buy our building." But the city's real estate market was heating up, and the organization's then-landlord asked $3 million for the building, which was in Detroit's increasingly popular Midtown area.
That was more than three times what the group had expected to pay. So Lee and her staff began searching for a new location. It wasn't easy; Allied Media Projects often found itself competing with out-of-state buyers making cash offers.
Finally, the organization found a former furniture warehouse in the majority-Black Core City neighborhood at a reasonable price. It was far larger than the group needed, which meant they would have to find some tenants to share the space. The other problem? The building was already occupied—by artists. And buying the building and asking the tenants to leave made Allied Media a gentrifier, even as the organization itself was suffering the effects of rising prices.
But the experience of asking the artists to move out helped shape the group's mission. In the end, Allied Media Projects' construction goal became not simply to expand its own footprint, but to bring in like-minded organizations and invite them to ground themselves in the community and work in service to longtime neighborhood residents.
"What is the framework of community-rooted development that's the opposite of gentrification?" Lee asks. "That's been our journey for the past three years." The building is scheduled to open in the fall of 2021.
That model of inclusive design and development has been gaining ground around the U.S. in recent years, led by architects who focus on creating social change through architecture. Interest picked up after the Black Lives Matter protests in the summer of 2020, with design seen as one of the myriad ways institutions can promote or obstruct racial and economic equity.
But practitioners say that to do it well—that is, to not only solicit input from community members, but work with them as genuine partners—requires time, effort, and skills, not just good intentions. It's a lesson Allied Media Projects took to heart in its development process, starting with the physical design of its new headquarters.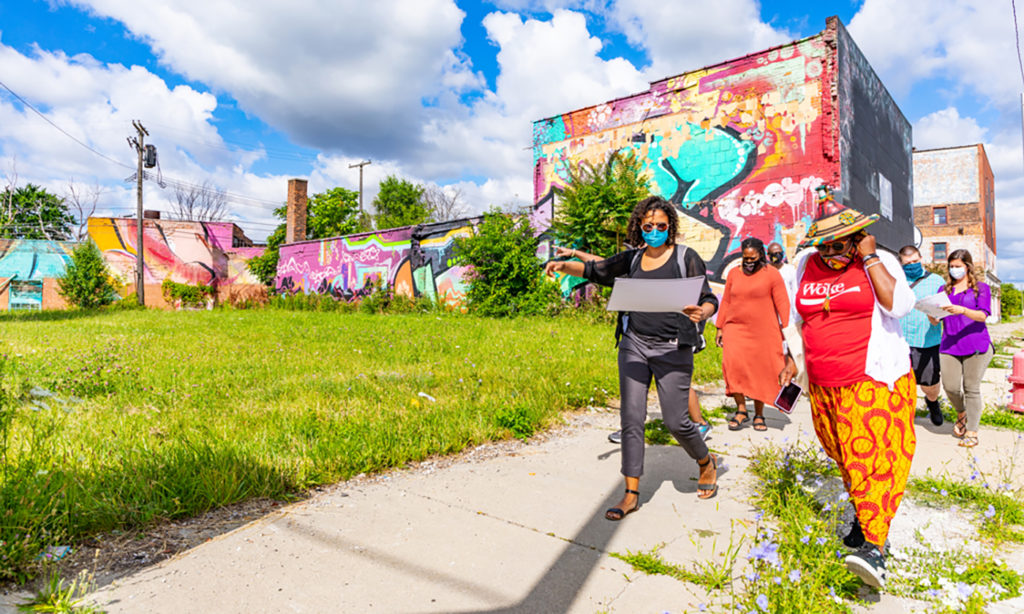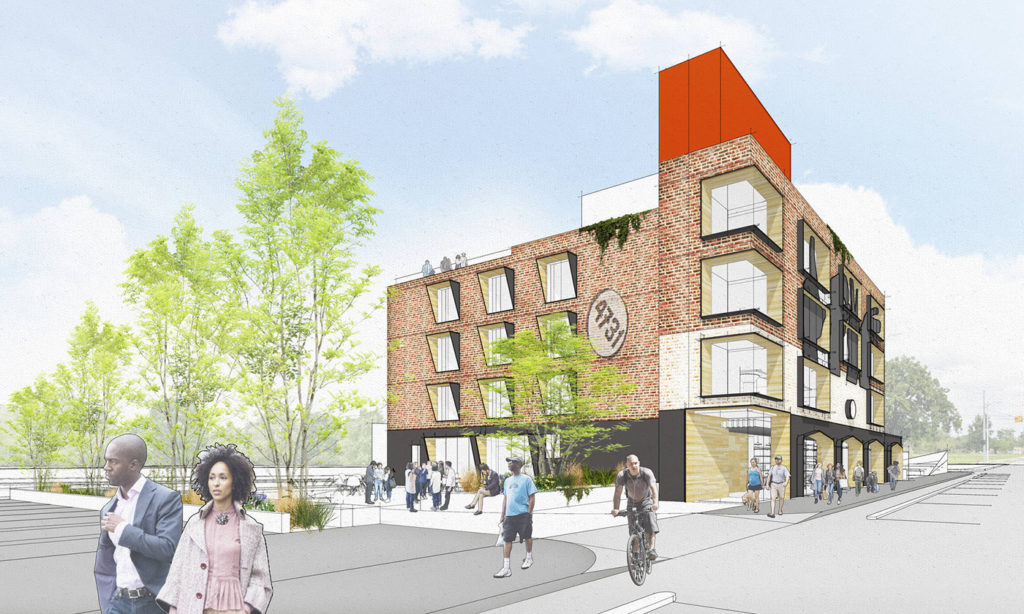 Community-oriented architecture isn't new. "If you look back, it has a much larger history going back to the 1960s," says Sean Weiss, an associate professor of architectural history at the City College of New York. He points to projects like the Architects' Renewal Committee in Harlem, which was founded in 1964 to provide citizens with a voice in their neighborhood's development, and the Community Design Centers that arose out of architecture schools with the intent of giving low-income and minority communities access to technical skills and information.
But the field of architecture moved on, becoming increasingly focused on "starchitects" and the glittering forms they created. Community-based projects only began to seriously re-enter the profession around the time of the Great Recession in the early 2000s, Weiss says. "There was a new ethical imperative to do this kind of work."
These days, some groups do socially engaged work as pro bono side projects, but a handful have made it their sole focus. Designing Justice + Designing Spaces is one of the few in the latter group. The Oakland-based organization has made a name for itself in its efforts to end mass incarceration by building structures that address root causes such as poverty and racism.
In 2019, the architecture firm helped open Restore Oakland, a community advocacy and training center housing groups like Restorative Justice for Oakland Youth and the Ella Baker Center for Human Rights. In addition to allowing organizations that had formerly been renters to finally own their building, the site is also a genuine community resource. Created with a huge amount of input from residents of the surrounding neighborhood, Restore Oakland provides job training and placement, business incubation opportunities, and conference space for neighbors as well as for a range of groups doing restorative justice work.
In Detroit, Allied Media Projects heard about Restore Oakland. And when the group realized that its plans for a new headquarters had morphed into something much larger—adapting a 25,000 square foot building and bringing in other social justice groups as tenants, while also committing to rooting itself in the community—the organization reached out to Designing Justice + Designing Spaces.
"We believed in them, and felt like we were mission-aligned," says Deanna Van Buren, executive director of the firm. The two organizations formed a partnership, together with architecture firm Quinn Evans, to work on the project.
In the end, the new tenants were longtime ally organizations: the Detroit Justice Center, Detroit Community Technology Project, Detroit Disability Power, and Detroit Narrative Agency. Paradise Natural Foods, a locally owned business, plans to operate a ground-floor café in the space, which is being called the Love Building, after a mural of hands that spells out "Love" that covers one side of the building.
Together, the new tenants joined visioning and planning sessions with Allied Media Projects and Designing Justice + Designing Spaces to create a design that would meet their needs and aspirations, while also keeping the redevelopment affordable.
The warehouse is now undergoing a major renovation. Stairs have been removed, and the floor was leveled; the interiors all conform to universal design principles, an internationally accepted design philosophy focused on making physical spaces as accessible to as many people as possible, regardless of physical ability. That's in part because one of the tenant organizations, Detroit Disability Power, works to build the political power of disabled Detroiters. The building will have an indoor gathering area that can hold almost 200 guests, and outdoor spaces as well to foster community engagement.
If the budget allows, Lee says, the groups hope to add some environmentally sustainable features, such as solar panels and green infrastructure.
At the same time, Allied Media Projects is working with residents of the surrounding community to garner their input and support. "As we proceed into the heart of our [real estate] development work, with engagement and leadership from people in that neighborhood, we're striving to figure out all the ways that we can model an equitable process," says Lee. "For instance, how can this be as valuable to residents of the surrounding neighborhood as possible?"
Allied Media Projects and its tenants and partners assembled a neighborhood advisory council to guide the building's focus; the council is composed of a mix of longtime residents and local entrepreneurs in the close-knit Core City community, which has experienced an influx of development from out-of-towners. Meetings are being held over the course of a year, allowing neighbors to help shape the project's design, branding, programs, and policies.
One of the key priorities voiced by the community is employment and economic development, says Lee. In response, Allied Media Projects and its tenants are committing to offering programs that include job training and skill building when the building opens in the fall of 2021.
"We're very excited to hear from folks about what'd be most beneficial to them," says Katie Hearn, director of the Detroit Community Technology Project, one of the future tenants. "And because we have relationships with folks who are really adept at teaching and demystifying technology, we're really excited."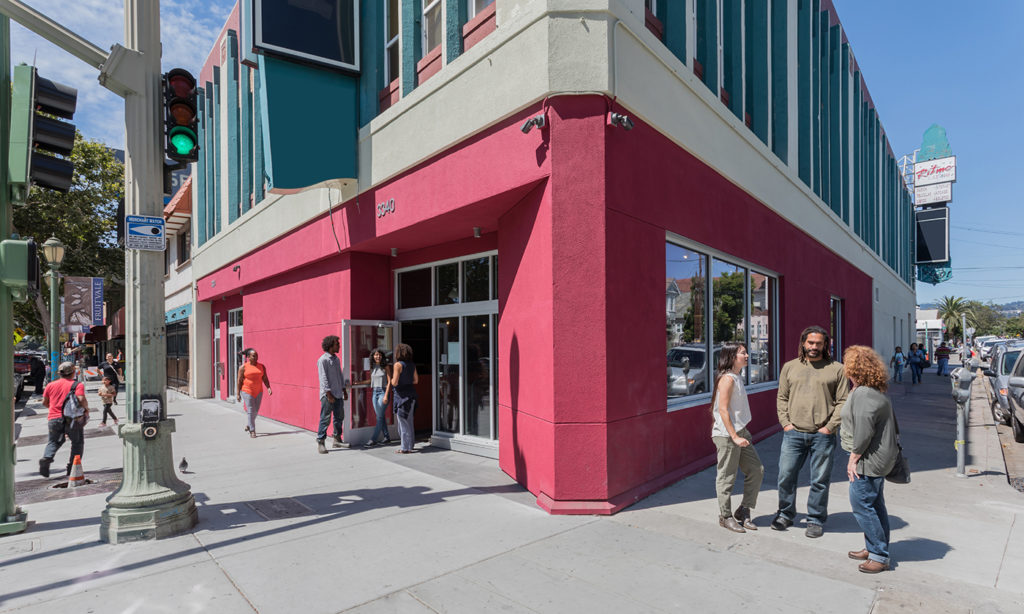 Like the Restore Oakland development team, the Love Building's tenants are taking time to genuinely connect with neighborhood residents—and that's key, say experts who focus on community engagement in the architecture and design field. Because while participatory processes have become more popular, and at times are even expected, not all interactions between architects and residents are equal.
"Where we've seen a lot of room to grow is making the engagement such that it results closer to what the community has articulated as their need," says Nisha Baliga, co-executive director of Hester Street Collaborative, a New York-based urban planning and design nonprofit that helps boost civic participation. She explains that "community engagement" on the part of a design firm can mean a spectrum of actions, such as simply informing residents about a new plan, or soliciting their input, collaborating with them, or deferring to community needs. "I feel a like a lot of the community engagement in the design sphere is in the 'inform' area," she adds.
One way that designers and architects and others can improve is by realizing how low-income communities of color may have experienced other planning and discussion processes. Often, the meetings happen in a vacuum, with architects having no idea what occurred in the months, years, or decades before they arrived, and frequently never returning to report explicitly to community members on the outcome of the dialogues. To neighborhood residents, it can feel like an extractive process, rather than an interaction of equal parties.
Perhaps more important is whether neighborhood residents will get any tangible benefit from a project. They might want a community gathering space, youth activities, or a promise that locals will be considered first for construction and other jobs. Architects might think those elements aren't their purview, but they frequently do have some control over issues like programming and hiring. Following up, though, takes effort and commitment.
"These are things outside of their comfort zone and official tasks; they're more work for an architect or designer," says Baliga. But those steps are a big part of integrating a neighborhood's wants and needs, rather than simply using community engagement as one more box that needs to be checked. "Some people do it, but there's huge room for more."
And the moment demands it. If there are to be more places like the Love Building—more sites that promote social justice and genuinely aim to lift and strengthen communities—these participatory processes will need to become both deeper and more common, says Baliga.
She adds, "If you're really interested in changing things—if you want to say you're being proactively anti-racist—you'll have to go out of your comfort zones and the confines of the project."