News Based on facts, either observed and verified directly by the reporter, or reported and verified from knowledgeable sources.
Is Justice on the Horizon for Missing and Murdered Indigenous People?
Photo by RJ Sangosti / MediaNews Group / The Denver Post / Getty Images
Hanna Harris had planned to watch fireworks with friends when she disappeared from the Northern Cheyenne Reservation in Lame Deer, Montana, on July 3, 2013. Her family frantically searched for the 21-year-old mother, but struggled to get help from local law enforcement. Days later, on July 8, Harris' decomposed body was discovered in a ditch near the rodeo grounds on the reservation.
Harris' mother and sister spoke to the Billings Gazette months after Harris' death about their desperate hope for answers. How would they explain her death to her then-18-month-old son Jeremiah Harris?
"I'm supposed to be the auntie," Harris' sister, Rose Harris, told the newspaper. "What am I going to tell him about his mom?"
It would take nearly a year for Harris' killers to be arrested and charged with her murder and sexual assault. Eugenia Ann Rowland and Garrett Sidney Henderson Wadda were later found guilty of killing Harris, though her cause of death could not be determined because of the body's decomposition, the Billings Gazette reported.
Harris' case is part of an ongoing crisis affecting Native communities across the United States and Canada. On April 29, 2021, the U.S. Senate cited Harris' case in a resolution that designated May 5 as "National Day of Awareness for Missing and Murdered Native Women and Girls." The date was chosen to honor Harris, who was born on May 5, 1992.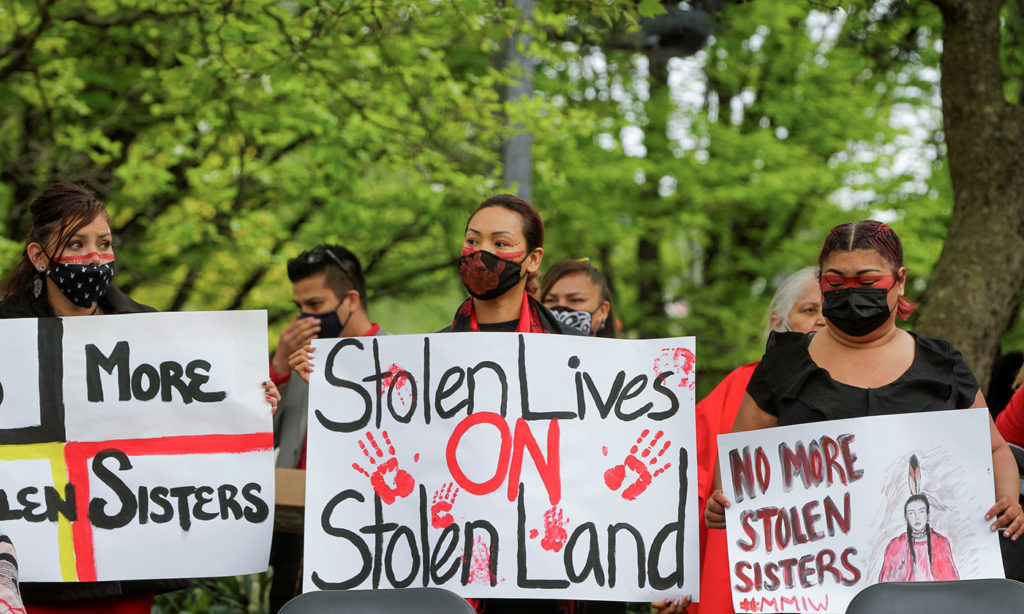 While the crisis has finally been acknowledged by Congress, the federal government has historically remained silent on the issue. For years, Indigenous leaders have warned that violence against Native communities has reached epidemic levels, with violence against Indigenous women particularly prevalent. In the U.S., Indigenous women are murdered at a rate 10 times higher than other ethnicities.
Now, grieving loved ones like Harris' have a new champion who is prepared to address this crisis: Interior Secretary Deb Haaland. In one of her first acts, the first Native American to hold a cabinet position established a unit to investigate missing and murdered Indigenous people in the Bureau of Indian Affairs.
"Violence against Indigenous people is a crisis that has been underfunded for decades. Far too often, murders and missing persons cases in Indian country go unsolved and unaddressed, leaving families and communities devastated," Haaland said in an April 1 statement announcing the new unit.
The Missing and Murdered Unit aims to "put the full weight of the federal government" into investigating cases involving missing and murdered Indigenous people and marshal resources across federal and tribal agencies. According to Haaland's announcement, the unit will also work with tribal, BIA, and FBI investigators on active missing and murdered investigations "to hold people accountable, keep our communities safe, and provide closure for families."
Renewed Hope for Justice
Activists say that after years of relentlessly pushing for justice, the new unit gives them renewed hope. Chase Iron Eyes is a member of the Oglala Nation and lead counsel for the Lakota People's Law Project, which works to protect Lakota people from threats such as the Dakota Access pipeline and foster care abuse of Native children. Iron Eyes says he is encouraged by the announcement and notes Haaland's unique position, as a Native woman, in understanding the crisis. Haaland, a member of the Laguna Pueblo, has pledged to make the issue of missing and murdered Indigenous people one of her top priorities as secretary of the interior.
The National Crime Information Center has about 1,500 active missing Indigenous people cases in its database, while 2,700 others cases of murder and non-negligent homicide were reported to the federal government's Uniform Crime Reporting Program.
Annita Lucchesi is the executive director of Sovereign Bodies Institute, an Indigenous-led organization that gathers and disseminates research on gender and sexual violence against Indigenous people. She welcomed the new unit as a good idea but noted that it will need proper execution for it to make a real impact.
"I think it's easy to get our hopes up, but I'm also trying to be cautious about it, with the understanding that this issue is systemic, and one unit can't really fix that systemic nature of it," says Lucchesi, who is of Cheyenne descent and lives on Wiyot territory.
Lucchesi notes that past federal initiatives have "really missed the mark," calling them insensitive, ineffective, and re-traumatizing for families. This includes the Trump administration task force dubbed Operation Lady Justice, which aimed to improve the way law enforcement agencies address new and unsolved cases of missing or murdered Indigenous people but "really didn't do any outreach to families to provide testimony," Lucchesi says. She says the task force assumed that Native families could easily access and figure out the process to participate. When these families were able to join, the task force reportedly limited their testimonies to just three and a half minutes.
"To me, it's just not trauma-informed and, also, it was really just unfair," Lucchesi says. "It really doesn't communicate to families that [the U.S. government is] actually interested in family perspectives and experiences or in making the system more responsive to family needs."
Activists say they hope the Missing and Murdered Unit will be both accessible and responsive to families and that there will be cooperation and collaboration among different law enforcement agencies. Lucchesi notes that many families have faced law enforcement agencies that have not only been inaccessible to them but have completely failed them.
In Harris' case, local law enforcement refused to help her family when they reported Harris missing on July 5. Instead, police told Harris' mother, Malinda Harris Limberhand, that her daughter was probably out drinking and would eventually turn up, the Billings Gazette reported. Local police and other agencies eventually joined the search on July 8. Harris' body was discovered that night.
During the federal investigation that followed, investigators kept Limberhand largely in the dark, she told reporters. "All they keep telling me is that it's an ongoing investigation and that they're looking into leads," she said in an interview with the Billings Gazette two months before Harris' killers were charged.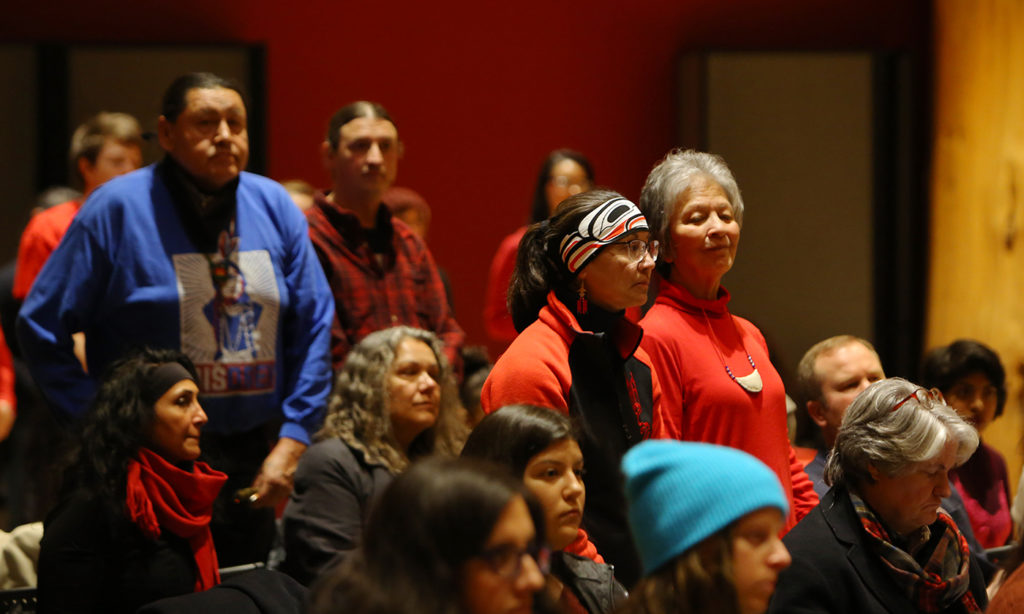 An Opportunity for Real Change
Despite potential challenges the Missing and Murdered Unit faces, including the large volume of cases along with communication and cooperation between different agencies, Lucchesi and Iron Eyes say they believe the nation is in a good place to unpack and address the murder and abuse of Indigenous people. Iron Eyes cites the very founding of America by European colonizers as the reason it has taken the federal government so long to address issues affecting Native communities.
"We are a great experiment as a country," Iron Eyes says. "So it's taken this long to finally have a truthful reckoning with ourselves. It's not going to take that much longer because we've also reached a critical mass of people who recognize that justice is not blind here. Justice sees color here. Justice sees sex. And justice is highly discriminatory here, even though we don't want to say it is."
Lucchesi says the U.S. is fortunate to be living in a time of "robust national dialogue" on issues including racial violence, police bias, and the failures of the American justice system. Those issues are contributing factors to the missing and murdered Indigenous people crisis, she says, and she hopes the public is able to connect them to a broader conversation on the re-imagining of justice and safety.
Lucchesi notes that the public needs to understand that these issues don't just affect Native communities. "I think the most important thing to understand is that this isn't just a Native issue or just a women's issue," she says. "This is an everybody issue because it's an issue of public safety and an issue of justice."