Behind the Kitchen Door: A Must-Read for Anyone Who Eats at Restaurants
Review: More than half of the nation's worst-paid jobs are related to food. Saru Jayaraman's new book dives into the explosive movement for better rights for those who plant, process, and cook the food we eat.
Why you can trust us
---
You are celebrating your birthday at your favorite restaurant and you've just ordered a tasty, locally grown organic meal. You savor the food, while feeling good that you are contributing to a better world. What could be better?
Well, for starters: the conditions of the people serving and busing your table.
Most don't make a living wage. Indeed, most of your servers work for the same minimum wage they've gotten for 22 years: $2.13 an hour. That's right: no increase for a generation. Therefore, most workers have no choice but to work if they're sick because nine out of ten don't receive paid sick leave. Yes, if you are reading this now because you're sick at home, you may well have caught your disease from a sick restaurant employee who had no choice but to work.
There is a new chilling-yet-ultimately-hopeful book that tells the story of the millions who toil to serve us in restaurants: Behind the Kitchen Door. It is hopeful because its dynamo author, Saru Jayaraman, and dozens of courageous restaurant workers created a group that is fighting for their rights: the Restaurant Opportunities Centers United (ROC).
The book opens on September 11, 2001, when 73 workers were killed as the Windows on the World restaurant atop the World Trade Center crashed to earth. Another 250 men and women who were employed by Windows on the World were suddenly without jobs.
ROC was birthed by Saru and several of the former Windows workers. ROC's other co-director, Fekkak Mamdouh, is a former waiter with a sparkle in his eye. Fekkah was a union leader of the Windows workers. The Windows owner promised his former workers who survived 9-11 that he would hire them back, but failed to do so when he opened a new restaurant uptown. After a creative protest by the former workers, the owner recanted and offered most of the Windows workers jobs. A New York Times story gave publicity to the victory and countless other restaurant workers came calling at ROC's door for help.
The demand for ROC's services is almost endless since there are more than 10 million restaurant workers in the United States, and since this work embraces 7 of the 11 poorest paid job categories in the nation. So with help from allies, workers began to organize to help one another. Within a few years, ROC was spreading to other cities. Today, there are 26 chapters in 23 states, with over 10,000 members.
Their goals are eminently winnable: increase the minimum wage overall, and increase the minimum wage for workers who get tips. President Obama finally endorsed an increase in the minimum wage in his State of the Union address. Two great champions of workers' rights, Congressman George Miller and Senator Tom Harkin, followed suit with a joint effort to raise the minimum wage to $10.10/hour, up from its current level of $7.25. The Miller and Harkin bill would raise the tipped workers' minimum wage to 70 percent of the overall minimum wage. In a separate bill, Congresswoman Donna Edwards, herself a former restaurant worker, has introduced a WAGES Act that would raise the minimum tipped wage.
ROC is also pressing for restaurants to grant their workers paid sick leave. Indeed, ROC has helped win legislation for paid sick leave in several cities. They're working against wage theft and sexual harassment on the job—both all too common in this sector. ROC is also in the middle of the fight for comprehensive immigration reform that has a real chance of being passed into law by the U.S. Congress this year.
Restaurant workers in the United States are part of a much larger chain of tens of millions of workers across the globe who plant, harvest, process, cook, and serve the food that we eat. But most of the workers along this chain are invisible to us, the final consumers.
The invisible people start with those who grow and pick the fruits and vegetables on typically large farms. Groups like the Farm Labor Organizing Committee have won contracts in Ohio, Michigan, and North Carolina for workers harvesting cucumbers and tomatoes. Unions like the United Food and Commercial Workers work to bring justice to the meat and other processing plants.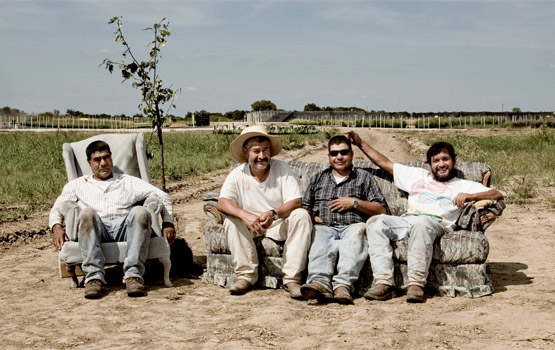 Care About Your Food? Then Care About Your Farmworkers Too
It's organic. It's local. But did the workers who picked it have health insurance?
Up and down the food chain, the Slow Food movement has advanced notions of "just food" and admonishes eaters to "vote with their forks" in helping advance healthy food and just work conditions. ROC also works with restaurants like Busboys and Poets in Washington, D.C., that are embracing higher wages and paid sick leave, and ROC regularly updates a diners' guide to help us all make smart choices on where we eat, and how we can help their struggle. It even gives tips on what to say to restaurant managers as you leave a particularly nice meal. ROC also encourages you to visit The Welcome Table for more creative ideas on how you can help.
Beyond the food chain, ROC is part of a larger United Workers Congress that is linking their fight to groups like Jobs with Justice and the National Domestic Workers Alliance that are working with nannies, caregivers, taxi drivers, and others who are denied basic worker rights.
We owe Saru and Fekkah and ROC members a debt of gratitude for opening the kitchen door for the rest of us, and giving us an opportunity to build solidarity with those who make our lives more joyful.
---
Interested?
Although a ballot initiative to label foods containing genetically modified organisms failed in California, the organizers behind the measure say their movement is better organized and larger than ever before.
A ten-day ad blitz courtesy of companies like Cargill, Monsanto, and Syngenta has swayed many voters against a ballot initiative to label foods containing genetically modified organisms. Yet supporters still expect the initiative to pass.
Whether you're worried about hunger, social crises, or climate change, the solution is the same: small-scale farming.