Obituary Reports the death of an individual, providing an account of the person's life including their achievements, any controversies in which they were involved, and reminiscences by people who knew them.
In Memoriam: Lornet Turnbull
The former YES! civil liberties editor was not only a top-notch journalist, but a kind, compassionate person who impacted countless lives both in the newsroom and beyond.
Why you can trust us
---
Lornet Turnbull, an award-winning journalist and former YES! civil liberties editor, lost her battle with cancer on Jan. 11, 2023—her 59th birthday. The Seattle Times reports that Lornet's husband, Steve Haile, was by her side when she passed away, as were several of her family members. We at YES! join with Lornet's many beloved family members, friends, and colleagues in grieving the loss of this brilliant, ebullient person who undoubtedly made the world a better place through her work, her passions, and her care for all living things around her.
Lornet was many things: an ace reporter and prolific journalist, an avid lover of nature and the outdoors, a sister, a daughter, a spouse—and an eminently kind, generous person. Through her work at YES!—and at The Seattle Times, The Washington Post, and local newspapers in Ohio and Michigan—Lornet elevated the humanity at the core of countless issues that are often politicized and distanced from their impact on living, breathing people. Her background and education was in "traditional" journalism, but she was a consummate solutions journalist, even before that phrase entered the cultural consciousness. She was a friend and mentor to many of her colleagues here at YES!, both within and beyond the editorial team.
Lornet joined YES! in 2016 as a contract editor leading our newly established civil liberties beat. As a Black woman who immigrated to the U.S. from the British Virgin Island of Tortola, Lornet brought a unique, compassionate, and nuanced lens to her coverage of not only immigration, but also reproductive rights, voting access, gun violence, racial and environmental justice, and then-burgeoning efforts to resist the increasingly oppressive tactics of the newly minted Trump administration. She was that rare journalist who was equally skilled at covering breaking news as she was at reporting a deep-dive feature that explored how communities responded to challenges they faced due to systemic discrimination or disenfranchisement. For the Summer 2020 "Community Power" issue of YES! Magazine, Lornet reported on the innovative ways her own community of South Park, a neighborhood in south Seattle, was creating mutual aid and emergency health care networks to meet the needs of its residents. A year later, she published an equally powerful follow-up story exploring how those networks had been maintained and adapted to meet the shifting demands of an ongoing pandemic.
Lornet was also integral in the creation of our special report on migration, published in summer 2020. Lornet's characteristic thoughtfulness and commitment to the humanity at the center of every story was on full display in the editor's letter opening that special report, "Forward: Solutions from Immigrant Journeys." She wrote:
"Like more than 1 million newcomers each year, I came in pursuit of an education and afterward stayed because the U.S. seemed a better fit for a wide-eyed journalist looking to make a difference in the world.
"But in the years since, and through the course of a two-decades-long reporting career, I've had a front-row seat to the escalating dangers, horrific discrimination, and bureaucratic hurdles new immigrants face as they try to make a home for themselves here.
"That's why I was excited by the frame we adopted for what was to be our summer issue on migration: 'By Immigrants, For Immigrants.' I know first-hand that immigrants, refugees, and migrants have a rich history of working alongside their communities to make a way out of no way in this country. …
"In that same spirit of perseverance, we bring you this special report. When the YES! editorial team decided to pivot our summer issue theme from migration to community power in the wake of the coronavirus pandemic, we also knew that the stories we'd assigned for the migration issue—almost all written by immigrants—still needed to be seen, shared, and understood."
---
I first had the privilege of meeting Lornet when I joined YES! as editorial director in 2019. Her vibrance and abiding love of life and her work was apparent from our first interaction. Not only did she bring strong story ideas to each team discussion, she was also always willing to collaborate with her colleagues, offer a helping hand during print magazine production, and give thoughtful feedback on stories and topic ideas from fellow editors, interns, and contributors. I loved seeing her beaming smile each morning we were in the office together, and I always knew our check-ins would be a delightful mix of editorial "nerding out" about upcoming stories or issue themes, and swapping tales about our beloved dogs' latest antics. Her sweet and silly black labrador, Mojo, often joined us for those conversations. Even after she stepped away from YES! in late 2020 following her cancer diagnosis, she continued to contribute beautifully written stories—both reported pieces and introspective first-person pieces that touched on her experience as someone navigating life with cancer, as an immigrant, and as a Black woman living in the United States.
I know that I am a better journalist, better editor, and better person because I had the good fortune to cross paths with Lornet. I am confident that her legacy, and the impact of her work and how she lived her life, will continue to ripple out for years to come, like drops in the middle of an ocean that grow into powerful waves breaking on the shore.
There are no words that can adequately capture the scope of this loss. But in the spirit of honoring Lornet's life and her commitment to amplifying the power of individual people to create lasting change, below are reflections from Lornet's colleagues at YES!, sharing how she changed them, supported them, and helped shape their own journeys toward embracing the joy, enthusiasm, and unequivocal kindness that Lornet embodied. Interspersed with these reflections are a selection of stories Lornet authored for YES! that begin to show the breadth of her extraordinary skill as a journalist. A comprehensive account of Lornet's work for YES! can be found here.
"It's like a radical new economy, except of course it's an old economy that has been around forever."
"I remember first meeting Lornet as an intern at YES! Fresh out of college and new to the professional world, I felt so intimidated and shy in this new field. But Lornet, always gracious, made me excited to learn and grow professionally. It was obvious from our first meeting that she was brimming with sharp talent and good ideas. In team meetings, I loved hearing about her deep well of writers and sources, and I learned a lot from seeing her weave her networks and her hard-earned skills together to conceptualize, write, and edit pieces. Her natural affinity for storytelling was beautiful to watch in real time: In her hands, ideas came to life. By her example alone, I learned so much about storytelling as an art. But beyond her talents and skills as a journalist, she was such a kind, empathetic person. Through good times and tougher times on our team, I always appreciated her willingness to be vulnerable and her care for us as humans first.
Thank you, Lornet, for sharing yourself with all of us. The world is a better place because of you."—Ayu Sutriasa, YES! digital editor
With a body weakened by chemotherapy, flat, low-elevation hikes have become my new obsession.
"It was clear from the first time I met Lornet that she was someone special. Every conversation we had—from story collaborations at YES! to discussions of bike trails around Seattle—was a joy and left me buoyed by hope. She exuded warmth and love, and had such a talent for connecting with people. In this way, she inspired me as an editor and as a person. She was so good at seeing the best in everyone and the good in everything—not naively, but in a way that brought a better world into being. I feel so lucky and grateful to have shared space with Lornet, and I will continue to send love her way every time I bike by the Chief Sealth Trail."—Breanna Draxler, YES! senior editor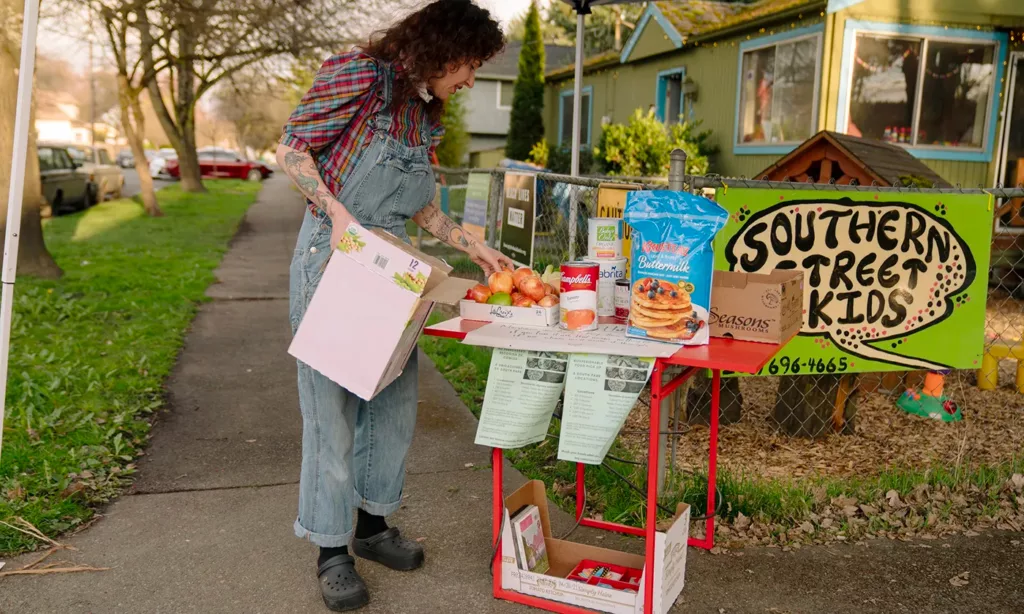 "When you have humans and you have heart, you're pretty much used to doing what you have to do to make things happen."
"During an interview for my current job, I was asked about the editors I've worked with who I admire and would want to emulate. I spoke Lornet's name. I loved working with her—she pushed me to ask harder, more thoughtful questions and helped me become a better writer. And I'm so grateful that I had the chance to know her outside of work. My favorite moment with her was sharing laughs over Caribbean food and cocktails. Lornet was such a light and I'll miss her." —Deonna Anderson, former YES! Surdna reporting fellow
Seattle's square-mile neighborhood of South Park has turned its early pandemic community supports into a sustainable system tackling food insecurity.
"Lornet made me feel welcomed, respected, and seen from the very first time I met her. Her ability to see and capture stories as effortlessly as she did was beautiful to watch. Her special report on immigrant journeys was one of my favorite pieces of work because it resembled the conversations we had about being Black immigrants in the U.S. I miss you, Lornet, and will always hold a space for you in my heart." —Iman Mohamed, YES! digital producer
On the fifth anniversary of Michael Brown's death, his family and the town of Ferguson look to the past—and future—to bring about meaningful change.
"Have you ever met someone for the first time—that person with the radiant smile that exudes warmth, welcome, and wonderfulness—and instantly knew you were going to be friends? Lornet was that person for me, and for so many of us.
"One standout collaboration was when I had the privilege of using Lornet's article, 'Two-Thirds of Americans Live in the Constitution-Free Zone,' for a national student writing competition. Lornet was thrilled that her story would go beyond being consumed by YES! readers, and invited young people to reflect on anti-immigrant policies and the danger of unfair assumptions.
"Lornet's living with cancer taught me to lean into what's possible and to do what feeds my soul. I wave to Mt. Rainier whenever 'she's out' because it reminds me of my dad, who died eight years ago. I'd like to think that Lornet has joined my dad on the mountain, and now I get to see both of them nearly every day."—Jing Fong, former YES! education outreach manager
The decline is happening across the country, and it's about more than just contraceptives.
"I had some great conversations with Lornet. There were so many more conversations we could have had, so much more time Lornet should have had, that it's hard to realize she's not still at the other end of the phone. We talked about work and journalism, of course, but also about life in general and loving the life you have. Lornet was a great one for appreciating the beauty of the world and the good in other people. And she was generous. Even when she was dealing with cancer, she found energy and empathy and sincere interest to share with others. I admired Lornet, and I miss her."—Valerie Schloredt, former YES! books editor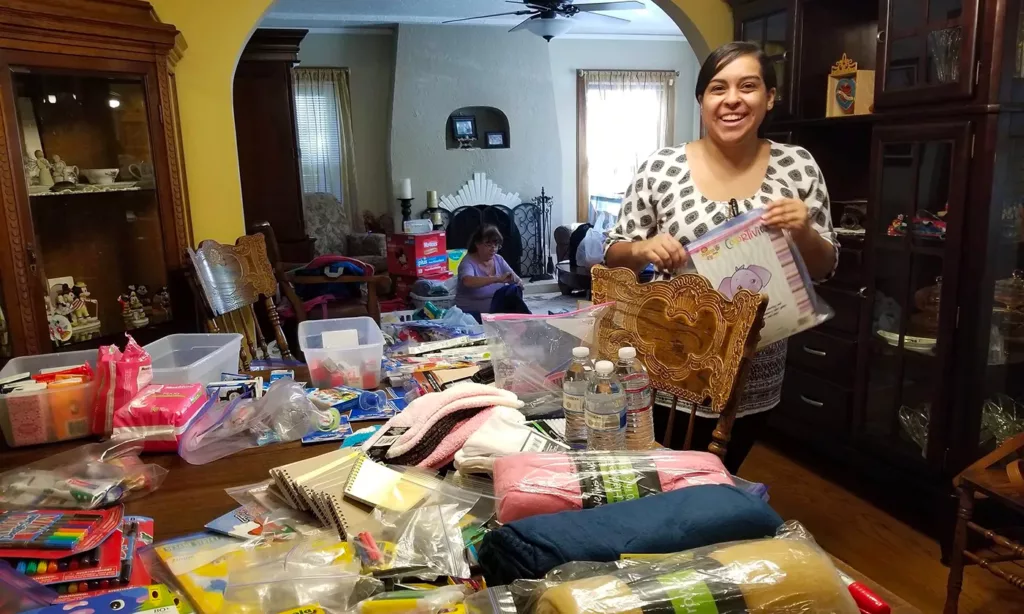 Each day at Greyhound stations across the nation, families released from detention and traveling to sponsors' homes find grandmotherly help.
"I knew Lornet was special from the moment I first met her. She exuded warmth and empathy in an office in which those qualities were already plentiful. Our respective mothers both passed away at about the same time, and I only hope I offered the same kindness to her as she did to me. This is in addition to being a thoughtful writer, a deep thinker, a consummate professional with a terrific sense of humor—Lornet brought joy to our workplace and our lives, and she is already deeply missed."—Chris Winters, YES! senior editor
"Rarely do I have the chance to work closely with one of our editors, being on the operating and fundraising side of the organization. But a few years ago, I had the true pleasure of working with Lornet on the program of our big annual brunch. We were hosting an on-stage conversation with Lornet and some local Seattle-area women she had met in writing her story 'For Women, by Women: A Sisterhood of Carpenters Builds Tiny Houses for the Homeless.' That story reached so many people, sparking similar efforts around the country and the world! 
"Lornet was so committed to ensuring that the women she'd written about were supported throughout our process to develop the program, really shined onstage, and could take pride that their story was helping others in other places. There was a mutual respect among all of them that was beautiful to see, and a testament to the kind of reporter she was. On a personal level, I loved working with Lornet—she was kind, funny, and curious. Thank you for being a beautiful human, Lornet!"—Christine Hanna, YES! executive director
---
| | |
| --- | --- |
| | Sunnivie Brydum is the editorial director at YES! An award-winning investigative journalist with a background covering LGBTQ equality, Sunnivie previously led digital coverage at The Advocate, Free Speech TV, and Out Front Colorado. Her writing has appeared in Vox, Religion Dispatches, them., and elsewhere. She has a degree in magazine journalism from the S.I. Newhouse School of Public Communications at Syracuse University, and is a co-founder of Historias No Contadas, an annual symposium in Medellín, Colombia that amplifies the stories of LGBTQ people in Latin America. She is based in Seattle, speaks English and Spanish, and is a member of NLGJA, SPJ, and ONA. |
---