Care about Your Food? Then Care about Your Farmworkers Too
It's organic. It's local. But did the workers who picked it have health insurance?
Why you can trust us
---
These days, most people involved in buying and advocating for local and organic food say they want to support their farmers. They imagine the people that grow their vegetables as sweating in the fields, cheerfully smiling as they pull carrots from their own land, which they till until the sun goes down.
For a food system to be truly sustainable, we must prioritize the well-being of workers as well as consumers.
The image of the independent and industrious farmer is upheld in places where "alternative" or sustainable food is sold and promoted, such as farmers markets and food stores, which often encourage consumers to "get to know their farmer." Grocery stores that carry natural, local, and organic foods, such as Whole Foods and food purchasing cooperatives, commonly post large, glossy photographs of local growers.
But who, exactly, is a farmer? Is it the person who owns a farm? The person who sells food at a farmers' market? Or could a farmer be the immigrant who follows the work from place to place and picks the fruit of the season?
Almost all farms, even small and organic ones, require hired help. In most cases, that consists of immigrant farmworkers who are paid less than a living wage.
People need to ask not only, where does my food come from, but also, who performs the labor to grow this food? For a food system to be truly sustainable, we must prioritize the well-being of workers as well as consumers.
Who's behind your food?
Farm labor is one of only a few occupations exempt from most federal and state minimum wages and work-hour limitations. Of the farmworkers who responded to the most recent National Agricultural Workers' Survey (NAWS), about one-third earned less than $7.25 an hour and only a quarter reported working more than nine months per calendar year. The California Institute for Rural Studies found that in Fresno and Salinas—two of the most important agricultural regions in the state—one-fourth of farmworkers live below the federal poverty line, and between 45 and 66 percent are food insecure. (An individual or family is considered food insecure when members of a household lack access to enough food for an active, healthy life at all times, according to the USDA.)
In reality, however, farmworker conditions are even worse than those numbers suggest. Much of the research concerning farm labor is based on information gained from formal systems of employment, such as labor contractors. That leaves the majority of farm laborers who work informally, such as daily workers, unaccounted for.
Are conditions better on organic farms? Not as much as you'd think. Entry-level workers on organic farms in California make only 29 cents an hour more than their counterparts on non-organic farms do. That's still less than a living wage.
And those workers on organic farms are actually less likely to have paid time off, health insurance for themselves and their families, and retirement or pension funds. Certified organic farmers have proven resistant to including labor standards in organic certification, according to a study published in 2006 in the journal Agriculture and Human Values.
Looking beyond the city
Some in the sustainable food movement work with the goal of directly addressing human rights issues in the food system. These groups and individuals make up what many call the "food justice movement." Yet even in these circles, some organizations seem to have trouble focusing on the rights of farmworkers.
The Student/Farmworker Alliance has worked to bring farmworker injustice into the picture on college campuses.
Why are these workers so hard to see? Maybe it's because most of our organizations are located in cities and staffed by young people attracted by urban life. Consider a group like Planting Justice, an organization in Oakland, Calif., which describes its work as "democratizing access to affordable, nutritious food." It does this by "empowering disenfranchised urban residents with the skills, resources, and inspiration to maximize food production, economic opportunities, and environmental sustainability in our neighborhoods."
Groups such as Planting Justice often work on initiatives to encourage and popularize urban gardening and to increase the availability of fresh food in poor urban neighborhoods. Although these are important efforts to improve the health of often underserved urban residents, they tend to limit the conversation to the urban core. Issues that affect rural places—including the plight of farmworkers—are left out of the discussion.
If the growing food justice movement is to truly confront injustice in the food system, it must address the rural poor as well as the urban poor. The fact that the workers who actually grow and harvest the food we're talking about are also poor provides a natural opportunity for solidarity and makes this even more important to the movement.
Good news and next steps
Some in the food justice community are starting to work more broadly on issues of farm and food system labor, coordinating with farm, food processing, and restaurant worker unions. These new coalitions include The Food Chain Workers Alliance, The U.S. Food Sovereignty Alliance, The Rural Coalition, and the Student/Farmworker Alliance.
Working together, many groups are finding more power to motivate policy change and raise working standards, increasing the visibility of food worker issues in the mainstream food movement.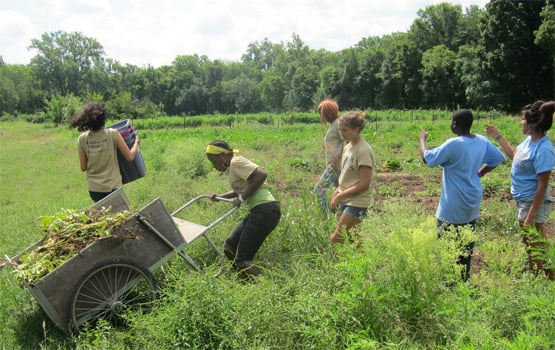 Farmers, Workers, Consumers, Unite!
How do we make sure our food contributes to the health of our communities and ecosystems?
The Student/Farmworker Alliance, for example, has played a major role in the Coalition of Immokalee Workers' Campaign for Fair Food, bringing farmworker injustice into the picture on college campuses. In addition, The Food Chain Workers Alliance is working directly with rural as well as urban food justice groups, bringing labor issues into the conversations of foodies who may previously have thought only about whether their carrots were local and not about whether the people who picked them had health insurance.
By working in coalition, people who are used to advocating for healthier food in urban centers are beginning to learn from rural activists, as well as the other way around. If we are to truly see the creation of a more just food system, then organizations, individuals, and communities that claim sustainable and food justice ideals must start to expand their vision for a food system that is just in both environmental and social terms. That may mean pushing for revised agricultural trade and immigration policy, including stricter labor regulations and higher minimum wages.
Both sustainable food proponents and food justice organizers have shown interest in addressing labor-related injustice. But to truly make that change, those that care about our food system must broaden their views of food sustainability to include the rights and health of all producers and consumers of food.
(Editor's note: This piece originally implied that studies of farmworker conditions in particular regions of Calfornia could be extrapolated to describe conditions across the United States. The text has been updated to avoid that implication.)
---
Interested?
Whether you're worried about hunger, social crises, or climate change, the solution is the same: small-scale farming.
Grassroots food activist Fatou Batta on why the question of agricultural sustainability is also a question of equality.
How do we make sure that our food contributes to the health of our communities and ecosystems?