This Food Stand Celebrates Palestinian Culture. When It Received a Death Threat, Students Stood Up
In front of the University of Pittsburgh's Cathedral of Learning, students gather around metal tables and chairs next to a small, brightly colored building. It houses Conflict Kitchen, an unusual restaurant that features food from conflict zones. Employees in scrubs from the University of Pittsburgh Medical Center hustle by its counter to get lunch before rushing back to the hospital just blocks away.
"It tastes like Palestine."
Conflict Kitchen offers a rotating menu of traditional foods from countries the United States is in conflict with. The goal, says Jon Rubin, co-director of the takeout restaurant, is to encourage a different kind of dialogue about places like Iran, Venezuela, and Afghanistan, one that counters negative depictions of those places and their people.
"Food is the easiest way to enter into understanding, or look into another culture," Rubin said. "Food has all the stories of a region, a people, a culture embedded in it. You are tasting these things before you even think about these things."
That message seems to be getting through to the restaurant's customers.
"When I first came to Pitt last year, they were serving Cuban food," says University of Pittsburgh senior Hadeel Salameh. "I thought it was a really unique way to portray dialogue and coexistence on campus, and let people know about the ongoing struggles of others around the world, or people that we perceive as others."
"Conflict Kitchen promotes understanding in the face of ignorance!"
Salameh is the president of the University of Pittsburgh's chapter of Students for Justice in Palestine. When Conflict Kitchen started planning a Palestinian menu, she and other members of the group offered to support the effort in any way they could.
They served as taste testers, volunteered to be interviewed about Palestinian food, culture, and politics and to be featured on the food wrappers, and attended a couple of events hosted by Conflict Kitchen with others from Pittsburgh's Palestinian community.
"For me, as a Palestinian, it has been a home away from home," Salameh said. "It tastes like Palestine."
So, when on November 7 Conflict Kitchen announced on its Facebook page that it was closing temporarily due to death threats it received in the mail, Salameh was shaken.
"I was trying really hard not to be afraid," she said. "A death threat is very threatening to a community, not just the restaurant."
Because of the connection she felt with Conflict Kitchen and a deep respect for its mission, she and the members of Students for Justice in Palestine felt an immediate responsibility to stand up for the restaurant.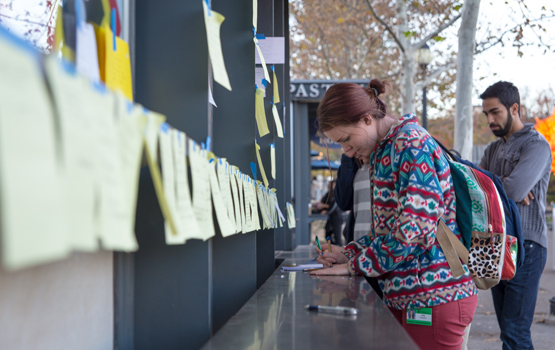 Supporters write notes to post on the walls of Conflict Kitchen. Photo by Heather Kresge Photography.
They organized a rally outside the restaurant three days after it closed, which around 200 people attended. About 50 people spoke at the rally—including young kids, college students, and longtime Pittsburgh residents—all voicing their support for Conflict Kitchen and its mission.
Supporters covered the walls of the building in hundreds of notes with messages like "Conflict Kitchen promotes understanding in the face of ignorance!" and "Stay strong! Love will conquer fear!"
After speaking with the Pittsburgh police department, Rubin and co-director Dawn Weleski decided to reopen the restaurant on Thursday, November 13, with the notes still affixed to its walls.
"Food is the easiest way to enter into understanding, or look into another culture."
"We are overwhelmed by the generous support we have received this week for the project and the rights of Palestinians to present their perspectives without fear of reprisal," Conflict Kitchen posted on their website last week. "We are deeply moved by these responses and are excited to reopen and continue our programming."
Both Salameh and Rubin are hopeful that the support the restaurant received can be a force to promote understanding of Palestinian voices and perspectives in American political and cultural discourse.