Musicians From Egypt to Rwanda Are Blending Musical Traditions and Building Unity to Protect the Nile River Basin
It starts with a drum, a line from the bass, or a few notes from the oud. At some point there is saxophone and guitar, the riq tambourine, and the cane flute known as the kawala. More instruments and voices join in, weaving one song from many elements. People in the audience are grinning, and by the end of the evening they're on their feet, dancing.
Nile Basin countries have to work together to manage their interdependent ecosystems.
Large musical collaborations usually contain some talents that are more polished than others. Not so here—every one of the 13 musicians in this performance by The Nile Project is in top form. The women are particularly dazzling—this iteration of the musical collective boasts five fabulous divas. There's Ethiopian singer Selamnesh Zemene, in a blue mermaid gown, getting the house moving with dance and vocals influenced by her Azmari family tradition. Alsarah, from Sudan and Brooklyn, rightly hailed by The Guardian as "the new princess of Nubian pop and Sudanese retro." Sophie Nzayisenga, Rwandan singer and virtuoso of the inanga, a stringed instrument that, in her hands, produces mellow tones and enchantment. Ethiopian-American Meklit Hadero, Nile Project co-founder, bringing a pure voice and jazz/hip-hop/folk aesthetics to her own compositions. Dina El Wedidi, a youth favorite from Egypt, where her powerful vocal performances range from classical epics to an Egyptian Revolution anthem.
And then there's Jackline Kasiva Mutua, the first woman to break into Kenya's male drumming tradition. Her high-energy rock star performance makes us glad she did.
"The audiences feel the love more than they feel the music."
The band members sound as if they have been playing together forever, but in fact The Nile Project is made up of musicians from different countries, musical genres, and traditions. Highly accomplished in their own fields, they've had to learn foreign scales, tunings, and rhythms to collaborate. Their purpose? To promote cooperation and cultural understanding among the diverse peoples of the Nile. Flowing through 11 countries and four climate regions, at 4,160 miles the Nile is the world's longest river. It may set another record for world rivers—as the most geopolitically challenging to manage sustainably.
The Nile's headwaters in tropical Rwanda and Burundi eventually feed into vast Lake Victoria, which is shared by Uganda, Kenya, and Tanzania. From there the White Nile, so-called for the clay clouding its waters, spreads out through the Sudd marshes of South Sudan before gathering again to flow north toward Khartoum. There it meets the Blue Nile, rushing from the wet highlands of Ethiopia. Now one river, the Nile flows north through the Sahara Desert in Sudan and Egypt, drains into the Nile Delta and, finally, the Mediterranean.
For thousands of years, Nile Basin cultures developed food systems to suit conditions on their part of the river. But today human activity demands more from the environment, with increased water consumption and pollution from expanding cities, industry, and industrialized farming. At present rates, the current population of Nile Basin countries is projected to double over the next 30 or 40 years—to 945 million. Experts fear the Nile just won't have enough water for all those people. Then there's climate change. Four of the Nile Basin countries are water scarce. Prolonged periods of drought and floods pose a real threat to human life where water is already a precious resource.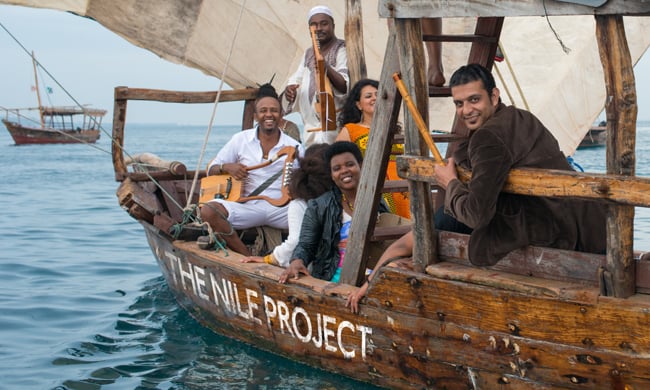 The Nile Project. Photo by Peter Stanley. 
All these pressures mean that Nile Basin countries have to work together to manage their interdependent ecosystems. The Nile Basin Initiative, signed by nine countries in 1999, was formed to create a platform for regional intergovernmental dialogue. But in 2010, five upstream countries signed a Cooperative Framework Agreement to access more water from the Nile. Political progress has been slow, and undermined by distrust between nations. Meanwhile, populations grow and economies become more complex and globalized. Ethiopia, for example, now the second most populous country in Africa, is emerging as an "economic lion" in need of energy. What is done upstream is of great concern downstream—Egypt is dependent on the Nile for 97 percent of its freshwater resources­—and environmental impact statements are contested in the context of highly charged political rhetoric. Reacting in 2013 to the start of construction for the Grand Ethiopian Renaissance Dam, Ethiopia's major hydroelectric project, Egypt's then-President Mohammed Morsi threatened military retaliation if building the dam reduced Egypt's water supply, "even by one drop."
"[The project is] about living together and sustaining life."
Building cultural understanding is a starting point to preventing conflict, according to Mina Girgis, co-founder and CEO of The Nile Project. "And music can be a tool," he says. "You can use music to change the nature of the conversation before the conflict reaches a flashpoint. But it has to happen before people have reached the point of conflict."
An Egyptian ethnomusicologist based in San Francisco, Girgis visited Cairo in 2011, where he was inspired by spending time in Tahrir Square as the Egyptian revolution unfolded. Shortly after returning to the Bay Area, Girgis attended an Ethiopian funk band concert and was struck by the fact that he hadn't heard Ethiopian music when he was growing up in Egypt, even though the two countries share an important river. Over a beer, he and Ethiopian-American friend Meklit Hadero talked about the lack of cultural knowledge that prevents countries with common interests from working together. They sketched out the beginnings of The Nile Project—a big plan to use music to promote cultural understanding and environmental sustainability in the Nile Basin.
After a scouting trip to find top musicians to take part, Hadero and Girgis launched the first Nile Project gathering at Aswan, Egypt, in January 2013. The site was significant—the iconic dam, built in the 1960s, had tremendous political, cultural and ecological impacts on the region. One of these impacts, the displacement of 100,000 Nubian farmers in southern Egypt and Sudan, is the type of issue considered at that first Nile Project gathering. So far there have been two more gatherings: at Kampala, Uganda, in early 2014, and Minya, Egypt, in November 2014.
Their purpose? To promote cooperation and cultural understanding among the diverse peoples of the Nile.
Then there is the music. Working in small groups using a participatory leadership process, 18 musicians at the first Nile gathering learned entirely new musical forms and created new songs in just two weeks. The collaboration worked so well that Aswan, the live album of their first concert, garnered international praise.
"We became aware that this idea, this cultural project, is something people have been looking for," says Girgis. "When we first started the project, the people most excited about what we were doing were people working on water conflicts. They found it to be really relevant. In order to promote the sustainability of the Nile Basin, you have to first address the question of how people treat each other, how they relate to their ecosystem. If we can't solve our problems as people living in the same ecosystem, we're not going to be able to make this ecosystem more sustainable.
"We found that the musicians we're working with have a lot of leverage in changing the nature of the conversation and getting a wider base of the public to change the way they feel about each other."
During its first Africa tour, in February and March 2014, the project performed in eight cities along the Nile and offered river-related workshops at universities in Uganda, Tanzania, Kenya, Ethiopia, and Egypt. They're following up on growing interest among young people with a suite of Nile Project university programs, including a Nile Fellowship, student chapters, and a Nile Prize to incentivize innovation for solving some of the developmental challenges facing the region. "Even governments themselves," says Girgis, "are excited about what we're doing."
Now on their first American tour, the group is performing and holding workshops at universities and colleges across the United States. Topics discussed with academics and activists along the way include civic engagement and the management of water resources, the role of musicians in social movements, and female perspectives on the Nile. The group has also performed for K–12 audiences.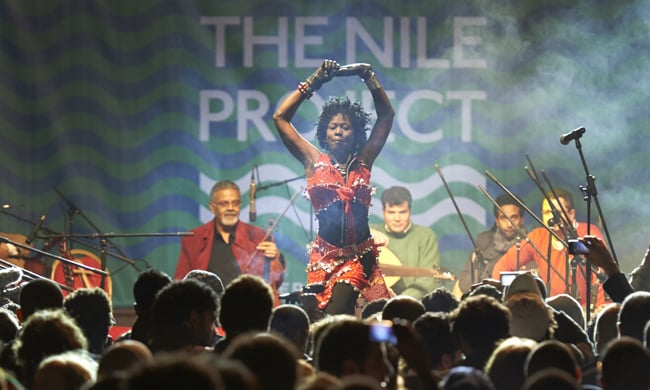 Performance of The Nile Project. Photo by Matjaz Kacicnik.
The Nile Project's U.S. tour is aimed to help build a network of global Nile citizens, people across disciplines and geographies interested in contributing towards the creation of a sustainable Nile Basin. But the project also provides extra value as a cultural learning opportunity for Americans. The U.S. mainstream media does a poor job of covering aspects of African life other than war and disaster. The Nile Project offers an innovative example of citizen-led, cross-cultural dialogue and environmental action­­—in a continent Americans should know more about. As collective member Alsarah points out, "Africa has always done grassroots, always. All change in Africa has always happened at the grassroots level. We're building off of something that has already existed in Africa. I feel like what we're doing is turning back to an older way, a more traditional way of truly conversing with each other, and rebuilding a knowledge that I think has been lost in time."
"To promote the sustainability of the Nile Basin, you have to first address the question of how people treat each other."
One grassroots solution conveyed by The Nile Project is universally easy to tap into. In the words of saxophonist, Ethiopian Jorga Mesfin, "For me, living and working as a musician in Africa is different because most of the music is functional … it has to have a role in the society. There are work songs, wedding songs, songs of critique. We didn't just invent the songs and melodies we play for this project; they exist in the population, as either love songs or songs of historical narrative.
"The project is really different and unique because we're not just coming together to play music, we're on tour for four months living together. So it's really an experience of Africans living together. I'm living with an Egyptian, a Sudanese, a Rwandese. That's really what the whole project is about—it's about living together and sustaining life. The audiences feel the love more than they feel the music, you know? We've been performing in many countries—Uganda, Kenya, Ethiopia, Egypt, Tanzania—and regardless of the background of the audience, they get it. And that's what's been amazing. And I think they get it because they feel the love is genuine. If these countries do as much as we do to live together, to understand each other, then we'd have a better place. A better life."
For more information on The Nile Project tour, and to find out about becoming a global Nile citizen, go to www.nileproject.org.
The 11 Nile Basin countries are: Rwanda, Burundi, Egypt, Kenya, Tanzania, Sudan, South Sudan, Uganda, Eritrea, Ethiopia, and the Democratic Republic of Congo.
Editor's note:This article originally stated that the Central African Republic was one of the countries of the Nile Basin. Our list was also missing the Democratic Republic of Congo. The article has been updated.