#WallOffTrump: How Humor Defied Racism at the RNC
The protesters dressed themselves in handmade cloth ponchos. As they waited to start their protest in Public Square in Cleveland, just outside the Republican National Convention, they kept the front panels of their ponchos hidden, gathered up and flung over their shoulders.
When it was go-time, they exposed their outfits. Each poncho was painted to look like a brick wall, and had the words "Wall Off Trump" in big red letters.
The protesters lifted their arms to the "T" position and held hands along one edge of the plaza. Along the opposite edge, members of the same group unfurled giant cloth banners, also painted to look like walls. Journalists filled the plaza in between.
The protesters were doing exactly what they had been promising for months: "We're building a YUGE wall around Trump's hateful politics at his convention in Cleveland on July 20th," their website said.
Donald Trump, the Republican presidential candidate, has repeatedly said he plans to build a wall along the U.S.–Mexico border and that Mexico will pay for the construction. These protesters said they're giving him his wall, only it won't be at the border. And instead of Mexico paying, more than 670 individual donors paid through an online fundraising campaign.
"The walls that they build…"

Protesters sing while they form a human blockade to #WallOffTrump at the #RNCinCLE.https://t.co/7UOhL7pmxz

— AJ+ (@ajplus) July 20, 2016
Yesterday about 100 protesters created a wall of fabric and humans stretching nearly three city blocks outside the RNC, disrupting a main entrance to the convention hall for more than 30 minutes. Hundreds of journalists documented the action, producing tweets in the thousands and a host of articles and video news stories. The activists pulled off the single largest protest action at the four-day convention. And though their 90-minute protest did not wrap the entire convention hall with their handmade wall, they made an important symbolic gesture.
"This is a battle of the messages," said Tania Unzueta, policy director for Mijente, the immigrant rights organization behind the effort to build a wall around the RNC. Trump wants to wall off people. Mijente, however, wants to wall off hate—specifically, what they call Trump's hate.
Even though Unzueta, an immigrant from Mexico, says her own parents are in deportation hearings, Trump's idea to build a wall at the Texas–Mexico border is kind of funny to her.
"If it wasn't so scary, how laughable his ideas would be," she said.
Indeed, for many, this year's RNC has been a comic stage. While the activists set up the wall, a man dressed in a hot dog costume rode his bike in circles around the plaza. A flag attached to his bike said "Trump Eats Farts." A few feet away, a middle-aged man dressed in nothing but an adult diaper and Converse sneakers sang as his companion, who wore a mumu and a curly blond wig, played the guitar.
And that was just outside the arena.
"The convention is already so funny, you couldn't make it up," said Simon Critchley, a philosophy professor at the New School and author of several books and papers on humor as resistance. "B-level celebrities, Rudy Giuliani screaming and shouting—it doesn't make any sense, any of it. It's richly entertaining."
Of all the humor, intentional and unintentional, at this year's RNC, the #WallOffTrump protest may be the best thought out.
"They're taking the words of Trump and literalizing them," Critchley said. "That kind of intervention achieves humor. When something grand is made to look small, we laugh."
Andy Bichlbaum, a filmmaker and half of political prankster duo the Yes Men, has been making political statements through high-profile hijinks for years. "Using humor makes sense especially with deadly serious issues," he said.
"Using humor makes sense especially with deadly serious issues."
Bichlbaum has dedicated his life to making public fun of large corporations and government divisions he believes behave poorly. He has impersonated spokespeople from Dow Chemical and the U.S. Chamber of Commerce in hoax press conferences picked up by mainstream media. He and his partner, Mike Bonanno, distributed more than a million fake New York Times issues and have chased down politicians while dressed in absurd costumes. After Hurricane Katrina, when the Department of Housing and Urban Development (HUD) was planning to demolish a public housing project many former residents hoped to return to, Bichlbaum impersonated a HUD spokesperson at a major conference and announced the housing would be saved. The stunt forced the media to dedicate extensive air time to an issue the public housing residents had been trying to expose.
"The alternative is to just scream for 10 minutes, which is really hard to transcribe and amounts to about one line of copy—not much," said Bichlbaum. "Whereas describing the cloth wall takes a whole bunch of space and affords many opportunities to point out the inanity."
His point rings true. The journalists covering the wall-builders actually took the time to explain what was happening and why. Some of the protesters gave interviews to more than 20 different media outlets while dressed up as the wall.
Major protests in the United States have historically been anything but funny. Most point to the human lives put at stake by injustice, but humor has also proven a highly effective strategy for resisting oppression, even in dire or life-threatening circumstances.
The people dressed in ponchos were painfully aware of the risks. The weeks leading up to the convention saw multiple police and civilian shootings in public places. Intensifying the issue, Ohio is an open-carry state, meaning that gun owners do not need to hide their weapons in public.
The risk of gun violence was built into the protest's design: With their hands held up, demonstrators hoped they would communicate they were unarmed.
Still, they were nervous, even terrified. Behind the witty exterior was hard work, careful planning, and courage.
The making of #WallOffTrump
The artist recruited to design the project, who goes by Remy, knows a lot about walls. He grew up on the Navajo reservation in northern Arizona, where, for him, the reservation boundary symbolized a kind of wall.
"Trump says countries like Mexico aren't sending their best," said Remy, citing Trump's claims that Mexican immigrants are rapists and criminals. "The same thing happened to us when the first Europeans arrived in America. They didn't send their best."
"I wish we'd had a wall," he added.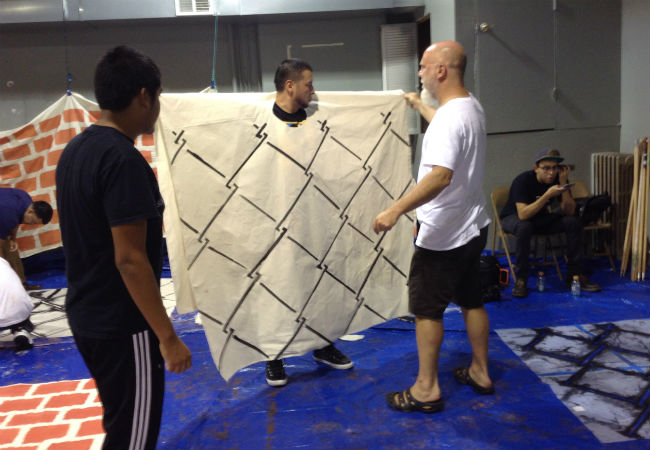 Months in advance of the convention, Remy worked with Mijente and the Ruckus Society, a protest-planning organization, on the idea to build a wall. They would paint multiple bolts of fabric to look like chain link fence and brick. The City of Cleveland had been implementing strict security measures for months and in May banned everything from tennis balls to lumber outside the convention walls. So the protesters would don ponchos. Their lifted arms would substitute for wood. They would become the wall themselves.
Remy led more than 100 rotating volunteers in painting this wall. They worked for six days straight, about 13 hours each day, sweat running down their faces the entire time. It was about 82 degrees outside, but easily 10 degrees hotter in their second-floor work room in the grand old Cleveland Masonic Temple. The temple, a giant, windowless monolith that once served the elite and secretive all-male Masons, is now home to the Ohio City Masonic Arts Center, which welcomes in the community for music and art. It rented most of its 30,000-square-foot facility to organizers planning protests during the RNC.
More than 50 people gathered in the basement. Leaders told them what to expect, where to stand, and how to respond to journalists.
"Is there more risk for banners or ponchos?" asked one volunteer as he decided what role he would take the next day. Organizers had labeled the entire protest "yellow," meaning medium risk, largely due to Ohio's lax gun laws.
B. Loewe, communications director at Mijente, sensed everyone's fear. "I've been seeing all these people with rifles," said Loewe. "That's scary, right?" He went around the room and offered participants the chance to talk about their feelings concerning potential violence.
On Monday, two days before the protest, Unzueta had gone down to the convention center to check out security on the streets they planned to use. She said she'd seen four or five White men shouting in the face of a Black woman who was demonstrating for reproductive rights. "These moments are scary to me because of the potential for violence," Unzueta said.
Majken Jul Sørensen, a scholar of humor as a strategy for nonviolent resistance to oppression at Karlstad University in Sweden, says the protesters may have been taking a step toward securing their safety simply by being clever. "Humor is a way of raising tension, in one way, but it's also a way to reduce the risk of violence," she said.
OH, this is rich. RT @imfabulous13: The #WallOffTrump is already up. pic.twitter.com/jypaOuLA9u

— Panda Montana (@MrTanPanda) July 20, 2016
Sørensen's research of radical clowns, who do things like impersonate police and other authorities, shows that they have felt safer while playing a funny part. Humorous protests have the effect of turning the logical world upside-down, she said, and those in power are left with no good way to respond.
She said that activists who successfully pull off a humorous nonviolent action enjoy a victory hidden from the public: an increased sense of camaraderie and an expanded network of like-minded collaborators. "When people have fun together, sharing a good time, they bond," she said.
During the demonstration, journalists far outnumbered both police and onlookers. In fact, few but journalists saw the live protest at all. But, as Loewe told the participants, every camera is a link to a thousand or more viewers. The journalists produced a social media blitz, along with articles and video spots in outlets ranging from Democracy Now! to mainstream ABC News and the Associated Press.
"This is about having the most epic photo opportunity ever and telling our story," LJ Amsterdam of the Ruckus Society had said to participants the previous night.
For Unzueta, the group's success is an open door to a less humorous kind of work: fighting for concrete policy changes and for the individual immigrants waiting for justice in this moment. "I work with immigrants in detention every day," said Unzueta. For now, they've done their best to claim some political space.
"Not only did they shut down an entrance to the Trump-vention," said Bichlbaum, of the Yes Men, "but they did it in a way that ridiculed one of the man's 'ideas'—all for a few hundred dollars' worth of fabric and with three words."