News Based on facts, either observed and verified directly by the reporter, or reported and verified from knowledgeable sources.
Protesters Grieve and Demand Justice for Breonna Taylor After Indictment
Photo by Michael M. Santiago/Getty Images
Breonna Taylor's name has been on the lips of protesters demanding justice and an end to police brutality for the better part of a year. Six months after Taylor was killed inside her own home by Louisville police officers, Kentucky Attorney General Daniel Cameron announced on Sept. 23 that only one officer involved, Brett Hankison, would be charged with first-degree wanton endangerment.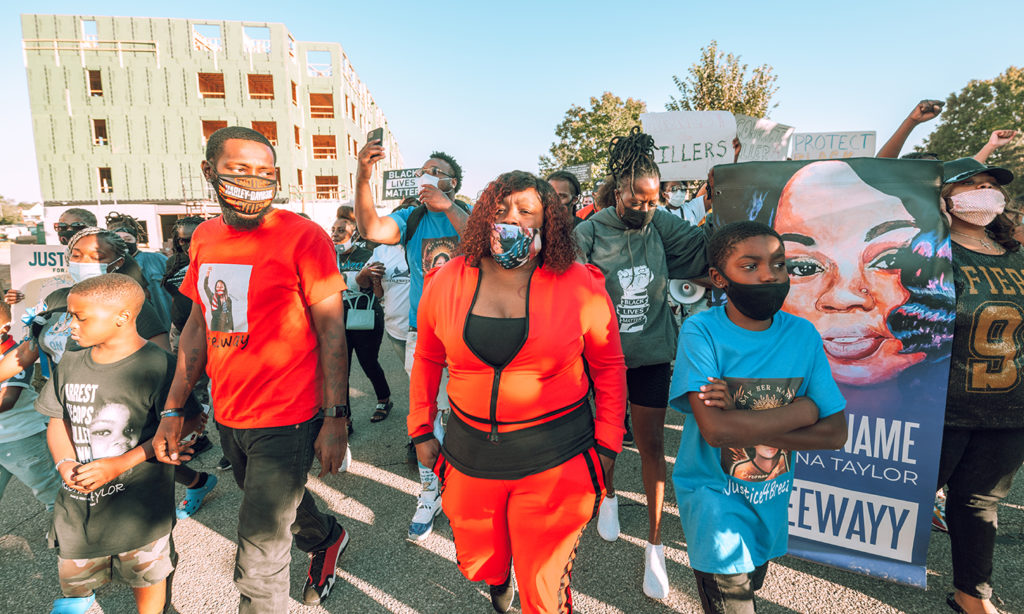 On Wednesday, Hankison, who had been fired from the Louisville Metropolitan Police Department in June, was indicted by a grand jury for wanton endangerment—for firing his weapon through Taylor's walls into her neighbor's apartments, thereby endangering their lives and property. Nowhere in the indictment was Taylor's name mentioned, and the indictment does not charge Hankison with any responsibility in Taylor's death. The other two Louisville Metro Police Department officers involved in the raid were not indicted.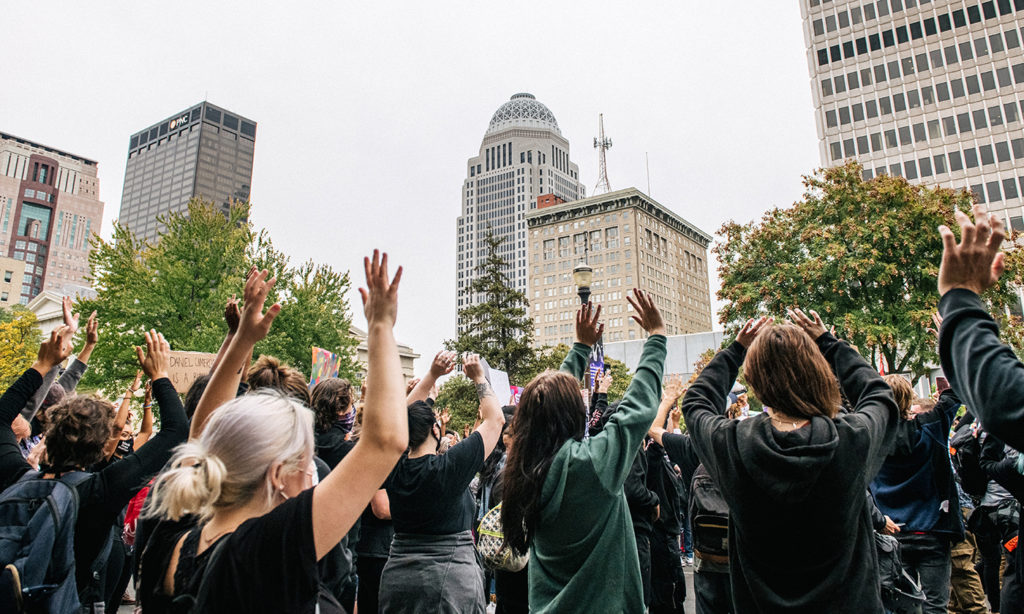 Taylor, a 26-year-old emergency room technician, was shot and killed while inside her apartment on March 13, when LMPD officers entered her apartment using a "no-knock warrant," allegedly searching for illegal drugs. No drugs were in the house, and it is unclear whether police announced themselves before breaking down the door to the apartment Taylor shared with her boyfriend, Kenneth Walker. Walker owned a legal, registered firearm, and shot at the men trying to enter his home, prompting police to return fire, killing Taylor. (Walker was initially arrested and charged with firing at the officers, but those charges were soon dropped.) Taylor's story spread across social media, and protesters took to the streets in June to demand justice for her along with George Floyd, a Black man killed by police in Minneapolis in May.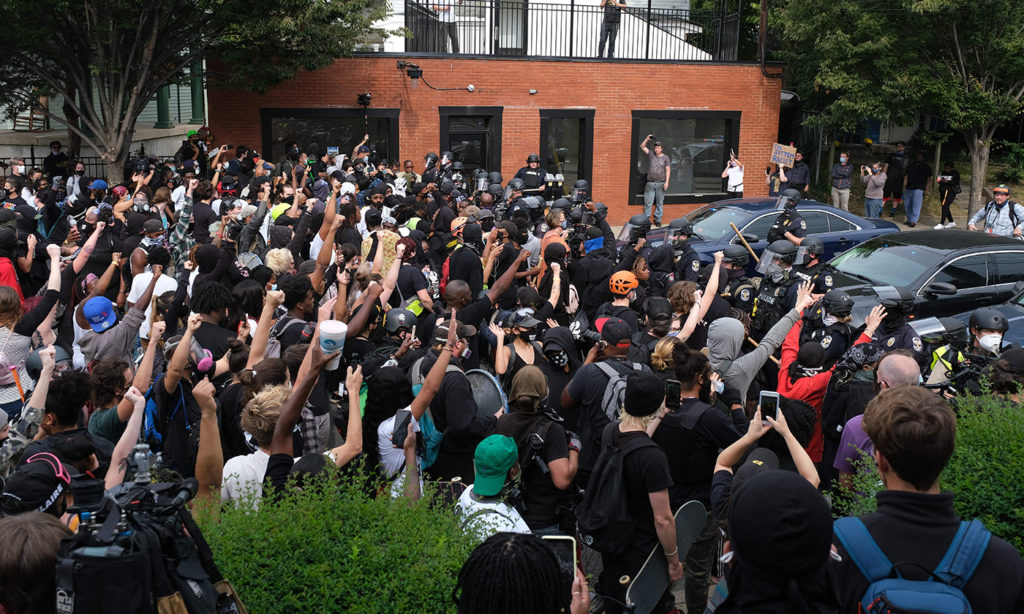 After the announcement of the grand jury decision in Hankison's case, hundreds of demonstrators across the U.S. took to the streets contesting the indictment and demanding further action and accountability. In Louisville, local police mobilized the National Guard and arrested nearly 130 protesters on Wednesday night.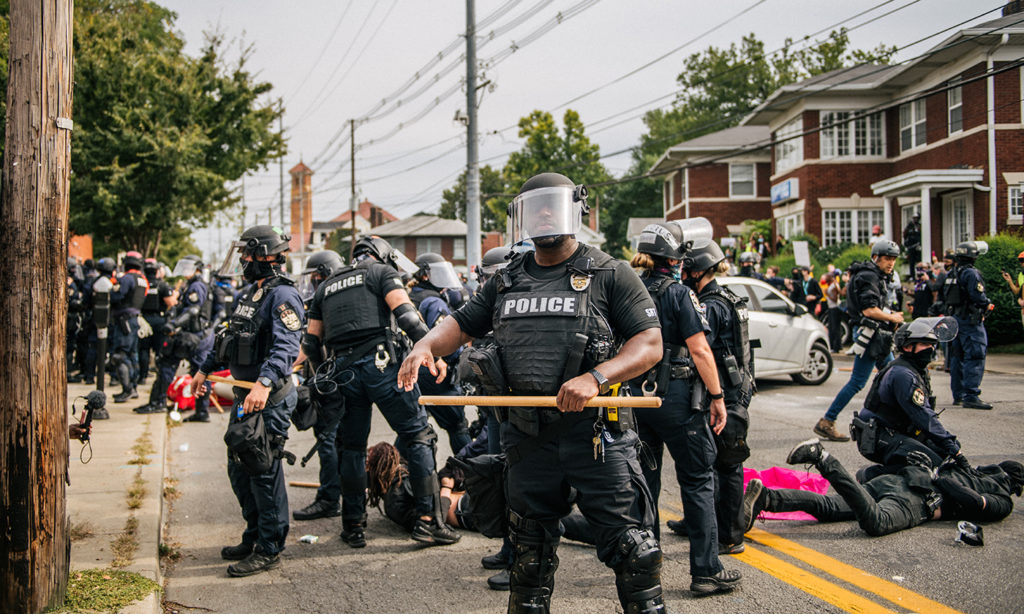 "Today's decision was an additional injustice on our family and this country," Tawana Gordon, Taylor's cousin, told The Washington Post. "Until Americans start getting mad enough and speaking out and forcing legislators to change the laws for all races, nothing is going to change."
On the digital streets of Twitter and Instagram, people expressed their grief, pain, and exhaustion around the decision as well as the failure of the justice system to serve and protect Black life. One Twitter user even pointed out that the indictment was handed down on the 65th anniversary of the acquittal of the men who killed Emmitt Till.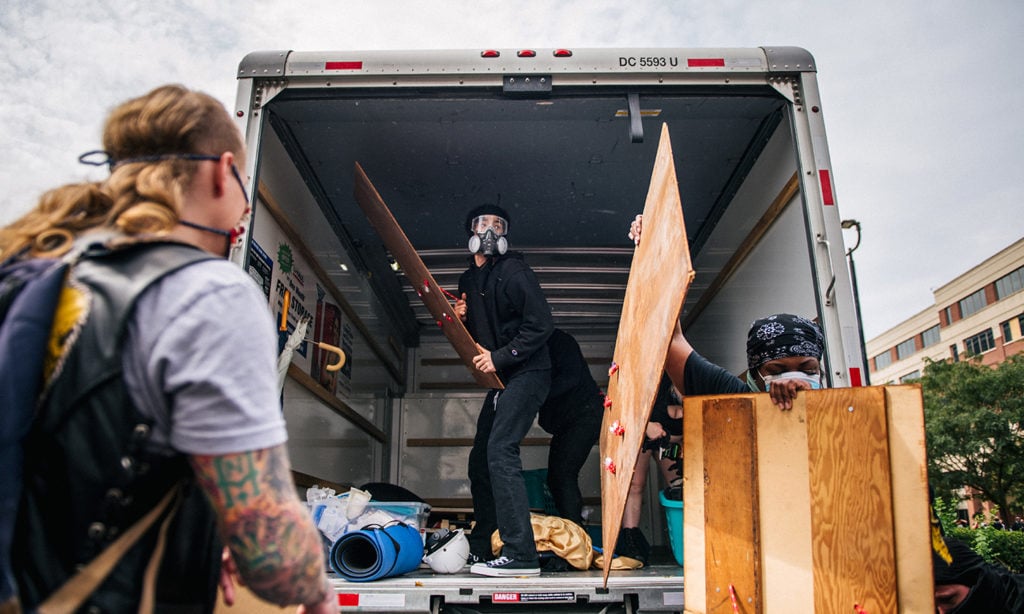 Along with the pain and grief, social media is abuzz with posts detailing what people can do now to get justice for Taylor, from donating to bail funds to signing petitions. Black Lives Matter Louisville shared a post detailing its demands, which include firing all officers involved in Taylor's killing, and divesting from the LMPD.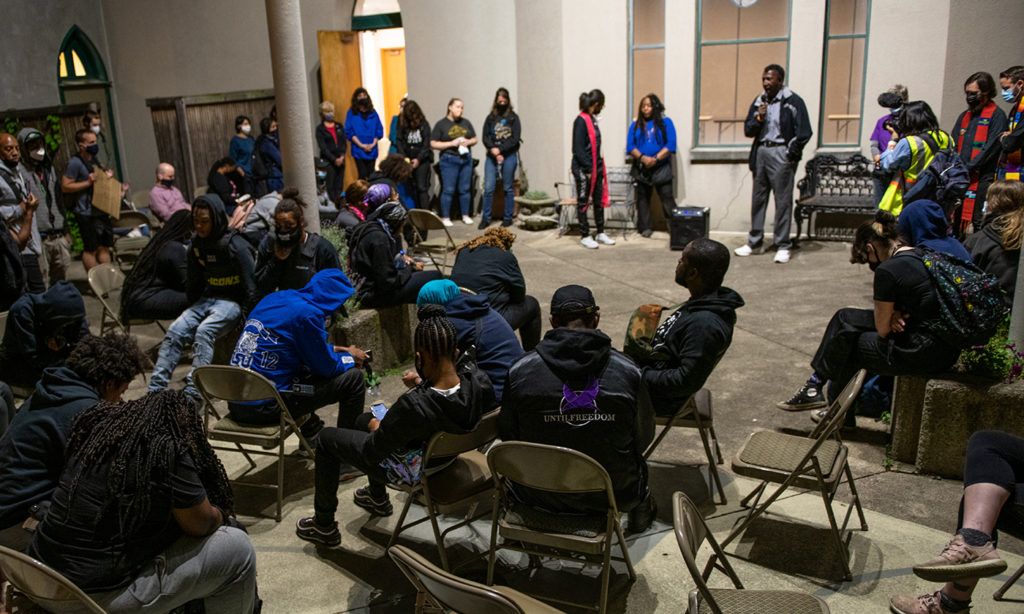 The demand to divest from LMPD is part of a larger movement to #DefundPolice that has gained renewed traction this summer after the police killing of George Floyd. Instances of police brutality, coupled with the federal government's poor response to the pandemic, have laid bare the racial and economic inequities of this country, and historic numbers of people have taken to the streets in protests spanning the globe. In June, demonstrators protested police violence against Black people in every U.S. state, with many chanting Taylor's name in response to organizer requests to say the names of Black people killed by police. As such, protesters around the country have been demanding justice for Taylor—and many renewed those calls in large-scale marches from Los Angeles to New York on Wednesday.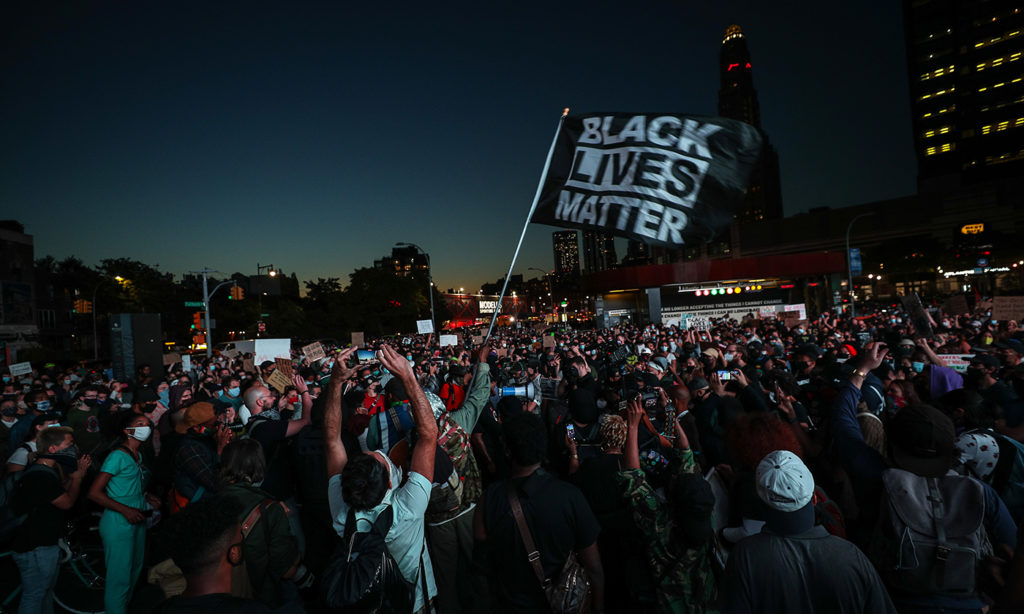 New York: Protesters gathered at the Barclays Center in Brooklyn after the grand jury decision in the Breonna Taylor case.
Cincinnati: Demonstrators hold up signs in protest at the Hamilton County Courthouse on Sept. 23, 2020, after the Breonna Taylor decision earlier in the day in Louisville, Kentucky.
Chicago: Protesters carry signs in support of Breonna Taylor and defunding the police during a march on Sept. 23, 2020.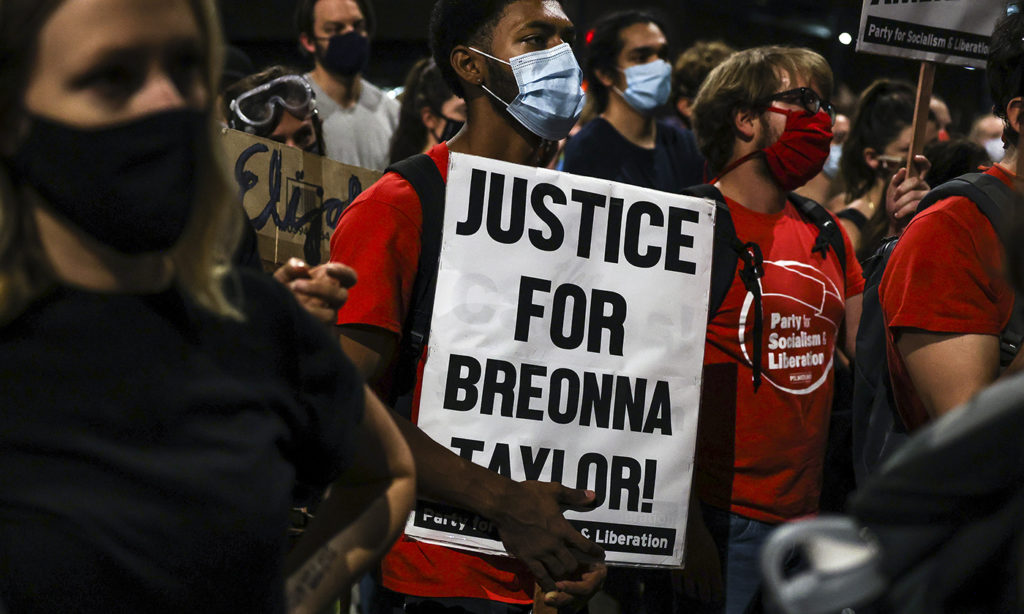 Denver: A man holds a "Justice for Breonna Taylor" sign as people protest the grand jury decision in the Breonna Taylor case on Sept. 23, 2020.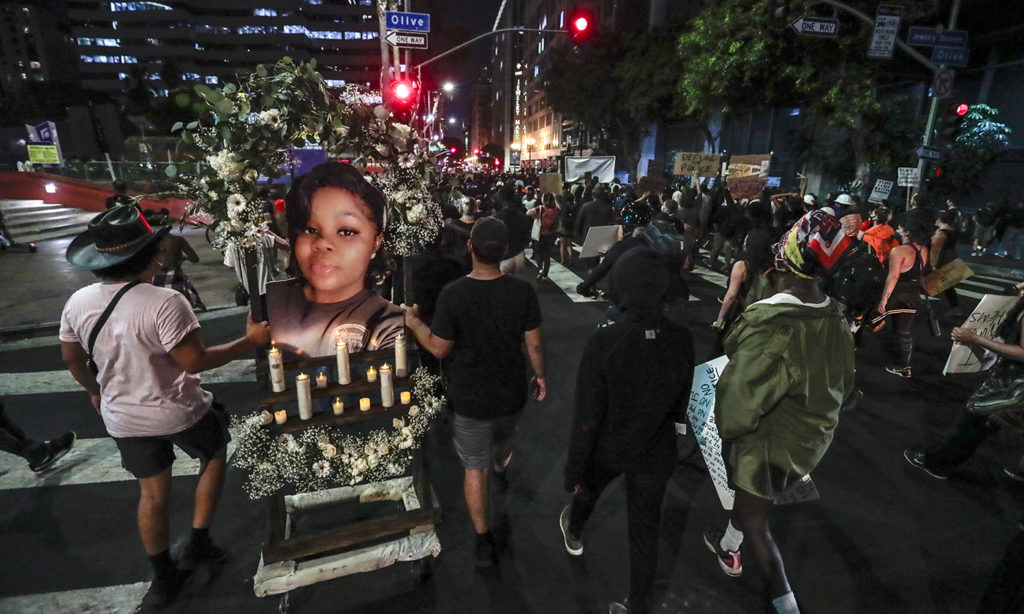 Los Angeles: Protesters push along a shrine to Breonna Taylor as hundreds march downtown on Sept. 23, 2020, protesting the grand jury decision in the Breonna Taylor case.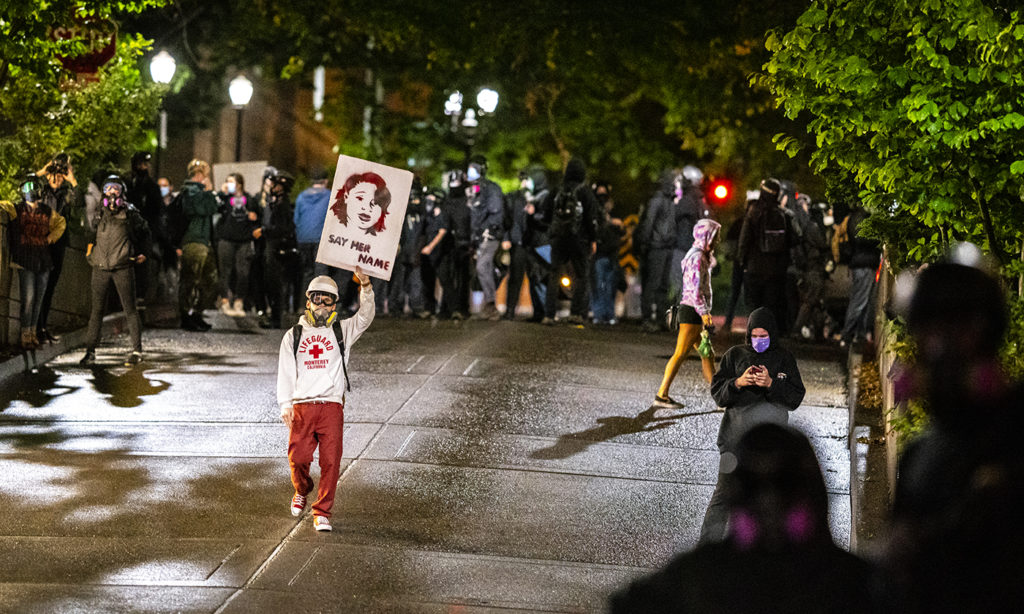 Portland, Oregon: A protester walks toward Portland police with a sign honoring Breonna Taylor on Sept. 23, 2020.
Washington, D.C: Demonstrators hold up images of Breonna Taylor as they rally in front of the U.S. Department of Justice in protest after the grand jury decision in the Breonna Taylor case.