The School That Put Local, Healthy, and Homemade on the Lunch Menu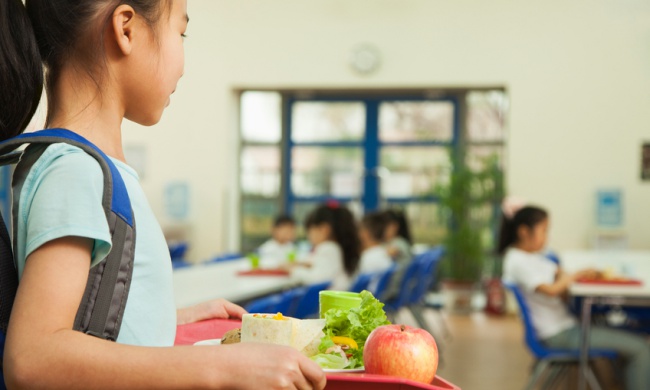 A wood-framed blackboard announces the menu of the day in purple, red, and blue chalk: brown-rice bowl topped with tamari-marinated tofu and roasted seaweed, a side of coleslaw, and green salad with citrus dressing.
The Village School is reinventing how a public school feeds its children.
This isn't a new lunch item at a trendy vegetarian restaurant. It is the hot lunch at the Village School, a public charter school in Eugene, Ore.
The Village School is reinventing how a public school feeds its children, by offering one homemade, all-vegetarian lunch option each day and earning national recognition in the process. In October, the Village School won the national 2015 Golden Carrot Award from the Physicians Committee for Responsible Medicine, which awards cash prizes to schools that encourage students to eat healthful foods.
Students have responded favorably to their school's effort: More than 70 percent of the 216 children—kindergarten through eighth grade—participate in the lunch program, compared to the national average of 56 percent, and nearly all of the staff participate.
What's happened at the Village School is, in some ways, a reflection of a national issue: With increased consumer interest in healthy eating and locally grown foods, school lunch programs have received greater scrutiny. According to the USDA, which oversees the $11.6 billion National School Lunch Program, some 32 million students in participating public schools receive lunches based on standards it sets. While those standards were revised in recent years to offer more fruits, vegetables, and whole grains, many parents and other advocates have questioned whether lunches are healthy enough, and whether contracts with the food industry influence what ends up on children's plates.
The Village School is among many that have altered their lunch menus in accordance with the USDA lunch program. The Glendale Unified School District in California, for example, offers its students a garden bar with fresh fruits and vegetables, while Weston Public Schools in Connecticut offer nondairy beverages like juice and soy milk. Gardens also have popped up at schools across the country.
At the end of the 2010–2011 school year, the Village School reimagined its lunch program after the Eugene School District withdrew food services from its charter schools.
Many parents and other advocates have questioned whether lunches are healthy enough.
Justin Boe, the seventh- and eighth-grade math and science teacher, said the line for hot lunch has been longer ever since.
Only about 70 students ate the hot lunch provided by the school district. Today's figures are double that: Around 150 of its students (about three-fourths of the student body) and 30 staff members eat the school lunch.
After the Village lost its food services provider, Tona Aguilar, a Eugene advocate for better school nutrition whose daughter was then a first-grader at the Village School, offered to be one of the kitchen coordinators. As a college student, Aguilar was also a chef, and later started her own organic catering company, so when the Village School needed help, Aguilar proposed a business plan to create healthier, homemade lunches.
"Our school has been wanting a program like this since it opened in 2000," Andy Peara, the school's executive director, said in an email. "Once we saw the proposal, neither the principal nor I had to be convinced."
After they signed off, the school needed approvals from Oregon's Child Nutrition Program office and local health inspectors.
It also needed funding. Peara estimates the food program now costs about $110,000 annually.
Aguilar rallied parents and volunteers to fundraise $2,500 from a walkathon, while the rest of the budget came from student and staff fees and the USDA, which contributes 45 percent of the food budget.
Since the Village School is a charter school, it receives less funding than Eugene's traditional public schools. To make up the costs, it asks that its parents volunteer 40 hours a year as classroom assistants or playground observers. After the lunch program started, parents volunteered more of their hours in the kitchen.
People and money were also needed to prepare the kitchen.
"It was a Herculean task, especially because it was done in a short amount of time," Peara said. "The 1940s stove had to be rewired, the walls repainted, the cupboard supplied. They had to get up to speed on USDA meal requirements and train in food preparation."
"We were passionate and enthusiastic," Aguilar said. "In the first year, we didn't know how much help we needed because everything was new and experimental. We were really lucky because we got incredible teacher, parent, and administration support."
"It's so worth it to feed our students high-quality, healthy food."
In the program's developing stage, before the end of the 2010–2011 school year, when the district planned to stop serving charter schools, Aguilar and other parent volunteers visited Portland schools with similar programs, and came up with recipes. Its first dish of the 2011–2012 school year was a complicated calzone.
"I just laugh when I think about those calzones," Aguilar said. "They were ridiculous. It worked, but it wasn't sustainable."
The menu now offers simpler, vegetarian options, such as macaroni and cheese or a mashed potato bowl. Students also line up at the salad bar, which features fruits and vegetables grown in the school garden, before they grab a homemade entree.
Five years later, Aguilar and the parent volunteers still work tirelessly. On this particular day, Aguilar and her team cut fresh avocados, mince garlic and ginger, and flip tofu squares.
And the students love it.
"It's better for you; it's like homemade," seventh-grader Bodin Sherlock said. "It would be good if other schools would follow us so kids don't get used to eating unhealthy food."
Sixth-grader Trinidad Fabian-Alvizo loves that the food is so fresh.
"There's no processed American cheese in the sandwiches, and we grow the lettuce in the school garden," she said.
Could this model work elsewhere? The Village School benefits from generous community support and local food sources, which Aguilar says is key to its success.
She works with dozens of different local farmers, producers, and distributors, including Umpqua Dairy and Hummingbird Wholesale, which donate or sell their products to the school at a discount. At the beginning of the program, Aguilar reached out to Cafe Yumm, which donated its trademarked sauce and black beans for a Tuesday Yumm Bowl.
"Ideally our program is replicable," Aguilar said. "Something like this is entirely possible for small schools, and even parts of it can be done by bigger schools. It's so worth it to feed our students high-quality, healthy food."