"Tough on Crime" Is Tough on Kids—Will CA Voters Roll It Back?
In shackles at the front of the courtroom, Robert kept his gaze fixed to the ground as a San Mateo County judge rattled off a list of charges for an armed robbery he was involved in as a 17-year-old high school senior. On August 20, 2010, he had driven three of his acquaintances in a stolen Toyota Camry to a Shell gas station in a sleepy coastal town 15 miles south of San Francisco, where one of them shot an attendant in the legs four times. Robert was later found hiding in a backyard in a nearby town.
A minor transferred to an adult court usually receives a harsher and longer sentence.
An orange jumpsuit hung over his hunched shoulders, exposing his slight frame. His gaunt face and withdrawn stare belied his normally confident demeanor. Taking a long pause before each response, Robert (whose surname is not being used to protect his identity) agreed to all of the charges in the Northern California robbery, which occurred two years earlier. The district attorney stood with his back to the packed public seating area, wiping away sweat from his forehead. As the prosecutor in the case, he had decided within 24 hours of Robert's arrest that the youth's crime was severe enough for him to be tried as an adult. (A minor transferred to an adult court usually receives a harsher and longer sentence with fewer opportunities for education and self-betterment than ones who stay in the juvenile system.) Robert was charged with two counts of assault with a deadly weapon, attempted robbery, robbery and gang allegations, and was sentenced to 20 years in prison. His mother insists he did not shoot or harm anyone. If it had been 12 years earlier, a prosecutor would not have made that decision. At that time, only judges decided whether someone under 18 years old should enter the adult system, through what is called a juvenile fitness hearing. But a "tough on crime" ballot initiative approved in 2000 put prosecutors in charge by letting them decide, within 48 hours of the youth's arrest, to circumvent fitness hearings that could take several months. "The lawyer just said that there was nothing we could do," recalled Karen Gonzales, Robert's mother. It perplexed her that her son sat in a juvenile hall for several months until he was sent to a San Mateo County jail when he turned 18, and had pretrials in the adult court system instead of in the juvenile court.
A coalition of social justice groups insist that the initiative is needed to trim prison population numbers.
Robert is one of thousands who committed crimes in California when they were between 14 and 17 years old, but were tried as adults at the behest of prosecutors. California is one of 15 states, along with Washington, D.C., that employ a mechanism called "direct file," which allows district attorneys to decide whether or not youth should receive an adult trial for serious crimes such as murder and certain sexual offenses, or a significant criminal history. It was the DA's decision that brought Robert to the adult courtroom in March 2012, tears trickling down his face as he conceded to a plea deal because his public defender told him he would surely lose a trial. In shock afterwards, Gonzales reconvened with her family in the courtroom hallway. "We felt defeated because we tried to figure out any way that we could to help him," she said. "It was like being a mouse going through a maze, and every door we went through was blocked." The judge approached her in the hallway and admitted that he hadn't wanted to send such a young person to prison for 20 years, but that her son had to be punished for his crime. Gonzales took a breath and retorted, "This system is not going to break us." On November 8, that system could be turned on its head. If California voters approve Proposition 57, they will give the power to decide who's tried as an adult back to the judges, thereby likely directing more youth offenders into the juvenile system and rehabilitative programs. Proposition 57 also contains controversial provisions added at Gov. Jerry Brown's request, which would change the state constitution by expanding eligibility for parole and allowing early release for some nonviolent offenders. Law enforcement, prosecutors, and some crime victims' organizations are against it, saying it would result in the release of thousands of dangerous criminals. Meanwhile, a coalition of social justice groups—together with Brown—insists that the initiative is needed to trim prison population numbers.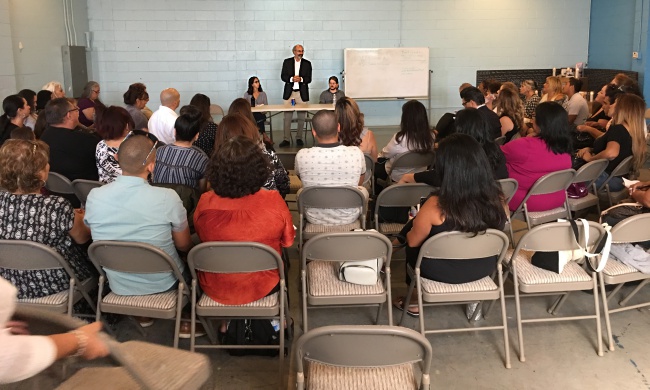 The more controversial provisions in Proposition 57 have stolen the spotlight; the issue of direct file has gotten less attention. But supporters of the measure say that direct file is a vestige from the state's "tough on crime" days, and that its repeal is long overdue. California is not the only state reconsidering its use of direct file. In the spring, Vermont lawmakers ended the use of direct file for most crimes and Indiana passed a "reverse transfer" law, allowing youth to be sent back to juvenile courts if the criminal court judges believe that the cases are misfiled. These reforms are spreading as public opinion turns against harsh punishments for youth. "I don't want other parents to go through the agony that I've gone through," said Gonzales, a stalwart proponent of the measure who helped gather signatures for it to be placed on the ballot.
How we got here
Although each state has at least one mechanism that allows children to be tried as adults, some adopted direct file in the 1990s at the height of concern about "super-predators," a term coined by political scientist John DiIulio to describe youth who repeatedly commit violent crimes (DiIulio has said he regrets the role he played in that conversation). The term "super-predators" has come to light again this year, as Black Lives Matter activists attacked presidential candidate Hillary Clinton for using it in the 1990s. "It was under this narrative or idea that judges are too lenient," said Frankie Guzman, a staff attorney at the National Center for Youth Law and one of the drafters of Proposition 57. And although violent youth crime was on the decline in California at the time, DAs convinced the public that youth offenders should be sent to adult court, leading to the passage of the 2000 ballot measure that added the practice to state statute.
"Juveniles are more malleable and amenable to reform of their behavior."
Proposition 57 is touted by California Gov. Jerry Brown on the campaign's website as ending the use of "costly prison space on nonviolent people who can be rehabilitated." Under the measure, prosecutors could only request that youth be transferred to the adult system if one commits significant crimes such as murder, robbery, or certain sex offenses at 14 or 15 years old—or commits a felony at 16 years or older. And a judge would still make the ultimate decision, while taking into consideration the youth's community environment and childhood trauma, as well as their mental and emotional development. It would also change the juvenile fitness hearing by requiring prosecutors to prove that the youth deserve to be in an adult court. Currently, youth have the burden of proving during a fitness hearing that they should remain in the juvenile system. Although the Legislative Analyst's Office—a California state government agency that provides fiscal and policy advice to lawmakers—stated in a July report that fewer than 600 youth were sentenced to adult court in California last year, they added that approval of the measure would reduce the amount of youths tried as adults. Such a move could also reduce the number of youth offenders who commit further offenses. That's because "juveniles are more malleable and amenable to reform of their behavior" than adults, according to an extensive review of scientific articles published in 2007. A poll conducted for The Los Angeles Times and University of Southern California in September revealed that 66 percent of registered voters support Proposition 57.
The coalition behind the Proposition 57
Like many of the key supporters of Proposition 57, Frankie Guzman isn't just a concerned advocate. He's been through the juvenile justice system himself. After Guzman's parents divorced when he was 3 years old, his older brother Freddie acted as his male role model. He helped coparent Guzman when the family was homeless for a year. And when they became housed again, Freddie cooked his meals, picked him up from school, and chaperoned school field trips. But their relationship took a turn when Guzman was 5 years old and Freddie was 16. One night Freddie went to a party with some of his older friends and was attacked by some men he didn't know. He left the party and later returned with a gun and shot two men, killing one of them. Freddie was later tried as an adult and sentenced to 17 years to life in prison. If the judge had taken into account Freddie's personal history and had greater discretion to keep youth in the juvenile system—as Proposition 57 requires that judges do—then there could have been a different outcome, Guzman surmises.
"A system that relies on prosecutors alone to make decisions about where someone should be tried is not a just system."
Although the ballot initiative came too late to help Freddie, his parole hearing is set for December 23. "I really believe that he's going to come home after 31 years in prison," Guzman said, who himself spent six years in the juvenile system for committing an armed robbery at 15 years old. After he was released, he studied English at University of California, Berkeley, where he became involved in advocacy work to recruit and retain more low-income students of color into the University of California's system. Upon graduating he became the director's assistant at the National Center for Youth Law and later studied at the UCLA School of Law. "From that point, everything that I did was with an eye towards returning to the field and being a juvenile justice advocate," Guzman said. Now he is a staff attorney at the National Center for Youth Law, where he provides litigation support to private attorneys and organizations representing marginalized youth. Along with other youth advocacy groups throughout the state, Guzman helped form the coalition California Alliance for Youth and Community Justice, which was one of the main drivers behind Proposition 57. Kim McGill, an organizer with Youth Justice Coalition and an alliance member, says that her organization was created three years after direct file passed to challenge harsh youth sentencing. "A system that relies on prosecutors alone to make decisions about where someone should be tried is not a just system," McGill said about direct file. "It's a one-sided system that guarantees that we have no justice." McGill herself had two felonies before turning 14. The coalition drafted Proposition 57 in 2015 and broke major ground last December when Gov. Brown partnered with them to include policies that would increase rehabilitation and justice for the communities. "It allows flexibility," Brown told the Los Angeles Times. "I think this case is irrefutable to anyone with an open mind." Coalition members say that the initiative is long overdue and that direct file is a leftover from the state's "tough on crime" days. Moreover, it disproportionately affects Black and Latino youth. About 90 percent of the youth charged as adults in California are people of color, while over 90 percent of DAs are White, Guzman adds. So the current system gives a nearly all-White group a huge amount of power over youth of color. Guzman says he's seen juvenile offenders get their lives on track in probation. For example, the William F. James Boys Ranch run by Santa Clara County Probation Department for violent youth offenders, allows boys to take high school courses, anger management courses, and to attain skills like auto repair. Less than 40 percent of youth who complete the program return to criminal activity, whereas that figure is about 70 percent for kids in the adult system, Guzman adds.
Concern about public safety
Although the measure has received widespread support from youth advocates, unions, and a majority of the electorate, it's also met fierce opposition from law enforcement, DAs and victims' rights activists who say that a section allowing for early parole will usher the release of thousands of prisoners. What stokes contention is a provision that would allow nonviolent felons who have completed the full term for their primary offense to be eligible for parole instead of waiting years for tacked-on crimes or enhancements like being in a gang. It would also authorize the Department of Corrections and Rehabilitation to grant sentence credits to offenders who have displayed good behavior or achievements in rehabilitation or education. In their analysis of the initiative, the Legislative Analyst's office showed that as of last year, about 30,000 prisoners would be up for parole consideration under this section of the measure. About 7,500 of those who enter prison each year would also be eligible after they've completed the time for their primary offense. Proposition 57 does not guarantee release; it only offers an earlier opportunity for prisoners to make a case before a panel that determines parole.
"I'm hoping that this is just the beginning of more laws that can change when it comes to minors."
The majority of DAs oppose the initiative, saying that the number of potential releases poses a threat to public safety. Although Sacramento County District Attorney Anne Marie Schubert says that the revocation of direct file is the least worrisome of the measure, she disagrees that prisoners convicted of nonviolent felonies should be considered for early parole after they've completed their base term. Furthermore, doing so would in some cases negate 1994's Proposition 36, commonly known as the "three-strikes law," which requires a term of 25 years to life for a third serious or violent felony. "There's a time for healthy conversation about sentencing reform," Schubert says, adding that she doesn't believe the measure is the proper avenue for that because it's too "broad brushed." She argued that early parole needed to be a much more "vetted conversation" and that the measure would release criminals before they had an opportunity to better themselves. But advocates like Guzman say that only prisoners who have undergone meaningful change will be considered for early parole under Proposition 57. Unlike previous measures that released thousands of prisoners in recent years, Guzman says, that consideration for early release will only be granted to those who have shown they're ready for life outside of prison by participating in education and other programs. Gonzales says the provision that allows for parole consideration gives her son renewed hope. Although the possible abolishment of direct file wouldn't apply to Robert retroactively, he would still get an opportunity to prove that he has changed his life, which is something he's been committed to doing since he was arrested. Gonzales says that Robert is "being as productive as he possibly can" by working in his prison's kitchen and taking college courses on finance, business administration, human resources, sociology, and English. "I'm hoping that this is just the beginning of more laws that can change when it comes to minors," Gonzales says. This article was funded in part by the Surdna Foundation.