Creating an LGBTQIA Safe Space in Rural America
In the heart of rural New England, two queer women built a space for art and community.
Amid the relatively conservative, rural surroundings of Manchester, New Hampshire, The Gal-lery is a sanctuary from judgment and oppression. Located deep inside the twisty hallways of a converted former mill, the space to showcase art isn't marked by flashy signs or promoted with widespread advertising. It's a place where LGBTQIA people, and others who are marginalized, can simply exist without having to justify their identities to others.
Catherine Graffam, an intersex, nonbinary transgender woman, cofounded The Gal-lery more than two years ago with Madeline Jones, a queer woman who also sometimes uses nonbinary pronouns, after the pair graduated from the New Hampshire Institute of Art. The two began hosting events in 2015 and have since built a successful community of regular visitors and friends. About 50 people attended the Nov. 3 opening of "Gals and Pals," their first gallery show, which also featured nine visiting artists in addition to the works of Graffam and Jones.
"The events aren't inherently about being queer, but it's a space for people who are marginalized to come enjoy art without feeling judged, feeling like they're with peers," Graffam said.
Typically, older and wiser queers advise fellow LGBTQIA folks to move to the city to escape the oppressive atmosphere of the countryside. This queer flight can create a creativity vacuum that makes the work of community building in rural areas even more difficult but all the more vital.
As a queer and genderqueer man, I know from personal experience the difficulty of living outside of an urban area. After my family moved to New Hampshire in my early teens, I faced frequent harassment for my orientation, appearance, and gender expression, especially in high school. Just before turning 20, I moved to Austin, Texas, a far more queer-friendly community. I met Graffam in September when she gave a lecture on art and capitalism at Gender Unbound, an LGBTQIA art event in Austin.
When I heard that she and her partner at the studio had built a successful space for queers and marginalized people, I wanted to learn more about how they'd built a community in an area that can often be hostile. At little more than 110,000 people, Manchester is the largest city in the state and the 10th largest city in New England, but hardly a booming metropolis. Manchester is becoming increasingly gentrified and expensive thanks to a growing tech industry presence, so word of an affordable space was a helpful tip for Graffam and Jones shortly after graduation.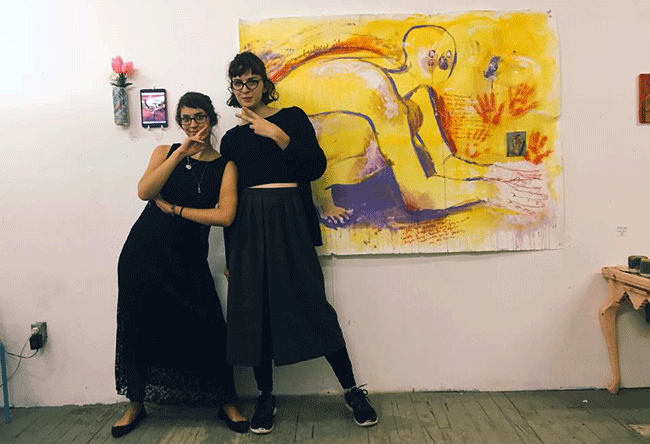 Madeline Jones left and Catherine Graffam.
When I talked with the pair just after their November show, they explained there are few resources for LGBTQIA folks in Manchester other than bars and support groups, neither of which provide the creative and open atmosphere of The Gal-lery. "There's queers around, but there was nowhere to gather," Graffam said.
Jones recalled that the idea to build a community began after graduation. "I started going to more shows in the area, and I was really turned off by how it was all white dudes, and I couldn't go to shows with my girlfriend at the time, who was trans."
Alternative art spaces are critical to establishing connections for people like Lucy, a queer artist with an upcoming show at The Gal-lery. (Lucy is not fully out to her family, so she asked to use a pseudonym for this story.)
---
Lucy grew up in Manchester and returned to the city after graduating from college in Vermont. But she struggled to find community or inspiration for her oil portraits and art installations until she met Jones and started attending Gal-lery events. "There's really not much here that I know of in terms of spaces that are specifically queer-friendly, especially not art places," she said.
Throughout the country, following the Ghost Ship warehouse fire in Oakland, California, cities have begun to shut down underground arts spaces. Manchester has lost some of its own do-it-yourself arts spaces in recent weeks, making The Gal-lery even more important. "The Gal-lery is really like the center of this community," Lucy said.
It can be challenging to build queer communities in rural areas, because the LGBTQIA population is smaller.
Just an hour away from Manchester is the Boston LGBTQIA Artists Alliance, which recently hosted an exhibit called "trans/draw," in which Graffam's work appeared. Dylan Hurwitz, the alliance's director, said it can be challenging to build queer communities in rural areas, because the LGBTQIA population is smaller and has fewer resources and less preexisting infrastructure, like community centers.
"In a rural environment such as where I grew up in Pennsylvania, it is often about whether there are groups that support queer communities at all," he explained.
On the other hand, Hurwitz noted, in a bigger city, groups like BLAA face tough choices about which parts of the queer community to prioritize serving and how to reach a large, diverse population on a tight budget. "When you're dealing with a larger population and you are working with limited resources, these questions become more urgent," he said.
Some of The Gal-lery founders' initial efforts were frustrating failures. Jones recalled feeling depressed and directionless after graduation, and both considered moving away. Early events were largely unsuccessful, with few people attending. The pair canceled one after no one RSVP'd on Facebook.
"It was really demoralizing," Graffam recalled.
These initial struggles pushed the pair outside their comfort zones to expand their networking efforts. The two began to personally approach other queer and femme artists, in addition to recruiting artists online. Part of their success has been attracting what Jones described as "lone wolf" types who need a community.
"It's a space for people who are marginalized to come enjoy art without feeling judged."
However, the pair are not shy about acting as the gatekeepers to their community. They advertise selectively and don't place fliers in locations likely to attract the wrong audience.
"All our events have a disclaimer that this space is intersectional feminism-oriented, and we don't allow ableism, transphobia, homophobia, and transmisogyny, and misogyny, sexism and racism. All the -isms," Jones said.
She noted that their events are "not exclusive. People can come who aren't marginalized."
Camaraderie comes before profit at the Gal-lery.
"We're not focused on sales. Things are for sale, but at the end of the day we aren't pushing people to buy stuff. We aren't worried about people selling work. We aren't profiting off of it. Taking the capitalist element out of it and not pandering to old people with money has benefitted us and the other artists who contribute," Graffam explained.
Jones said she rarely exhibits her work outside The Gal-lery, which to her is about "having a space to show my work to my friends who get it, where I feel safe being vulnerable."
Graffam's message of anti-capitalist, queer-friendly art resonated with Lucy. It inspired her to focus on developing her career outside of the male-dominated mainstream art scene. "There's a whole separate art world from the mainstream art world that's more supportive and has more opportunities," Lucy said.
---
Creating an LGBTQIA arts community doesn't require a full-time studio. Since the closure of a south Boston community center in 2014, the BLAA, for example, has existed without a permanent location.
"The only solution was to reach out to other spaces and see if they were willing to host us," Hurwitz recalled.
"Community is an ongoing process. There's never an endpoint."
Now the group holds pop-up events in galleries throughout Boston. The process of finding new hosts led to alliances with other supportive organizations such as Black and Pink, an LGBTQIA prisoner-solidarity collective, which hosted a letter-writing party during "trans/draw."
The BLAA's example shows that queer space can be created in already available, preexisting locations, from living rooms to unused barns.
"Community is an ongoing process. There's never an endpoint," Hurwitz said.
Not everyone will be able to follow in the pair's footsteps and build a thriving community where they are. Sometimes survival is enough.
Jones added, "For the queer kids in South Dakota or wherever who want spaces like this and don't have the time or the money or whatever, remember that you're still great. We see you and we love you."