Race, Love, and the Struggle We Must Win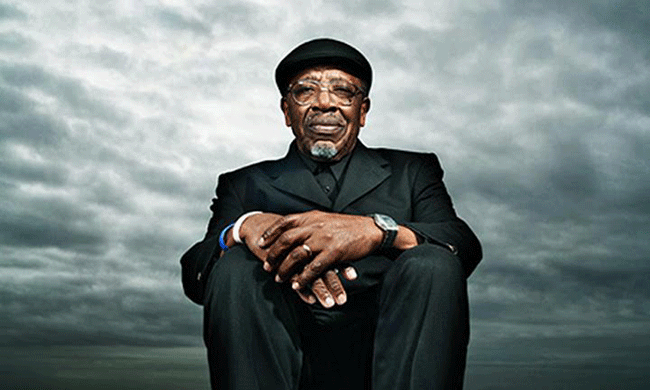 When the Rev. John Perkins was 15, his older brother was killed by white police officers while he was waiting in line to buy movie tickets. Twenty-five years later, Perkins himself was jailed and tortured for protesting segregation. Those experiences helped to shape his understanding of the toll racism takes on both blacks and whites, and he has been a fervent advocate for reconciliation ever since.
"My hopes and dreams got a little shattered [when Donald Trump was elected for president]."
He shares those stories and more in his recently released memoir, Dream With Me: Race, Love, and the Struggle We Must Win, and explains how they shaped his belief in reconciliation through greater political and social engagement and compassion.
Throughout the book, the 86-year-old social justice leader brings an incisive account to the persistence and perniciousness of racism in the United States, while providing prescriptions for dismantling it.
Perkins spoke with YES! about the relevance of our radicalized history in the U.S., as well as civil rights victories of the past to the resistance to the Trump administration, and his indefatigable hope for a better world.
Amanda Abrams: Where did your inspiration for the book come from?
John Perkins: I started writing this book as sort of a reflection. I was seeing signs of what I'd been dreaming and longing for in the new multicultural churches—churches like Fellowship Memphis in Tennessee, and Quest Church in Seattle, [which] are gospel-centered and ethnically diverse.
But my hopes and dreams got a little shattered [when Donald Trump was elected for president]. Eighty percent of evangelicals—my own group that I'd given my life to—[supported] a person who had no history of evangelicalism.
I'm still dreaming and hoping, of course.
Abrams: Were you angry, and are you still?
Perkins: I still want to be loving and receiving, and I still want to be hoping for the evangelicals, and hoping for Trump, and hoping that we can live together across these ethnic barriers, but it doesn't look good.
"I do think everybody needs equality in life."
I'm not cursing evangelicals. I'm saying that we have got to do more now to be concerned about the poor and the injustice in our world, in terms of a livable wage, equal rights, women's rights, those kinds of things.
I do think everybody needs equality in life. There is no attribute of God that agrees with discrimination. And our nation has a statement to that: "We hold these truths to be self-evident …" We're committed to it, but we're not seeing it lived out.
Abrams: In your book, you talk about evangelicals who are theologically conservative but very progressive in how they apply the Bible's teachings. Are you still optimistic about that movement?
Perkins: They were the ones giving me hope. I was at Calvin College [recently], where the first class of Perkins Fellows is graduating—those are people dedicating their lives to live as witness across racial barriers. But the impact that we had thought was coming is at a standstill. We thought it was gaining more traction.
What I'm calling for in the book is a greater commitment to what is good and what is true and what is righteous and what is just. I'm not ready to run from it, but I thought more people were there with me.
Abrams: Does it give you hope to see people marching now and becoming more politically active?
Perkins: I'm calling for and hoping and praying and encouraging this young generation that more young folk stand up and come out and do what they can in a peaceful way, and within the freedoms we have—freedom of speech, freedom of assembly.
Abrams: You say in your book that only a small percentage of people need to be engaged in something to create social change. Those numbers seem to be growing since the election. Do you think social change is gaining momentum?
Perkins: There are people doing great things. Like [Mark] Zuckerberg at Facebook, who is going to Kenya and Nigeria and into the prisons in San Francisco. There are people like Steve Jobs' [widow, Laurene Powell], who is thinking about how she can invest some of that fortune in the lives of very needy people. Even Bill Gates and [Melinda Gates] are doing things. These are encouraging signs.
Abrams: What are your recommendations for people who want to become socially and politically involved?
Perkins: I still say we need to invest ourselves. But we've got to do it in a broad-enough community that we can have impact, so that we can help others who want to see real change but don't have enough resources.
We need to give them hope by showing that we can impact communities if we can unite. Bring some of these small groups together so that the people can use their resources without just spending them all up and breaking up in little pieces. So instead of me taking on a few city blocks, let's call on 20 groups to take on 10 blocks.
Abrams: You talk a lot about love in the book. How can people—particularly nonreligious people—cultivate love within themselves and among one another?
Perkins: You get to know people in small groups. You and I can walk together because we are concerned about the poor. And I'm not going to demonize you. I'm going to try to meet you and receive you in love and accept you on the basis of you being you. Any religion can do that—any human can do that.
I think we do that by not finding things to dislike about each other, and not holding what I dislike against you when I'm trying to get to know you. I'm not going to just condemn your effort.
We need to be deliberate. We don't need to be backing up. There are three great Christian virtues: faith, hope, and love. And I'm saying this is what we need to be about—we need to get that hope going. We can't give up.