Trump Kills DACA, Obama Hits Back, and DREAMers Try to Hold on to the Lives They've Built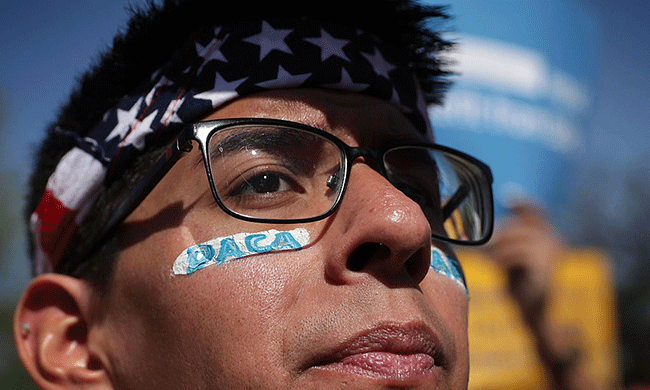 Christian Moreno's job as a residential assistant at California Lutheran University allows him to cover the $8,700 gap in expenses that his financial aid doesn't cover. The sophomore business and Spanish major is financially independent of his parents, and also works as a private tutor and as a receptionist on campus to support himself. He held six jobs this past summer so he could save money for emergencies, "like the one that happened today."
What he means is that he may not be able to work at all. The Trump's administration's announced on Sept. 5 that it will end the Deferred Action for Childhood Arrivals program that allows undocumented people who grew up in the U.S.—like Moreno—to work legally.
Moreno is the child of farmworkers, who brought him to the U.S. when he was 4. DACA grants young people like him a reprieve from deportation and gives them authorization to work. Some 800,000 of them are enrolled.
The Trump administration will stop considering new DACA applications dated after Tuesday.
The Obama-era legislation, renewable every two years, was never meant to be a permanent, legal fix, but it allowed people called DREAMers (after the DREAM Act) to pursue careers, such as nursing and teaching and technology. Companies like Microsoft and Apple opened their doors to them.
The Trump administration's announcement that it would give Congress six months to legislate a fix, brought swift, across-the-board condemnation. Former President Barack Obama, in a rare public statement on Trump's actions since the election, called it "cruel and self-defeating," pointing out that these immigrants did nothing wrong.
"Whatever concerns or complaints Americans may have about immigration in general, we shouldn't threaten the future of this group of young people who are here through no fault of their own, who pose no threat who are not taking anything away from the rest of us," Obama said.
The Trump administration will stop considering new DACA applications dated after Tuesday, but recipients with work permits set to expire before March 5, 2018 may apply to renew.
Saying DACA doesn't define them and using hashtags such as #DefendDACA, DREAMers and their advocates have vowed to fight back. Rallies were being planned across the country.
Yet, there's no mistaking the devastating impact of Trump's action for young people like Moreno, many of whom see no legitimate path forward, short of congressional action, in the only country they've ever known.
"It's been a rough few weeks for me," he said. "It's gonna make school a lot harder because I won't be able to work."
Political analysts have said it's unlikely the administration would move to deport DREAMers.
Moreno, who applied to renew his DACA two weeks ago, said he'll finish out the school year using the scholarships he earned, and "depending on whether Trump deports DREAMers, I'll figure out how to continue my education in Mexico."
Across the nation, the announcement has people pausing their lives to wonder what happens now. People like Ana Andrade Lara, who landed a job as a facilities coordinator at MOD Pizza's corporate office in Bellevue, Washington, last year after graduating from Washington State University.
She had checked her mail Tuesday morning and found her DACA renewal had arrived. "Holding it in my hand, it hit me," Lara said. "And I realized that everything I worked so hard for…was just taken away. What do I do with this now?"
At her job, her mostly white co-workers have been pretty silent, and "I've been trying to internalize what I'm going through," she said.
"I love this place in terms of a career path. It's an opportunity I've gotten because of DACA, and I don't want to lose it. I've been able to give back to my mom and dad, so although DACA doesn't define us, it's a big part of who we are."
Political analysts have said it's unlikely the administration would move to deport DREAMers. That was always a concern advocates had when the program was first launched, that in providing critical personal information on applications to the federal government, these undocumented young people were building a roadmap directly to their doors—and by extension to their families.
But without some action from Congress, even without deportation, Moreno said he can't see how DREAMers like him could stay in this country.
"If the administration wipes out all the rights that allow us to stay here, how could I support myself?" he asked. "I don't see how it would be possible for me to stay here."
In Tuesday's announcement, Attorney General Jeff Sessions said it was "compassionate to end the lawlessness" of DACA. Republicans have long held that Obama overstepped his authority in creating the program, saying immigration policy was Congress' job.
Sessions said he had no doubt the administration would be sued by a number of states if it did not repeal DACA. But at least two states have said they would sue if the administration canceled the program.
A better life
Like so many others, Moreno's parents brought him and two older brothers to the U.S. in the hopes of giving them a better life.
The family settled first in Oregon and later in Walla Walla, Washington, where his parents worked in the farm fields. Moreno said all he knew about his immigration status growing up came from the vague warnings from his parents about staying inside when ICE officers were conducting raids in the neighborhood.
He excelled in school and in his sophomore year at Walla Walla High School connected with programs that allowed him to see the possibilities of an education beyond high school, something many undocumented children cannot. He learned about scholarships for students like him and having DACA helped.
"I left everything to go to California because I knew that opportunities were greater for people like me there."
"It's about when I realized that going to college is really important for me," Moreno said. "I'd always been a smart kid, and I knew with determination I could go to college and succeed." He was the first DACA student from his high school to go out of state to college. "I left everything to go to California because I knew that opportunities were greater for people like me there."
He remembers the days following Trump's election as "the worst." But he said he also recognized that he had to move on and "finished my first year in college strong."
Moreno said California Lutheran University, a private liberal arts school, has been tremendously supportive to students like him on campus. The school's president was among 640 college and university leaders who signed a statement in support of DACA shortly after the election last year.
Cal Lutheran held an emergency meeting at that time to answer students' questions and offer support, Moreno said, and was planning another one on Tuesday.
"The thought of not being able to have a stable job is causing frenzy and anxieties for DREAMers like me," he said. What has helped, he said, is seeing all the support for DREAMers on social media and elsewhere. #DACA has been trending on Twitter for days.
Moreno says, "I want to say I'm remaining hopeful, but I don't want to get my expectations high, and I need to start to think of Plan B."