The Volunteers Protecting Kentucky's Last Abortion Clinic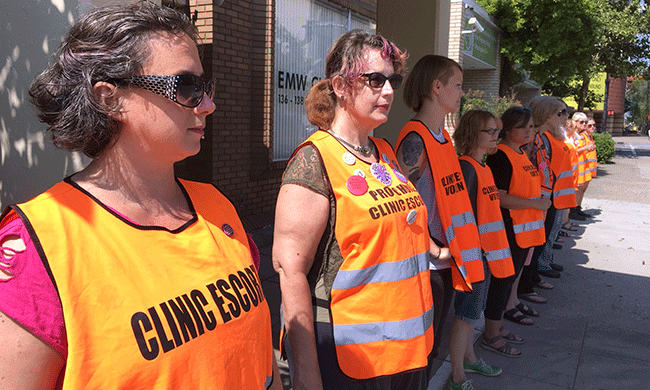 Access to reproductive health care in Kentucky has reached a critical moment. All but one abortion clinic has been shut down, and a lawsuit going to trial September 6 could make Kentucky the first state without a legal abortion provider. In general, women's health care in the state is poor. More than half of Kentucky's 120 counties don't have obstetrics and gynecology services, and infant mortality rates are higher than average.
This is Part 1 of a series on the people working to improve access to reproductive health care there. Read Part 2 and Part 3.
---
On a Thursday morning in late June, about a dozen men and women in bright orange vests bearing the words "clinic escort volunteer" line the streets parallel to the EMW Women's Surgical Center in Louisville, Kentucky. It's these escorts' job to accompany clients to a modest brown brick building to get an abortion. On some days, hundreds of protesters gather outside of the EMW clinic to hand out pamphlets and hold up signs with graphic images of aborted fetuses to deter women from going inside.
In Kentucky, women's access to abortion is made even more difficult now.
About 7:30 a.m., an escort in dark sunglasses named Christine (who asked that her full name not be used) stands outside the clinic, as she has several mornings a week for the past four years. Christine says she believes that everyone should have access to abortion services without harassment.
In Kentucky, women's access to abortion is made even more difficult now that the state is down to only one clinic that provides this service. That makes the work of escorts like Christine all the more important.
Escorts direct clients to parking and offer emotional support as patients make the journey to the clinic. In a state where women face many barriers to accessing abortion services, these escorts are doing what they can to help.
"Protesters don't stand outside of outpatient clinics and try to counsel someone out of having a knee surgery. Intimidating someone into a pregnancy is … coerced reproduction," Christine says, before being pulled aside by another escort. She briefly talks with the volunteer to help coordinate translation services for clients in the parking lot who don't speak English.
Kentucky is one of seven states with only one abortion clinic.
Kentucky is one of seven states—along with South Dakota, North Dakota, West Virginia, Mississippi, Missouri, and Wyoming—with only one abortion clinic. A multitude of state policy restrictions make accessing care at EMW even more difficult. For example, women must receive state-directed counseling and then endure a 24-hour waiting period before getting an abortion. Also, health plans offered in the state's Affordable Care Act and private insurance only cover abortions if the woman's life is in danger. Along with recently raised prices at the EMW health clinic, these healthcare policy restrictions make the out-of-pocket costs for abortion untenable for many women, according to local abortion fund A-Fund.
And now, the state's sole abortion clinic is under threat. On September 6, a trial will begin that determines whether Kentucky will become the only state in the country without a single abortion clinic.
It's an especially tense time for the state's reproductive health system. And in the midst of it all, clinic escorts are doing what they can to help patients safely access services at the EMW clinic.
---
Next door to the clinic, a crisis pregnancy center called A Woman's Choice Resource Center counsels women to not have an abortion. The center lures women who mistake it for the EMW clinic, Christine says. A sign in The Woman's Choice Resource Center's parking lot offers free parking to those with an appointment to the EMW, which doesn't have a lot.
Anti-abortion protesters are stationed every day the clinic provides abortion services.
Outside the EMW clinic, anti-abortion protesters are stationed every day the clinic provides abortion services. Some protesters have become violent in the past by shoving escorts, says an escort named Debbie (who asked that her full name not be used). A few protesters even blocked the doors to the clinic in May, resulting in their arrests.
Escorts are trained to remain calm during all of this and ask the clients for permission to walk with them and offer emotional support as they make the journey to the clinic.
"I think it is so important for the clients to see that not everyone there outside the clinic is against them," says Debbie, 53, who has been an EMW escort for four years.
At volunteer-led quarterly trainings, escorts learn to assist clients during their sometimes emotionally arduous walk by role-playing what they see on the sidewalk every morning. In the role-plays, volunteers act the part of clients, escorts, and protesters holding anti-abortion signs. Escorts-in-training practice navigating tense situations. If, for example, a protester blocks an escort, they're trained to swiftly move around them to stand next to the client.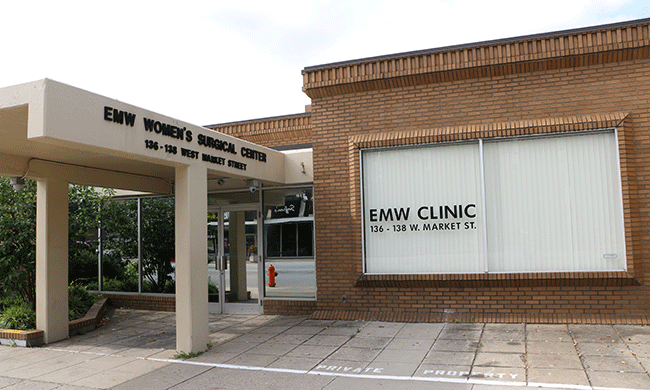 EMW Women's Surgical Center in Louisville Kentucky. Kentucky is one of seven states with only one abortion clinic. Photo by Melissa Hellmann.
Christine points across the street to one protester, a middle-aged white man holding pamphlets. "He's a pretty aggressive follower," she says as cars roared past the busy intersection.
Escorts are also trained to engage with the clients, Christine says. They practice learning to recognize when they get upset by a protester and taking deep breaths instead of interacting with them. By calming their own emotions, escorts can keep their attention focused on the patients.
"We are basically here to stay client-focused, but the protesters are ramping up," Christine says. "The protesters are getting more aggressive, and I think it's because they feel emboldened by the current administration."
The protesters see it another way.
The scene in front of Kentucky's only abortion clinic has become more chaotic.
In March, the state ordered the EMW clinic to stop performing abortions after alleging in a letter that it has deficient agreements with hospital and ambulatory services. Shortly thereafter, the American Civil Liberties Union filed a lawsuit that challenged the constitutionality of the order. A federal court temporarily blocked the state's order to stop performing abortions in March, allowing the EMW clinic to remain open while the state challenges the clinic's license.
In the meantime, the scene in front of Kentucky's only abortion clinic has become more chaotic as anti-abortion advocates from around the country flock to the embattled clinic. At the end of July, a federal judge even created a buffer zone to prevent protesters from congregating in front of the Louisville clinic.
---
During a protest held over Father's Day weekend in late June, about 100 anti-abortion advocates assemble in front of the EMW clinic with large signs reading "Women do regret abortion" and "Stand for Life, Stand for God." After marching through the streets, a group from Sister's for Life, a local anti-abortion ministry, bow their heads in prayer and disperse.
About 10 protesters, most of them children and a few men, remain on the sidewalk and hold up signs with photos of fetuses. One sign contains a quote from Martin Luther King Jr., "Never forget that everything Hitler did in Germany was legal." A recording of a child singing "Jesus loves me" plays in the background.
Since the EMW clinic is at the top of the state, some women must drive six hours to get there.
Among the protesters on the sidewalk is Joseph Spurgeon, 36, the pastor of Sovereign King Church and a local leader of Operation Save America, a national anti-abortion Fundamentalist Christian organization. He's been protesting in front of the EMW clinic for four years, and says that we live in "the middle of a holocaust," in which "children are murdered." He says he's able to persuade about two clients a month to avoid getting an abortion.
"We want to offer these women resources and offer them adoption and financial help," Spurgeon says.
A 2016 Guttmacher Institute report shows that unplanned pregnancies are highest among poor women and minorities. In Kentucky, a state with one of the highest poverty rates in the country, the stakes are high for women. The National Campaign to Prevent Teen and Unplanned Pregnancy birth control access map shows that in some counties in Kentucky, more than 10,000 women are in need of publicly funded contraceptives.
Direct service abortion funds such as the Kentucky Health Justice Network help low-income women by paying for part of the abortion and providing transportation to the clinic. Since the EMW clinic is at the top of the state, some women must drive six hours to get there, said KHJN executive director Marcie Crim. KHJN also offers gas cards, interpretation services, and lodging for clients who have to drive overnight. Meanwhile, A Fund helped over 400 Kentuckian women pay for abortions last year, said A Fund president Kate Cunningham.
All of these resources are necessary to provide women the resources to access abortion care in Kentucky.
But, depending on the outcome of the trial that begins on September 6, which will determine whether or not the EMW clinic will continue offering abortion services, that could change.
"They are [going to be] up against a rock and a hard place," Anne Ahola, the director of the EMW clinic, said about the women with unintended pregnancies if the last remaining clinic shuts down. She added that women would likely try to perform abortions themselves if there are further restrictions to accessing reproductive health care.
This article was funded in part by the Surdna Foundation and the One Foundation.