High School Students Demanding Gun Reform Join Rich History of Teen Resistance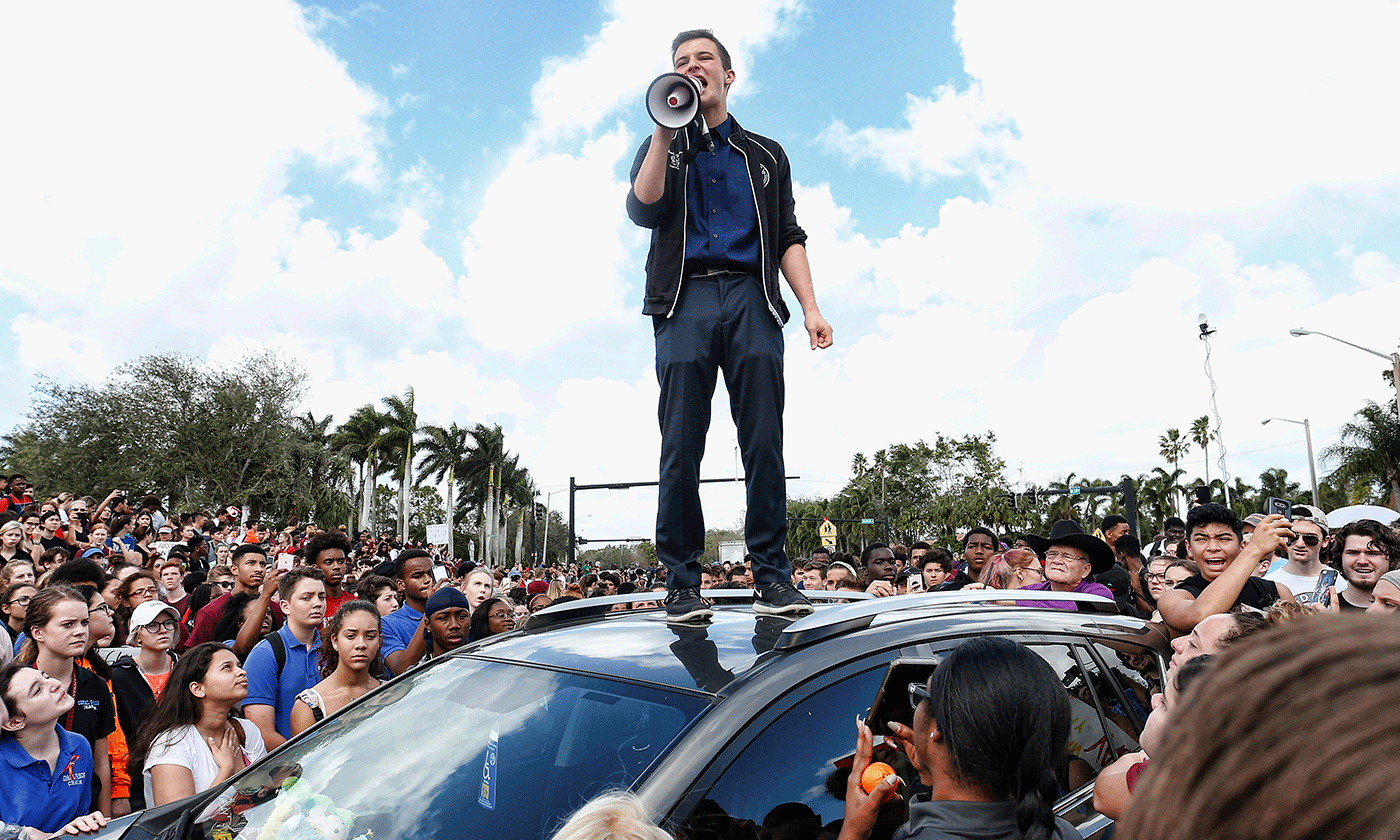 Since the Feb. 14 mass shooting at a high school in Parkland, Florida, the national spotlight has been on the courageous student survivors who have been too outraged to be cast only as victims of tragedy. Rather, they have been activated, calling out lawmakers and demanding gun reforms.
This is not new. From civil rights to Standing Rock, high school students, many not yet old enough to vote, have raised their voices and become formidable allies to effect change.
The killing of 17 people at Marjory Stoneman Douglas High School has reignited the contentious debate over the nation's gun laws and inspired an explosive new movement among students. From Massachusetts to Washington state, high school students have staged walkouts, sit-ins and die-ins this week in solidarity with the Florida students, who have aimed their trauma and anger at both the White House and statehouses, demanding lawmakers to act.
"I've been simply enthralled by these students," says Andrew Brennen, a college activist and organizer who years ago formed a student movement around education at his high school in Kentucky. "They aren't the polished pundits we are used to seeing on TV, and that's what makes them appealing to such a cross section of the country.
"They didn't come from some political interest, but are driven entirely by dedication to a common interest: that they should be able to go to school without being shot."
While the massive student uprising has led at least one superintendent in Texas to threaten the suspension of students who choose to walk out of class, it also appears to have motivated politicians to act.
There are many examples throughout the civil rights era of brave actions by high school students.
On Friday, CNN reported that Florida Gov. Rick Scott had announced a comprehensive plan that included millions of dollars to improve school security, raising the minimum age for buying a weapon from 18 to 21, keeping weapons out of the hands of the mentally ill, and banning the sale of bump stocks, a rifle attachment that allows faster firing. The Republican governor's plans, which put him in direct conflict with the National Rifle Association, of which he's a member, also call for tougher background checks and waiting periods to buy firearms.
As activists, youth have not always been visible.
There are many examples throughout the civil rights era of brave actions by high school students. While most people know the name Rosa Parks, few might know about Claudette Colvin, who in 1955 was just 15 when she was arrested for refusing to give up her seat on a bus in segregated Montgomery, Alabama—nine months before Park was arrested for the same offense.
Years earlier, Barbara Johns led a walkout at the all-Black Robert Russa Moton High School in Virginia to protest racial injustice there. She contacted the NAACP, which sued on her behalf, and her case became one of five involved in the 1954 Brown v. Board of Education desegregation ruling.
More recently, one of the largest Native resistance efforts in modern U.S. history, the uprising at Standing Rock had its beginnings in actions by an indigenous youth group called the One Mind Youth Movement. Students set up a "prayer camp" on the edge of the Standing Rock reservation and organized a 2,000-mile relay-style run to Washington, D.C., to bring those concerns to federal officials and draw national attention to the issue.
In Florida and across the country, students have vowed not to back down.
Two years ago in Kentucky, Brennen spearheaded an effort to restore millions of dollars in state lottery funds that had been intended by law to help needy high school students pay for college but were instead diverted elsewhere. Mobilizing on social media and under #PowerballPromise, students got lawmakers to restore $40 million for need-based financial aid.
"We had students from every corner of Kentucky come to the Rotunda to share stories about what it meant to be a low-income student trying to navigate the post-secondary transition process," said Brennen, who as a high school junior formed the Prichard Committee's Student Voice Team that headed the movement.
Few high school students today were even born when two high school seniors in 1999 killed 12 students and a teacher at Columbine High School in a Denver suburb. There was outrage then. But in Florida and across the country, students have vowed not to back down.
The Florida survivors have announced a March for Our Lives rally scheduled for March 24, expected to draw as many as 500,000 people. And Oprah Winfrey is matching a $500,000 donation for the event from actor George Clooney and his wife, Amal Clooney, a human rights lawyer. In a statement Winfrey said: "These inspiring young people remind me of the Freedom Riders of the '60s who also said we've had ENOUGH and our voices will be heard."
"Student voices today influence the world we all live in tomorrow."
Ian Coon, spokesman for Student Voice, a youth-led nonprofit organization that trains middle and high school students to become activists and leaders, says what's happening in Florida isn't new. "Young people are taking action on issues that they feel are important and directly affect them, and I think that we all benefit from that activism," he said. "Student voices today influence the world we all live in tomorrow."
Brennen said students like those in Florida face unique challenges when taking on adults and the establishment. "Eventually they'll have to go back to school," he said. "Many of them can't vote; they can't even drive. There are so many reasons why youth and young people as a demographic are marginalized out of the political system."
Still, he believes this uprising against gun laws can sustain as a voice for change in a way others before it—the Sandy Hook, Pulse nightclub, and Las Vegas shootings—could not.
Survivors of the Las Vegas shooting came from elsewhere to attend a concert and then returned home, with little to connect them to each other except the tragedy they survived.
Sandy Hook Elementary School survivors are very young children who can't advocate for themselves, and the Pulse nightclub victims were mostly LGBTQ people of color gunned down in a place where they were their most vulnerable. "Especially in the South, there are X number of reasons why they couldn't become the spokespeople that these students have become."
"Ever since this shooting, these kids at Parkland have spent every single minute together," Brennen said. "The kind of capacity that allows to build should not be underestimated."