On Wednesday, one month after the mass shooting at Marjory Stoneman Douglas High School in Parkland, Florida, students from more than 3,000 schools across the country walked out of class to show support for stricter gun control. In the past month, teens have been outspoken about their frustration with politicians' inaction.
In many schools, 17 minutes of silence honored the 17 people killed in the Florida shooting. In Seattle, many high school students took the full day. Hundreds of them marched to the University of Washington campus to hear speeches from students and local officials.
Three of the Seattle event's key organizers—Gabe Rosenbloom, 18, and Scout Smissen, 17, of Roosevelt High School, and Zachary Heffron, 18, of Nathan Hale High School—along with other participants described what kind of changes in gun laws they hope to see.
Leah Scott, Roosevelt High School
"When I heard that there was another shooting, it just broke my heart to know that there were people just sitting at a desk trying to get an education like I am every day. It broke my heart to know that they were just brutally murdered … I believe everyone should have the right to be safe in their own school.
"I hope that we can have safer gun laws and have it so no one can get a gun. Basically, it can get in the wrong hands … a lot of people have gotten guns when they shouldn't have guns."
Axel Cordoba and Carlos Key, Roosevelt High School
"There's a lot of momentum across the school and a lot of students started feeling really passionate. When everyone gets really energized about a certain issue, you want to take advantage of the opportunity and get out there and try to do something," said Key.
"On a global scale—not just as a country but as humanity—we have to start moving more toward a pacifist world. One where we don't need to rely on who has the most guns in order to keep ourselves safe."
Savannah Blackwell, Franklin High School
"For me, hearing about the shooting … and the fact that there's been so many, it's caused a huge reaction in my community, and peers of mine were really affected by that. And I think, when I heard about this, it was a call to action. It felt like it was necessary to have our voices be heard and have representation and show our support and care for this."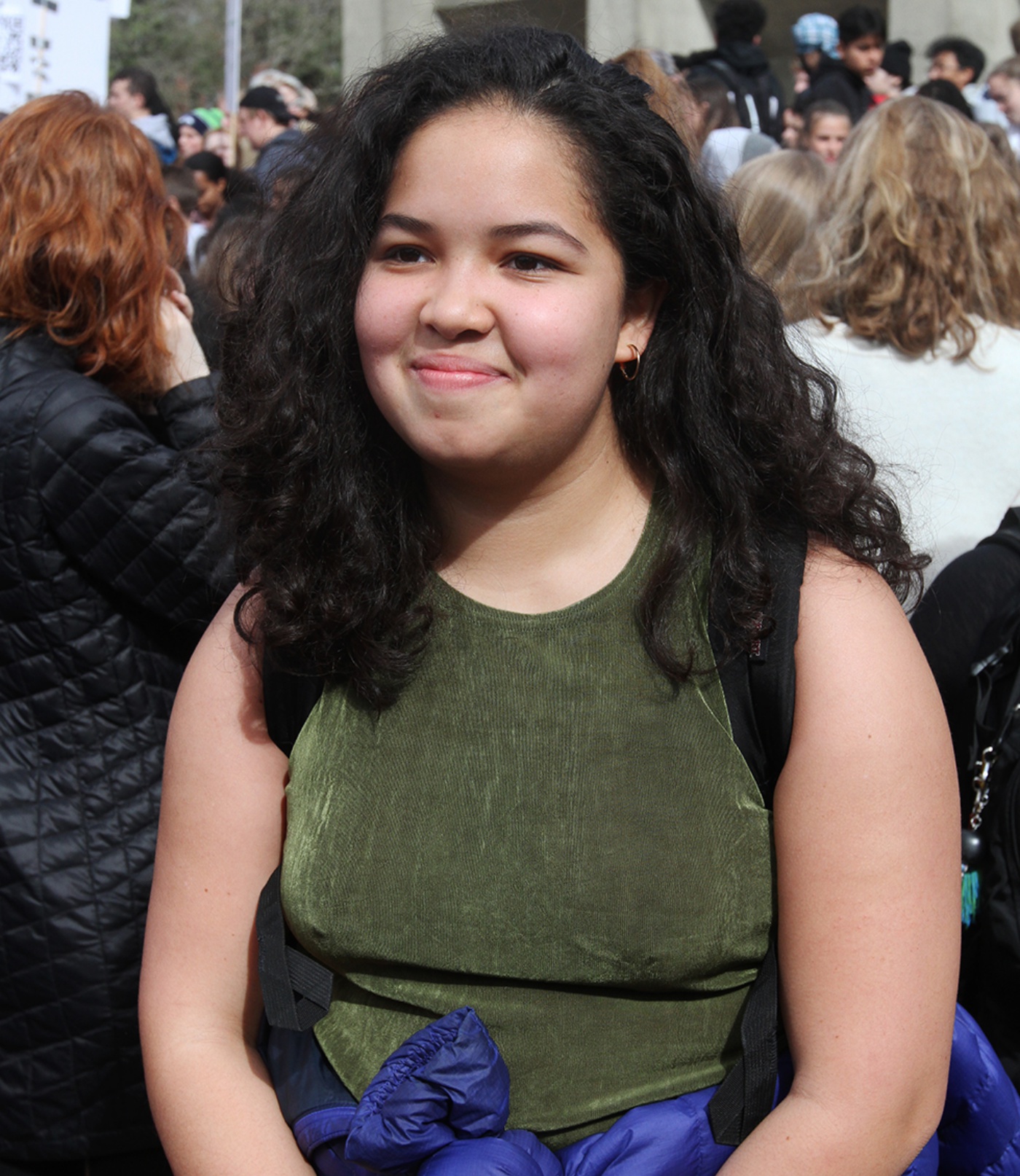 Lucia Santos, The Center School
"There was a lot of organizing within communities and schools and friends. … I saw a lot of Instagram stories talking about what's happening, and helping each other get organized. I came to … make the crowd bigger and make the voices heard.
"I'm really hoping that the normalization of gun violence, the misuse of guns, and guns being so available are gone. It's something I've become numb to, to a certain extent, and I don't think that's right. So I'm hoping this movement will help people realize that mass shootings aren't normal. Me having to go to school and worry about living through the day isn't normal. And it's not OK."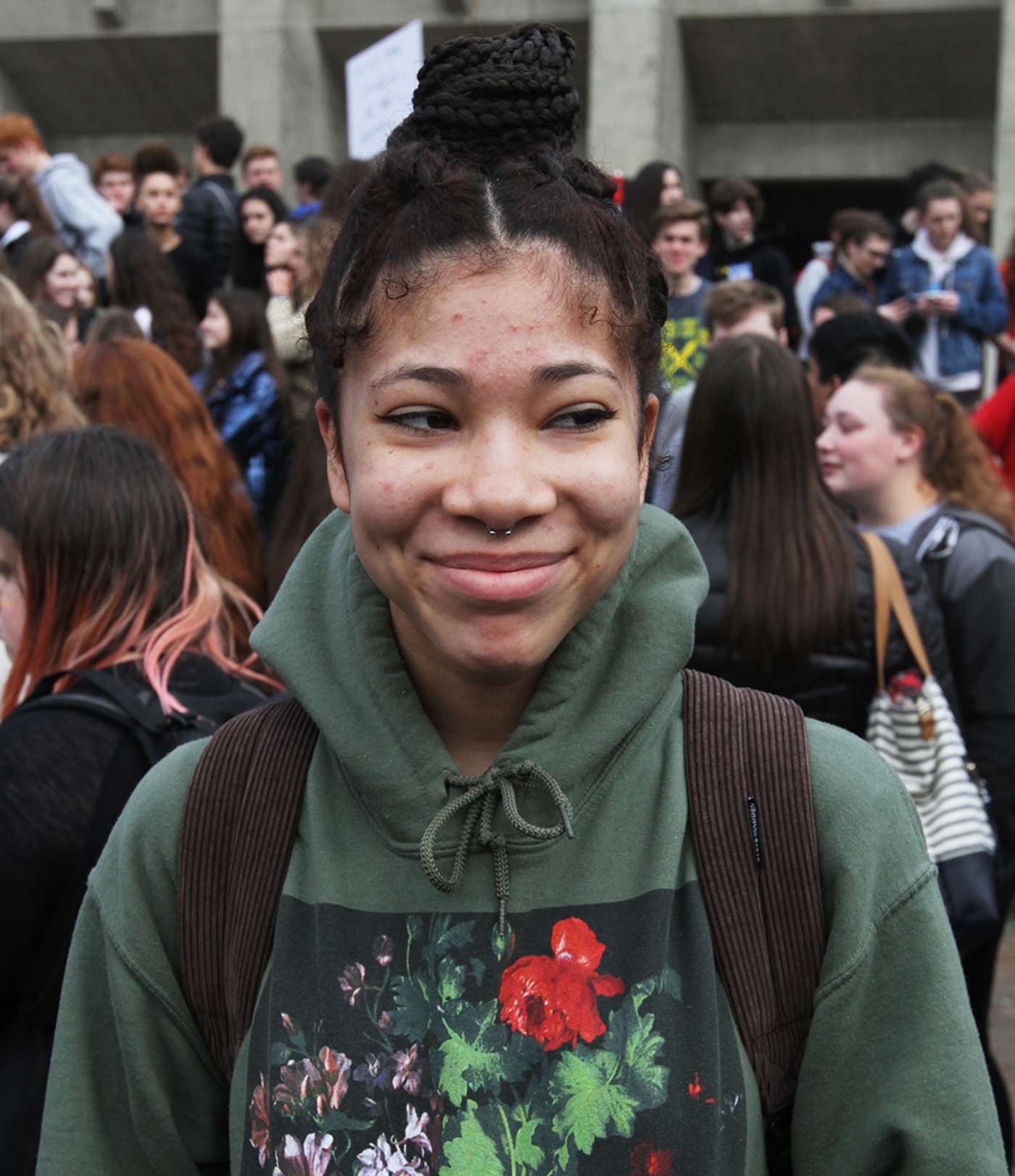 Naima Aytch, The Center School
"I think that it's been really normalized. There's been so many [shootings] in just this year, and people have been kind of ignoring them so far. Then something really big like this happens. I think it's really important that we show that the youth in the community are not going to ignore it any more."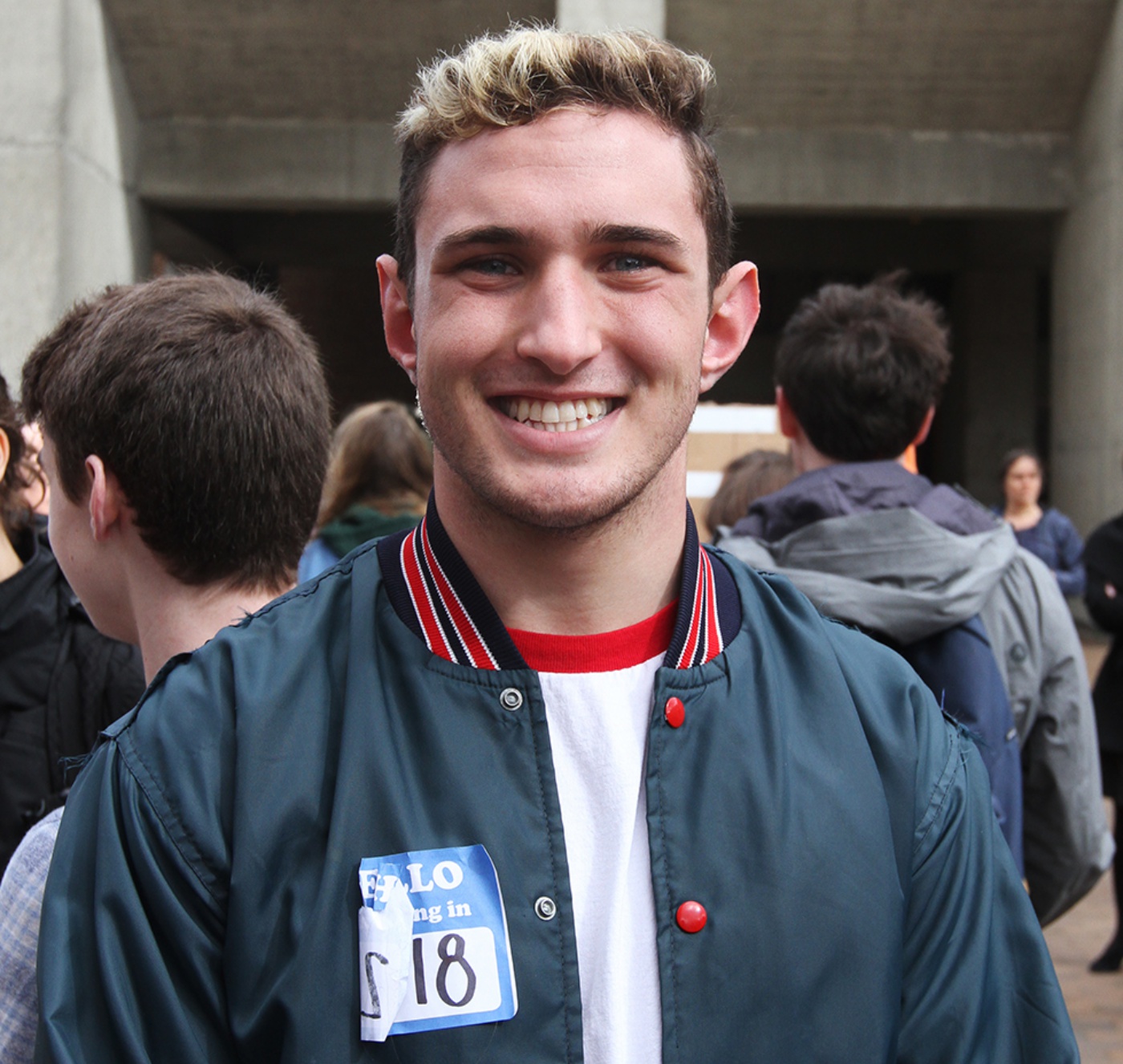 Zachary Heffron, Nathan Hale High School
"I was looking at the Tinker v. Des Moines case, the student free speech Supreme Court Case in the '60s, and one of the justices had said students should handle this at the ballot box. And immediately I thought, that doesn't make sense, we can't vote. And I think coming into today, I had that same feeling. We can't vote, but we're going to do everything we can to instigate change. And then I had a second thought: We will be voting soon. So far, I think we haven't been answered to, as a generation, and that will come. .. All of these students will be voting in the next four years. We will be in the driver's seat."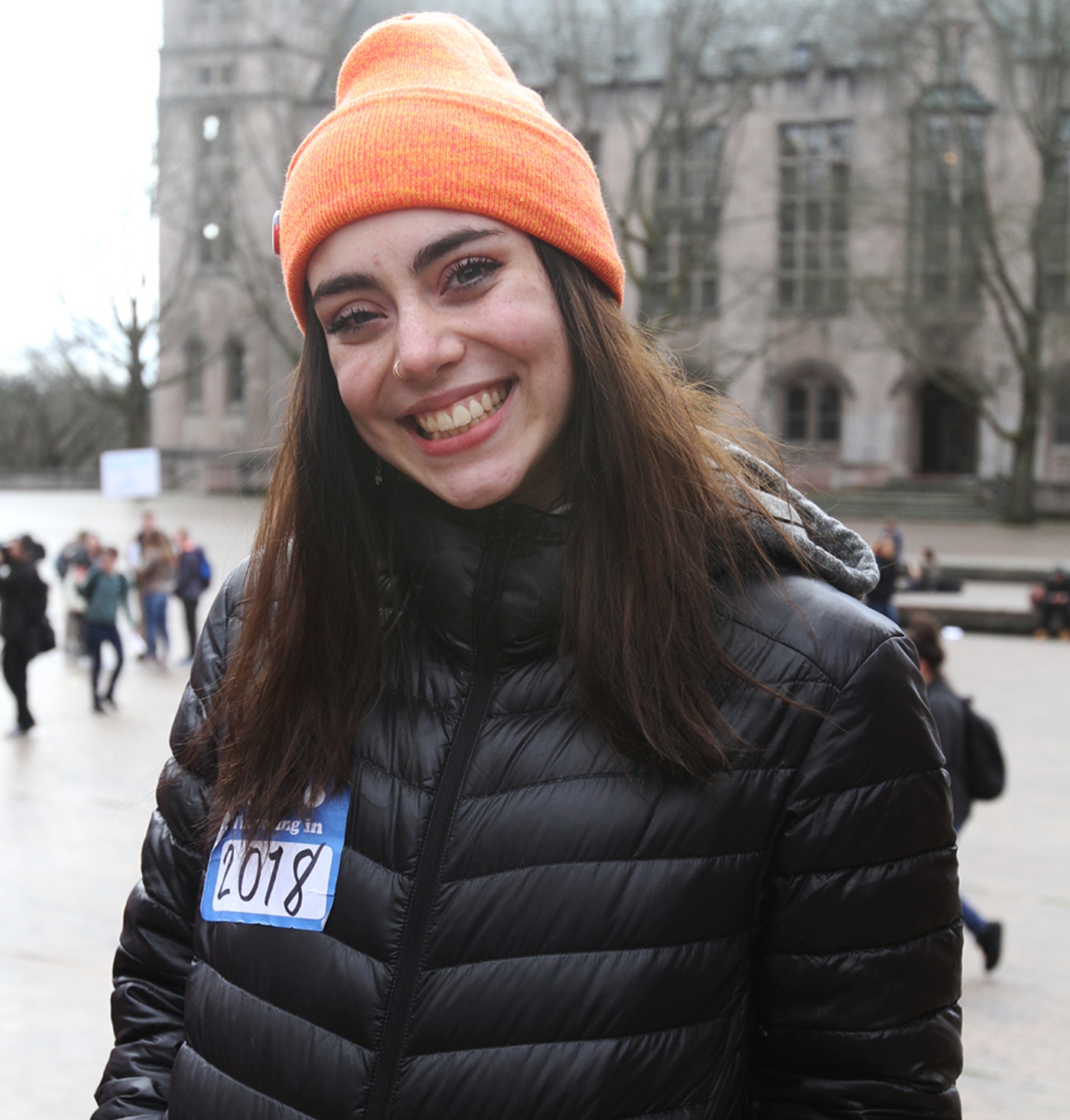 Scout Smissen, Roosevelt High School
"A while ago, a friend of mine was telling me about it [the walkout], and I was feeling really passionate, and I got a group together of a couple rag-tag political justice people. I then found out that Gabe and our other friend Zach were getting involved at other schools, and we just combined together and created the best of all worlds. And it was really amazing. Every single one of us is affected by gun violence. And whether or not you've been personally touched by it, everybody knows somebody who's been affected by it. And I think that's the main reason we're coming out today. Because knowing at least one person is too many.
"We're hoping to raise the gun law to [age] 21. We already got bump stocks banned. We're hoping to see just safer measures for guns. Guns are just so unbelievably accessible to so many people, and there's not really background checks required either. For this march, we weren't asking anybody to take away guns altogether. We were asking that we can live in a world in which we're not afraid of them."
Gabe Rosenbloom, Roosevelt High School
"The idea came to me of marching from Roosevelt to Red Square, and I didn't think it could happen. It was kind of this crazy thing, and then I found Scout, and I reached out to Zach, and I said, 'Maybe we can really put this together.' And so we started to talk to other schools, and other student leaders came to us saying they wanted to do this. So we were able to organize it. We wanted to really spread the message of ending gun violence. This is an issue, and it's going to continue being an issue, until it's addressed by young people. It seems that Congress and our elected officials have been unable to address the issue.
"We really want to see the banning of assault weapons. An assault weapon is meant for killing. It is not meant for hunting, and it should not be used by any regular citizen."