It's Young Black Women's Turn in Michigan
This spring and summer, about 150 college-age Black women are knocking door-to-door in neighborhoods in Detroit and Hamtramck, Michigan. The state's primary election is less than two months away, and these young women are campaigning for 23-year-old Myya D. Jones.
Jones, who is expected to officially announce her run on Monday, could become the youngest woman elected to the Michigan House of Representatives if she wins the District 4 seat.
"I want to get representation for young Black women in the political arena so that we have not only a seat at the table but also a voice," Jones says. Representation is a real thing, and we don't really see a lot of Black women in high-ranking positions of power."
The current incumbent, Democratic Rep. Rose Mary Robinson, is prevented from running again due to term limits. As of June 7, there are 14 Democrats, including Jones, and one Republican registered to run for the open seat.
The demographic makeup of Jones' campaign workers reflects the national upswing of Black women exercising their political power since the 2016 presidential election. Black women turned out in great numbers in Alabama in last year's special election to vote against Roy Moore, a far-right Republican who faced multiple allegations of child sexual misconduct. According to Emerge America, a training organization for Democratic women politicians, a record 70 Black women in Alabama were running for office this year.
According to a database of Black women running for office, more than 600 Black women across the nation have filed to run in the November elections.
"It just happened that 99 percent of the people on my campaign are young, Black women. This wasn't planned at all," says Jones, who garnered national attention and support when she ran for mayor of Detroit last year. "Young Black women want to make a difference and wanted to get involved."
A good deal of her campaign workers are friends she met at Michigan State University, where she earned a bachelor's degree in business management with minors in Arabic and African American and African studies.
"The fact that there are so many young women who come from the same background, are standing together, is magical," says Torion Johnson, a 21-year-old senior at Michigan State who's began working on the campaign in May.
"Our campaign is telling America that Black women have a voice and that we're going to exercise our political power to make change," she says.
Johnson, who is majoring in pre-law, says working on the campaign is also giving her the political experience she needs.
Others on the campaign aren't interested in a political career. Courtney Sykes, a 19-year-old human biology major at Michigan State University who is dedicated to career in medicine.
"I jumped on board because in politics we need to see more Black people," Sykes says. "And it's a big deal because Myya is from where I'm from (Detroit), and sometimes people think we can't do things like this. And she is breaking every barrier."
Jones' campaign workers are volunteers who work 9-to-5 jobs and internships. Johnson is an intern at Wayne County's Third Circuit Court, and Sykes works as a senior caretaker for an assisted living company.
If Jones wins, she says she'd ensure that her constituents are kept informed by regularly publishing progress reports. She also plans to secure adequate funding for public education and create new businesses and jobs in her district. Jones, who has been open about her family's history of mental health issues, says she's committed to developing more mental health resources.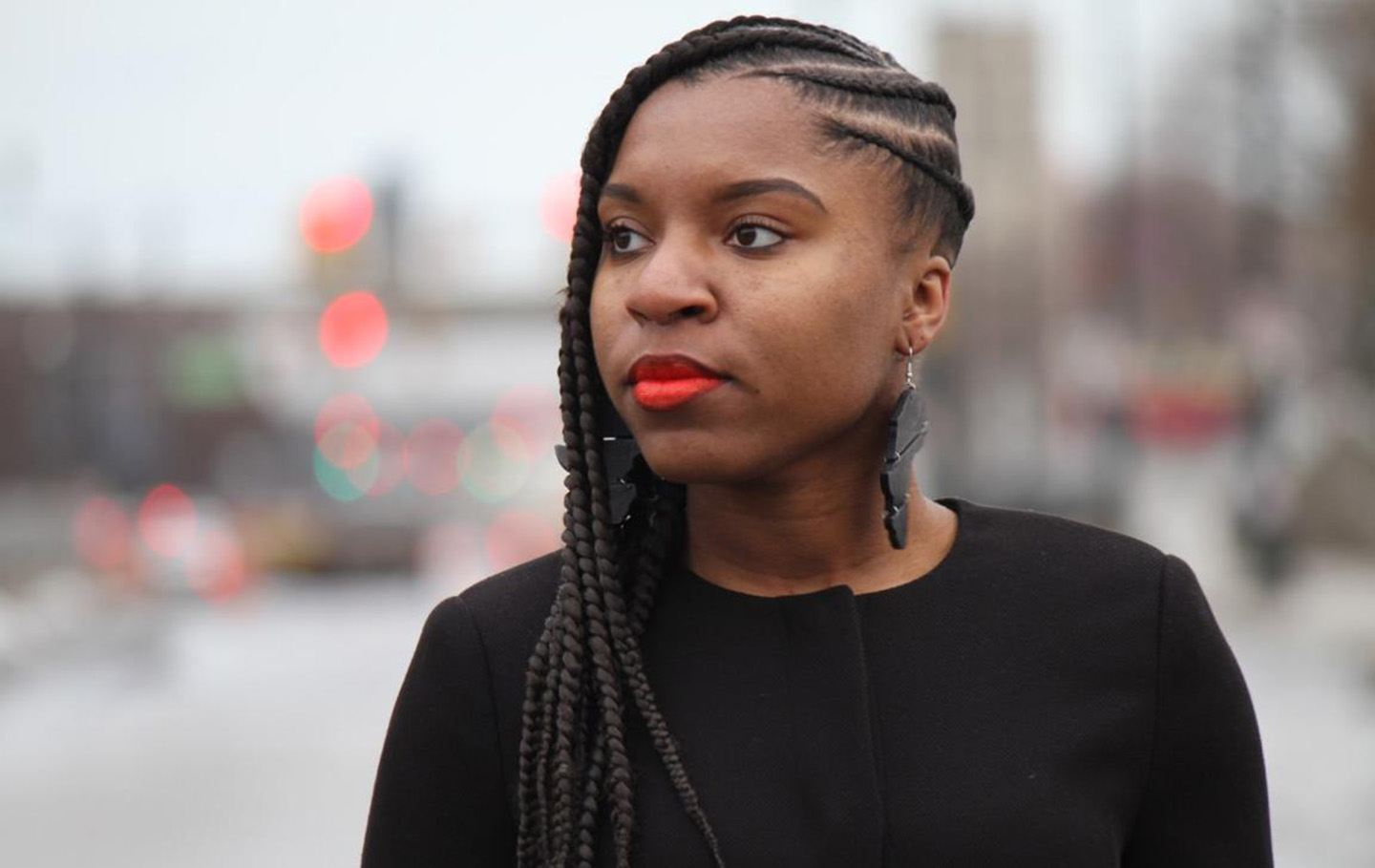 Her career in politics started at Michigan State, where she became well-known for her activism. As the president of the Black Student Alliance, she worked for students' access to additional resources, combated sexual assault, and fought to protect DREAMers. In 2016, she landed a summer internship with the Congressional Black Caucus Foundation in Washington, D.C.
That's where she began to seriously consider running for office.
"We talked a lot about voter apathy. And the research we did showed that people don't care about politics because they don't care about the people running for office," Jones says. "I wanted to come back to Detroit and change that. If we give people someone whom they can relate to and trust, maybe that will give them a reason to vote."
A few months after her internship, she announced that she was running for mayor, though a technicality kept her name off the ballot—she had changed her address when she moved away to college and therefore was no longer considered a Detroit resident. She changed her address back and ran as a write-in candidate, but turned her attention to the House of Representatives before the mayoral election ended.
"We still ran the [mayoral] race because we didn't want to show kids that they should give up when they have a pitfall," Jones says. "You have to keep on pushing to the end, but I knew my chances of winning as a write-in were slim."
Jones says one of the biggest challenges for Black women running for political office is raising money. In the Alabama primary election on June 5, three Black women—Lizzetta McConnell, Audri Scott Williams and Adia Winfrey—ran for U.S. House of Representatives seats for the Democratic Party. They all lost, with Winfrey losing to former Miss America Mallory Hagan, who raised more than $132,000 for her campaign. Winfrey raised just under $12,000. Williams and McConnell were similarly out-raised by their Democratic primary opponents.
Jones is aiming to raise at least $50,000 for her campaign, and for the most part, funding for her campaigns has come out of her own pocket.
"You have to make sacrifices and invest in yourself," she says.
The young women working on her campaign are confident in Jones' chances.
"It's exhilarating to see what a group of a group of young Black women can do when we put our minds together," Sykes says. "We're up next."