What If Uber Were a Unionized, Worker-Owned Co-Op? These Denver Cabbies Are Making It Happen
Wolde Gebremariam is one of more than 160,000 people nationwide who drive their own cars for Uber. Based in Denver, Gebremariam, age 28, drives his Chevy SUV for the company and occasionally works as a private limo driver.
"The labor movement has to bring ownership and equity into the picture."
Uber built its $40 billion business around a mobile-based application that connects drivers with riders. Hailed by some for shaking up a stagnant taxi industry, others criticize the company for how it treats drivers, who pay for their own cars, gas, and maintenance. It's also been criticized for dictating rates and for deactivating drivers' accounts, essentially firing them, without warning.
The ride-hailing app company may be innovative from the perspective of its customers—and its owners—but for the driver the experience is very similar to that of a traditional taxi driver, as Gebremariam can attest.
After he moved to Denver from Ethiopia in 2006, he worked minimum-wage jobs at the baggage claim in the Denver International Airport, and then at a nursing home. Though he enjoyed working with seniors, he wanted to go back to school and study pharmacy. The flexibility of driving a cab seemed like the right way to go. "I could work Friday, Saturday, and Sunday driving," he says. "Then, I [could] go to school full time."
That's how he thought it would work, anyway. But the reality turned out to be more difficult. In 2012, he spent six months driving for a company called Metro Taxi, with a lease that required him to pay $800 per week for the use of the vehicle, dispatch, and other services. The need to earn that much every week, in addition to what he needed to live, pushed him to drive 10- or 12-hour days, seven days a week.
Gebremariam wasn't finding the flexibility he was looking for, and turned to Uber instead. But, after driving for the company for a few months, Gebremariam says it was more of the same. "They are taking like 20 percent of our income," he says. "We have to be on the road all the time."
Gebremariam isn't just complaining about it. Instead, he and 644 other drivers are on a mission to form a new taxi company that will be both worker-owned and unionized. The new co-op, Green Taxi, will have a fleet of hybrid or high-efficiency vehicles, and will offer a ride-hailing app.
The drivers aren't going it alone. The Communications Workers of America Local 7777 union is playing a key role in helping them break into Denver's heavily regulated taxi industry.
The new cooperative faces many legal barriers before they can get taxis on the road. For example, the Public Utilities Commission, which oversees the industry, requires potential new companies to prove that they have a viable business plan, that more drivers are needed, and that the new company won't put existing ones out of businesses. This is just one hoop a new transportation company must jump through, and one that, Gebremariam points out, Uber never had to attempt. But the CWA, with its lobbying experience, will be there to help Green Taxi.
The partnership between the co-op and the union could show one potential way forward for workers in the app-driven economy.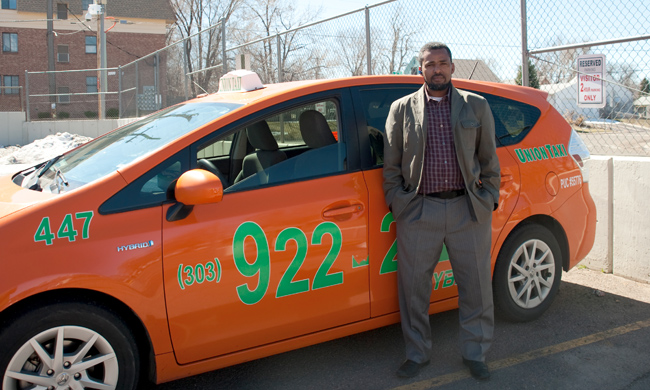 Nuru Shafi a worker-owner at Union Taxi since 2009 stands with his hybrid cab. Photo by Erin McCarley.
The (unionized) future of sharing
Taxi and Uber drivers are independent contractors, not employees. As such, they are not guaranteed a minimum wage or other labor protections, nor can they unionize.
Uber drivers provide most of the capital needed for the business and all of the labor.
In California, two groups of drivers for Uber and Lyft (a competing ride-hailing company) are taking steps to change that. In separate court cases, they are seeking to be recognized as employees. The companies would then be required to pay drivers minimum wage, and reimburse expenses that drivers are covering now, like gas and car maintenance. It would also allow the drivers to unionize.
Gebremariam and 1,000 more drivers took a different approach in Denver toward improving their working conditions. They joined the CWA as affiliate members in October of last year. Because they weren't employees, these new members couldn't sign collective bargaining agreements—documents that authorize the union to negotiate with the cab companies to improve working conditions on the drivers' behalf. But the union can still lobby for driver-friendly regulation or fight for recourse with the local government if companies treat their drivers poorly.
And, with the support of the CWA, Gebremariam and 644 other drivers made a $500 commitment each to bond and insure their new cooperative. Instead of fighting for recognition as employees of a company owned by faraway shareholders, they are attempting to build and own their own company.
Companies like Uber represent unique potential for this kind of thinking. Mike Konzcal and Byrce Covert at The Nation made the argument back in December that the company is in a perfect position to transition to a worker-owned cooperative. Uber has contributed the innovation of its mobile app, but drivers now provide most of the capital needed for the business (the car, gas, maintenance, etc.) and all of the labor.
Big upfront capital costs are usually a challenge for startup cooperatives, but as the drivers already provide most of the equipment, worker-ownership could be a logical next step. Jeff Spross at The Week echoed this idea when covering another new taxi cooperative, Transunion Car Service, based in Newark, New Jersey.
What makes Transunion Car Service and Green Taxi unique is that they are both union-backed cooperatives. The union-backed cooperatives combine the solutions of classifying Uber drivers as employees and of socializing the company's ownership.
It's not the first time a labor union has helped a worker-owned co-op get on its feet, and some observers see major potential in this type of partnership for the labor movement. Michael Peck is the U.S. representative for the Spanish cooperative Mondragon and co-founder of 1worker1vote.org, a nonprofit organization that promotes and supports unionized cooperatives. He believes that the Green Taxi drivers' strategy has a value that goes far beyond Denver city limits.
"The labor movement has to bring ownership and equity into the picture," Peck says, "because otherwise we're going to be reduced to fighting for less and less."
Partnerships like the one around Green Taxi could help it do that. If unions create worker-owned, union-backed cooperatives like Green Taxi, Peck argues that this would strengthen the co-op model and breathe new life into a labor movement that has seen a steady decline in membership. The resulting co-ops would provide alternatives to the Uber-like companies proliferating into other services, like Urban Sitter for child care or Washio for laundry service.
Further, the partnerships give unions more choices. They offer an alternative to the uphill battle for important yet limited issues like living wages, job security, and safe working conditions. Supporting worker-ownership presents an opportunity for unions to help create situations where workers define their own labor conditions.
But what is so powerful about being a unionized worker-owner?

Why co-ops go union
Traditionally, unions fight for fair treatment of workers and better wages by negotiating collective bargaining agreements with a company's management and owners. But in a worker-owned cooperative, the workers are the owners. They set their own wages and working conditions, but also make business decisions like whether to invest in a new building or offer a new product.
Those two types of decisions are often in conflict.
New cooperative owners might not have experience in negotiating wages or benefit plans.
"A lot of times, people form a cooperative," Peck says, "and think, 'We've got this really great democratic structure—it's going to be perfect.' And they end up spending the first few years figuring out where all the stop signs are, when what they really should be doing is focusing on the business." In other words, new cooperative owners might not have experience in negotiating wages or benefit plans.
One way to manage this tension is for worker-owners to also be union members, he argues. That way, the union negotiates with the cooperative's management or board of directors when it comes to concerns like pension plans or safety and training programs—areas in which unions traditionally have a lot of experience.
What it boils down to is ensuring an equal emphasis on the "worker" and "owner" of being a worker-owner.
"When people talk about disruptive innovation, it's always on behalf of the consumer," Peck says. "But who's thinking about the worker? When you have a model that can do both, that's a much better way to go."
Being able to hail a taxi, or find a baby sitter or order groceries, from your phone is innovative and exciting. Green Taxi could show that we can have this convenience while supporting secure, worker-owned jobs.
Erin McCarley contributed reporting for this story.