Food Stamps Are Worth Double at These Michigan Farmers Markets—Helping Families and Local Businesses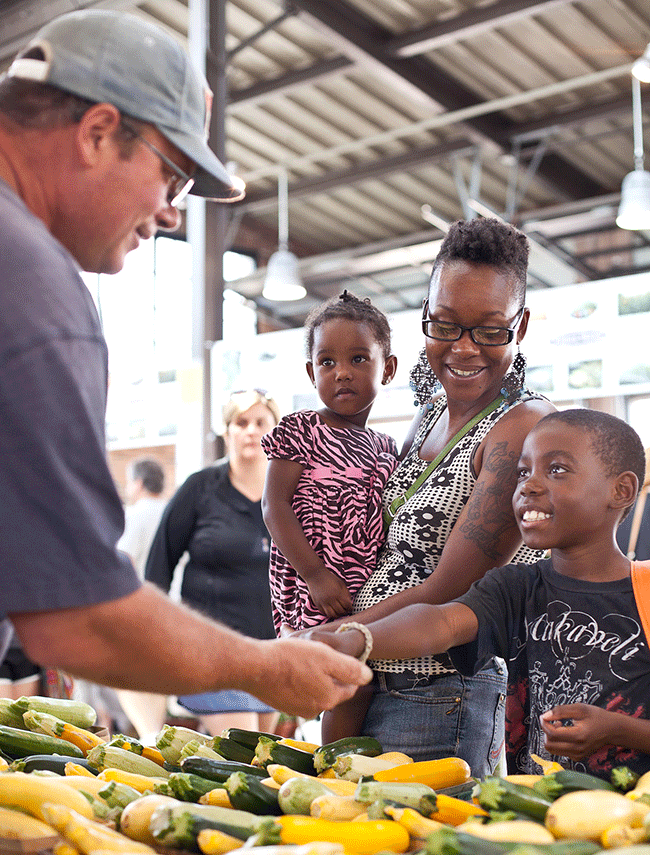 Vicki Zilke is a farmer in Ypsilanti, Mich., population 20,000, where more than a quarter of residents live below the poverty line. Every week, she sells her vegetables at Downtown Ypsilanti Farmers Market, one of two in the city. Nearly 40 percent of the shoppers at both hubs are on some form of food assistance funding from the government.
The two farmers markets first started accepting payment through food assistance programs back in 2006. But that year, they only received $378 from the program.
It's a way for families on limited incomes to participate in the movement for local production and consumption.
But in 2010, an incentive program called Double Up Food Bucks expanded from Detroit to Ypsilanti. The program matches SNAP money (formerly known as "food stamps") dollar-for-dollar when people spend it at farmers markets. That means shoppers can double up to $20 in spending on fruits and veggies. By 2014 customers spent more than $39,000 at these markets through initial SNAP dollars combined with Double Up's supplement.
So instead of a customer base with $20 of SNAP money to spend, farmers like Zilke had a customer base with $40 to spend. "I make more money, I expand my business, and then I can hire more people," Zilke said. "If I hire more people I then improve the bottom line of my community. It's a ripple effect."
That's why the USDA is providing $31 million in grants to finance organizations around the country that, like Double Up Food Bucks, provide SNAP incentives. The grants were announced March 31 and were authorized under the Food Insecurity Nutrition Incentive Program in last year's Farm Bill. Double Up Food Bucks will receive $5.1 million and will be matched in full by private donations.
"The fact that we now see this national funding program from the USDA is really a testament to the legislative process…" said Oran Hesterman, CEO and president of Fair Food Network, the organization behind Double Up Food Bucks. "It's a bright spot in the world of sustainable food and healthy food access."
Photo by Chuk Nowak for Fair Food Network.
Here's how the program works: People bring their SNAP cards, which function much like a debit card, to the local farmers market. They tell the market manager how much they want to spend—let's say $5—and then they are given tokens for that amount—plus $5 more in Double Up Bucks. You can get up to $20 doubled, which means customers take home extra food, and farmers earn more revenue. This allows shoppers to stretch their food budgets and include nutritious options they might not otherwise find in their diet.
It also keeps money circulating in the local economy, supporting farmers who, like Zilke, may in turn create jobs. In fact, SNAP sales at Michigan farmers markets went from nearly $300,000 in 2009 to more than $1.2 million in 2013. By working at different levels of the food system—with producers, distributors, and consumers—SNAP incentives approach problems holistically.
Double Up began as a pilot project of the Fair Food Network, a national organization that works to improve accessibility to healthy food. It started in 2009 at Detroit farmers markets and has grown to more than 150 sites statewide. Hesterman said they hoped that by offering SNAP users double their money when they spend it at farmers markets, it would be more affordable for them to eat healthy food and they would be less inclined to buy processed foods.
Hesterman worked on other SNAP incentive programs across the country and saw how effective they were at bringing people to farmers markets. Nationwide, more than 46 million Americans—almost half of them children—currently receive benefits to improve access to food. Finding healthy food can be especially hard for recipients who live in food deserts.
"I make more money, I expand my business, and then I can hire more people. If I hire more people I then improve the bottom line of my community. It's a ripple effect."
He said that when the program started, Detroit was one of the worst food deserts in the country, with more than 30 percent of the population receiving food assistance of some kind. There was not a single SNAP incentive program in the state.
But Detroit also has Eastern Market, the largest and oldest continuously functioning farmers market in America. "I saw all these features in place," Hesterman said. "Really ingredients for what I thought would be a really successful SNAP incentive program."
While food availability has improved across Detroit, the Double Up program has successfully spread to markets and farms across the state. Hesterman credits this in part to the increasing demand for local food. It's a way for families on limited incomes to support and participate in the movement for local production and consumption, he said.
Gordie Moeller is a retired social worker and activist. He works in the eight counties around Grand Rapids, Mich., trying to get farmers to transition from cash-only transactions to accepting SNAP benefits, something they don't usually have the technology for. He was moved to do this when he found out that, of the millions of dollars that come into the area in food assistance, only a small portion goes to farmers and farmers markets. The rest goes mostly to supermarkets.
"I tell them [farmers], Muskegon County gets $63 million a year in food stamps," Moeller said. "Right now you're not getting any—it's all going to Walmart."
Part of the problem is that farmers aren't set up to accept SNAP. Another part is that many people don't know their options.
To spread the word, Moeller goes to food pantries frequented by SNAP users and informs workers and shoppers about the program. He said that when shoppers walk into the food pantry, they often say they would like to eat things like strawberries, but can't afford them. Pantry workers then inform them they can spend some of their money on fresh food at the farmers market.
Once pantry workers understand the Double Up program, they are able to help SNAP users learn how to get double their money's worth in food. According to Moeller, the results are worth it. "That's how we got 49 new families in one week to go to the farmers market," he said.
Now, with the support of the USDA, Hesterman said he hopes programs like Michigan's can move to more states, and more locations. The next steps for the program include using the grant money to spread awareness and get the Double Up dollars accepted at grocery stores so shoppers can have access to fresh, Michigan-grown food year-round.
"We need solutions that hit on different facets of an issue at the same time," he said. "This kind of incentive does that."