The Startup Turning Locals Into Entrepreneurs in Cincinnati's Gentrifying Economy
When Jasmine Ford sold her first cheesecake to a colleague at the Children's Hospital of Cincinnati two years ago, she didn't think anything of it. Even as word of her pastries spread and orders rolled in over the months, Ford didn't imagine she'd one day own a business.
While MORTAR is open to all, the majority of students are low-income women.
But in just a few weeks, after two years of working out of her home, Ford, 24, will be opening her own storefront bakery, Jazzy Sweeties, a space she secured with the help of a local business-incubator called MORTAR. To start, she'll get help from her brother and husband, but hopes to hire an employee soon after the doors open.
"I was so nervous about how I would get the money," Ford said. "I knew when I got accepted to [MORTAR], this is what I was supposed to do."
MORTAR is a nine-week business course designed to provide local entrepreneurs like Ford with the information and resources they need to start businesses, from a T-shirt printer to a paleo catering company. While MORTAR is open to all, the majority of students are low-income women.
The idea sprung from founders Derrick Braziel and Allen Woods, who live in Cincinnati's historic Over-the-Rhine neighborhood. Once a working-class neighborhood made up mostly of German immigrants, the area was later populated by African Americans arriving during the Great Migration. Most businesses then were bars and small shops.
Over the years, tech firms moved in and more than $843 million was invested in Over-the-Rhine and the surrounding downtown area, bringing an onslaught of development and new residents. Braziel says the neighborhood still has small businesses, "but they're serving a different demographic now."

Allen and Braziel realized their neighborhood was changing and the new businesses didn't represent the community. But it wasn't for the community members' lack of entrepreneurial spirit.
"A lot of the entrepreneurs that we work with operate out of the underground cash economy," Braziel said. "They're running businesses out of their living room or they're doing business out of their trunk or they're hustling in some way, shape, or form. There's talent all around, what's lacking is the know-how."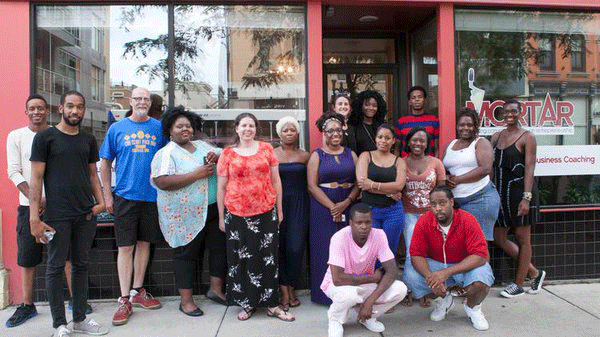 A recently released report from the Initiative for a Competitive Inner City suggested incubators are in a prime position to support the creation of more minority-owned businesses, which currently make up only 18 percent of businesses in the United States. "Incubators provide the type of help that all entrepreneurs can use: business training, access to capital, and access to networks for customers, suppliers, etc.," said Kim Zeuli, director of research at the Initiative. "If you're a low-income entrepreneur, incubators can help fill that need."
In addition to the training, MORTAR gives each student a business coach and connects students to networks that can help them take their ideas to the next level. A local commercial kitchen, for example, lets students with food-related businesses use its facilities, while students from a nearby college volunteer to help participants create a social media presence for their companies. Throughout the year, MORTAR also hosts pop-up shops—opportunities for entrepreneurs to occupy a storefront on a bustling street to test the popularity of their ideas.
"You want neighbors to have a stake in their neighborhood."
Funding, though, is still an issue. At the moment, MORTAR isn't able to finance the businesses in their program, which is why Braziel hopes that someday MORTAR can access a loan fund or operate its own. It helped two students raise money through crowdfunding platforms, including Jasmine Ford, who raised $10,000 through a Kiva Zip campaign. But Braziel says it's not a reliable process: Ford had to raise $3,000 on her last day in order to reach her goal, and some students just don't have the networks to raise the money they need.
Still, the demand for MORTAR's services is high: In the two years since it began, 76 people have gone through the program and 25 have gone on to launch businesses. Currently, MORTAR has a waiting list of about 100.
Kathy Schwab, a member of MORTAR's board of directors and director of the Cincinnati office of Local Initiatives Support Corp., a neighborhood revitalization group, said that as the city rapidly develops, it's important that residents have a role in this new wave of business.
"You want neighbors to have a stake in their neighborhood," Schwab said. "You can't leave the longtime residents behind—they have to be part of this new economy."
Ford's looking forward to her store's opening, and to swapping a long series of business meetings for more time in her new kitchen. Facebook recently reminded her of the day she started her MORTAR program a year ago. "I posted a picture with the caption, 'Watch me make my dream a reality,'" she said. "It happened. I've come a long way."