Paradise Farmed: Inside Kaua'i's Local Food Movement
The issue of local food is more urgent when you're more than 2,400 miles away from the nearest continent.
Why you can trust us
---
With its rippling green cliffs, majestic canyons, and seaside villages, the beauty of Kaua'i is legendary. Yet most of the roughly one million visitors who travel to this Hawaiian island each year don't realize that Kaua'i grows only a small fraction of the food that's eaten here.
Local food is an urgent issue here.
About 90 percent is imported from faraway places like the U.S. mainland and Asia. That makes islanders vulnerable to spikes in the prices of food and fuel, as well as to natural disasters that affect barge traffic across the Pacific.
"I've seen occasions where a bridge will get knocked out and then everybody clears the shelves at the grocery store of all the food," says Keone Kealoha, the executive director of Malama Kaua'i, a nonprofit organization that focuses on local food. "It's not like we're cut off from anywhere, it's just the bridge is cut out. But people lose their minds because they don't know how to grow food."
With a climate that permits year-round abundance and a long history of vibrant and diverse local agriculture and fisheries, how did Kaua'i find itself so dependent on imported food? And more importantly, for leaders of a fast-growing food movement, how can local foods once again provide the security and nourishment that was once part of Kauai's way of life?
Local food advocates have spent decades trying to answer those questions and laying down the foundations for a new system of agriculture capable of feeding the island's people. Part of what motivates them is Kaua'i's remoteness. Like the other Hawaiian islands, it is more than 2,400 miles away from the nearest continent. Even the rest of Hawai'i is far away; a stormy channel 70 miles wide separates Kaua'i from the closest major island.
This means that local food is an urgent issue here and advocates hope their work will help prepare local people in the event that the global shipping networks that supply the island with food are ever interrupted.
"If things go in a bad direction," he says, "my hope is that we would see more people locking their arms rather than people locking their doors."
But this is about more than just being ready if the barges ever stop coming. Because food that is imported from so far away loses some of its nutritional value, advocates of local food on Kaua'i also talk in terms of health. And, beyond that, Kaua'i's local food movement exists in the shadow of native Hawaiian civilization, which fed itself using only local resources. For many in Kaua'i's local food movement, learning how to grow food here is also about listening to the voices of native Hawaiians, learning from their legacy, and building for a way of life that is more deeply connected to the land, weather, and water.
"We don't grow food here; we grow soil."
These advocates form a complex ecology among themselves, and each group approaches the problem from a different angle: some work on the land themselves, growing food and improving the soil; some work in schools getting students hooked on fresh fruits and vegetables; some work in offices, putting pressure on local politicians to change policies to remove obstacles to the cultivation of local food.
Despite their differences, these advocates tend to work together: Perhaps because the island is so small, the food movement here is unusually interconnected. For example, the executive directors of Malama Kaua'i and the Waipa Foundation—two organizations helping to lead the struggle for local food here—both sit on the boards of the other's group.
That sense of interconnection, of being one single movement with a single goal, could be as important as the island's isolation in making a stronger local food economy a reality.
Some challenges to growing
Perhaps the most obvious way of increasing the capacity of local food on Kaua'i is to establish farms and gardens here. The island's tropical climate means that it's warm enough to grow fruits and vegetables all year round, and rainfall is plentiful— one of the wettest places on Earth is on Mount Wai'ale'ale, the highest peak on Kaua'i.
Becoming an independent farmer on Kaua'i today requires not only skill and patience but also luck.
So, in terms of its natural conditions alone, the island should be an easy place to grow food. It's the human conditions that have presented challenges, especially ones involving soil, water, and access to land. For more than 100 years, cash crops like sugarcane and pineapple were grown here on large plantations, with heavy use of industrial pesticides and fertilizers. This weakened the island's soil, which tends to be low in organic matter to begin with. Many farmers here will tell you that, as a result, Kaua'i's soil requires years of careful nurturing before it bears good crops of fruits and vegetables.
As Lisa Fuller of One Song Farms, an organic farm on the island's north shore, put it, "We don't grow food here; we grow soil."
The plantations affected the flow of water, too, as major canals were built to direct water to their crops. Many of those ditches are in still in use by the four transnational corporations currently raising genetically modified corn, soy, and canola on the island.
These companies, which sell seeds that are used by mainland farmers to grow GMO crops, became the focus of a major controversy here when they strongly opposed legislation that would require them to avoid spraying chemicals within a buffer zone around schools and hospitals, among other regulations. That legislation passed, after a drawn-out process , and the companies have responded by suing the county government .
Some farmers have complained that the companies also divert too much water from local rivers, and environmental nonprofit Earthjustice has filed a petition demanding procedural changes that would result in the companies taking less of it.
A third challenge is the expense of obtaining land for agricultural use. Land is a limited resource on this small island and prices are further inflated by the thriving tourism industry here.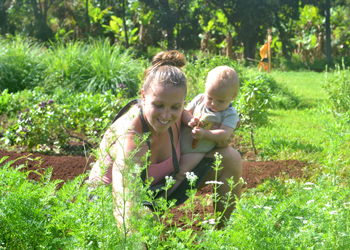 Jillian Seals works in a row of carrots at her Kilauea farm. Photo by the author.
Take the case of Jillian Seals, who with her husband Gary has farmed 12 acres of land in the town of Kilauea for eight years. "The barn was here when we got here and nothing else," Seals said while giving this reporter a tour of the farm. "Everything else was just grass that was taller than you and I."
Regardless of its lack of infrastructure and the limited supply of water it receives from the county, the land was priced at $2.6 million. Wryly, Seals observes that she'd need to sell a lot of lettuce to afford its purchase.
Instead, she ended up leasing the land from its eventual buyer, who wanted to keep it in agriculture. Today, Seals runs the island's largest CSA operation on the island and the only one that accepts EBT, or food stamps.
Making land available
Seals' story illustrates how becoming an independent farmer on Kaua'i requires not only skill and patience but also luck—if the owners of Seals' farm had wanted to develop the property into condominiums, for instance, that land would not be a farm today.
In 2012, the group planted a two-acre food forest around the community garden.
The good news is that more land is likely to become available to farmers and gardeners in the near future. A statewide policy project has identified what it calls "Important Agricultural Lands"—fertile land with access to water, among other conditions—and put in place a number of incentives designed to encourage landowners to keep these lands in agriculture. These incentives include tax breaks, the ability to legally construct housing for farmworkers, and loan guarantees, according to the Hawai'i Department of Agriculture.
Like what you're reading? YES! is nonprofit and relies on reader support.
Click here to chip in $5 or more to help us keep the inspiration coming.
As is the case with many other advances in the cause of local food on Kaua'i, these policies have taken decades to implement. The Important Agricultural Lands process was first proposed in 1978, but didn't result in specific legislation until 2005. Only in 2009 did the tax incentives that form the cornerstone of the policy become available to landowners.
In addition, the island's local government is talking about opening a number of agriculture parks that would be available to small commercial farmers. The one that's planned in Kilauea, not far from the Seals' farm, is the closest to opening, and will be about 75 acres in size. While the exact details are still being worked out, Kilauea's agriculture park is likely to include a community garden, a farmers market, and a recycling center, as well as plots for commercial farmers and a farm incubator program.
Keone Kealoha has been one of the principle organizers behind the effort to make the Kilauea agriculture park a reality. Hearing him talk about it, it's clear that the push for land access in Hawai'i requires a strategy measured in decades rather than years. After 12 years spent on the mainland working in the dot-com industry and spinning dance music at clubs (he's still a practicing DJ), Kealoha returned to the island in 2005.
The following year, he says cofounded Malama Kaua'i (the phrase means "take care of Kaua'i" in Hawaiian) with the goal of promoting sustainability. When that goal came to seem too broad, he chose to focus the project on local food. The first step in that process was the founding of a one-acre community garden.
Today, that garden has 42 plots, all of which are in use, and is the most active on the island. The people who garden there range from immigrants from the Philippines to young couples from the mainland. All are getting used to the challenges of getting in the dirt and growing their own food.
After the establishment of the garden, Malama Kaua'i began starting projects that addressed local food issues from several different angles. For a time the group focused on its School Garden Network and was successful in starting or improving gardens in more than half of the island's 27 schools. They also published a "green map" that listed sustainability-focused nonprofit organizations on the island, and expanded activities in the community garden. Then, in 2012, the group planted a two-acre food forest around the community garden, providing a visual and noise barrier while also providing locals with tree crops such as bananas, papayas, and avocados.
Kealoha says that Malama Kaua'i's experience with these projects—and the overlapping skill sets of research, community outreach, and sustainable agriculture—forms the foundation they'll need to successfully manage the much larger agriculture park.
"It's a scaled-up version of what we've been doing here," he says. "And, from an administration standpoint, we've figured that out, I think."
What's more, the Kilauea agriculture park might not be the only one to open in the near future. At a December meeting of the Kaua'i County Council, George Costa, the director of the island's Office of Economic Development, presented a plan that described five agriculture parks currently being discussed. The Kilauea park appeared in the plan, as well as three more near the towns of Anahola, Koloa, and Kekaha, and a fifth on state-owned land near the Kalepa Mountain Forest Preserve.
The culture changers
Freeing up land and getting farmers onto it is a key part of building local food on Kaua'i. But it won't solve the problem by itself.
Just like on the mainland, the island has a mall and a Costco and a Walmart. It has chain restaurants like McDonalds and Burger King and Starbucks. Tens of thousands of working-class islanders work full-time jobs in hotels and resorts and don't have much attention left for gardening, let alone farming. Many prefer to eat quickly and conveniently.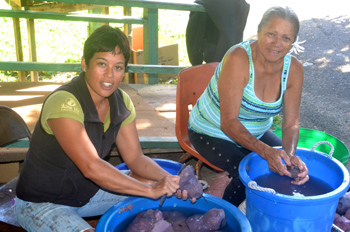 Stacey Sproat-Beck (l) and Honeygirl Hoomanawanui clean taro root at the Waipa Foundations weekly volunteer day. Photo by the author.
The result is that no matter how much local food is produced here, it won't change the numbers significantly unless people become more aware of what they're eating and value the increased freshness and nutrition that comes with local food. They also have to know how to prepare fresh fruits and vegetables and to enjoy eating the food made with them.
The Waipa Foundation, another Kaua'i nonprofit, focuses on this side of the problem. And the people who work there believe that part of the solution is education about Hawai'i's past, both distant and not-so-distant.
"When I grew up, these were quiet fishing towns where we still fished and farmed," says Stacey Sproat-Beck, the foundation's executive director. "So it wasn't that long ago—in my parents' generation—that people lived off the land here."
Sproat-Beck is a 43-year-old mother who still lives in the house she grew up in. After doing her undergraduate work at the University of Southern California, she returned to Kaua'i in 1994 and began working with Waipa, which manages a 1,600-acre territory that runs from a local mountaintop through the forests and farmland to the shore in a single pie-shaped watershed.
Native Hawaiians called such an area of land an ahupua'a, and used it as the basis of all land management. They hunted in the upland forests, farmed in the lowlands, and fished on the shore. The ahupua'a at Waipa is one of just a handful in all of Hawai'i that are traditionally managed, according to Sproat-Beck. And her organization is using it to make sure that young people know what sustainable land management in Hawai'i might look like—and, of course, that they know how to eat well.
More than 4,000 young people visit the Waipa Foundation's land every year, either as visitors or as volunteers or as students at the Akamai School, a middle school that is housed there. Visitors get what Sproat-Beck calls a "four-hour multisensory experience" that includes pulling out invasive plant species in the forest, assisting with the peeling and preparation of taro roots in the lowlands, and learning about sea currents and ocean life on the shore. It also includes plenty of eating: the foundation feeds visitors meals of local greens, fish (often spear-caught by students at the Akamai School) and poi—a highly nutritious pink paste made by grinding up taro roots.
"Almost everybody that comes through here goes away changed," Sproat-Beck says, pointing out local kids who've gone on to become taro farmers and gardeners.
Many others are changed in subtler ways. "They're used to going out in the garden. We can send them out and they can harvest their own kale, make a kale salad, serve it to their parents and family. It seems like they are just way more connected to the land."
The folks at the Waipa Foundation are not the only ones working to change culture in a way that encourages the growing, catching, and eating of local food. Every organic farmer YES! spoke to while researching this story had an education program that brought local—and sometimes international—groups of students through their land to learn about agriculture and try the food.
In it for the long haul
How much have these efforts changed the numbers on the ground? The big number—the roughly 90 percent of food that's imported—hasn't changed in any measurable way. But other indicators are beginning to shift. For example, sales at Kaua'i farmers markets rose by a significant 26 percent between 2011 and 2012, according to local newspaper The Garden Island.
"I think food sovereignty is sovereignty, really."
Changes like that, together with all of the shifts in policy, culture, and education that local food advocates on Kaua'i are helping to build, seem poised to push the needle back on the big number in coming decades.
That may seem like a long way off, but local food advocates like Kealoha, Sproat-Beck, and Seals all say they're in it for the long haul. Each one seems intimately aware that the way people eat is deeply ingrained and unlikely to change quickly. Instead, it changes through experiences accumulated over a lifetime—experiences that their work already helps to provide.
It's not an easy or simple struggle, but the rewards are tantalizing. They include improved nutrition, a more secure and reliable food supply, and greater political sovereignty.
That last benefit is especially visible in a place like Kaua'i, where the indigenous memory of colonization remains fresh and raw.
"I think food sovereignty is sovereignty, really," Kealoha says. "If you can resolve your food issue, then you have the opportunity to take more time about some of the other things."
---