The Many Benefits of Making (and Eating) Chocolate Right Where It Grows
In Espaillat, a rain-fed province on the northern edge of the Dominican Republic, Francisca "Fidelia" Rivas sits with glasses perched on the edge of her nose, folding bright green foil around small bars of chocolate. The 59-year-old grandmother of seven (and great-grandmother of one) is one of 36 women who started the small chocolate company Chojoba (a combination of the words "chocolate" and "Joba Arriba," the town closest to the factory).
"I want to bring money to the house so I can decide where it goes."
Women here do not typically work outside of the home, but as Rivas' colleague Maria "Altagracia" Ortega explains, employment offers agency: "I want to bring money to the house so I can decide where it goes." As the company's vivacious saleswoman, Ortega co-founded Chojoba "to get more power and more income." And because "we are in a cocoa zone, we didn't have to look for it, it was already there." Despite the abundance of cocoa, Rivas says, she and her friends didn't know anyone making chocolate. "So we decided to do it ourselves."
Rivas and Ortega are part of the growing trend to make chocolate closer to the places where its primary ingredient, cocoa, is grown.
Cocoa starts as cacao, a colorful pod that ripens to colors ranging from bright yellow to deep burgundy. The seeds are fermented, dried, and processed into cocoa, then chocolate. Cocoa trees grow in a thin equatorial band in places such as Ecuador, Peru, and Vietnam, but over 70 percent of production is in West Africa.
The economics of growing cocoa are hard. The majority of the crop is grown by subsistence farmers who earn about 5 to 7 cents for every dollar spent on chocolate, according to Antonie Fountain, managing director of the VOICE Network, which works on sustainability in cocoa. A new study by the French Development Agency and Barry Callebaut—the world's largest cocoa and chocolate manufacturer—found that cocoa farmers in Cote d'Ivoire earn about 91 cents per day.
Historically, dried cocoa beans are shipped out of their countries of origin to places like Europe and the United States, where they're transformed into chocolate. This is where most of the money is made—and why farmers still struggle.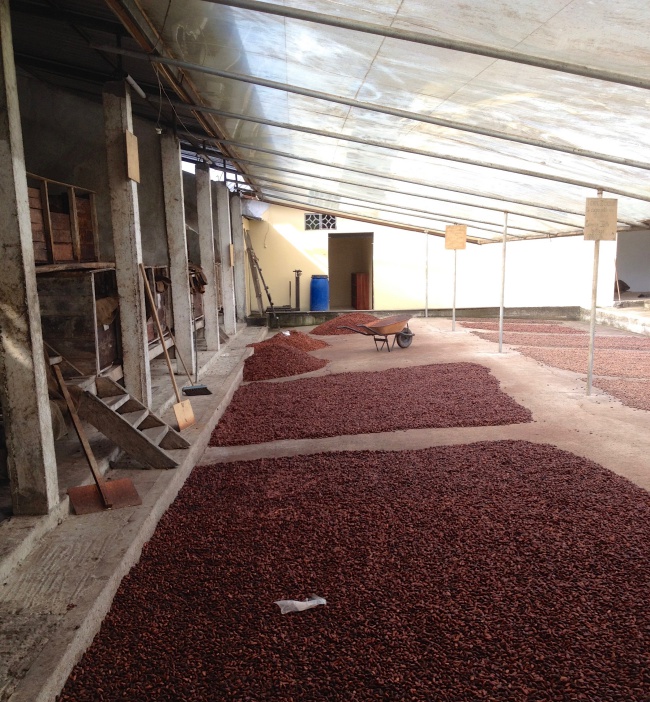 Drying cocoa in Atacames Ecuador. Photo by Simran Sethi.
An analysis by economist Laurent Pipitone from the International Cocoa Organization shows that between 1990 and 2003, the price paid to cocoa farmers remained stable while the cost of chocolate in the United States doubled. On a global scale, cocoa was valued at $5.9 billion, but the chocolate confectionary market was valued at over $100 billion.
The shift toward making chocolate closer to the places where cocoa is cultivated may help narrow this gap.
However, there are still technical and cultural hurdles. Many of the areas where cocoa grows lack adequate infrastructure. The poor roads, limited access to equipment, and sporadic electricity, combined with high temperatures, make it harder to produce and transport chocolate. In addition, places such as West Africa and Asia don't have a culinary tradition of consuming chocolate, and they tend to perceive Western goods as superior to ones made locally.
"Our cultural traditions are steeped in cacao, and yet as a country we never made any chocolate beyond drinking chocolates," explains Carlos Mann, founder of Chocolate Momotombo in Managua, Nicaragua. "All of our eating chocolates were imported, mostly from the United States. We decided to make our own because Nicaragua needs to participate in the magic that is working with chocolate. … We have incredible cacao, and so we must make chocolate."
And chocolate bars aren't the only product, says Brigitte Laliberté, a scientist and conservationist who coordinates the Cocoa of Excellence Programme, which rewards farmers for growing high-quality cacao: "A lot of value can be added to the product from the bean up." That includes cocoa powder, cocoa butter and, with air conditioning in every supermarket and every corner shop, chocolates confections.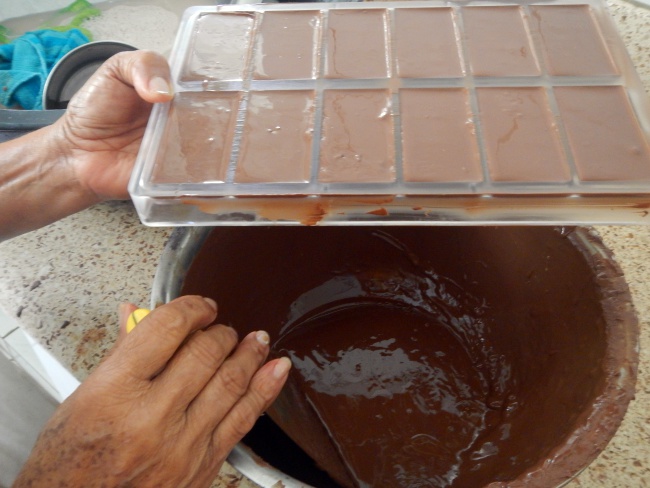 Maria Altagracia Ortega makes chocolate. Photo by Cindy Czerwin.
This value isn't limited to earnings, Gillian Goddard explains on The Slow Melt podcast, but also status.
Goddard holds chocolate-making classes for farmers in Trinidad. Farmers receive about $8 a kilo (approximately 2 pounds) for fresh cocoa beans that once processed into chocolate, Goddard says, "works out to about $200 a kilo." This impacts how these growers are perceived in the community: "It is a mind-blowing thing to see the difference in how they are treated if they're engaging as chocolate makers compared to selling a raw material product. It's not just about the money; it's about adding value and quality of life in many different ways."
This deepened connection to chocolate also helps farmers better understand how their efforts at selecting cacao plants and fermenting and drying cocoa impact the flavor of the final bar or confection—but the work is not without its challenges.
"Our land will become richer and our farmers will have a better life."
These difficulties vary across origins. For Carlos Eichenberger, founder of Danta Chocolate in Guatemala, the challenge is historical. "There has been a longstanding misconception that chocolate made locally was inferior to foreign-made," he says. "And up until we opened Danta, this was accurate, as all of the local chocolatiers used imported chocolate. Local industrial producers were—and still are—making chocolate with substitute fats to reduce costs."
Although it has been a challenge for Eichenberger to grow his customer base, he believes "consumers now recognize that locally produced chocolate is as good as—or better than—European- or U.S.-made chocolate."
For Chojoba in the Dominican Republic, the greatest barrier is gender bias. "When men come to the factory," Ortega says, "they talk down to us and try to sell us bad cacao—the garbage."
Rivas adds, "The men always get everything. We just want the same chance. We don't have a big market, but as women we have faith that if we keep working, our product will be known."
Their resolve has paid off: With distribution confirmed in Sosua and Rio San Juan and a small number of bars being sold abroad, the women are able to pay themselves for the first time in four years of operation.
Women of Chojoba cooperative. Photo by Cindy Czerwin.
The development of local markets is critical for the sustenance of the cocoa industry, Pipitone says, because consumption in the United States and Europe (where most chocolate is consumed) isn't growing. By producing at origin, and building a local appetite for chocolate, Ortega and her colleagues keep more money in their local economies. And that could transform the cocoa industry in Cote d'Ivoire, which grows nearly half of the world's cocoa.
Suzanne Kabbani is one of several entrepreneurs in the country trying to strengthen the local sweet tooth through flavors Ivorians hold dear: "wood-fired or grilled coconut, cashew nut, or dried ginger—and chocolates with higher cocoa content are the flavors that work," she says.
Kabbani launched her company, La Maison du Chocolat Ivorien, in Abidjan back in 2006. "It has been an uphill battle to have Ivorians accept the idea that the world's leading cocoa producer could also produce a quality chocolate. But, this year, the data show that more Ivorians consume chocolate—and especially that of their own country."
The chocolatier believes this combination of local cultivation, creation, and consumption is a significant step toward self-determination: "We in Cote d'Ivoire will consume our own chocolate first, and then sell the rest of it as we want. Then, no one can impose a price on us. Our land will become richer and our farmers will have a better life."