Dams Be Damned: California Rebuilds the Salmon Habitat It Destroyed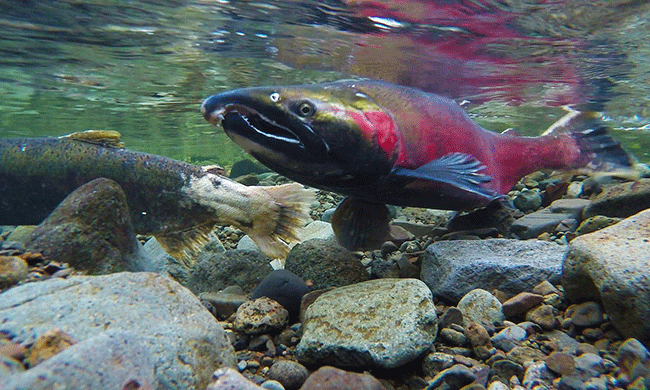 Wander out the back door of the tasting room at Truett Hurst Winery in Sonoma County, California, and follow the dirt path to the red Adirondack chairs next to Dry Creek. Look just downstream to the side channel that splits off the main waterway. You will see sets of interwoven logs and overturned trees with roots that splay along the banks. These aren't the result of a particularly rough storm—they are there by design. As Dry Creek rushes by, these logs and root beds point the way to a newly excavated side channel—prime habitat for spawning and juvenile salmon.
Salmon populations have plummeted.
In freshwater waterways along the coast from Marin to Mendocino counties, agencies are restoring salmonid streams to create habitat diversity, areas that provide deep pooling, predator protection, and side channels of slower-moving water. California salmon are in dire straits. Decades of dam building and development have destroyed or altered salmon habitat, eliminating the diversity of habitat these fish need.
As a result, salmon populations have plummeted. The number of coho salmon that return to the California waterways from the Pacific Ocean each year has dropped from around 350,000 in the 1940s to less than 500 in 2009. Although they've rebounded slightly, numbers are still 90 percent to 99 percent below historic levels, and many scientists are worried that California's historic five-year drought followed by an exceptionally rainy winter could wreak further havoc.
Salmon provide enormous environmental and economic benefits. They are an integral component of marine and freshwater foodwebs and play a role in transporting nutrients from the ocean into rivers. In California, salmon are the backbone of a $1.5 billion commercial and recreational fishing industry.
The Warm Springs Dam, which crosses Dry Creek, is one of two drinking water sources for around 600,000 customers in Sonoma County, but the year-round flows it produces are a problem for salmon.
"Dry Creek is a tremendous misnomer," says David Manning, environmental resources manager at the Sonoma County Water Agency. "It flows so quickly that it doesn't provide habitat for steelhead and coho," and young fish are often washed downstream. To combat this, Manning and others are building "off-ramps" that will allow salmon to exit the Dry Creek freeway.
The water agency has plans to build similar structures at sites along 6 miles of the creek in collaboration with the area's property owners. The Dry Creek Habitat Enhancement Project will cost an estimated $9 million to $10 million per mile and is being funded through a variety of sources, including the water agency itself, a property tax from the Warm Springs Dam project, and the U.S. Army Corps of Engineers.
Photo of Amista backwater pond by Monica Heger. 
At Amista Winery, a couple miles downstream from Truett Hurst, Manning's team created a side pond with just one way in that fills up during heavy flows, providing an escape from the rushing creek. It also built what's called a riffle, which is basically tiers in the creek bed with elevation changes and rocks so that water bubbles up. These variations provide habitat suitable for salmon at different stages of their lives, Manning says.
A more diverse, healthy habitat also helps salmon better cope with extreme weather conditions. "Salmon no longer have the habitats that allowed them to persist through droughts and floods," says Eric Ettlinger, an aquatic biologist with the Marin Municipal Water District. He is spearheading similar restoration projects along Lagunitas Creek in Marin County.
Lagunitas Creek winds through a flood plain on its way to its drainage into the ocean near Point Reyes. Historically, heavy rains caused the creek to spill over its banks, creating a network of tributaries and side channels for young salmon to escape the heavy flows. Woody debris encouraged these overflows, and provided deep pools and shady hiding spots. Now, due to the construction of dams, there is no woody debris and overflows only happen in the largest storms.
At some sites, it would take a 25-year storm to open up historic habitat for salmon, says Michael Napolitano, an engineering geologist at the San Francisco Bay Water Quality Board. And although this winter brought heavy rains, they peaked at what would be considered a 5- to 10-year event.
"Beaver ponds are ideal salmon nurseries."
A consequence of the creek being confined to its channel is that, over years, the water has dug away at the creek bed—or substrate—making it deeper and narrower, and increasing the speed at which water flows. This has decreased the chances that water will spill over the banks. The larger substrate materials that made the creek bed stable—boulders, gravel, and logs—have been washed out, but are not being replaced. Instead, the creek bed is becoming ever finer and more prone to being further incised. In this environment, salmon eggs are more likely to be washed away.
Due to damming, half of the potential habitat for salmon in the Lagunitas Creek watershed is no longer available, according to a report Napolitano authored. Coho salmon have felt the effects of this lost habitat. In the winter of 2014, Lagunitas Creek counted 292 coho. That number would need to increase to 2,600 fish for the population to be considered recovered.
A portion of Ettlinger's two-year project will be completed this summer during a short window between the end of the spotted owl breeding season in August and the first winter rains of October, he says. In total, the projects will cost around $2.4 million. Around half of the funding has come from California Department of Fish and Wildlife grants and another $400,000 from the State Water Resources Control Board. The remainder has come from the water district and U.S. Fish and Wildlife Service, Ettlinger says.
These habitat restoration projects are one tool being employed to try to prevent California salmon from going extinct. Ettlinger says that in Marin there has been a growing movement for another type of project—reintroducing beavers. "Beaver ponds are ideal salmon nurseries," he says. "In the salmon restoration community, it's become apparent that coho and beavers evolved together." Plus, "a lot of the wood replacement we're doing now in Lagunitas Creek the beavers would do for free."
Along the banks of the poorly named Dry Creek, David Cuneo, principal environmental specialist at the Sonoma County Water Agency, points out a PVC pipe running across the stream. It houses antennae used to determine whether the salmon are finding their new digs. Some fish have been outfitted with a passive integrated transponder tag, and are counted when they pass under these antennae. Official data will be tabulated in 2018, at which point the agency will decide whether they are working as intended.
Cuneo recounts seeing a coho spawn at the Truett Hurst site earlier this year. When he examined the tag data, he saw that fish that were tagged in 2014 had made their way down Dry Creek to the Russian River and on out to the Pacific Ocean, returning to Truett Hurst this winter. Anecdotally, at least, it seems to be working.