Explainer A data-driven story that provides background, definition and detail on a specific topic.
The Indigenous Winter Pantry: Recipes for Today's Kitchen
Photos courtesy of Zuni, Joseph Zummo and Cheyenne River
After the disruption of colonization, numerous tribal efforts aim to reinvigorate traditional foods and the health benefits they provide.
Why you can trust us
---
The main ingredients in the foods Indigenous people put up for winter are caring, sharing, and a big dollop of joy. Communities that work together to preserve the bounty of prairie, desert, forest, and garden thrive during challenging times. Sharing recipes with us here (see below) are the Pueblo of Zuni and the Ramah Chapter of the Navajo Nation in New Mexico; the Puyallup Tribe in Washington State; and the Cheyenne River Sioux Tribe in South Dakota.
"Food is at the center of our culture, of our gatherings," says Kenzi Bowekaty, food sovereignty leader of the Zuni Youth Enrichment Project. "The goal is to fill our bellies and our souls. The Zuni word for this is yu'yashkwi, to sustain life and be nourished as a people."
The Zuni Youth Enrichment Project offers classes in which the pueblo's children delight in cooking up their ancestors' crops and wild-gathered plants—called yepnan łash:ina, or traditional and sacred foods. In one recent class, a big, bright kitchen was filled with energetic third graders busily chopping, stirring, and tasting salsa that they ate on homemade blue corn tortillas. "Yes!" they replied when asked if they would share their new culinary skills with family. Bowekaty notes that when children do this, elders have stories about the foods to pass on.
"It's a circle," Bowekaty says. "We're all learning from each other."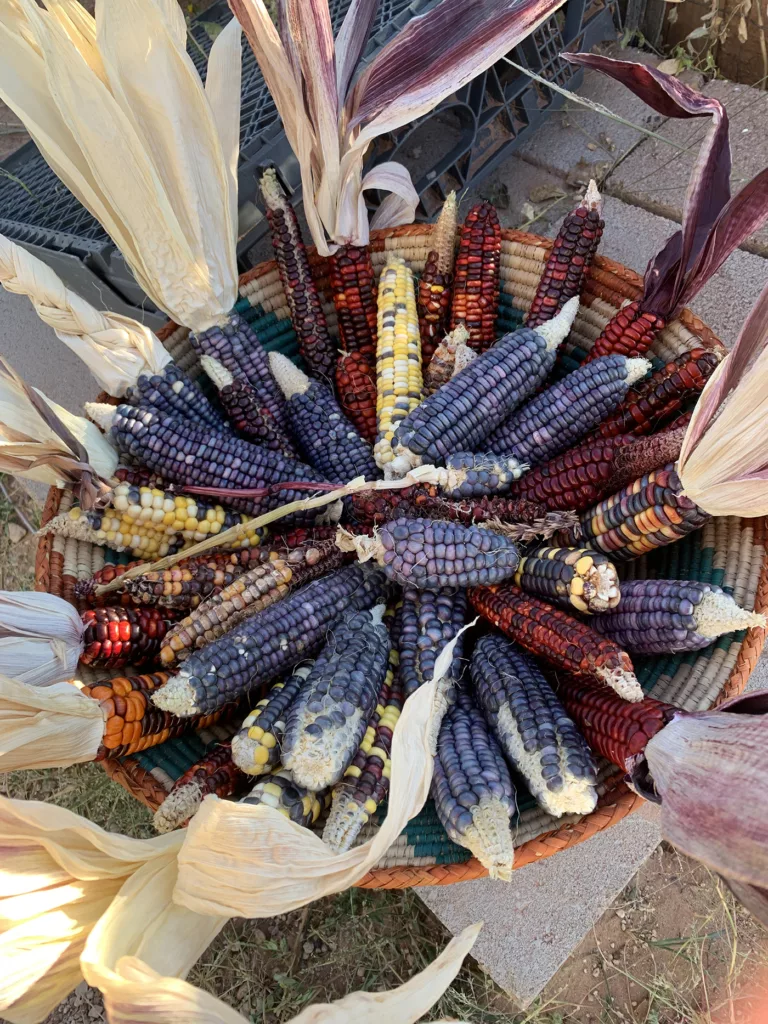 Gathering From and for the Environment
For millennia, Indigenous people tended this hemisphere's land, water, and inhabitants. They developed myriad varieties of corn, beans, squash, potatoes, tomatoes, chocolate, chilis, and other crops now grown worldwide. They hunted vast buffalo herds and fished plentiful rivers and oceans. They gathered herbs, berries, and other wild edibles. The foods they produced sustained human and environmental health as well as rich and varied cultures.
As Europeans settled what is now the United States, tribal nations were forced onto reservations. This drastically shrank the tracts on which their citizens could acquire nutritionally and culturally appropriate foodstuffs. To make up the deficit, the U.S. government provided rations—generally cheap, nutrition-poor items, such as lard and white flour. The quality of Natives' diets plummeted, impacting their health.
But numerous tribal efforts aim to reinvigorate traditional foods and the health benefits they provide. Some tribes have developed their own buffalo herds. The Puyallup Tribe has monthly expeditions to gather berries and other wild-grown foods. A highlight of the year is Huckleberry Camp, when Puyallup families spend several late-summer days in the mountains picking the revered berries, their Creator's final masterpiece. For thousands of years, they have maintained the fruits' habitat with controlled burns that open sunny forest clearings for them.
"We make sure our traditions carry on," said Angeline Totus, cultural activities coordinator for the Puyallup, as she showed mother-daughter pairs how to turn plump, deep-purple huckleberries into luscious jam.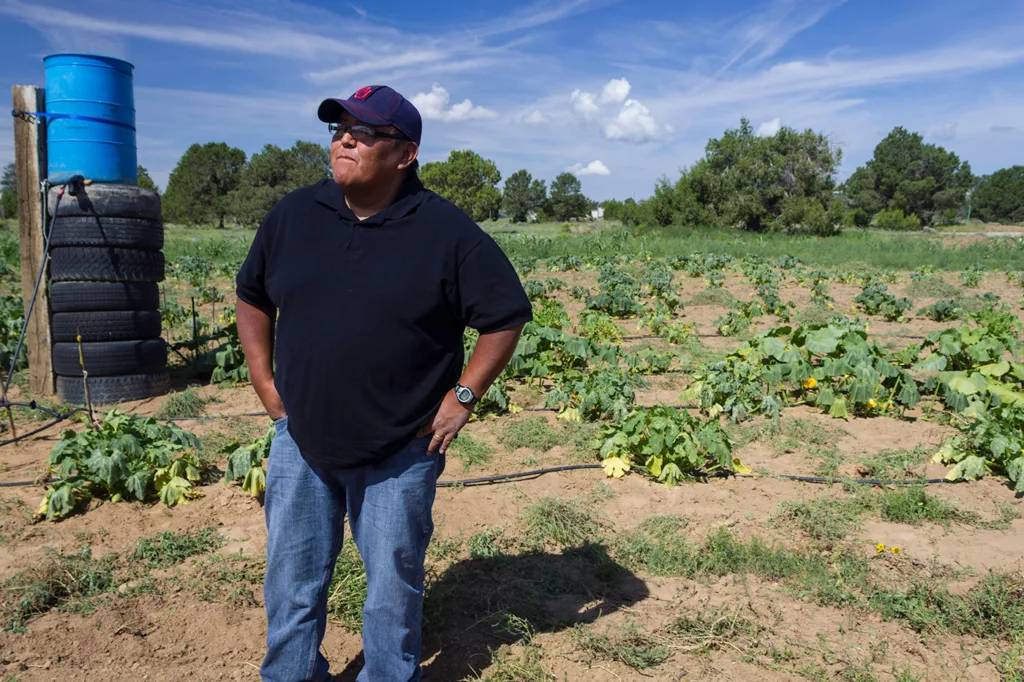 Gardening in Community
For Zuni and some other tribal nations, gardening is an age-old food source that's especially valued today. "As a culture, as a people, growing, preserving, and storing food have pulled us through for centuries," says Randy Chatto, project coordinator for the Indian Health Service at Ramah Navajo. His work includes encouraging household and community gardening.
Chatto is also part of a COVID-19 emergency response team that delivers food, water, medicine, and masks where needed. For the Ramah Navajo, the pandemic underscores gardening's importance to their culture and to survival itself. Those closest to their gardening legacy fare best, says Chatto. "Growing, harvesting, and preserving helps them physically, spiritually, mentally." Even better, "They're eating healthier, not consuming less-healthy, non-Navajo food."
For the Lakota, gardening has been a welcome addition to their ancestral hunting-and-gathering foodscape. "You put seed in the ground, nurture it, love it, and harvest it, and it becomes something good for us," says Julie Garreau, executive director of the Cheyenne River Youth Project. The organization aims to embody a set of Lakota values called wolakota, which centers on generosity and ensures all relatives thrive.
For 35 years, the Cheyenne River Youth Project has provided children with healthy food and a safe place to have fun. "We grow, eat, preserve, share, celebrate," Garreau says. "The process is a beautiful full circle."
In addition to preserving garden crops they've grown, Youth Project staff and students put up heritage foods, like chokecherries, wild plums, and wild grapes, purchased from local folks who gather them from the prairie. Garreau calls preserves a complex story: "Health, food sovereignty, and economic development—in a jar."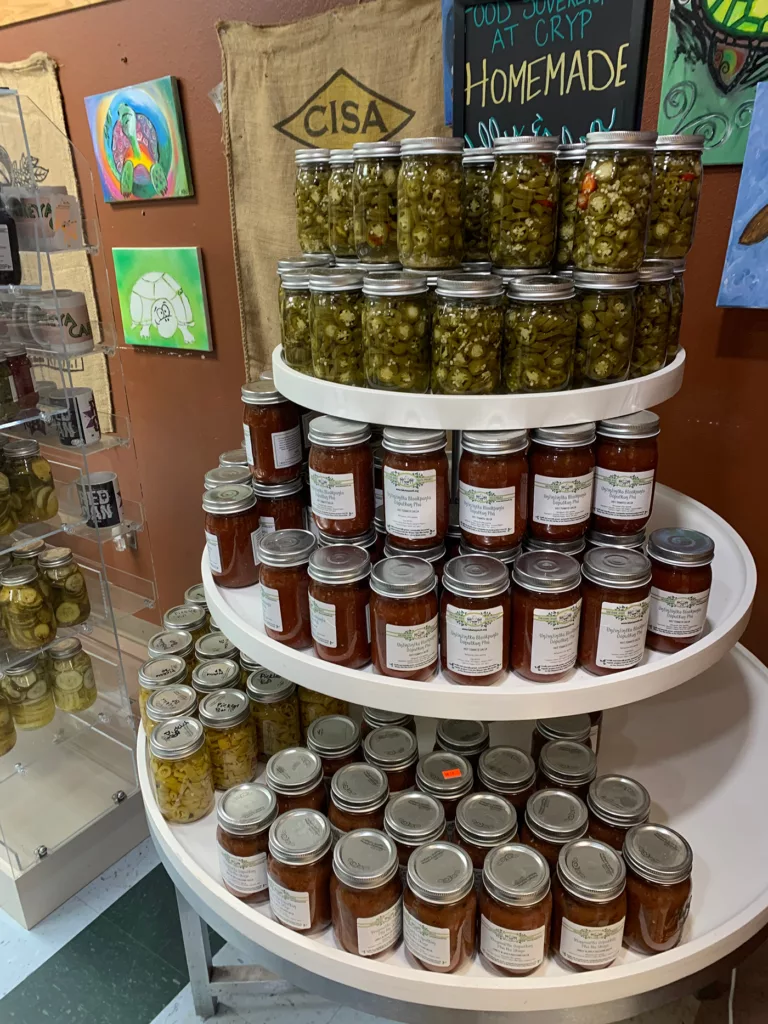 Buy or DIY
Enjoy Cheyenne River Youth Project's mouthwatering preserves for yourself—traditional chokecherry syrup, fiery hot sauce, sweet-and-spicy pickled jalapeños, and much more—sold coast-to-coast to support its programs. Email [email protected] for availability and cost.
Or, try the recipes below, adapted from tribal preparations. Ensure food safety when doing so, stresses Garreau, even when making these small-batch preparations, stored in the refrigerator rather than on a shelf. Use very hot, soapy water to wash all equipment, including any jars, or run them through a dishwasher. Use heat-resistant jars. After filling them, wipe the rims with hot water before putting on the lids, she says.
Find more inspired recipes in The Sioux Chef's Indigenous Kitchen (University of Minnesota Press, 2017), by Sean Sherman, a Lakota chef with a restaurant in Minneapolis, and Foods of the Southwest Indian Nations: Traditional and Contemporary Native American Recipes [A Cookbook] (Ten Speed Press/Penguin Random House, 2002), by chef and food historian Lois Ellen Frank, a Kiowa descendant.
"The resources are all around us," says Bowekaty. Making and sharing these traditional foods—and the recipes for them—is good for everyone. "We take care of ourselves, each other, and the Earth."
Puyallup Huckleberry Jam
Makes three 6-ounce jars.
If you can't find huckleberries, use blueberries, suggests Totus. Because jam-making is exacting, follow these directions precisely, she says. For example, don't use less sugar or a sugar substitute, and don't replace liquid pectin with powdered.
Ingredients
2 cups whole berries, fresh and rinsed or frozen and defrosted
2 teaspoons lemon juice
2½ cups white sugar
One 3-ounce pouch Certo liquid pectin
Directions
In a 2-cup measure, add the berries in 3 layers, mashing each layer to reduce to 1½ cups.
In a saucepan, mix lemon juice and berries. Add sugar, and stir 5 minutes.
Over high heat, bring to a rolling boil. Boil, stirring, 1 minute.
Remove from heat. Add liquid pectin, and stir 5 minutes.
Using a large-mouth funnel, ladle into three 6-ounce jars. Cover, let cool 45 minutes, and refrigerate. Keeps 3 weeks or longer.
Zuni Breakfast Porridge
Serves 6.
"Blue corn is a pantry staple we use throughout the winter in many preparations," says Zuni Youth Enrichment Program Assistant Coordinator Brittny Seowtewa. This dish highlights blue corn's fine texture and subtle flavor. To watch a video by Bowekaty and Liam Simplicio of preserving blue corn—harvesting, drying, roasting, and grinding it—visit the Zuni Youth Enrichment Program's TikTok. Buy blue corn meal from Ramona Farms or Indian Pueblo Store.
Ingredients
3 cups water, divided
1 cup blue corn meal
¼ teaspoon salt
½ cup honey
¼ cup berries, granola, or nuts (optional)
Directions
In a saucepan over medium-high heat, bring 2 cups of the water to a boil.
Whisking to prevent lumps, slowly blend blue corn meal and salt into remaining 1 cup water; blend this mixture into the boiling water.
Turn heat to low, and stir until well thickened, about 3 minutes.
Stir in honey, and scoop into 6 bowls. Sprinkle each with berries, granola, or nuts, if desired.
Lakota Wasna
Makes ten ½-cup servings.
This portable, high-protein snack is tasty and nutritious. Even its fat is good for you. Recent science finds that animals' fat has more nutrients and health benefits than is widely understood.
Ingredients
1½ pounds buffalo or lean-beef roast, gristle and membranes removed
½ cup yellow corn meal
½ cup dried cranberries
2 tablespoons maple syrup, or to taste
¼ pound buffalo or beef fat
Directions
Slice meat thinly across the grain. Arrange slices in a dehydrator and, following its instructions, dry until stiff, about 10 hours.
Snap slices into bits. Working in small batches in a blender, use about 10 pulses per batch to shred the meat finely; stop short of powdering it and destroying its texture.
Chop the cranberries. In a bowl, combine berries, meat, corn, and maple syrup.
Render the fat, melting it and removing solids to yield ¼ cup liquid fat. Sprinkle over meat mixture 1 tablespoon at a time. Toss gently with a fork. The mixture will become moist but retain its loose consistency.
Divide among 10 small plastic bags, and refrigerate. Keeps 3 months. After opening a bag, eat contents—by hand or with a spoon—within 3 days.
Ramah Navajo Big Sagebrush Tea
Makes 2 teacups or 1 large mugful.
Made into tea, big sagebrush, or Artemisia tridentata (not to be confused with white sage, Salvia apiana), helps dispel the congestion of colds and flu—and now COVID, says Chatto. To buy this Native medicinal, visit SierraSolGoods. (Note: Herbs are powerful and can interact with prescription medicines; you must check with your doctor before using.)
Ingredients
2 cups water
1 teaspoon crushed leaves big sagebrush, gathered and dried or purchased
1-inch knob of fresh ginger, peeled and finely chopped
1 teaspoon honey, or to taste
Juice of ½ lemon, or to taste
Directions
In a saucepan, bring the water, sagebrush, and ginger to a gentle boil. Boil 2 minutes.
Turn off the heat, and let steep 15 minutes.
Pour into a mug. Add honey and lemon juice, stir, and enjoy.


---
| | |
| --- | --- |
| | Stephanie Woodard is an award-winning journalist who writes on human rights and culture with a focus on Native American issues. She is the author of American Apartheid: The Native American Struggle for Self-Determination and Inclusion. |
---