A Quarter of Pakistani Girls Are Married Before They're 18. This Film Shows What That Feels Like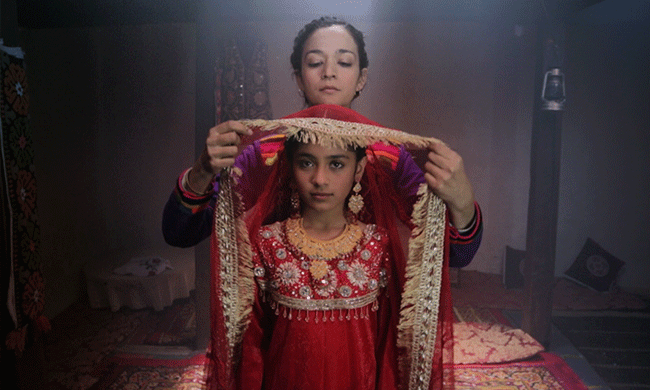 Every minute, 28 child marriages take place. That's 15 million girls a year removed from their schools, taken from their families, and denied their childhood.
The Center for Reproductive Rights reports that 24 percent of Pakistani girls are married before they're 18 (unlike in neighboring India, Bangladesh, or Nepal, child marriage is still legal in Pakistan.) And although the legal age for girls to marry is 16, seven percent of girls in Pakistan are married at 15 or younger.
Every minute 28 child marriages take place.
These statistics tell us the prevalence of young girls forced into marriage, but tell us nothing about what it's like to be a child bride or the parent of a child forced into marriage. For that, we turn to stories like the film Dukhtar, and storytellers like Afia Nathaniel.
Nathaniel, once a computer scientist and now a film director, was born in Lahore, Pakistan. In her 20s, she earned a bachelor's degree in computer science, and worked in the field for a few years before she realized she didn't enjoy it. "I took a good look at what I wanted to do with my life, and I said, 'I can't be chained to a desk, writing, coding, and programming,'" Nathaniel explained. "That's not what I want to do. I want to tell stories."
So she quit her job, transitioned into marketing, and worked for a few NGOs in Switzerland. Then in 2001, she was awarded a fellowship to Columbia University's Graduate Film Program. She moved to New York, completed the program, and began her 10-year journey to make Dukhtar, which she wrote, produced, and directed.
Dukhtar is the story of a mother, Allah Rakhi, on the run with her 10-year old daughter in the tribal regions of Pakistan. In the film, Rakhi's husband arranges for his daughter to marry a rival leader in an effort to bring peace to the region. Rakhi, who was married in a similar scenario, takes the child and flees their home to save her daughter from living out a similar fate.
Dukhtar is a fascinating, successful piece of cinema. It's beautifully photographed, wonderfully acted, and confidently directed. The film is also a compelling exploration of one Pakistani woman's life in dire circumstances, and it brings attention the issue of child marriage, a human-rights crisis that many Americans are unaware of.
Recently, I had the opportunity to talk with Nathaniel about how she went from computer science to film studies, why she chose child marriage as the subject for her first film, and the challenges of getting her movie funded as a woman of color.
This interview has been lightly edited.
---
Christopher Zumski Finke: You went to Columbia University. Can you tell me about how you ended up there?
Afia Nathaniel: I used to be a computer scientist in Pakistan. I was born, raised, and educated there. While growing up, I loved telling stories—my mind was filled with all these things. But in our education system we don't have the arts or training for cinema. So I never consciously pursued that.
When I finished my degree—my second bachelor's in computer science—I took a good look at what I wanted to do with my life. I said, "I can't be chained to a desk writing, coding, and programming." That's not what I want to do. I want to tell stories.
She was trying to survive in a culture that didn't allow single mothers to survive by themselves.
In Pakistan, we don't have an independent film industry to train in. The closest thing was the advertising sector. So I became a copywriter. I made ads for TV, radio, and print. It was great training in how to tell a story in 30 seconds, and how you can change an audience's perception. It was an interesting kind of micro-training before film school, which I only ended up in because Columbia gave me a fellowship.
Zumski Finke: Can you tell me about the origins of Dukhtar? Why did you chose this story for your debut film?
Nathaniel: In 1999, I heard a story that refused to leave me. It was the story of a mother from the tribal regions of Pakistan, who kidnaps her two young daughters and makes a run for the road. That image stuck with me through the years. I found myself wondering what kind of life she would have while on the run, being hunted. She was trying to survive in a culture that didn't allow single women or single mothers to survive by themselves.
Photo of Afia Nathaniel.
I was intrigued by that. I come from a very matriarchal family in Pakistan, which is unusual. I grew up watching my great grandmother, my grandmother, my mother, all the women in my family make sacrifices to build a better life for their children. In our culture, these stories are never appreciated. They never see the light of day. There was something deeply personal about telling this woman's story, and for it not to be forgotten.
Zumski Finke: You have a daughter of your own.
Nathaniel: I do. She's eight.
Zumski Finke: Was your daughter with you in Pakistan when you shot this film?
Nathaniel: My husband was taking care of my daughter. I didn't see them for several months. We were in a remote part of Pakistan. Sometimes there was no cellphone reception or Internet access. That was tough—not being in communication with my little one and my husband.
Also, my husband is Indian. When my daughter went to India with my in-laws, I couldn't call her because I was in the disputed area between India and Pakistan. All phone calls are monitored. If you make a call to India, you get in trouble there. I couldn't call my daughter for the whole month she was in India.
Zumski Finke: What was it like to shoot the film in that area of Pakistan?
Nathaniel: I worked with some of my crew members for several years. My director of photography and production manager are longtime friends. When the time came for this film to be shot, my line producer, who I've known for a number of years, came on board and said, "We're going to make this film even if nobody understands it, and if no one gets it."
It's a difficult part of the country. It's a disputed area, has a massive security presence, and there was sectarian violence during that time. It was deep midwinter, and I was the only female crew member with 40 men on the road for two months. It was pretty challenging circumstances for a first-time crew to come together and make this happen.
Zumski Finke: Was there a supportive film industry, or was it basically just you and your crew?
Nathaniel: The industry in Pakistan is in a nascent stage. There are isolated people doing some stuff, but nothing is done together. There's no synergy. We were like the band of brothers that came together and said, "Let's go to this part of the country and film there."
Still from Dukhtar. Photo credit: Armughan Hassan
Zumski Finke: For a lot of your Western audience, this will be their first time seeing the Pakistan landscape. The area you feature is a really stunning part of the world. Did you intentionally highlight that beauty?
Nathaniel: Yes. That's why I wanted to film the landscape. It's beautiful and surreal. And there's something lonely about the landscape in the frame, in respect to these women on the run.
Zumski Finke: The international reception of the film has been overwhelmingly positive. How has that experience been for you?
Nathaniel: It has been overwhelming. Every audience is so different, but also so much the same. The film connects with people at a universal level. It's rewarding to see that the thing that was close to my heart was integral, it translates and transcends geography and language. It moves people.
Zumski Finke: Has the film been seen in Pakistan? What has been the response there?
Nathaniel: Yes. Last year, after we premiered at Toronto International Film Festival, it opened theatrically in Pakistan. We had the biggest Pakistani distributor. And the film did great. It played for four weeks straight, against major Hollywood and Bollywood movies, and against local films.
We saw the film attract a lot of different kinds of people, and a lot of different first-time audiences. A lot of women—older women, grandmothers, and mothers—brought their families to see it. Teachers took their students on high school trips. It was interesting to see all that happen, and see the interest from new kinds of audiences.
Zumski Finke: It's often difficult for women filmmakers to get their debut film made. Can you talk about being a woman from Pakistan, trying to get your first film made in the United States?
Nathaniel: The pitching and the quest for financing began in New York, which is the hub for a lot of films like these. To my great surprise, I found that even though the film appealed to a lot of people on paper, nobody wanted to invest in a film set in Pakistan. There was no precedent for it. Even though this was an American and Pakistani co-production, it was seen as too foreign. The other thing that I was completely unprepared for was that the film was a tough sell in the U.S. because it has two female protagonists.
Because the film has two female protagonists it became a really tough sell in the U.S.
After several years of trying in New York, I said, "I'm going to do this on my own." In the 10-year journey of making this film, we found people in Europe were more receptive to a film set in Pakistan.
We ended up winning a Norwegian film grant that supports producers from developing countries. That was the first big piece of the financing puzzle. And once that happened, it was easy to cobble other smaller deals together. We filmed in Pakistan, and worried about post-production after.
We raised the money in chunks. That's why the film took almost 10 years to make.
Zumski Finke: The film is being released at the same time as another Pakistani story, He Named Me Malala, about Malala Yousufzai. Has that had any effect on you or your film?
Nathaniel: It's funny, I had no clue there was a documentary being shot on Malala. We were prepping for this film long before that happened.
But I'm excited to see stories from our part of the world get attention outside of our country, and for audiences to see films from our part of the world. It's important to see that kind of diversity reflected in cinema. These stories of courage and hope are just as vital as any other films being made. They deserve to be shown and seen just as much as movies about superheroes or other escapist fantasies.
---
Dukhtar is now playing in several U.S. cities. Click here to find a screening in your area.