News Based on facts, either observed and verified directly by the reporter, or reported and verified from knowledgeable sources.
The Refugee-Led Coalition Creating Collective Care
Photo by Rucha Chitnis
Jama Ahmed Mohamed was 2 years old when his family fled the civil war in Mogadishu, Somalia, and escaped to a refugee camp in Kenya. This became his precarious home, where his family faced alienation and violence as displaced outsiders in the borderlands of two countries. "There's this feeling of never being settled. …We would build homes, which were set on fire, and move again," he says. "There is no childhood in a refugee camp. You grow up fast."
After seven difficult years in several refugee camps in Kenya, Mohamed's family received asylum from the U.S. and moved to San Diego in 1996. This offered a pathway for safety, while also revealing challenges to starting a new chapter in a Western culture. Mohamed learned quickly that being Black, Muslim, and a refugee was not going to be an easy transition in the Golden State. "We faced different obstacles—low-income housing and language barriers. You have your own identity, and there's also American culture. There were drugs, alcohol, and gangs," he says.
Today, Mohamed manages Dur Dur Market, a halal meat and produce store in City Heights, one of the most ethnically diverse neighborhoods in San Diego, which is home to many refugees. For Mohamed and many members of the refugee community, the global pandemic has revealed the intersecting inequalities they face, which have been exacerbated by COVID-19.
Many refugees and immigrants lost their jobs as gig and restaurant workers; meanwhile salon workers in California, largely women of color, had to navigate a 'roller-coaster of closings and reopenings.' Gender-based violence also spiked, and several refugee advocates observed that children grappled with the stress of lockdown and pressures of online learning.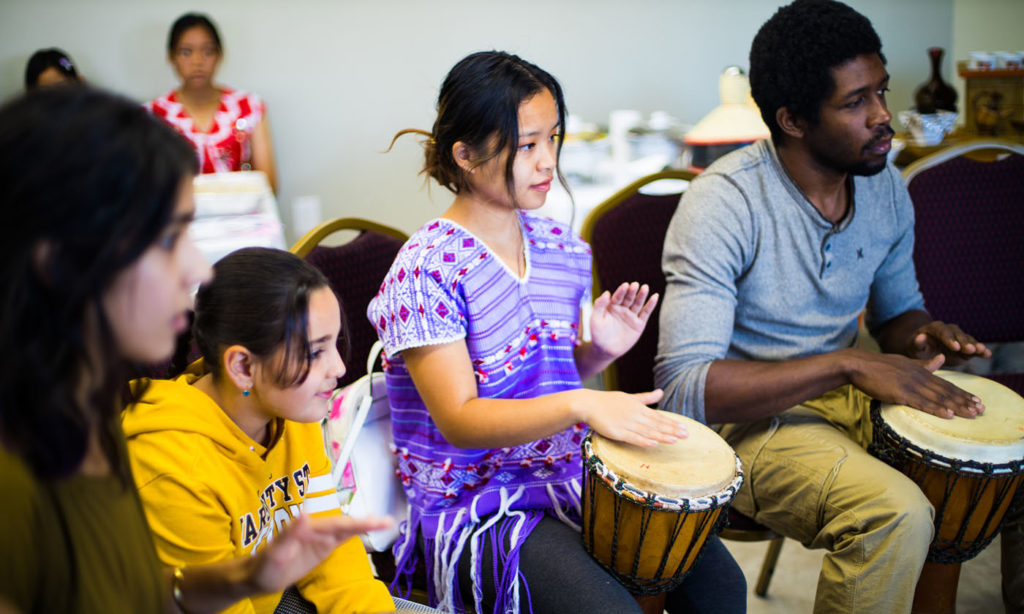 "Everything was on hold. The anxiety was very real. People wondered how they would pay rent," Mohamed says. The pandemic shut down halal meat factories in 2020, and beef prices skyrocketed. And isolation compounded the challenges. "Our community is very social, and asking people to socially distance was difficult," he says. Last year, community members expressed their sadness when they couldn't gather with their loved ones and friends in mosques and share meals during Ramadan. "The weariness was evident on people's faces," Mohamed says. Things worsened with the winter surge. "We lost many people in our community to COVID."
Dur Dur Market became an information hub for refugees who had questions on accessing COVID-19 benefits; Mohamed helped fill out complicated unemployment forms. Imams, too, began offering counseling services to congregation members navigating mental health crises and other breakdowns because of the ripple effects of the coronavirus on their personal and professional lives.
"Our community is over-researched by external experts, and our voices are underrepresented in decision-making," says Amina Sheik Mohamed, the founding director of the Refugee Health Unit at the Center for Community Health, University of California, San Diego. As a refugee herself, she is a respected leader in the Somali and East African refugee community. "We felt it was important for us to build our own shared power and vision for equity." That's why, in the face of this public health crisis, front-line refugee groups united to form the San Diego Refugee Communities Coalition.
They had a clear mandate: Refugees need to define their own problems, solutions, and outcomes for health and other disparities. The coalition members had already been serving thousands of vulnerable low-income refugee communities for years, and in COVID times, their work has scaled up.
"This crisis just didn't happen out of the blue. We already knew there were health and education gaps. We knew chronic health issues affected some communities disproportionately," Sheik Mohamed says. The San Diego Refugees Communities Coalition is working to change that. "Our communities have come together strongly. We recognize that we need systems that work for everybody."
Infectious Diseases Amplify Inequity
"As COVID-19 has rearranged our lives, it is striking how inequities are always amplified by infectious diseases," says Rebecca Fielding-Miller, an assistant professor at the University of California, San Diego, in the Division of Infectious Disease and Global Public Health. She has researched structural drivers for HIV and gender-based violence in the U.S. and sub-Saharan Africa, and says the health disparities in immigrant communities are clear: Brown and Black women bear the brunt of these inequities.
"In order to do public health well, we need to stay still and listen to communities that we are trying to serve," Fielding-Miller says.
When it came to COVID-19, refugee-led mutual aid became a lifeline for many.
Ahmad Mahmuod is a 20-year-old Somali American student activist at University of California, Berkeley. His parents also arrived in San Diego as refugees in 1996. When Mahmuod decided to go to school at Berkeley, his mother worried incessantly. Mahmuod has been a vocal advocate for the well-being and inclusion of Black and African students across the University of California system, and served as the president of the NAACP chapter on campus. "I am a visible young Black Muslim man," he says. "I was profiled by the campus police one night, and my mother found out about this when an article was posted."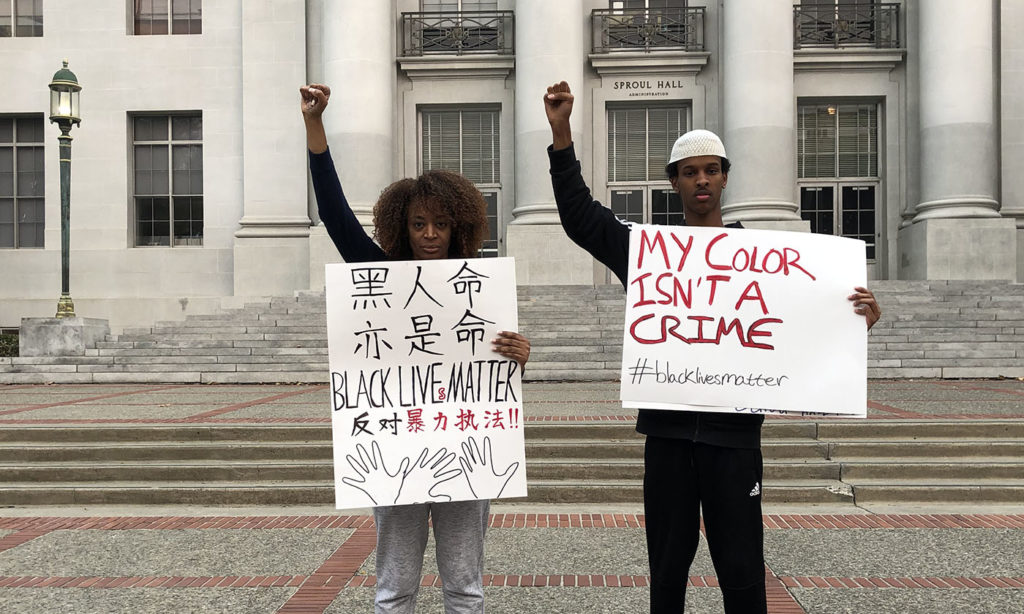 When Mahmuod returned home to San Diego during quarantine, he was shocked to see the enormity of the situation in his family and community. "I felt I had walked into a burning house," he says. "COVID-19 hit Brown and Black communities hard. When people are laid off, they don't have money for groceries, masks, or sanitizers," he says. "It is devastating for communities that don't speak English. My parents have limited English skills. When my brother's school switched to online learning, my mother didn't have the [technical] skills. Now I wake up and tutor my brother."
Mahmuod got to work volunteering with refugee groups like the United Women of East Africa, to support community members who were reeling with vulnerability during this uncertain time. Mahmuod is fluent in Somali and has been assisting his community members in filling in public assistance forms and answering questions related to rental relief, food stamps, and unemployment.
"I respect the level of care we have in our community," Mahmuod says. "White people will not save our communities. Our community needs to make decisions for ourselves. We have been left out of discussions and solutions for so long," he says. Young people, like Mahmuod, have become indispensable advocates for refugee communities, wearing multiple hats to help their loved ones and others navigate a complicated and alienating system to access care and relief.
But during the winter surge, Mahmuod got COVID. "In America, it's survival of the fittest. That's the burden organizers and activists have to pay—literally put our lives on the line," he says. "And yet, we are powerful when we organize ourselves and listen to our communities."
Cultural Competency Is Critical
Hiba Shakir can relate with Mahmuod's sentiments. As an Iraqi single mother whose husband died in an explosion from a car bomb during the U.S. invasion of Iraq, Shakir knows firsthand the isolating journey of rebuilding a life after enduring staggering trauma. Her journey to California, while riddled with challenges, is also a testament to the remarkable resiliency of refugee communities.
"I arrived here by myself. My oldest child was 3 years old, my youngest was 11 months." Upon arriving in California, Shakir went back to school and is now a behavioral therapist gearing up for a master's program to be a physician's assistant. Shakir has used her English language skills to support refugees from Iraq and the Middle East. "I can relate to their stories of trauma," she says. Shakir offers interpretation services to support refugee communities trying to access health care and other services during COVID-19. "It's not easy to lose a job when you have three or four children. It's a stressful atmosphere for the whole family, and I am seeing women struggle a lot in our community."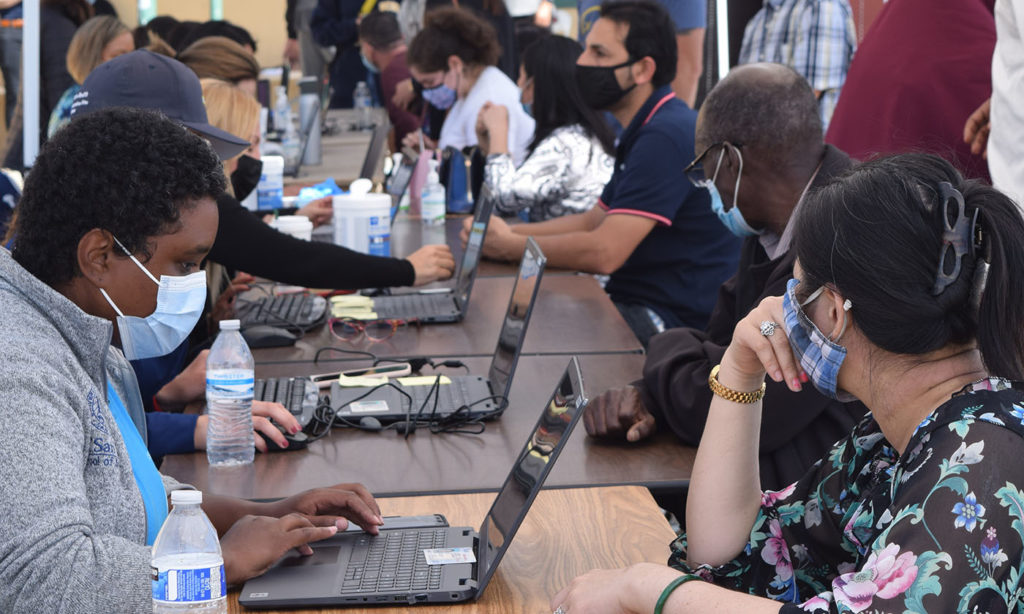 As the pandemic also amplifies mental health crises, Shakir has been encouraging community members to get help in safe and culturally competent spaces. She has been nudging people to tune in to informational webinars on COVID-19 and prevention protocols, as well as helping with language interpretation.
For many refugees in California, language barriers accentuate the challenges to access equitable health information. "We have been doing a lot of phone banking to inform communities about COVID-19," says Nao Kabashima, executive director of Karen Organization of San Diego, a cultural and community space for Burmese refugees. COVID-19 galvanized refugee communities to support mutual aid activities for elders and other vulnerable families who need an extra helping hand. "Our youth have been making calls to elders who are feeling isolated and depressed," Kabashima says. Karen youth also organized video contests with prizes to model COVID-19 safety protocols and behavior.
Against the backdrop of a swell of protests against police brutality, Kabashima also remarked that some Karen people felt re-traumatized after seeing the horrific images of the murder last year of George Floyd. They were reminded of their own painful history escaping the horrors of militarism and police violence in Burma. In these moments, community connections and care are more important than ever.
Outreach Supports Community Health
In September 2020, the San Diego Refugee Communities Coalition released its COVID-19 community impact report, including a survey of 304 families representing 1,400 refugees in San Diego, from 18 countries of origin with Somalia, Afghanistan, and Burma most represented. According to their findings, 42% of families have at least one family member who has lost a job because of the pandemic; 60% of families have been unable to pay their rent in full; and 85% of respondents with K-12 aged children don't have adequate support for distance learning because of technology or language barriers.
The coalition has moved mountains in a few months: They have mobilized more than $3 million in resources and have received more than 8,000 units of non-medical-grade personal protective equipment, which has been distributed to 11 ethnic community-based organizations that serve vulnerable refugee and immigrant communities from East Africa, the Middle East, Haiti, and South Asia.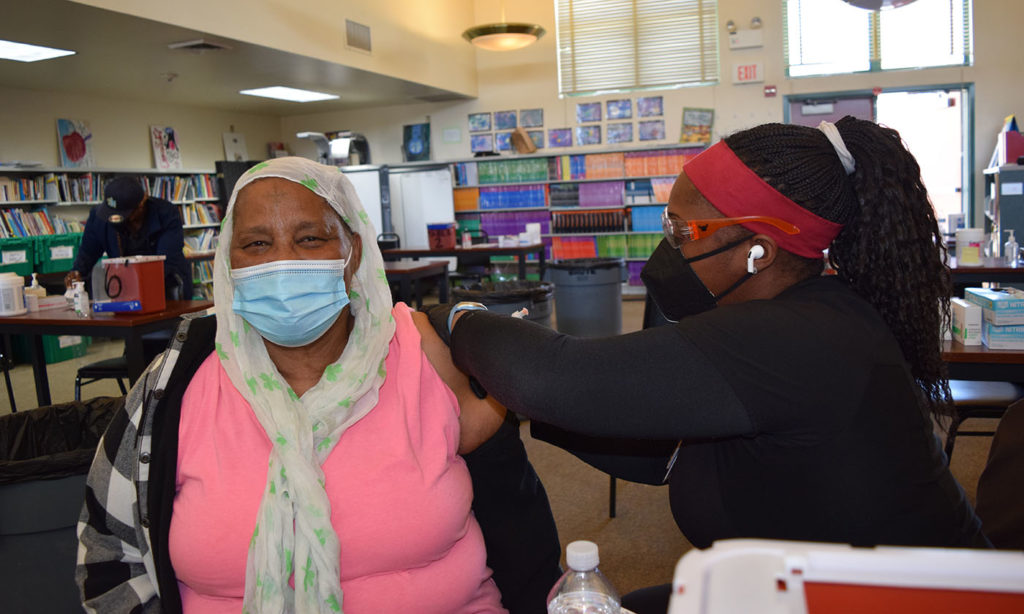 As the COVID-19 winter surge hit in 2020, the coalition began to see beloved community members die. The coalition pivoted quickly to launch a community health workers program; these health workers speak 21 dialects and are trusted by refugee communities. Given the long history of medical racism in the U.S., community health workers played an important role in assuaging concerns and debunking some of the unfounded fears.
"People started opening up and sharing their fears with community health workers. Some expressed skepticism of the vaccine," says Reem Zubaidi, health policy and communications coordinator for the Refugee Health Unit at UC San Diego. The community health workers shared county public health updates and created informational materials to share with community members. "At the end of the day, we want them to have agency over their health," Zubaidi says.
Zubaidi believes that the community health workers program has been effective, and that the relationship-building is helping to shift attitudes and, more importantly, build trust. In the spring, the coalition partnered with the University of California San Diego to organize two vaccination drives specifically targeting refugee communities. They vaccinated more than 1,500 people in a single day.
Cultural competency and safety is at the core of their outreach activities, including supporting women who are dealing with the trauma and stigma of mental health. "It's important that we don't re-traumatize communities by asking invasive questions," Sheik Mohamed says. "We have to respond in a way that makes them feel connected."
The coalition's efforts are now being recognized: They recently were awarded a contract with California Mental Health Services Authority to provide crisis counseling services to community members. The coalition has hired 20 "Community Support Navigators" from the refugee community who have completed the FEMA Crisis Counseling Program training and collectively speak 17 languages. So far, they have served more than 200 community members.
Through it all, the leadership of refugee women and youth is front and center. "We can learn a lot from the lived experiences of refugees," Sheik Mohamed says. "Our voices need to be heard in these solutions proposed for public health. We just don't have the luxury anymore of putting Band-Aids on these issues anymore."
Correction: This story was updated at 5:04 p.m. on May 6 to clarify that the vaccine drive was organized in partnership with the University of California San Diego, not UC Davis . Read our editorial corrections policy here.