The Interest-Free Lending Circles That Help Friends and Families Do DIY Loans
The Interest-Free Lending Circles That Help Friends and Families Do DIY Loans
Who needs banks when you have communities? And organizations like Mission Asset Fund have even figured out how to use the system to raise credit scores.
Why you can trust us
---
A few years ago, Maral Kharadjian decided to join the women in her family—including her mother, sister, sister-in-law, aunts, and cousins—at their monthly get-togethers at her aunt's Los Angeles home. She was looking for a way to stay connected with the women in her extended family, despite her busy schedule. Each month the 10 women get together, cook food, and exchange stories. And one ends up with $1,000.
Each woman puts $100 into a pot every month, and at the end of the night the host keeps the money. Most recently they met at Kharadjian's house, so she got to keep the $1,000. She plans to use that money to pay a credit card bill. Next month someone else will host the party and keep the cash.
"I knew about these meetings since I was a child in Syria, where I was born and lived until I was 16," Kharadjian said. "Shirket, as we call it, was very popular among Armenian women. I would join my mom sometimes at these gatherings. They made amazing food, and they all dressed up."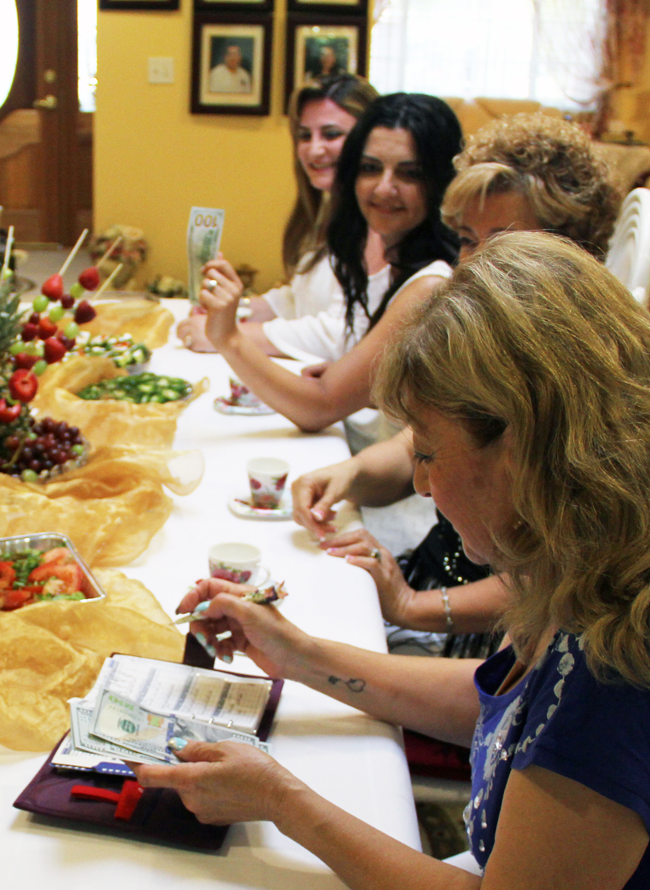 This type of system is called a tanda in Latin American cultures. It is seen throughout the world with many different names, but the principle remains the same: A group of people—usually relatives, neighbors, or close friends—gets together and agrees to contribute a certain amount of money over a certain period of time.
These systems are great for people who either don't have a bank account or can't qualify for conventional loans. The beauty of this system is that it provides interest-free community loans or a group savings tool, depending on where you fall in the cycle.
But why pool your money into a group fund when you can save it privately instead? "Sometimes you have money you don't need right away," explained Bill Maurer, the director of the Institute for Money, Technology, and Financial Inclusion at the University of California, Irvine. "Other times, you need a lot of money all at once—for a hospital bill, a car repair, or a funeral, for example. Tandas help provide money to those in the group who need it when they need it."
They're based on trust, said Lourdes Gutierrez Najera, an assistant professor of anthropology at Drake University in Des Moines, Iowa. "It is a form of helping each other out, but one that implies much closer relations than a loan seems to imply."
Many people use them primarily to save, like Gutierrez Najera's aunt, who lives in Mexico City. "[She] told me she was able to save up for a new refrigerator this way," Gutierrez Najera said. "While she waited her turn, the money she put into the tanda was 'safe' from spending."
Tandas are usually small and informal, but the model is being scaled up. Mission Asset Fund (MAF), a San Francisco-based nonprofit, helps connect clients interested in this type of system, which they call "lending circles." In the eight years since the program started, it has facilitated almost 4,000 zero-interest tanda-style loans.
The lending circles were inspired by the long and rich history of tandas in Latin American communities around the Bay Area. "It really started from this idea that low-income communities are savvy," explained Tara Robinson, MAF's chief development officer. "When people don't have access to bank accounts, credit cards, or bank loans, they turn to each other."
MAF has partnered with credit bureaus to report the community lending so it can count toward their clients' credit scores. "We tweaked the model people were familiar and comfortable with and transformed it so the financial marketplace could recognize the activity," said Robinson. By helping build new credit scores or repair existing ones, the lending circles have helped many clients enter the "financial mainstream," she said. And they have also helped launch new businesses. 
Luis Estrada entered his first lending circle after his wife, Zenaida, used MAF to build her personal credit score. Both of them worked long days—he as a chef, she as a nanny—and they wanted to start their own business. For Luis and Zenaida, a family business meant they could set their own schedule and spend more time with their son. So they decided to open their own Salvadoran cuisine catering company, D'Maize Catering.
"In the beginning we wanted to pay everything in full—in cash," explained Estrada. "Mission Asset Fund taught us about credit scores and how to build them." When it was his turn to take home the money, he bought a more reliable car for the business. The new car helped them deliver food to additional customers in a timely manner. Soon business began to pick up. Today, D'Maize Catering has 12 employees, and the couple finally has the flexible schedule they wanted. They still participate in lending circles and say the gatherings are a great way to meet other small-business owners in their community.
Back in Los Angeles, Kharadjian now belongs to three shirkets, one of which is made up of 22 people who pay $200 a month. When it comes time for Kharadjian to take home the cash, she'll walk away with $4,400.
Even with all the financial benefits, Kharadjian said her favorite thing about participating in shirkets is still the monthly gatherings. "I'm so glad I did it," she said. "It provides us a chance to step away from our daily routine and enjoy each other's company for a couple hours."