The Human Cost of Stuff:
In Depth
What 11-Year-Olds Get—and Adults Forget—About Child Labor in Chocolate
What 11-Year-Olds Get—and Adults Forget—About Child Labor in Chocolate
Marie Hogan confronted Hershey's about using children in its supply chain because she cares about other kids, fairness—and candy. Here's what we can learn from her.
Why you can trust us
---
Marie Hogan spoke to a crowd outside the Hershey's store in Manhattan about the children who harvest cocoa for Hershey's chocolate. "Hershey is forgetting," she announced, "that every time they create memories of 'Hershey's happiness' for one kid, they're creating memories of Hershey's misery for kids in Africa."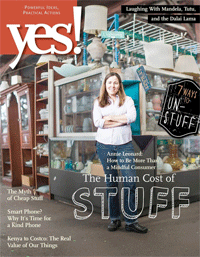 Click here to subscribe to YES!
Marie was only 11 years old when she spoke at the "Raise the bar, Hershey!" rally in 2010. She'd seen videos of children in Ivory Coast and Ghana lugging around heavy sacks of cocoa beans and wielding machetes to open cocoa pods. She heard that these malnourished children in forced labor are often whipped or beaten. And she knew that wasn't right.
So Marie started a Fair Trade group at her middle school in San Francisco. She began telling everyone she could about the chocolate farmers who don't earn a living wage, and the children kidnapped to work on plantations. She went guerilla labeling with Global Exchange, taping labels on supermarket chocolate about the realities of most cocoa harvesting. She did outreach at festivals, farmers markets, and film screenings. Speaking up was scary at first, but Marie had an impact. She says that now it's almost annoying how many kids at her school brag about buying Fair Trade chocolate.
Using their power as consumers is just one thing kids have done about exploitation in the cocoa industry. They've gone "Reverse Trick-or-Treating" at Halloween to promote Fair Trade and distribute chocolate samples. Students at Penncrest High School in Pennsylvania organized to become the first Fair Trade public high school in the country. Girl Scouts are pushing to make the chocolate in their cookies Fair Trade.
Children and teenagers, with the innate sense of fairness many adults have given up on, seem to be having an impact. Hershey announced in October 2012 that it will transition by 2020 to 100 percent certified cocoa sources that address labor and environmental issues.
Marie believes Fair Trade certification should be more comprehensive, but she welcomed Hershey's announcement. "It's empowering," she said, "but it means I have more work to do."
---
Katrina Rabeler

is an environmental specialist at Ecology and Environment, Inc. and a former editorial assistant for YES!
---