The Human Cost of Stuff:
In Depth
Move Over Duct Tape—Why a Mason Jar Is the One Thing You Need
Move Over Duct Tape—Why a Mason Jar Is the One Thing You Need
The best measure of the value of a thing may be this: "How many ways can I use this? How many other things will I not have to buy?"
---
Want to reduce the amount of stuff you have? Any minimalist can tell you how: multitaskers. These are household items and tools that can, with a little imagination, take the place of an entire closetful of unitaskers—the Magic Bullet blenders, popcorn poppers, and other one-trick doo-dads. It's a solid way to measure the value of a thing: "How many ways can I use this? How many other things will I not have to buy?" Duct tape and clothespins are classic multitaskers. But the mightiest multitasker may well be the Mason jar.
12 Things, One Jar
1. Baking ramekin Bake single-serving pot pies, casseroles, and blueberry crumbles in it. 2. Ice pack Freeze ice in it for injuries or portable coolers. Leave at least an inch of space at the top for expansion.
Three Facts 1. Ball traditionally sold jars east of the Mississippi River, and Kerr west of it.
2. Even though Ball and Kerr act like competitors, they're actually both part of the same corporation, Jarden. 3. The DIY movement and recession reignited sales in the 125-year-old Ball line. Last year's sales were up 20% and were the highest in history. 3. Measuring cup Ball jars come with cups, ounces, and milliliters molded into the jar. No need to keep dry and liquid measurers. 4. Drinking glass Perfectly matched, inexpensive, and easy to replace. Put a cloth cozy on it and it becomes a commuter cup for hot coffee. 5. Shelf-space saver Glue the outer rings to the underside of a shelf, and you have organized storage for buttons and bobbins, screws and nails. Anything. 6. Leakproof to-go container Pack a salad in a quart jar: dressing first, heavier things next, lettuce at the top. Shake it at lunch time. 7. Mini-greenhouse Empty jars that held last year's harvest can give you a head start on this year's. Invert them over seeds or seedlings as individual cloches. 8. Vacuum-sealed storage Pour your warm homemade yogurt into small jars. As they cool in the refrigerator, the air inside contracts, forming a vacuum seal that extends storage life.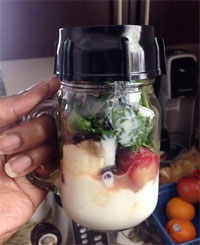 9. Miniprep blender The threads on mason jars fit directly onto most standard blender bases. 10. Bulk food container Take it to the store to fill with bulk foods. Tip: half-gallon jars have a tare weight of 1.69. 11. Soap dispenser, light fixture, alfalfa sprouter, sauerkraut fermenter, oil lamp. All depends on what you do to the inner lids. The tempered glass means they handle heat from a lightbulb just fine. 12. And, oh, yeah. You can use it for canning.
5 More Reasons to Love a Mason Jar
1. They're homegrown. Ball and Kerr jars are still made in the United States. 2. Companies like Classico and Anna's Honey sell their products in Mason jars to cut down on waste by giving us an easily reusable jar. 3. No plastic chemical worries. They are microwave friendly—and naturally stainproof. 4. The standardized jar design allows companies to manufacture special lids so your Mason jars do even more. A Portland company designed a French press coffee maker that uses a quart jar. Another company makes a child's sippy cup top for half-pint hands. 5. You can write on the glass and lid with a Sharpie pen. Wipes off for next time.