The Just Transition Issue:
Solutions We Love
Fed Up With How Women Are Portrayed in Media, These Girls Started Their Own Radio Station
Fed Up With How Women Are Portrayed in Media, These Girls Started Their Own Radio Station
A Boston radio station trains teens, helps them find their voice, and gives them a chance to be heard.
Why you can trust us
---
Fed up with the way women and girls were portrayed in music on the radio, a group of teenage girls on a Boston soccer team brought an idea to their coach. They wanted to start their own radio station that portrayed women positively and respectfully, they said. Through the help of their coach, in 2003 the girls presented their idea to then-Mayor Thomas Menino, who supported it. Later that year, GRLZradio went on the air.
Today, GRLZradio produces a girls-run radio show with programming that includes music and discussions. The Boston-based program is one of eight run by St. Mary's Center for Women and Children. Annually, more than 100 girls—primarily girls of color—between ages 12 and 19 complete the nonprofit's multi-month training in radio hosting, engineering, producing, and blogging. It's more than just a job-training program, though. By giving them control over the airwaves—and supporting them when they're off the air—GRLZradio is helping to uplift teen girls.
"It's important to show them that they have a voice and that they can say what's on their mind," said GRLZradio broadcast manager Danielle Johnson. She added that the girls who participate in the program are "submerged in a culture" that sexually objectifies them in music and television.
A 2007 American Psychological Association report shows that low self-esteem and depressive symptoms are linked to the sexualization of women and girls in the media. At the same time, men "dominate media across all platforms—television, newspapers, online, and wires—with change coming only incrementally," according to the Women's Media Center report "The Status of Women in the U.S. Media 2017." The report reveals that women of color have the greatest lack of representation. But GRLZradio is helping shift this narrative by giving teen girls the tools to broadcast their own voices.
Girls like Taja Boone. When Boone became a DJ at GRLZradio in 2013, her life was spinning out of control.
According to Boone, a volatile situation at home crept into every corner of her life. When she was 16, her habit of staying out late to hang out with friends led her to repeat the 10th grade. Eventually, she decided to drop out of school.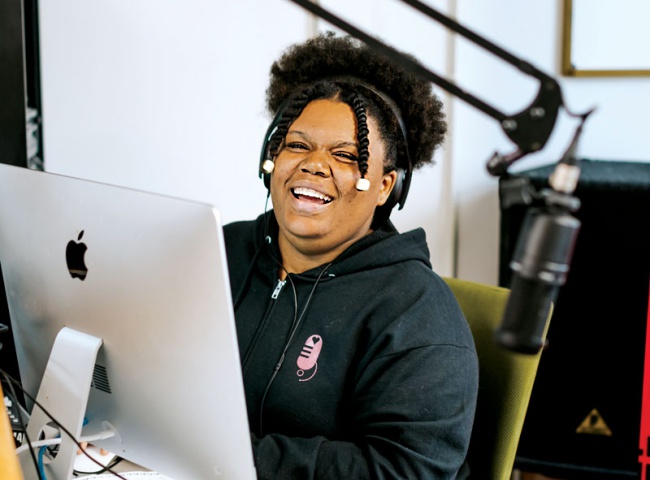 The Boston-based group invites inner-city girls of color to produce their own live radio programming using professional tools and resources. Graduates of the program such as Taja Boone above often return to mentor new cohorts. Photo by Lena Mirisola. 
GRLZradio provided support in the midst of instability.
Boone's experience is shared by many girls in the program. Teens at GRLZradio often don't have a consistent parental figure in their life, said program and communications coordinator Tekeisha Meade. A 2015 Boston Public Health Commission report shows that in the predominantly African American neighborhood of North Dorchester, where Boone is from, more children disproportionately live in single-parent families than anywhere else in the city. And in 2011, the highest rates of violent crime and homicide in the city occurred in Dorchester, Roxbury, and Mattapan—neighborhoods where GRLZradio participants live.
"A lot of these girls come from very broken homes," Johnson said. "They're looking for an outlet to be safe, come hang out, and let their voices be heard on the radio," she added.
At the studio, Boone had meals provided and she connected with other girls and staff. Suddenly, she wasn't alone. Off the air, she and her peers would sit around in a group to talk about problems they faced, like homelessness or witnessing violence in their neighborhoods. In these circles, they would cry and laugh together.
On the air, Boone has hosted her own radio program on the topics that matter to her—everything from phobias to community news.
With the help of two staff members, girls run their own live shows, which air on the GRLZradio website and their TuneIn radio app 5–7 p.m., Monday–Thursday. Recent graduates from the program can go on as youth supervisors to mentor the teens and host their own shows independently. By running their own radio programs, girls learn marketable skills and find a safe space to talk about racism, violence, misogyny, social justice, or the latest summer trends.
Girls report a higher level of confidence and self-worth after they complete the program.
Aside from learning broadcast skills, participants take girl empowerment workshops on topics including career development and reproductive healthcare from staff members and experts in the community. Meade said girls report a higher level of confidence and self-worth after they complete the program and are about 30 percent more likely to graduate high school than other students in the city.
"There's a whole girl behind that microphone with issues that need to be addressed," said Saun Green, the director of programs at GRLZradio. "And sometimes we're the only source of help with those issues."
The girls have hosted shows ranging from discussions about Black Lives Matter to the best ways to treat dry hair. For the Black Lives Matter episode, Boone interviewed a Black activist and student from Boston University. The two talked about the disparity in arrests of African Americans compared to Whites and the times when they believed the police had unfairly targeted them because of their race.
"[It's] a place where girls are heard and respected," Boone, now 21 years old, said, repeating the program's motto.
La'Porsha Hickson, 18, was also having difficulty performing well in school and articulating her feelings before she joined GRLZradio. Because of her mom's demanding work schedule, Hickson had to attend her siblings' parent-teacher conferences and cook dinner. The extra responsibilities took away from study time, and the C's and D's on her report card in her junior year of high school reflected it.
I started to love my skin color at GRLZradio.
She also lacked confidence, she said, because classmates ridiculed her about her dark skin color when she was younger. During an off-air discussion in which she revealed her insecurity, her GRLZradio peers assured her that her entire being was lovable. "I started to love my skin color at GRLZradio," Hickson said, adding that her improved self-esteem allowed her to get A's and B's in her final year of high school.
Three years after starting out as an entry-level DJ, Boone now mentors other girls in the program as a youth supervisor and recently completed her high school equivalency examinations. She plans to enter community college in the fall to study communications.
This summer, Boone hosted her own radio show for GRLZradio on Tuesday mornings called "T on Tuesdays," in which she talked about pop culture, the media, and summer activities. More than anything, Boone says, GRLZradio has taught her the importance of "taking a moment and breathing. And just exhaling out the negativity."
This article was sponsored in part by a grant from the Surdna Foundation.
---
Melissa Hellmann

reports on artificial intelligence at The Seattle Times and is a former Surdna reporting fellow for YES!.
---