The Sanctuary Issue:
In Depth
This Is Our Best Defense Against Trump's Immigration Policies
This Is Our Best Defense Against Trump's Immigration Policies
Even with limited control over ICE agents, sanctuary is a public statement with a powerful political impact.
Why you can trust us
---
Under the Trump administration's new executive orders, these are the scenes repeated in many cities: Immigration agents swoop in and take away a domestic abuse victim leaving a court building. They roust a recipient of Deferred Action for Childhood Arrivals status from his bed. They arrest people showing up at immigration offices for routine appointments. In this atmosphere of anger, fear, and confusion, local governments, as well as churches, schools, and hospitals, are declaring themselves "sanctuaries" for undocumented immigrants.
But what does that really mean?
States, cities, school districts, and universities are all defying federal orders with sanctuary declarations. And in response to threats from the Trump administration, Seattle is now one of at least six local governments to sue the federal government, alleging state's rights violations among other constitutional issues. These sanctuary policies are varied, as each local government defines its own sanctuary work. And there's another kind of sanctuary too, declared by a church, synagogue, or mosque.
The bottom line is that no local policy can actually prevent Immigration and Customs Enforcement agents from conducting raids, making arrests, or deporting undocumented immigrants. But the sanctuary movement is not without power. Importantly, it serves as a public statement, and this public commitment has powerful political and moral impact.
Jeanette Vizguerra has lived in the United States for about 20 years and has lived with a deportation order hanging over her head for years. She was required to check in with ICE each year to ask for a stay of deportation. But this year, instead of going to ICE for her check-in, Vizguerra asked for sanctuary in the First Unitarian church in Denver.
First Unitarian is among the growing number of religious congregations pledging sanctuary, a number that more than doubled in the months immediately following the 2016 presidential election. Many more have pledged material support and volunteer help to the 800-plus congregations offering physical shelter. Along with Christian and Jewish congregations, a Cincinnati mosque became the first mosque to declare itself a sanctuary in January.
The sanctuary movement is not without power.
When a religious congregation offers sanctuary, it often provides a place to live and a hope of protection from arrest. So far, that works. But the law does allow police or ICE officials to go into a place of worship (or a school or a hospital) and arrest undocumented immigrants. Though it would be legal, it wouldn't look pretty.
Under the Obama administration, ICE was directed not to enter "sensitive locations." While it's tough to tell rumors and leaks from memos and orders, Department of Homeland Security Secretary John Kelly is clearly playing by the new president's tough-guy rulebook on immigration. According to leaked memos, Kelly plans to rescind all Obama-era guidelines, including the one on sensitive locations. Would ICE officials actually invade churches, schools, and hospitals to drag people out and deport them? We don't know yet.
Refusing to cooperate with ICE
When cities declare sanctuary status, they're mostly invoking a separation ordinance. Despite heated rhetoric, sanctuary ordinances can only affect the way in which city employees—from police to librarians—carry out their jobs.
A city separation ordinance directs city employees, including police, not to inquire about the immigration status of anyone who has not been convicted of a crime. St. Paul, Minnesota, passed a separation ordinance in 2004, and after the election of Trump, St. Paul Mayor Chris Coleman issued a strong statement explaining the city's stance:
"The City of Saint Paul wants all its residents to feel comfortable seeking out City services—including law enforcement—when they are in need. We want everyone to call the police when they are the victim of or witness to a crime without fear they will be asked about their immigration status. We want everyone to call the paramedics in a medical emergency, enroll their children in after-school programs or use our library services. Our staff—including our police officers—will not ask for proof of immigration status. Period."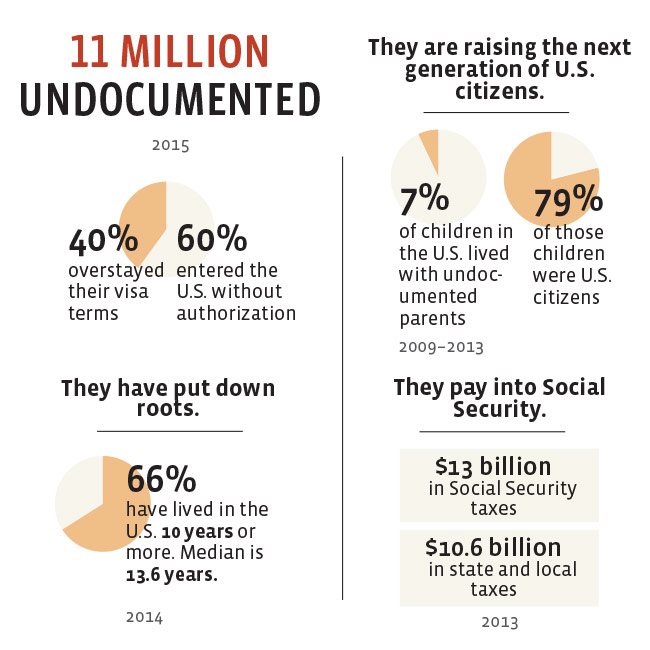 Hennepin County Sheriff Rich Stanek is one of about 60 high-ranking law enforcement officials who sent a letter to U.S. senators explaining that this practice makes law enforcement work better. But, Stanek told a local newspaper, "there is no sanctuary once you go to jail." Going to jail means fingerprints, which go to the FBI and into a database that ICE regularly checks.
A city's non-collaboration also might include refusing to hold people on ICE detainers, an instruction from ICE to hold a prisoner past a legal release date until ICE decides whether to pick them up for deportation proceedings. Several courts have held that these detainers are unconstitutional, but ICE continues to use them. As a practical matter, even in jurisdictions that refuse to hold people on ICE detainers, ICE agents can still wait at the door of the jail when someone is released.
States jump in on both sides
Each jurisdiction's laws come at sanctuary in different ways. Oregon has a strong statewide separation law, which dates back to 1987. In California, Gov. Jerry Brown and the Legislature have wrangled over ways to strengthen the state's "Trust Act," a law passed four years ago that limits police collaboration with ICE.
Washington Gov. Jay Inslee has given a broad set of protections to the undocumented immigrants living in his state. His February executive order says state agencies may not discriminate against immigrants or deny public benefits, "except as required by international, federal, or state law." In addition, the order forbids inquiries into immigration status, registering people on the basis of religious affiliation, and "targeting or apprehending" people for violation of federal civil immigration laws.
Several other states are considering similar laws. In Massachusetts and Maryland, Democratic legislatures have expressed support for sanctuary laws—however, Republican governors in both states are likely to veto.
On the other side, there are conservative states supporting the Trump crackdown by going after their rogue cities. Texas Gov. Greg Abbott canceled $15 million in state funding for law enforcement in Travis County for refusal to honor ICE detainers and asked the Legislature to give him authority to fire elected officials in sanctuary jurisdictions.
In Colorado, the political complexity of the issue is apparent. There, the Legislature is considering both a bill declaring sanctuary status and a bill that would punish public officials in sanctuary jurisdictions, creating a felony offense of "rendering assistance to an illegal alien." With a divided legislature, neither proposal is likely to pass.
Welcome and solidarity
Regardless of city sanctuary policies, communities are finding creative ways to offer support to undocumented immigrants.
Chicago Public Schools, for example, will not allow immigration authorities to enter a school unless they have a warrant. Other districts offer training for teachers and support groups for immigrant students, and distribute cards telling students (and their parents) what their rights are if ICE agents knock on their doors.
Concrete financial and physical support can come in the form of funding for legal assistance for immigrants facing deportation or offering social services. Immigration and asylum status is considered by the courts to be a civil matter, so attorneys are usually not provided. But, in 2013, New York City began funding public defenders for immigrants in deportation proceedings, and now New York state plans to expand the program to cover immigration courts in the rest of the state. The state of California is considering a similar plan, and Los Angeles and San Francisco also have programs or plans to fund legal representation.
The good that sanctuary can do
While no kind of sanctuary policy can stop an ICE raid, sanctuary declarations can have a powerful impact—perhaps most importantly in strengthening the moral and political muscle of resistance.
By naming their houses of worship as sanctuaries, individuals are making a defiant stand. Even those whose congregations cannot offer actual shelter can still contribute time, money, and solidarity.
The sanctuary movement offers a route to converting hearts and minds. When a church, synagogue, or mosque offers sanctuary, each member of the congregation is introduced to an immigrant and their story. Immigration policy then changes from a distant political debate to an intensely personal question.
Coming together around sanctuary strengthens the identity of a community. The political process of declaring sanctuary in a city, county, or state includes building alliances, public hearings, and public commitments by individuals, civic groups, and political figures. As the community makes a commitment, they stand in opposition to the broken immigration system and national anti-immigrant rhetoric and policies. Participation in the process strengthens the muscle of resistance.
Here we stand, together, a sanctuary decision declares. We stand with immigrants. We stand with the oppressed.