If It Hadn't Been for Those Meddling Climate Kids …
Why you can trust us
---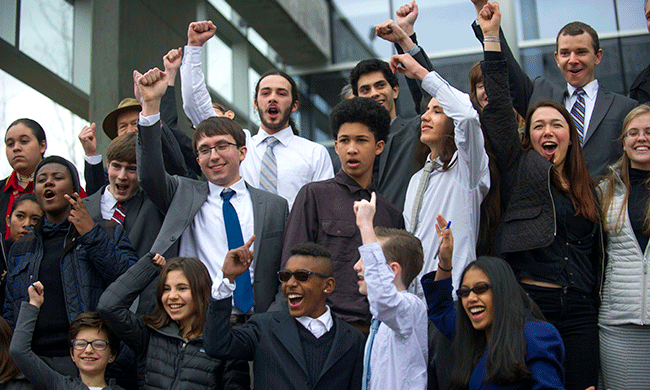 Update March 8, 2018: A three-judge panel of the U.S. 9th Circuit Court of Appeals on March 7 unanimously rejected the Trump administration's request to dismiss a climate lawsuit filed by 21 youths ages 10 to 21, along with well-known climate scientist James Hanson. The lawsuit seeks a court order that requires the government to drastically and quickly reduce carbon dioxide emissions. The suit will now head to trial.
---
In 1962, Diane Arbus took a photo of a lanky young boy in Central Park holding a hand grenade. He stands before the camera, a deranged look on his face, his free hand contorted into a menacing claw. It's an iconic image that captured the generational tension around the Vietnam War and, according to songwriter of that time Graham Nash, one that questions the lessons we teach our children.
Nash has referenced that photograph when recalling his song "Teach Your Children." In it, he acknowledges that beneath the fears instilled by aging, beneath the photographed child's lunatic visage, there is blissful idealism with hope still intact. That's why, with a sudden turn of phrase in his second chorus, Nash sings that those of tender years must teach their parents well.
A half-century later, there is a new movement of young people seeking to inform the world. A group of high-minded activists concerned with their environmental inheritance argues that current operating procedures threaten coming generations' access to clean air, water, and a stable climate. State by state they're suing to force governments to protect their birthright.
Suing because asking hasn't worked.
In Washington state, a group of 12- to 16-year-olds supported by environmental nonprofit Our Children's Trust has repeatedly asked the Department of Ecology to more strictly regulate carbon emissions. But the state has repeatedly refused, saying it lacks the authority and buying more time. Washington's latest rendition of the Clean Air Rule—proposed legislation that would limit carbon pollution—fails to go far enough.
The kids are asking for something that, surprisingly, does not exist: a rule that caps emissions and requires reductions based on the best available science. The Department of Ecology, which is charged by statute and state and federal constitutions to manage and protect the environment, has not challenged the validity of the science the kids have presented in court—numbers on graphs and charts based on recent research, all thoroughly cross-checked by some of the nation's leading climate scientists.
The state's current plan is based on outdated science.
Yet the state's current plan is based on outdated science. It calls for a reduction of statewide greenhouse gas emissions to 1990 levels by 2020. This would require an annual reduction in emissions of 1.7 percent. Today's experts say we'll need to slash our emissions by about four times more than that. In addition, the state's plan includes allowances for some businesses to drag their feet meeting the goals and credits given for out-of-state and past sustainable investments. There's even a dubious mechanism that allows some carbon credits to be counted twice.
The state has not only denied pleas for a rule that would require quicker action but challenged recent court direction to do so. Finding that the state had a "constitutional obligation to protect the public's interest in natural resources held in trust for the common benefit of the people," the King County Superior Court ordered the department to create such a rule by the end of 2016.
But Gov. Jay Inslee's administration appealed the order. Although he's considered a "climate hero," said Andrea Rodgers, an attorney with the Western Environmental Law Center who represents the kids in court, "he missed a tremendous opportunity."
It is an election year, after all. Facing tight races in November, state Democrats may be wary that strong climate action will appear anti-business. And so, two quintessential American ideals have again butted heads: private enterprise versus the public good.
Ultimately, that's what this case is about—the public trust.
It's logical that we apply the public trust to climate.
The public trust doctrine is a legal concept in which governments protect resources—including air, water, and land—for the benefit of citizens as a whole. It's an ancient idea with roots in indigenous cultures and Roman law's res communes, addressing things owned by no one and available to all.
It's also the backbone of modern environmental law. Embedded in statutes back in 1892 when the U.S. Supreme Court found that the public, not a private railroad company, owned the submerged tidelands along Lake Michigan, this idea of public trust has since been invoked over water, oil, beaches, fish stocks, shellfish beds, and so on.
As understanding of ecological interconnectivity grows, it's logical that we apply the public trust to climate. And that's the basis of the climate kids' lawsuit.
When I first learned of the climate kids, I was skeptical. Probably put up to it by their fleece-wearing parents, I thought. Indeed, the group in Washington is part of a broader, international effort backed by the grown-ups at Our Children's Trust and attorneys like Rodgers. But another case OCT is pursuing, from Oregon, has risen to a federal court and presents perhaps the brightest chance yet of forcing national emissions regulation worthy of the task at hand.
That's serious movement, and not to be taken lightly. So, what can we learn from them?
"The kids believe they can solve this crisis," Rodgers told me. "They are not jaded by years of political failure."
That youthful idealism, in this case, may be what our situation requires. After all, as Nash sings, it will be their hell that slowly goes by.
---
Stephen Miller

is a Ted Scripps Fellow in Environmental Journalism at the University of Colorado and a former senior editor of YES!
---