After Police Shooting of Teenager, A Brooklyn Neighborhood Dreams of Justice
On March 9, two NYPD officers in plain clothes shot and killed 16-year-old Kimani Gray. At the marches and nightly vigils held in his memory, people are demanding a different kind of police department.
Why you can trust us
---
A few things are certain about Kimani Gray's death on the night of March 9: We know that around 11:30 p.m., a group of teenagers gathered on a residential street in the Brooklyn neighborhood of East Flatbush after leaving a birthday party. We know it was a cold, clear night on the cusp of spring, and that Kimani, or "Kiki," was the son of Caribbean immigrant parents, with a round face that made him look younger than his 16 years. We know that two undercover officers fired 11 bullets, seven of which pierced his body. We know that, when the ambulance pulled into the hospital, he was already dead.
The rest is in dispute. Kimani may have pulled out a gun—or he may have been hitching up his baggy jeans. The officers may have showed their badges and may have given him fair warning. His last words may have been, "Please don't let me die."
Kimani's shooting coincides with increasing criticism of the NYPD's controversial "stop and frisk" policy, which allows officers to search anyone at any time.
Police sources have reportedly cited Kimani's four prior arrests as a justification for the shooting. Meanwhile, more information on the two officers in question has come to light: they have a history of rights abuses, with five lawsuits against them that have already cost the NYPD upwards of $200,000. Still, Mayor Bloomberg supports their actions , and John Cerar, the former NYPD commander for firearms training, told The New York Times that it was a "good shooting."
The truth is, it doesn't matter if Kimani had a gun or a criminal record. It doesn't matter whether the police said "Freeze" and "Don't move," or if they shot without warning.
What matters is that his death is the result of a system that allows police to frisk randomly and shoot with impunity, which critics say not only exacerbates the cycle of violence in East Flatbush, but might actually be creating it. What also matters, and is often missing from the conversation, is that it doesn't have to be this way. The activists who have kept up nightly vigils at Kimani's sidewalk memorial are voicing a hope: that his death will catalyze a movement to take on the most powerful police department in the world, and change forever the way laws are enforced.
A broken relationship
In the hair salons, Caribbean restaurants and grocery stores that line busy Church Avenue—near the corner where the shooting took place—residents spoke about their distrust, and often fear, of law enforcement. It's a neighborhood where searches and arrests, often perceived to be unwarranted, are frequent, where young black men in particular are frequently "up against the wall." Charles Petgrave, owner of Alco Shoes, said, "It's always that we fear the cops."
"We're not animals," said a young woman in a beauty supply store. "[The police] treat us like we're nobody, but we're all human," she said. "I don't think they act fairly in a black neighborhood."
Kimani's shooting coincides with increasing criticism of the NYPD's controversial "stop and frisk" policy, which allows officers to search anyone at any time, given a reasonable suspicion of illegal activity. In practice, however, it translates into a pandemic of racial profiling, with five million searches in the last ten years, according to the New York Civil Liberties Union. In 2011 alone, the NYPD documented 700,000 stops. Of those stopped and searched, 87 percent were black or Latino; 90 percent yielded no evidence of any illegal activity.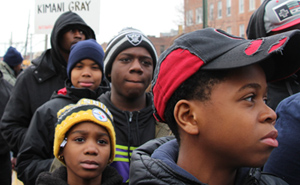 Young men and boys march in East Flatbush to protest the shooting of Kimani Gray. Photo by the author.
The problem with "reasonable suspicion" is that it's highly subjective, making it difficult to prove that a victim has been targeted because of race. That's why the latest challenge to stop and frisk—a class-action suit that began last week, brought against the City of New York by the Center for Constitutional Rights—is potentially so important. Witnesses in the case have presented a substantial body of evidence suggesting that not only does profiling happen on a massive scale, but that it's systematized and enforced from the top down through an illegal quota system, requiring officers to make at least twenty summonses and one arrest per month or face consequences.
"They want numbers at all costs," testified officer and whistle-blower Adhyl Polanco. He described a pervasive culture of targeting black and Latino youth in order to meet the quota, sometimes without even a pretense of reasonable suspicion. He summarized the department's attitude to the court this way: "Just 'cuff him. We'll make up the charge later."
John Eterno, a veteran of the NYPD who now chairs the graduate program in criminal justice at Molloy College and has written numerous books on the subject, likens the current situation to "an army of occupation walking through the city." Of particular concern to him is stop and frisk, which is "fanning the sparks and embers of community unrest from years and years of bad police-community relations."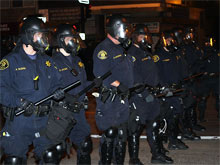 Lessons of a Police Chief: Militarization is a Mistake
The police chief who oversaw Seattle's crackdown on WTO protesters learned the dangers of militarization. He envisions a police force that truly serves and protects communities.
"Not only is that bad in terms of constitutional law, it's bad in terms of fighting crime," Eterno says. Furthermore, his research shows that stop and frisk actually increases crime by alienating police from the neighborhoods they're supposed to protect. "The police department cannot fight crime on their own. They need people to come to them, to help them." Who would assist an investigation, he says, after being thrown up against a wall for no reason?
Many young people in East Flatbush have never lived in a place where they trusted the police. But older residents like Brooklyn native Yolanda Matthews, 58, remember a time when things were different. "When I was a child, you knew your beat cop," says Matthews. "He'd talk to your mother, say, 'I saw your kid go this way.'" When she and her friends played hopscotch, she says, a cop would jump in the game.
Matthews' memory speaks to an alternative relationship between police and communities that once existed in these same neighborhoods. Eterno confirms that at one point "community policing" was indeed part of the strategy. It wasn't perfect, he says, but was far better than the situation that exists now.
Back at his shoe store on Church Avenue, Charles Petgrave agreed that "we need to bond more with the police in the area. When we have community meetings, invite the commissioner, the people who patrol the street." Jose LaSalle, an organizer with the community group Stop Stop and Frisk and one of the planners of Sunday's march, envisions a future where police "treat people like human beings, not look at them like a criminal before they even know who these kids are."
Pathways to better policing
But how do we get there? John Eterno's recommendations echo those of many Flatbush residents on Church Avenue: First, he says, rein in stop and frisk to bring it in line with constitutionally protected rights. Second, strengthen police-community partnerships. Third, increase transparency. This means getting an independent Inspector General to check the police department's power. "This is basic stuff," Eterno says. "It should have already been there.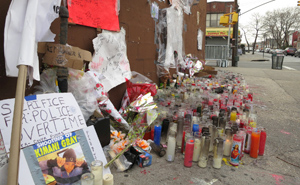 Candles and signed posters at the corner where nightly vigils are held for Kimani Gray. Photo by the author.
"In a democracy," Eterno continues, "the police are on the front line." They show us when our democracy's working—or when it's not. The NYPD is one of the largest and most influential police departments in the world, and its policies are a model for other police departments from Los Angeles to Paris. The changes that Eterno recommends, which community members also advocate, are not revolutionary—but their impact might be. If anything good comes out of Kimani's death, it might be an opportunity to push for reforms in police policy that will reverberate far beyond New York City limits.
Meanwhile, candles still cluster around Kiki's memorial on Church Avenue. The protest march is over. It's dusk in East Flatbush, and a police car idles nearby. LaSalle and other activists still hope to keep up the nightly vigil, but they know the public's attention is difficult to hold.
"My thing is just to keep what happened to these individuals alive in the people's minds," says LaSalle. "We try not to let people forget."
---
Beneath mainstream culture runs a current of domination, individualism, and exclusion that is harming our children. We assume this is normal—but is it really?
What's the good news about the troubling practice of execution in the U.S.? We're already abolishing it, state by state.
There is a connection between the growth of unjust economic policies and the intensification of crimes against women. The Delhi gang rape has triggered a revolution—one that we must sustain.
---
Kristin Moe

is a writer, storyteller, and multimedia journalist. She is a graduate of the Salt Institute for Documentary Studies and has coordinated storytelling programs at The Swearer Center for Public Service at Brown University.
---