Market Offers Wealth of Tradition—and Veggies—for Immigrant Farmers and Shoppers
Many Latino immigrants have agriculture in their past. A market in suburban Maryland makes it possible for them to put that knowledge to work in the here and now.
Why you can trust us
---
Tucked behind brick homes and manicured lawns in suburban Maryland, Rosa's Linarez's two-acre farm is a lush agrarian sanctuary. Just 10 miles outside of downtown Washington, D.C., the small plot hosts a diversity of crops—from brightly colored summer squash to rows of medicinal and culinary herbs.
The Crossroads market provides a place for immigrants to share knowledge and memories about food and farming.
As a young girl growing up on her family's land in El Salvador, Linarez helped her parents care for their crops and animals. Their harvests were plentiful enough that they needed little food from the store.
"Since I was a girl I have worked clearing weeds there," Linarez said. "My mom had eight girls and no boys, so we had to work helping my father. I have always spent time on the land and because of that, I love it."
When she first came to the United States, Linarez worked cleaning homes, saving money to bring her family to join her. After decades of work she was able to buy her house in Maryland and retire from housecleaning. Four years ago, her eldest son bought the abandoned lot next to her house for her to use as a garden.
After successfully growing produce for her family and friends, Linarez started looking for a place to sell her crops. That's when she found the Crossroads Farmers Market.
"She started here by just selling out of a basket with an umbrella," market manager Michelle Dudley said. "And we thought, 'Hmm, this isn't really within our market guidelines, but this is what we're about.' So we just worked with her."
The Crossroads market is located at the border between two communities, Langley Park and Takoma Park. But it also represents another type of crossroads, providing a place for immigrants to share knowledge and memories about food and farming. The mission of the market is to support local minority farmers and other regional food producers, while also providing low-income consumers with access to local, healthy, and affordable food.
The vendors set up their booths in a horseshoe-shaped loop every Wednesday, in the parking lot of a small pharmacy. A savory smell wafts from herb-stuffed pupusas, an El Salvadoran dish made from stuffed corn tortillas. Even though the market seems small with its five booths, the atmosphere is filled with bustling market-goers laughing and talking, and kids running around the maze of structures.
Making food benefits go further

The Crossroads farmers' market is known statewide for being the first farmers market in Maryland to electronically accept various types of nutrition benefit programs: food stamps, known federally as Supplemental Nutrition Assistance Program (SNAP); Women, Infants, and Children (WIC); as well as senior food assistance vouchers. Dudley explains that the market committed to accept electronic food stamps after paper vouchers disappeared in the late 1990s.
Crossroads Farmers Market was also the first in the country to launch a financial incentive program for individuals who use federal nutrition benefits. " Fresh Checks" are dollar-value coupons that stretch the purchasing power of SNAP, the Fruits and Vegetables Coupons offered as part of WIC, and vouchers of the Senior Farmers Market Nutrition Program. Fresh Checks may be used to purchase additional fruits, vegetables, meat, eggs, honey, and herbs at the seasonal farmers market. Over the course of 7 years, the Crossroads Farmers Market has distributed over $210,000 in Fresh Checks to more than 5,000 low-income families. The market provides these services through funding from the Kellogg Foundation, the Wholesome Wave Foundation, and other sources of support.
According to Dudley, about 80 percent of the market's customers are Latino, mostly from Central America and Mexico. This has provided a unique opportunity for immigrant farmers like Linarez to sell specialty crops such as fresh cornhusks for making tamales and herbs such as mora and chipilin that grow wild throughout Central and South America.
Many customers stop by Linarez's stand, excited and surprised to see produce from their home countries. One woman explains to another how cornhusks are used in Guatemala, while another asks Linarez her recipe for rue, a bitter herb used to make herbal cough syrups, among other things.
Mora is used to cleanse the blood and treat anemia, Linarez explains, and she says she has given it to family members and friends to treat symptoms of cancer. Linerez offers her knowledge of traditional medicine as a gift to customers at the market.
A place for Latino farmers
Although there is a growing population of Latino and Hispanic farmers in the United States, they often struggle with linguistic, cultural, and legal barriers. According to the Agricultural Census of 2007, Hispanic farmers are the fastest-growing population of new farmers and grew 14 percent from 2002, as compared with a 7 percent overall increase in farm operators.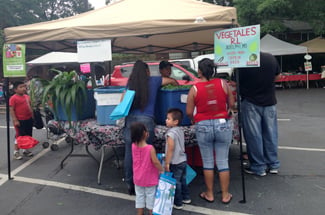 Shoppers stop by Linarezs stand at the Crossroads Market. Photo by Laura-Anne Minkoff-Zern.
Yet this population has historically faced inequity, especially from the United States Department of Agriculture. The Department has been charged in two separate lawsuits with racial discrimination—against Hispanic farmers in Garcia v. Vilsack and against African American farmers in Pigford v. Glickman.
Although Latino and immigrant farmers in the United States face disproportionate challenges because of cultural, economic, and social factors, many are determined to overcome these obstacles and become successful farm owners. Linarez's farming is driven both by the financial reward and her love of the land. She says that working on the land gives her the feeling of being back home.
Markets like Crossroads support immigrant farmers by connecting them with other immigrants, making it easy to exchange knowledge, and helping them find a way to return to their agrarian roots.