News Based on facts, either observed and verified directly by the reporter, or reported and verified from knowledgeable sources.
How Black Hair Practices Can Inspire Architecture
An exhibit at the University of Houston explores how Black hair techniques can be translated into innovative building materials, designs, and methods.
Why you can trust us
---
Black women consider themselves lucky to live in Solange's world: A world where the acclaimed singer claims a seat at the table, a world where she delineates her boundaries, where she sings out, "don't touch my hair."
Black hair and its care practices—twisting, braiding, locking, and more—are integral to the life of Black women the world over. While they seem at times to just be a daily chore, such practices are also a vital source of African material culture that survived the Middle Passage, and the violent stripping of African Americans from their language, religions, and culture.
---
What's Working
---
A Night Market Creates Opportunity for Black Communities

An evening market in Nashville provides a location for local Black business owners to sell goods and gain exposure.

Read Full Story
---
In spite of this artistic lineage, the fine arts, especially architecture, have yet to recognize the design potential of Black hair practices; the artists and architects who comprise "Hair Salon," in the same Houston, Texas, neighborhood where Solange grew up, aim to change that.
The exhibit opened in February 2023 at the University of Houston's Gerald Hines College of Architecture and Design. Conceptualized by Sheryl Tucker de Vázquez (full disclosure: she is my mother), Interim Head of Interior Design at the University of Houston, "Hair Salon" brings together artists and architects from six countries to address a common question: how can Black hair techniques be translated into innovative building materials, designs, and methods? In collaboration with fellow architects and educators Marcella Del Signore, William D. Williams, and Felecia Davis, the Graham Foundation-funded project sought to highlight hair as a distinctive element of African material culture, one that survived and transformed during the transatlantic slave trade to become an enduring signifier of Black identity in contemporary culture.
Each artist in "Hair Salon" had a unique take on this prompt: Davis, a computational designer and engineer, developed a computer code based on the practice of dreadlocking in order to translate braiding practices into a woven material; Urbanist Del Signore created maps showing migratory patterns and the flow of goods linked to the transatlantic slave trade; Williams wove together a chandelier inspired by the use of braids as way to disguise coded maps along the Underground Railroad. Tucker de Vázquez turned to sculpture as a means of exploring the vitality of curl patterns in Black hair.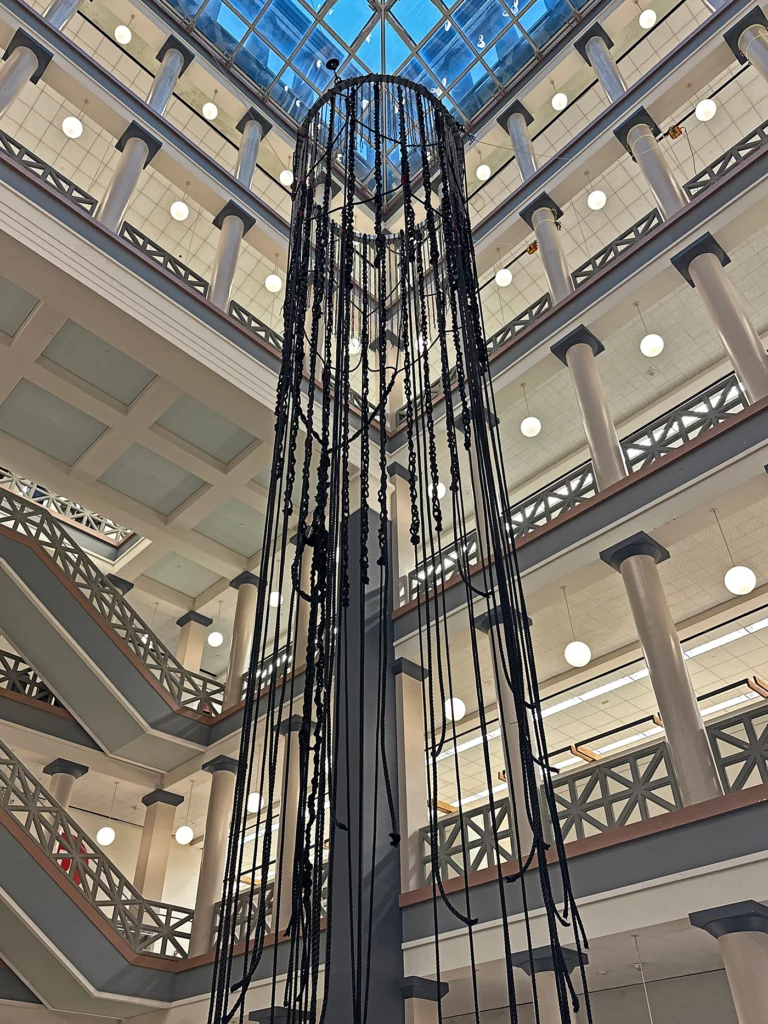 Drawing Inspiration from Salons as Social Spaces
Inspired by the practice of quipu, a notational system used for record-keeping in the Incan empire, Williams worked through different knotting techniques as a way of mapping routes to freedom when designing his contribution to "Hair Salon." He also drew from his experiences as a child going to the salon with his mother.
Describing salons as social spaces, Williams sees them as places where he learned to deal with people and the world at large. He laughed as he remarked on the kinds of comments his colleagues in the predominantly white field of architecture would make as he began work on "Signal Songs."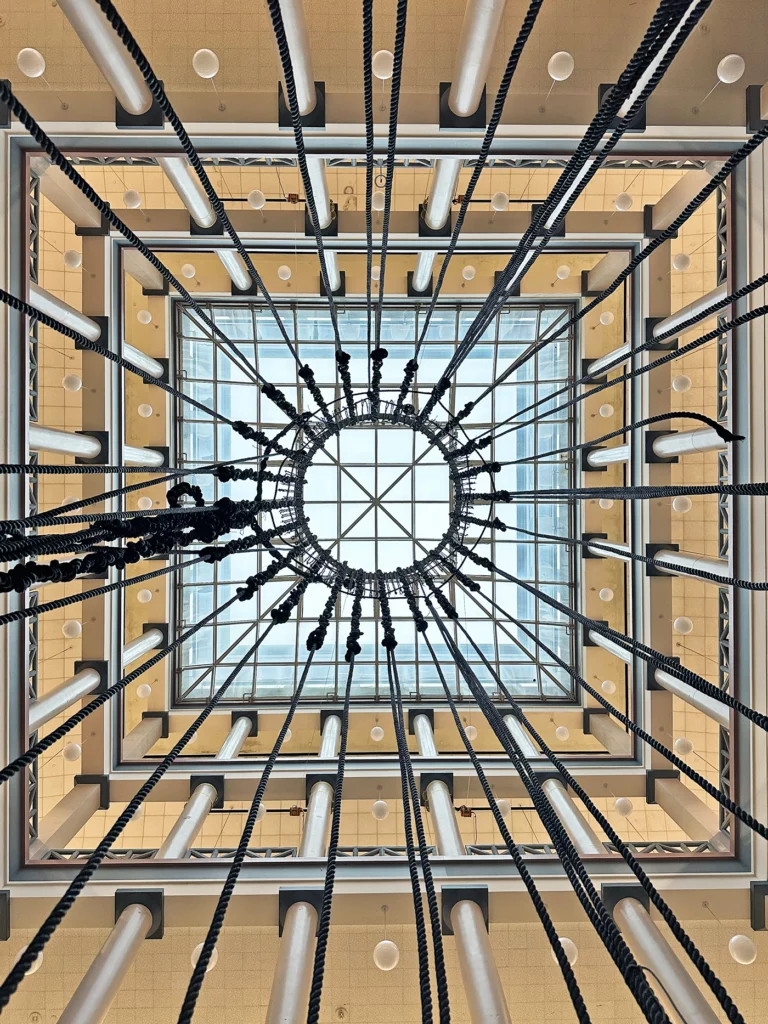 "I don't get to have these conversations with my colleagues," he says. "Even when I'd explain it to them, they'd give me a weird stare, like 'that's good for you.'"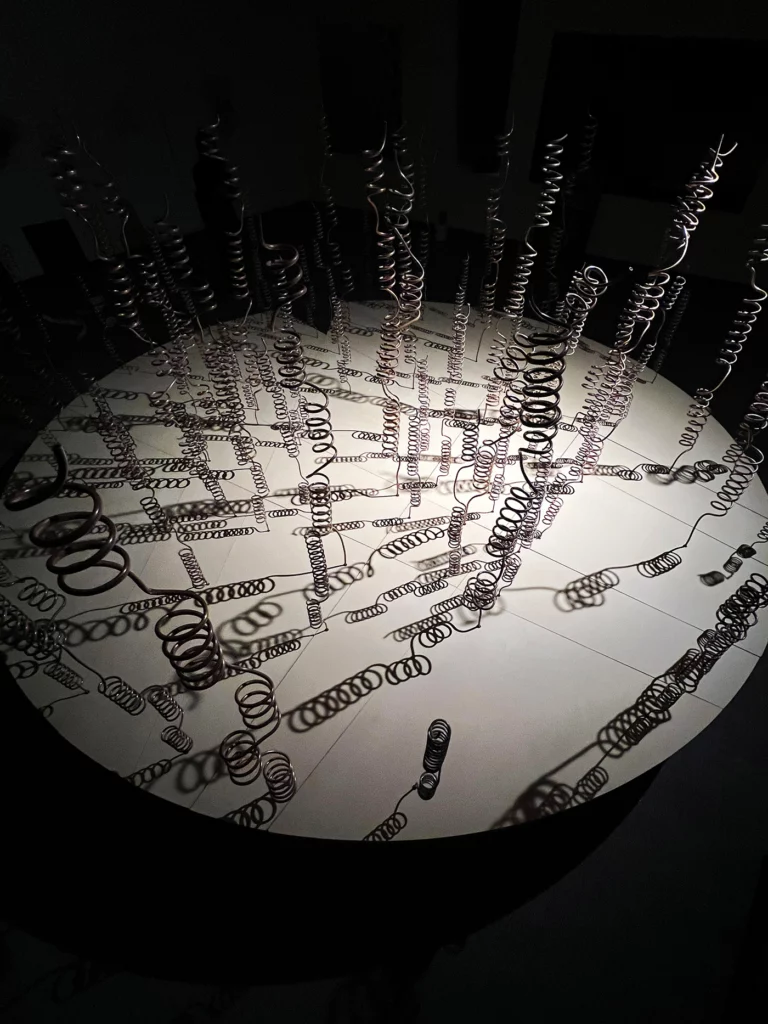 Rejecting White Beauty Standards
For her project at "Hair Salon," Tucker de Vázquez chose sculpture, creating "Coiled Field," a pale wooden table comprised of 22 fragments from which coiled copper tubes radiate upward. She was inspired to devise this project after encountering the images of J.D. Okhai Ojeikere, a Nigerian documentary photographer, whose images of Nigerian women showcase dynamic, sculptural braiding styles.
Seeing the way that Ojeikere's models styled their hair, updos extended toward the sky almost like baskets or columns, planted the spark of inspiration: architectural designs and methods could transform if creators began to draw from this bountiful site of Black creativity.
For Tucker de Vázquez, the project is a deeply personal one. She remembers growing up in southern Alabama and experiencing demeaning comments that white people would make about her hair when she wore it in a natural style. One summer at Girl Scout camp, her white camp counselor criticized her choice of hairstyle, cornrows, offhandedly asking her, "Don't you wish your hair was like mine?"
"This project is a direct response to that comment," Tucker de Vázquez says. "In my position as interim director of the Interior Architecture program here at U of H, I felt that I had a responsibility to showcase Black expression in all its forms. Why not now? Why not me?"
White Eurocentric beauty standards affect Black women on a personal level, but there are professional and economic consequences. A study at Duke University asked participants to rate Black and white female job candidates on professionalism, competence and other factors. Participants gave Black women with natural hair lower scores on both professionalism and competence, and they were not recommended as frequently for interviews as Black women with straightened hair or white women with curly or straight hair.
Ojeikere's Influence
After devising the initial architectural components, Tucker de Vázquez reached out to artists Medina Dugger and Rabea Ballin to add a more traditional visual arts element to the exhibition.
Dugger's photographs pay homage to Ojeikere's work, with vibrant color in the backgrounds and in the synthetic hair she adds to her braided designs. "Chromatin," a film collaboration between Dugger and French artist François Beaurain, animates the photos, highlighting the fractals and geometries involved in braided designs which initially appeared "primitive" to Europeans. Fractals are a type of geometric configuration that appears the same at every scale, and is integral to African architecture and braiding styles.
Ballin's work also draws inspiration from Ojeikere's photographs, exploring Black hair as a sculptural form across mediums. Her drawing "Untitled (pink)," depicts an intricate braided top knot, radiating from someone's scalp; the vibrant pink belies the gentle strokes of the pencil, conveying a familiar sense of Black femininity, at once bold yet soft.
"It feels amazing to see my drawings in this context," Ballin says. "It has opened my world yet again. After making a tactile connection to sculpture through my hair braiding, I am looking forward to what comes next. The coils in the sculptures, the chords, ropes, and yarn pieces, they all feel like physical representations of the lines I create in my drawings. It was amazing to see these formal elements come to form and take up actual space."
Inspiring a New Generation of Architects
The exhibit's opening on Feb. 2 kicked off with a poetry performance and a choreographed dance to "Wade in the Water." Afterwards, Solange's music echoed through the atrium as an intergenerational crowd browsed the gallery.
"I've never seen this many Black people gathered in the school of architecture before," Tucker de Vázquez said, the night of the opening.
The impact that "Hair Salon" will have on the next generation of architects and designers is already brewing. Students from the University of Houston's chapter of the National Organization of Minority Architects served as docents for the exhibit. As they ushered visitors through the gallery, they reflected on the impact that the exhibit would have on their understanding of themselves within the profession of architecture; as of 2020, Black women only comprise 0.4% of licensed architects in the U.S.
Second-year student Taylor Pinkney says of the exhibit: "It's amazing. It shows how your culture can be a part of the architectural field."
---
Irene Vázquez

is a Black Mexican American poet, journalist, and editor, currently based in Hoboken, NJ. Irene's debut chapbook Take Me To the Water was released by Bloof Books in October 2022. Irene is a Best of the Net and Pushcart Prize nominated writer, whose work can be found in Muzzle, the Oxford American, and the Brooklyn Rail, among others. Irene's work can be found at www.irenevazquez.com.
---