NY Unions Will Bring Fresh Ideas about Jobs, Energy to Historic Climate March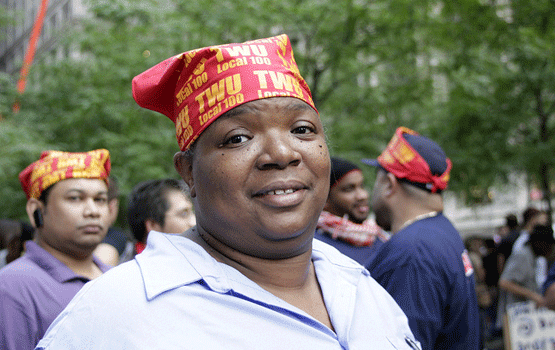 Key national unions are stepping up to support the People's Climate March on September 21. But some green radicals say unions need to create their own climate protection strategy that democratizes the energy sector.
Why you can trust us
---
This story is part of the Climate in Our Hands collaboration between Truthout and YES! Magazine.
New York's unions are digging deep to support the march that calls on world leaders to take action to avert catastrophic climate change.
There is a grinding nature to labor solidarity. Having never been active in a union before, I never experienced it until becoming the National Writers Union rep to organizing meetings for the Sept 21 Climate March happening in New York City right before a U.N. summit.
Now I'm feeling it. It's not enough to get your union on board; has your president signed a statement? It's not enough to get your local; how about your international? And of course, words are cheap, so how many members are you mobilizing, and how are you doing it?
Everyone in the room knows that grunt work feeds whatever power labor has. Yet New York's unions are digging deep to support the march that calls on world leaders to take action to avert catastrophic climate change.
The march takes place just two days before President Obama and world leaders gather for an emergency Climate Summit at the United Nations called by U.N. Secretary General Ban Ki Moon. Moon wants to ensure they sign a new international climate treaty when they gather again in Paris in December 2015.
The unions are among 1,000 endorsers of the People's Climate March challenging the big corporations and governments that have stymied any real agreement. It's been 26 years since the U.N. launched the Intergovernmental Panel on Climate Change and then the treaty process two years later, but we're stuck—even as scientists educate us on the urgency to act.
Will unions be part of the problem or part of the solution? The International Trade Union Federation endorsed the march, as has the Canadian Labour Congress and the Connecticut and Vermont labor federations. But in New York, local and state unions are the ones stepping up—including some of the building trades, which, on a national level, help block the AFL-CIO from showing any climate leadership.
Larry Moskowitz, the march's organizer for unions, exhorted us in the first meetings: "Every union that endorses—what is your turnout plan? What materials do you need? Can you set up an internal committee to mobilize? How do we get in the ranks?"
And then the question: Who's not in the room yet?
The nurses union was there, its reps eloquently discussing the impact of the massive storm Sandy and environmental hazards on those they care for. To enlist their members, NYS Nurses Association began holding lunch and dinnertime sessions in hospitals about climate change and health. The health care workers of the service workers (SEIU 1199), a 200,000-strong union including many immigrants and African Americans, were there. JJ Johnson, its retired spokesman, said at one gathering sponsored by Trade Unions for Energy Democracy, a network of 30 unions from 15 countries, "Climate protection is consistent with everything else that we do [as health workers]."
And not just because of the devastation of the massive storm Sandy, which laid waste to New York in October 2012. "We have members from all over Latin America, the Caribbean, Africa, Asia. There is a growing encroachment of the sea going into agricultural land that would be rendered totally useless for farming. In places like Haiti, where pollution and silt are going out to sea, fisherman have to go out further and further to fish. So the climate issue resonates very strongly."
We all need to be committed to a "just transition" that doesn't leave people behind.
Eventually, the metaphorical room got crowded with 100 endorsing labor organizations because New York's unions' alliance with environmental groups has only intensified since Sandy. A lot of us now know firsthand that more of our city will be underwater as the seas rise and that food and other crucial supplies for living will be harder to get as the weather becomes more volatile. We experienced it. The transit workers and unionized utility workers became heroes getting the city back online (a process that isn't finished, as subway riders and residents of shoreline housing know).
The transit workers are my personal heroes of the climate justice movement; when you encounter members of Transport Workers Union Local 100 while flyering for the march on city streets, not only are they already on board, they often have something to say about the state of the world that doesn't deal with the reality of climate change.
And while the building trades may be among the unions holding the AFL-CIO back from seriously taking on the massive ecopolitical shifts needed in these dark times, in New York you've got big machers on board from this sector. Chris Erikson, head of the International Brotherhood of Electrical Workers Local 3, was downright inspiring at a press conference in Times Square launching the march, at one moment describing the climate fight as a class war (while wading into contentious political terrain at others):
I stand today with this coalition of alarmed citizens to voice our concerns about the future of our planet … Sadly, there is no greater incentive than profit. No corporation has given anything without a fight. No union has made gains without a fight, and if this global crisis that affects all mankind is defined as an economic war with winners and losers—I stand ready with my brothers and sisters to march and to fight for worldwide energy democracy and to demand climate protection for the human race.
Some building trade unions were already primed by Obama's "green jobs" rhetoric and money to see retrofitting as in their interest. Even before Obama, the Blue-Green Alliance launched by United Steelworkers and the Sierra Club eight years ago promoted good green jobs and emission cuts, broadening the conversation in the union movement.
Blue and green ties
Recent lobbying for a "climate jobs" policy in New York City has intensified blue and green ties. The Alliance for a Just Rebuilding is a labor-community coalition trying to keep the heat on various levels of government to support those whose housing was wrecked in some way by the storm, whether from wind, water or mold, and to ensure that rebuilding happens using union jobs so workers aren't exploited.
Taking the lead is the local Jobs with Justice affiliate ALIGN-NY. The group started as the affiliate of the Apollo Alliance (now part of the Blue-Green Alliance), which brought green groups together with unions to work toward cleaner energy. Local teamsters began working with environmentalists to campaign for recycling in the commercial waste stream and now endorse the climate march.
"It's the culmination of long, hard conversations, many of which are still in process," said Tomás Garduno, of ALIGN-NY. "'Jobs versus the Environment' or 'The Economy versus the Environment' is the best example of pretty old thinking."
"Unions should be advocating public ownership, social ownership of energy."
While nitty gritty alliances are creating bridges locally (and not just in New York), the march doesn't see those alliances operating nationally. National Nurses United, the National Education Association, SEIU, and Amalgamated Transit Union signed on. So did the Communication Workers of America, which, along with the two major transit unions, opposed the Keystone XL pipeline. This pipeline, still a possibility, would transport dirty Canadian tar sands oil from the northern border to Gulf Coast refineries.
To widen union support, the march organizers kept the demand simple: World leaders must take real action on climate change. No denunciation of fracking, a big issue in New York state because there is only a moratorium against it at the moment. No denunciation of the Keystone XL pipeline, which had split the national labor movement. Just that one simple demand for the leaders who are gathering at the U.N. Secretary General's request.
When issuing the call for the march in Rolling Stone, 350.org founder Bill McKibben even crafted a simple slogan to unite the two movements on a single banner: "Climate/Jobs: Two Crises, One Solution." The unions put something like that slogan on their flyer promoting the march at the Labor Day parade.
The Blue-Green Alliance (BGA) endorsed the march, as did leading BGA members CWA, ATU and SEIU. But the Steelworkers, among other union affiliates, didn't. The BGA endorsement is admittedly an advance over its silence on fracking and the Keystone XL Pipeline—the BGA lost credibility among many labor environmentalists by not navigating those fights. But is that enough?
Unions like the Laborers, Steelworkers and Pipefitters are caught in the short-run game of defending members' jobs in dirty industries. As one environmentalist in the labor movement pointed out, the Steelworkers represent the chemical workers producing the toxic brew used to frack natural gas and can't get beyond the politics of the old energy regime. I've heard Steelworkers President Leo Gerard rightly chide environmentalists for not discussing the imperative to employ those displaced if the fossil fuel industry is shut so that carbon emissions stabilize at a livable level. We all need to be committed to a "just transition" that doesn't leave people behind. Well, Gerard's green allies earned the right to chide him back.
"Climate change changes everything: everything about how we organize society, how we conduct politics, even how we think of progress."
Green radicals in the labor movement, like Dr. Sean Sweeney of Trade Unions for Energy Democracy and Joe Uehlein of the Labor Network for Sustainability, are calling the question on this old politics. As Sweeney, who also co-direct's Cornell's Global Labor Program, put it, it's time to get beyond the call for "green jobs" and what he calls "a light green agenda."
Uehlein asks union leaders like Gerard if mainstream proposals don't deal with the economic hit workers will take in any transition, what does labor's climate protection strategy look like? It's time for labor to have one. With SEIU 1199, SEIU 32B/32J, IBEW Local 3, and the NYS Nurses Association, TUED is holding an open meeting after the march for all unionists and allies to try to seize the moment for a deeper discussion along these lines to accelerate the momentum created by the expanding coalition.
Like the rest of the country, says Sweeney, a lot of unions "don't recognize the science. The ones that do are unclear about what the changes mean, the enormity of it. I don't blame them. The politicians don't talk about it," he said. "But if we take the science seriously, as we should, then nothing less than an FDR-type intervention is necessary."
And the transformation must happen fast, within the next 20 or 30 years.
What is energy democracy?
What does it mean to build a transportation system not powered by fossil fuels? How do we shift the country, really the world, to sustainable energy? What does the "energy democracy" Chris Erikson talked about actually look like? "We believe . . . that unions should be advocating public ownership, social ownership of energy," says Sweeney. "There's no other way to do it in my opinion."
Any deep economic shift protecting people and the planet needs all hands on deck, and that includes union leaders and their members.
For Uehlein, the former secretary-treasurer of the AFL-CIO's Industrial Union Department who now leads the Labor Network for Sustainability, climate change is the real job killer, not the environmentalists who take on the fossil fuel industry. "Climate change changes everything," he said, "everything about how we organize society, how we conduct politics, even how we think of progress. For us in the labor movement, it must change how we envision the role of an organized labor movement in society."
In New York, the state with the highest density of union workers in the country, the conversation has started.
"We still have a long way to go in the labor movement," said Hector Figueroa, president of SEIU 32B-32J, which represents building cleaners and supers, and has a green building program. "The most challenging issue is how do we transition from a fossil fuel economy to one based on renewables. Bringing urgency to climate change, having a strategy that is sufficiently convincing that we can transition to a new economy for these workers—we are at a turning point."
Any deep economic shift protecting people and the planet needs all hands on deck, and that includes union leaders and their members. We know we can't let union leaders fall back on flowery speeches to hide inaction, as too often happens. It's up to us to make sure we don't run out of time.
---
Read more:
---
Abby Scher

is a sociologist and journalist who writes frequently about economic justice and politics.
---