Meet the Jeans-Wearing, Nature-Loving Nuns Who Helped Stop a Kentucky Pipeline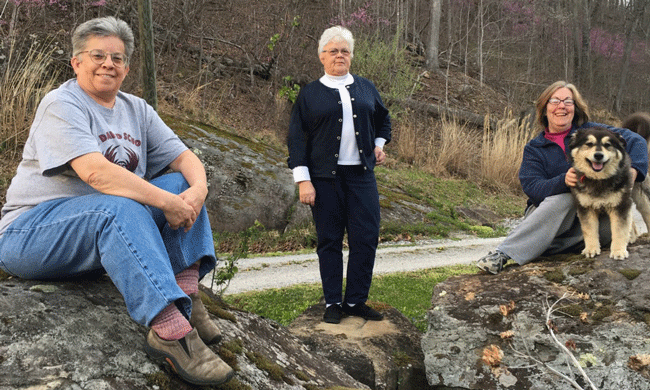 As fewer women enter the convent, what will become of Kentucky's tradition of socially and environmentally engaged religious women?
Why you can trust us
---
"The easiest way for me to find God is in nature," Sister Ceciliana Skees explains. Born Ruth Skees, she grew up in Hardin County, Kentucky, during the 1930s. It's a rural place of soft green hills, where her father farmed his entire life.
Skees' commitment to social activism goes back almost as far as her commitment to the church.
Now just a few months shy of her eighty-fifth birthday, she remembers feeling the first stirrings of a religious calling at the age of 10. Her peasant blouse and smooth, chin-length haircut don't fit the popular image of a nun, but she has been a Sister of Loretto—a member of a religious order more than 200 years old—since she took vows at the age of 18.
Skees' commitment to social activism goes back almost as far as her commitment to the church. She has marched for civil rights, founded a school for early childhood education, and taught generations of children.
Then, a few years ago, she heard about the Bluegrass Pipeline, a joint venture between two energy companies: Williams and Boardwalk Pipeline Partners. The project would have transported natural gas liquids from fracking fields in Pennsylvania and Ohio southwest across Kentucky to connect with an existing pipeline to the Gulf of Mexico. Loretto's land was directly in its path.
On August 8, 2013, Skees and other sisters from Loretto and several other convents attended an informational meeting held by representatives of the two companies. Frustrated with what they saw as a lack of helpful information, several of the sisters, including Skees, gathered in the center of the room and broke into song. A video of the sisters singing "Amazing Grace" was picked up by media outlets such as Mother Jones and reached hundreds of thousands of people.
Woodford county resident Corlia Logsdon remembers how a company representative asked the police to arrest the sisters for disrupting the meeting that day. But the officers, who were graduates of local Catholic schools, refused to arrest their former teachers.
Logsdon joined the campaign against the pipeline when she realized the proposed route would cut directly through her front yard. She says she found the sisters to be stalwart partners, who regularly accompanied her to negotiate with state lawmakers. "It was the first time I had ever done anything like that. And they came with me, persistently presenting a positive and yet quietly forceful presence in the legislature."
Sellus Wilder, a documentary filmmaker, says he joined the campaign to stop the Bluegrass Pipeline after seeing the video of the nuns singing. His experiences led him to produce The End of the Line, a documentary film about the pipeline and opposition to it. He called the sisters the glue that held the diverse group of protesters together and kept them focused.
"They all have really strong, glowing spirits," Wilder says. "They brought their inherent qualities—energy, compassion, and education, as well as a certain ethereal element—to the whole campaign."
Logsdon joined the campaign against the pipeline when she realized the proposed route would cut directly through her front yard.
Whatever the nuns brought, it worked. In March 2014, a circuit judge ruled against the pipeline, saying the companies had no right to use eminent domain against owners unwilling to sell their land. A few months later, the companies agreed to redraw their route to avoid Loretto's grounds, but the sisters kept protesting to support their neighbors. The case eventually went to the state supreme court, which upheld the lower court's decision. The pipeline was defeated—and the same coalition is now fighting another one .
In a way, Skees and the other nuns' participation in the Bluegrass Pipeline fight was not that unusual. About 80 percent of American nuns are members of the Leadership Conference of Women Religious, which is committed to environmental activism. Sister Ann Scholz, the LCWR's associate director for social mission, says this position is a direct outcome of the way sisters interpret the gospel.
"No Christian can live the gospel fully unless they attend the needs of their brothers and sisters, including Mother Earth," Scholz explains. "Our work for social justice grows out of the Catholic social teaching and the Gospel of Jesus Christ."
But because the Sisters of Loretto are in rural Kentucky, their engagement with these issues takes on a regional flavor. Kentucky is a key battleground state in the debates over fracking and coal mining, and its eastern region is home to some of the poorest counties in Appalachia. The nuns are also rural, and help unify far-flung residents with diverse interests.
For example, the Sisters of Loretto joined with local advocates for coal miners' rights in 1979 to sue the Blue Diamond Coal Company in order to expose what they saw as a record of poor safety, mining disasters, and environmental negligence in Kentucky.
Skees herself spent much of the 1960s and '70s teaching in Louisville, where she marched against racial discrimination in housing and for the integration of schools. "At Loretto we tend to go with the flow," she muses. "But we do not flow with injustice."
Kentucky sisters have also been involved in protests across the United States. They have traveled to Alabama, Mississippi, and Washington, D.C., to march for civil rights, for universal health care, and against the wars in Vietnam, Afghanistan, and Iraq. They hold annual protests at the controversial School of the Americas at Fort Benning, Georgia, a training program for Latin American military whose graduates have been accused of human-rights violations (the school is now called the Western Hemisphere Institute for Security Cooperation).
These nuns and others like them have long formed part of the core of the nation's activist population. But their numbers are decreasing, and those who remain are getting older. The same thing is happening all over the United States—there were only about 49,000 sisters in 2015, compared to nearly 180,000 in 1965.
Skees' own life helps explain the decline. "Women had very few choices when I went to the convent," she says. "We could be nurses, secretaries, teachers—or we could get married."
Until the 1960s, convent life offered professional opportunities for women that other fields lacked—nuns could become high school principals, college deans, or administrators. But women today don't need a habit to move into positions of leadership.
What will this decline mean for socially engaged nuns like the ones who helped defeat the Bluegrass Pipeline? Will it end their tradition? Or will their work simply evolve?
To find out, I spent several days at each of three convents in Kentucky. First, I headed east into the foothills of the Appalachian mountains to visit the Benedictine Sisters of Mt. Tabor, an intimate community that has opened up its home to its neighbors as a space of contemplation. Next, I went to central Kentucky to visit the Sisters of Charity, a global order with convents in Africa, Asia, and Central America. Finally, I dropped by the motherhouse of the Sisters of Loretto, founded by pioneer women dedicated to teaching the children of Kentucky.
I came away thinking how deeply each convent was embedded in its community, and how precious was their wonder at the natural world. The sisters are too busy looking ahead to worry about dwindling numbers.
Fierce contemplation
The motherhouse of the Sisters of Charity in Nazareth, Kentucky, serves as a retirement home for sisters who have spent their lives in ministry—although you might not know that from the energy of the women here.
"You keep going as long as you can," Sister Joan Wilson explained cheerfully. Tall and slender, with close-cropped white hair and a gentle manner, she radiated kindness and concern.
I got to know Joan—along with Sisters Theresa Knabel, Frances Krumpelman, and Julie Driscoll—and all four expressed utter joy in their natural surroundings. "There's such a beauty in nature that it's such a spiritual experience," Driscoll said. "Every time I see a deer, I think, 'Oh, what a blessing! Thank you, God!'"
"Rainbows just turn the place upside down!" Krumpelman added.
Their pleasure in rainbows and sunsets at first struck me as childlike—odd to find among women in their 70s and 80s. But I soon realized it was deeply rooted in contemplation and prayer.
Their love of nature derived in part from the texts they have studied and prayed over, they said, especially the Psalms, the ancient Hebrew poems that utilize images of mountains, birds, and stars to express the glory of divine creation. "The Psalms rave about nature, so I probably imbibed the beauty of it when I prayed," Knabel said.
They feel a similar delight in the work of Pope Francis, especially with his encyclical letter, Laudato Si, which calls for a universal awareness of climate change and its effects on the poor.
The community avidly read and discussed it, and couldn't seem to order enough copies.
"Together we manage the forests for both biodiversity and spiritual value."
The beauty of their grounds is overwhelming, and as I explored them alongside Sister Joan, I found myself caught up in her wonder. The autumn leaves mirrored in the lakes, the shadowy corners with statues of long-ago saints, the bright paths dappled with sun, all brought forth a sense of peace. Judging by the number of other visitors strolling around, I wasn't the only one drawn to the harmonious abundance of Nazareth. The sisters believe part of their mission is to share the beauty of their home with their neighbors, so they keep it open to the public and maintain walking trails and fishing lakes for the community. They also keep up a garden that anyone from Nelson County is welcome to use. The sisters prepare the soil, fence the land, and provide the water.
To improve their ability to care for this land, the sisters of Charity and Loretto have been working with the foresters at Bernheim Forest, an arboretum and research center in nearby Bullitt County. Forester Andrew Berry has walked though hundreds of acres at both campuses to find ways to make their lands more sustainable and friendly to wildlife. At Charity, for example, he helped pull out invasive species to help restore the native oak forestlands.
Berry says the sisters' enthusiasm for "good eco-stewardship" has impressed him. "Together we manage the forests for both biodiversity and spiritual value."
He has also been helping both convents create conservation easements— legal agreements that permanently limit the uses of a piece of land—for their land to ensure it will remain protected in perpetuity, should the sisters no longer be there.
This is a reality age and time has forced them to confront, as nearby convents have begun to shut down. In fall of 2015, with only one able-bodied sister left, the sisters of a Carmelite order in Louisville decided to close their convent. They went to the Sisters of Loretto for help.
"The Carmelite Sisters had so much stuff that they couldn't take with them—all these habits and prayer books and statues that were too old to be of use to anyone, but to them were holy," Susan Classen told me. Classen is not a sister but a Mennonite co-member who has lived at Loretto's motherhouse for 23 years. Rather than simply throw away the sacred items, the Sisters of Loretto offered to bury them on their grounds and, in November 2015, held a ceremony at the edge of their forestlands. When I visited Loretto in December, the grave was still fresh, spilling over with golden dirt.
"One of the Carmelite Sisters spoke about how their life together wasn't going to continue, and thus God must have something else for them, and that it was time to let go. And then we buried everything." Susan's voice broke, and it was obvious she was thinking not only of the Carmelites but her own order. It was impossible not to.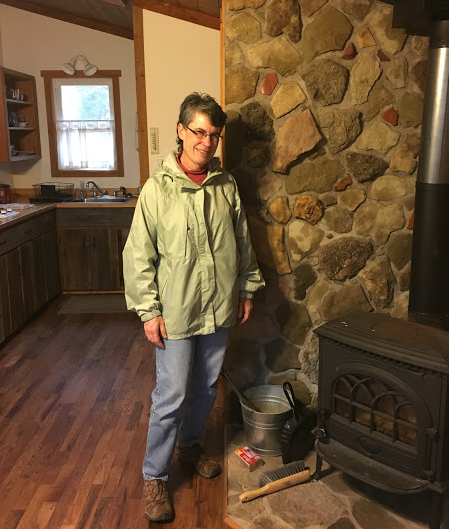 Susan Classen at her cabin. Photo by the author.
At 58, Classen is outdoorsy and active, but she is one of the youngest members of Loretto. Even though many of the women are incredibly active, the average age overall at the convent is 81. There are 169 vowed sisters, with only 23 under the age of 70, and only two under 50. The numbers are similar for the Sisters of Charity: There are 304 members in the United States and Belize, but only 22 are under the age of 65. Charity's members are younger in its south Asian monasteries, where only 60 percent of the sisters are over 65, and women still join as young as 18.
Despite health concerns and the trials of old age, many sisters here remain committed activists.
"We see what we are doing with the pipeline as another way to be teachers," says Sister Antoinette Doyle, referring to the classroom teaching all sisters of Loretto were required to do until 1968. Well into her eighties, Doyle is tiny and delicate, with white hair fluffed around her face. "We're not classroom teachers as much now, but we teach in the broader way."
New mountain traditions
Unlike the Sisters of Loretto, the Benedictine Sisters of Mt. Tabor don't have vast grounds or scores of members. The community is small and intimate, with only eight nuns and one resident oblate—a person who recommits themselves to the Benedictine order every year, rather than taking permanent vows. There was a chore chart on the fridge. Although they work all over the county during the day, the sisters have communal dinners every night after their evening prayers.
Their story begins with a pastoral letter from three archbishops, entitled "This Land Is Home to Me." The letter, published in 1975, encouraged religious people to move to Appalachia and build places of renewal for people of all faiths.
"Dear sisters and brothers," the letter reads, "we urge all of you not to stop living, to be a part of the rebirth of utopias, to recover and defend the struggling dream of Appalachia itself."
To break down some of the barriers, they cast off their billowy black habits and took up jeans and flannel shirts.
Sisters Eileen Schepers and Judy Yunker first read the call while teaching special education classes in a Catholic school in southern Indiana, and both felt inspired by its message. Together they moved to Kentucky in 1979 and founded Mt. Tabor. Originally it was a subsidiary of a larger monastery in Indiana, but it became independent in 2000.
While theirs wasn't the only convent in the area, Schepers and Yunker found themselves among mainly non-Catholics in a close-knit mountain culture. To break down some of the barriers, they cast off their billowy black habits and took up jeans and flannel shirts. Over the years, the local people and the sisters have built up a mutual respect and maintain many close relationships.
When Sister Eileen Schepers considers the meaning of sustainability, she talks about the sisters taking their place in a cosmic balance between the community, the planet, and the supernatural.
I saw what that meant in practice one evening in October. In the quiet hour before evening prayer, Sister Eileen chopped onions and peeled potatoes for soup in the sun-swept kitchen. She scraped the veggie peelings into a Kay's Ice Cream bucket by the sink, and sprinkled the potatoes from twin salt and pepper shakers in the shape of smiling nuns.
Around quarter to five, the other sisters started drifting in from jobs, throwing down their briefcases and grocery bags in the doorway before pouring themselves coffee from a thermos. Everyone leaned against the counter, chatting while Sister Eileen spooned biscuit dough onto a baking tray. Just before she put the biscuits in the oven, they all made their way into the chapel for evening prayer.
In the entryway to the chapel, each woman donned long white robes. The garments brought them into a ritual similarity, and it became harder to tell them apart.
Sister Eileen Schepers officiates evening prayers. Photo by the author.
Sister Judy officiated at vespers while the sunset over the mountains behind her shone through the glass walls of the chapel. A few men and women sat in the pews, visitors and friends who had wandered in to share the daily tradition. As the prayers ended, we all stood in a circle and Yunker anointed each of our foreheads. Her touch was warm, firm, and personal. We don't touch each other enough anymore, I thought. I began to see how one touch full of loving intention could sustain someone throughout each day, and how that intention could spread outward to their neighbors and the world beyond.
Ending or evolution?
As more and more of the sisters age, who will continue the orders' missions and care for their grounds? Who will stand up for local people, advocate for sustainability, and offer a place of quiet in which to contemplate nature?
Corlia Logsdon believes that local farmers, many of them Catholic, have embraced the nuns' teachings. "I don't think that is going to go away," she said. "But I don't think we could ever replace what they do because they do it with such passion."
Then again, the Kentucky orders may continue to serve their communities for a long time to come. Rather than relying on an influx of young girls graduating from Catholic schools, some of the convents are recruiting nontraditional members. Co-members at Loretto can be male or female, married or single, and Catholic or not, so long as they are committed to peace and justice. Like Susan Classen, co-members can be deeply integrated in the life of Loretto, living at the motherhouse, serving on committees, and fully participating in campaigns for social change.
"Our philosophy of peace and justice will be carried on by the co-members," said Skees, who worked side by side with Classen to fight the Bluegrass Pipeline.
At Mt. Tabor, the community decided in 2005 to become ecumenical, meaning they accept women from all Christian denominations. They currently have six Roman Catholics, two Episcopalians, and one non-affiliated Christian woman. "It's deepening our understanding of Jesus' call to live in unity with one another," Schepers said.
Even as they reach out for new members, most of the women I spoke with looked forward to the future, whatever trials it may bring. They spoke of acceptance and transformation, bolstered by faith.
"If God is still calling us to be here, then he will direct us as to how that will happen," Schepers explained. Another sister added that the Benedictine Rule teaches them not to think in terms of permanence, referring to a guide for monastic living that Benedictine monks and nuns have followed for about 1,500 years.
Susan Classen probably expressed Loretto's attitude toward an uncertain future most succinctly. "We have a lot of letting go to do, and I don't want to diminish that. But there's also a sense that we're part of something new."