They Rode Horseback to Deliver Babies. A Century Later, Midwives Are Still Crucial
Access to reproductive health care in Kentucky has reached a critical moment. All but one abortion clinic has been shut down, and a lawsuit going to trial September 6 could make Kentucky the first state without a legal abortion provider. In general, women's health care in the state is poor. More than half of Kentucky's 120 counties don't have obstetrics and gynecology services, and infant mortality rates are higher than average.
This is Part 3 of a series on the people working to improve access to reproductive health care there. Read Part 1 and Part 2.

---
Carrie Hall was in the middle of a hair-coloring appointment when she received a call from nurses at a nearby hospital: One of her patients was about to deliver.
Her blonde hair still wrapped in foil, Hall rushed from the beauty salon to the delivery room and within 20 minutes was holding a baby boy in her arms.
"I was at the salon and nature called!" Hall wrote that April day in a Facebook post through her alma mater, Frontier Nursing University. It went viral. "1st time for everything!"
The need for health professionals like her is becoming critical.
As one of only two nurse midwives within about 40 miles of her hometown of Whitesburg in the mountains of Eastern Kentucky, the 38-year-old Hall is accustomed to dropping everything at a moment's notice to deliver a baby or conduct a checkup.
But hers is a profession in flux. As the number of obstetrician-gynecologists declines in rural parts of the country and more primary care physicians stop delivering babies, the need for health professionals like her, who specialize in women's reproductive care and childbirth, is becoming critical.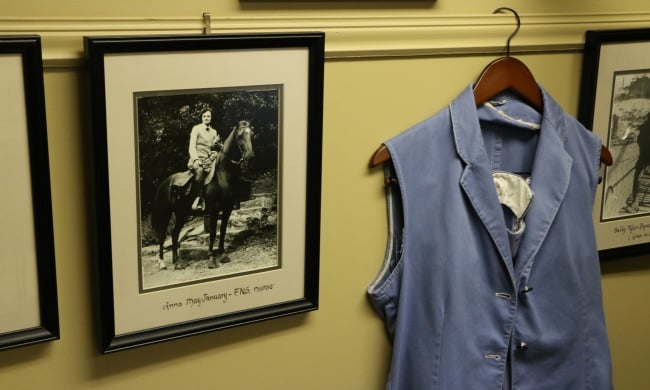 A photo of a nurse midwife and a uniform that they wore is on display at Mary Breckinridge's former home in Wendover Kentucky.
Yet, nearly 100 years after the first American nurse midwives rode on horseback across the Appalachian Mountains to help women in childbirth, many in this region in particular and across America as a whole have still not fully embraced this more natural form of care. Nurse midwives are nurses who have completed graduate-level courses in midwifery. They are licensed in all 50 states to deliver babies and specialize in women's reproductive health. A few states require they be supervised by a physician to practice, but Kentucky isn't one of them. They differ from certified professional midwives, who are trained to attend to home births and can't be licensed to practice in Kentucky.
Still, not enough hospitals and other health care facilities are opening their doors to nurse midwives, and general misconceptions about the kind of education midwives receive leave the profession struggling for acceptance—even in areas where studies suggest they are most needed.
"Often there's a belief that midwives are trained by their grandmothers," said Dr. Susan Stone, president of Frontier Nursing University in Hyden.
Bringing training to the community
Hall grew up in Whitesburg, a former coal mining town of about 2,000 nestled in the Appalachian Mountains. Her great-grandmother and great-aunt were trained to deliver babies by other neighborhood women and became lay midwives during the turn of the 20th century. "She basically did it because she had to," Hall said. "There were no other women to do it."
That family history inspired her career choice. Hall wanted to practice in her hometown so she could give back to her community, she said.
Many of the babies she delivers are born with drug withdrawal.
In 2003, she enrolled in a distance-learning nurse-midwifery program that FNU created 14 years earlier. It recruits students from rural and underserved areas and keeps them in their communities as they earn their degrees.
The students could get clinical experience at local clinics and hospitals and are encouraged to stay and practice in their home area once they graduate.
Hall received her nurse midwifery degree in 2005 while working at the Mountain Comprehensive Health Center. She continued her education at FNU to become a women's health care nurse practitioner, and then a family nurse practitioner.
Nurse Midwife Carrie Lee-Hall shows her feature in the 2012 book The American Nurse which highlights 75 nurses from around the country.
The everyday struggles of life in a town devastated by the loss of coal are embodied in the patients she sees at the clinic. Opioid addiction is rampant here and many of the babies she delivers are born with drug withdrawal that cause tremors, constant crying, and low birth weight. Because of poverty and lack of transportation, she also sees poor prenatal care that includes smoking and unhealthy eating. These habits can lead to gestational diabetes and premature births.
The childbirth complications she sees aren't unique.
The childbirth complications she sees aren't unique to Whitesburg, either. According to a 2016 Center for Disease Control report that looked at births before 37 weeks of gestation, Kentucky has one of the highest pre-term birth rates in the country. Premature births can cause a lifetime of learning disabilities and is the leading cause of death in children under 5, according to the World Health Organization.
The CDC report also found that Kentucky has the nation's sixth highest rate of C-sections, a procedure that can save lives when medically necessary but also poses serious risks to both mother and child. And the state's infant mortality rates have also long been higher than the national average, according to a 2013 state public health department report.
Getting to know patients
Studies show that engaging a midwife for prenatal care can reduce many of these risk factors by highlighting the natural childbirth process and focusing on preventative measures through health education.
Widespread misinformation persists about midwives.
In a 2012 American College of Nurse Midwives study, researchers found that midwifery improved the infant mortality rate for low-risk women compared to physicians caring for women of similar risk. Women who received prenatal care from midwives were also more likely to have a closer relationship with their health care provider, receive more prenatal education, and have higher rates of breastfeeding, researchers found.
Yet, widespread misinformation persists about midwives, and people falsely assume they will get substandard care.
As a nurse midwife, Hall can address a range of issues her clients face because her nursing background emphasizes patient care. Unlike OB/GYNS, she cannot perform C-sections, but the care she provides prioritizes taking the time to develop personal relationships with her patients.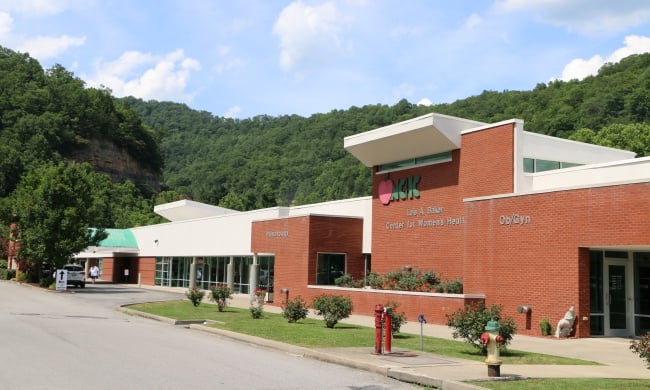 MCHC Center for Women's Health in Whitesburg Kentucky employs the only two nurse midwives for about 40 miles.
"We get very close to them," Hall says about her clients. This allows her to counsel and educate patients on healthy diets, breastfeeding, birth control options, and substance abuse. She typically delivers between 10 and 15 babies a year at a nearby hospital, mostly through natural childbirth with zero to minimal painkillers.
Stone of FNU thinks that more expectant mothers will turn to caregivers like Hall as the number of OB/GYNS continues to decline in rural areas, particularly in Kentucky, where a 2014 The American Congress of Obstetricians and Gynecologists report found nearly half of the state's 120 counties didn't have OB/GYNs.
FNU's response has been to step up recruitment—and that appears to be showing some results. Of the 2,000 students enrolled at FNU, about 800 are in the nurse midwifery programs, Stone said. "We're always looking for opportunities to promote and educate nurse midwives."
Kentucky takes the lead
Frontier Nursing University has long been at the forefront of increasing access to midwifery across the country. In fact, it began as a nurse midwifery service back when women rode for long distances on horseback to deliver babies.
Women rode for long distances on horseback to deliver babies.
Mary Breckinridge, a nurse who founded the university, had traveled to Europe in 1919 to join the post-war relief efforts. Traveling through England and France, she observed midwives who were trained to deliver babies and care for mothers. At the time, there was no formal education for midwives in America, said the school's development officer, Michael Claussen. And Breckinridge observed how France's system of using decentralized stations to deliver midwifery care could be implemented in the rural South, where there was a shortage of doctors.
She received midwifery training in England and returned to Kentucky in 1925 to start a clinic, which would later become Frontier Nursing Service. The clinic's staff was originally trained as nurse midwives in England, and returned to Kentucky to practice. In 1939, the Frontier Nursing Service founded a university in Hyden, Kentucky, so women could receive training in the U.S.
On a June evening, I drove to Breckinridge's former home in Wendover. The two-story log cabin, built from trees of the surrounding area, overlooks the middle fork of the Kentucky River. The home became a bed-and-breakfast in 2001 and now holds memorabilia of early years—midwives' saddlebags and powder-blue uniforms. The walls were covered with black-and-white photos of women astride horseback.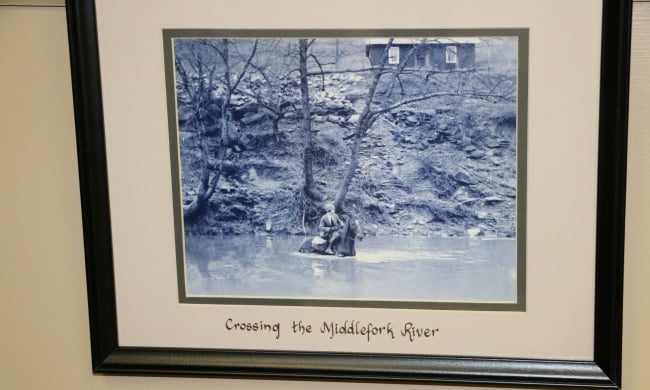 This photo at Wendover Bed and Breakfast Inn Mary Breckinridge's former home features a nurse midwife crossing the Middle Fork of the Kentucky River to visit a patient.
In the one-traffic light town of Mckee, Kentucky, about 60 miles northwest of Wendover, I met a former nurse midwife who had worked with Breckinridge before her death in 1965.
Jean Fee met me in a church parking lot and drove with a careless confidence through the woods to her one-story house located in a clearing.
Originally from Alberta, Canada, Fee, now 80, was intrigued by the natural process of midwifery and appalled by the sterile efficiency of childbirth in hospitals, where mothers were largely removed from the process and didn't get a chance to bond with the babies.
"I grew up with mares foaling and cows calving," Fee said while she ate stew in her dining room. "I knew critters could do better than that; kinda figured women could too if given the chance."
"I knew critters could do better than that; kinda figured women could too."
She graduated from Frontier Nursing University (then called the Frontier School of Midwifery and Family Nursing ) in 1959 and stayed on as a nurse midwife with Frontier Nursing Service. Fee often made house calls to homes where lay midwives—usually older women without formal training—had formerly used superstition to solve childbirth complications. A common one was placing an ax under the bed to stop heavy bleeding during labor and childbirth.
Infant mortality rates started to decrease and women started delivering healthier babies once the Frontier Nursing Service came on the scene, she said. Fee taught women how to breathe and relax during labor and used her training as a nurse to diagnose symptoms.
Connecting with patients
Breckinridge's emphasis on patient care and the natural childbirth process can be seen in midwifery care today. At the MCHC clinic, Hall leads me into a small, stark room where her patient, 23-year-old Hallie Wolford, sits at the exam table. Wolford has short blonde hair pulled back in a ponytail and a slight frame that magnifies her protruding belly.
She and her partner drove 45 minutes to see Hall because there aren't any midwives in the nearby town of Pikeville, where she lives. "Everyone's told me Carrie is really nice," says Wolford, pregnant with her first child.
Hall lowers the exam table as Wolford explains that dizzy spells caused her to fall a couple of days earlier. Hall's voice rises to a soothing tone, as she recommends that Wolford drink more water and consult her cardiologist. After examining Wolford's stomach, she asks her to return if specialists haven't discovered the source of her problem.
Hall chats volubly in a southern drawl peppered with "darling" and "sweetie." The appointment ends with Hall joking that Wolford's partner drives too quickly to get to the clinic. "Listen, don't kill my patient," she warns him as they all erupt in laughter.
When asked about the easy banter, she says: "I'm like that with all of my patients."
This article was funded in part by the Surdna Foundation and the One Foundation.